SAN ANTONIO — The San Antonio Spurs continue to keep the Uvalde, Texas community in mind as they continue to heel from the Robb Elementary mass-shooting tragedy.
The Spurs, Mavericks, and other organizations teamed up to bring Uvalde a new kid-designed playground with volunteers from the Spurs, and Mavericks chipping in.
The new play space was a collaborative effort by Uvalde CISD, KABOOM!, The Community Foundation of the Texas Hill Country, Bank of America, San Antonio Area Foundation and Sport for Healing Fund, which was formed by the Spurs and Mavericks, amongst other partners.
Children from the community had a voice throughout the process and they presented creative ideas for their dream play spaces during a design day in March. Many of UDLA students formerly attended Robb Elementary School.
The project is part of The Community Foundation Uvalde Forever Fund's commitment to supporting the efforts of local organizations providing residents of Uvalde programs and resources throughout their healing process.
"The Community Foundation Uvalde Forever Fund is honored to be a part of bringing joy and healing through play to the students at UDLA," said Lucy Reinhardt, Fund Coordinator at The Community Foundation Uvalde Forever Fund. "We hope this playground, along with KABOOM!'s several other projects, will be a positive force in the lives of Uvalde families now and for many years to come."
"Playgrounds are where nothing else matters," said Coach Sandoval. "Kids can play freely and laugh together outside of a structured classroom environment. This playground will allow them some much-needed fun and relaxation from what's happening in the world around them."
"At Uvalde CISD, we believe in the importance of providing our students with safe and engaging places to learn and play," said Gary Patterson, Interim Superintendent for Uvalde CISD. "Our partnership with KABOOM! has allowed us to create new and inclusive play spaces that will foster a sense of community at UDLA. We are grateful for their support and dedication to the well-being of our students."
The Spurs have made it a point to help Uvalde recover from the tragedy.
Last season, the team held an open practice for the community to enjoy with players interacting with kids as well as coach Gregg Popovich playing with the children in attendance.
In response to the tragedy at Robb Elementary School, the Spurs joined other Texas and national professional sports communities to create the Sport for Healing Fund. The fund serves to provide long-term support for the Uvalde community by creating and investing in mental health resources and safe play spaces for Uvalde youth and families. The new playground at UDLA is the first major project funded by Sport for Healing and the first time it is partnering with KABOOM!
"At Spurs Sports & Entertainment, we believe in moving at the speed of community and supporting our friends and neighbors in times of tragedy," says Dr. Kara Allen, Chief Impact Officer for Spurs Sports & Entertainment. "Through the launch of the Sport for Healing Fund following the Uvalde tragedy and our partnership with KABOOM!, we are increasing access to healing and providing students at Uvalde Dual Language Academy a safe space to play, learn and feel joy."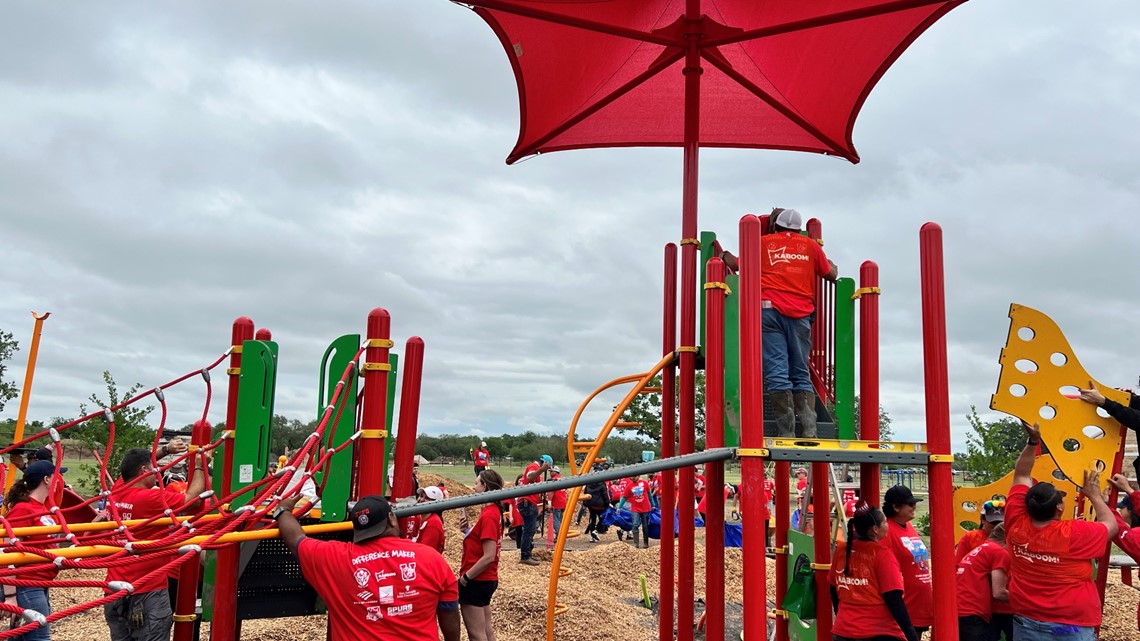 In addition, Spurs Give and the City of San Antonio Parks and Recreation Department unveiled the renovation of the basketball court at Copernicus Park for all to enjoy last season.