NORFOLK, Va. — The Hampton Roads Bridge-Tunnel (HRBT) Expansion Project is the largest highway construction project in Virginia's history, but the construction has also had the unintended consequence of unearthing artifacts from history .
The HRBT Expansion has the goal of widening the current four-lane segments along ten miles of the I-64 corridor in Norfolk and Hampton but has hit some roadblocks, or cannonballs, during its years-long project.
VDOT posted on Facebook last week highlighting the completed research done by William & Mary archaeologists on some of the artifacts recovered last year.
In a magazine article by the HRBT published in the Winter of 2022, project spokespeople wrote that "over the past year and a half of construction, Hampton Roads Connector Partners (HRCP) has found eight iron cannonballs, measuring between eight and nine and a half inches in diameter. Most of [them] are discovered as they become lodged in equipment."
They shared the process that occurs when cannonballs are discovered, explaining that they call in military explosive experts, "for these discoveries, an explosive ordinance disposal team from the Navy or Air Force is brought in to investigate- and construction in the area pauses until experts remove the cannonballs from the project site."
It's not only cannonballs that have been found. They've also found an M-1 combat helmet liner from the mid-1900s and several sunken vessels that "were intentionally placed there decades ago to act as a breakwater, or structure that provides erosion protection." Not every ship found has been placed there intentionally, though.
William & Mary Center for Archaeological Researcher Chuck Bailey posted a blog outlining the research done on one of the remains recovered during the construction writing:
200 years ago this month, in early April 1823, a ship foundered and sunk onto a shallow sand bar in Hampton Roads, Virginia. On April 5th its loss was reported in the Baltimore Patriot & Mercantile Advertizer which noted that a schooner "laden with stone" went aground on the Hampton Bar "with the sea making a fair breach." That stone cargo was bound for Fort Monroe at Old Point Comfort and remained submerged until 2020 when exploratory dredging for the Hampton Roads Bridge Tunnel Expansion discovered the wreck mired in sediment west of the existing North Island/Portal.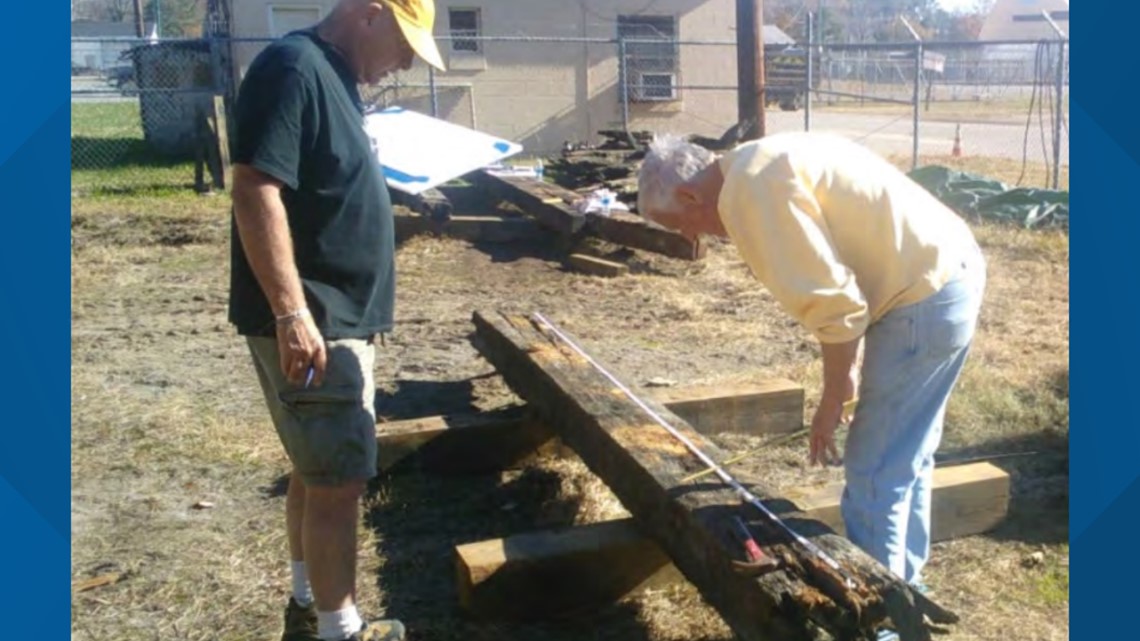 They expanded saying that the materials recovered from the 200-year-old wreckage include "timber framing, a section of the wooden keel, and a multi-ton haul of quarried stone blocks."
About 80 stones from the wreckage are stored at a Virginia Department of Transportation facility in Chesapeake. The largest blocks are around 50 x 60 x 120 cm.
The rocks were classified as granitic gneiss by archaeologists, the same material used to build Fort Monroe which was only about a from where the shipwreck was recovered. You can read the full reports by William & Mary Center for Archaeological Research on the recovered artifacts and the vessel remains.