EL PASO, Texas — By now, we all know what happens after a mass shooting: The breaking news alerts, social media updates, body counts, thoughts and prayers and the public moves on.
The victims, survivors, families, people who witnessed the carnage don't get to. At least not right away. All need some form of immediate help: Counseling, money, someone to talk to who's already "been there." A person to provide insight as to what's to come emotionally, financially and give advice or share experience on what the post-mass shooting life could look like.
"It's survivorship, it's going through it, it's living through your worst nightmare and then saying, 'this is either going to kill me or it's going to make me a different person and I've got to find out what that is,'" said Sandy Phillips, whose daughter, Jessica Ghawi, was killed in the Aurora Colorado movie theater in 2012.
Phillips and her husband Lonnie have been to 15 mass shootings since 24-year-old Jessica was murdered. She was among 12 killed in Aurora. 70 others were injured.
"We got a phone call from inside the theater telling us what had happened," Sandy Phillips said. "That was incredibly traumatic, and yet we were the first people to know for sure we had someone taken from us. But there was no hand to hold."
Since then, the Phillips created Survivors Empowered, a national organization to provide support and referral services to people who've been touched by violence. They've extended the hand they didn't have to others by traveling the country, working with victims from El Paso, Sandy Hook, Parkland, Sutherland Springs, Santa Fe and many others.
"We're there to help the survivors begin a new life," Sandy said, "and let them know immediately the most important thing you can do for yourself and your family and your future is to seek trauma therapy and get help."
The Phillips say it's time for a federally funded, country-wide program, similar to FEMA, that would help put properly trained professionals in place to counsel, support and advocate for survivors immediately after a tragedy anywhere it occurs. The key is having the right people in place before something happens.
"One of the things that most Americans don't realize about gun violence is the aftermath, when the cameras go away," Sandy said. "Our veterans go to war, they come back, they have services for their PTSD," Sandy said. "They may not be great, but at least they have access to it. Our civilians don't and they have been in the war right here in our own country and did nothing to sign up for it. It just happened to them."
Sandy and Lonnie Phillips said they see this firsthand when they come to help survivors of a mass shooting. Depending on the community, they often find people are provided with food and "shelter from the media," as they put it, but one of the more important aspects of post-shooting help is missing.
"The care is usually very lacking," Sandy said. "They might have counselors; they don't have trauma counselors. That trauma, it changes your DNA. So it has to be addressed, it has to be addressed early, in our opinion, and in trauma therapists' opinion, the sooner the better."
Jayne Crisp, who manages the certification and membership for the Association of Traumatic Stress Specialists, an organization with world-wide membership that represents military, public safety therapists and service providers specializing in trauma services, response and treatment, agrees with Phillips' observations.
"Even though we have community volunteers from public and private mental health resources, crime victim service providers, public safety and social services and other community resources, most of them are not trained in dealing with mass casualties and trauma. It really needs to be a priority," Crisp said.
Crisp, who lives in South Carolina, has spent 45 years working with state, federal and local agencies to provide appropriate response to trauma victims and survivors.
"I believe we have the resources with public and private mental health programs across the country; however, we don't have the training for these professionals to go into communities, organizations or businesses to help people deal with trauma or traumatic events that affect lots of people, to develop resilience, go through mourning and helping make their loss count for something, eventually help them become advocates for change," Crisp said.
She said the need for specialized response was apparent back in 1989 after Hurricane Hugo hit South Carolina.
"We had a ton of mental health folks, but they didn't know how to help people deal with losses," she said. "They didn't know how to help people through chaos. We have to identify and train people to do this type of work. We need resources for families to get together and meet, to provide lodging, to provide areas for worship and to have leadership when we have incidents.
"It really takes a multi-disciplinary approach and we need to be proactive to develop these opportunities for survivors," Crisp added. "You have a lot of communities where human services agencies are competing with each other, versus working collaboratively."
Crisp said this "psychological first aid" can be provided by trained "lay people," or those who don't have a PhD.
"We have some organizations that have done this. We just need some really good training and people willing to be responders in their own communities," Crisp said.
Phillips found home-grown trained responders in El Paso, where the couple went to help after the August 3 massacre of 22 people at a Walmart.
"For the first time we saw someone had thought far enough ahead to have this in place and we want to replicate that," Lonnie said.
In El Paso, the Phillips met Fabiola Ekleberry, a local psychotherapist who, over the last few years, helped train local counselors to do trauma therapy.
"There are a lot of counselors in El Paso, but not a lot of them are doing trauma or really even know how to do trauma therapy," Ekleberry said about starting the training a couple of years ago. "I felt there was a big need and I kept having this idea of having a huge conference to kind of bring that awareness, trauma informed care to the counselors in El Paso."
Ekleberry, along with Dee Blinka, a World War II survivor and a life-long counselor, and Rhonda Russ, a retired police officer turned therapist, helped train dozens of others to counsel people with trauma.
"Being trauma informed is understanding how trauma affects the individual person," Russ explained. "Understanding where that person is at that time, when they come into your office, understanding that language that we use so that they are comfortable and they understand, 'okay, she knows, or he knows, exactly where I'm coming from.' And that we're going to be able to assist them one way or another."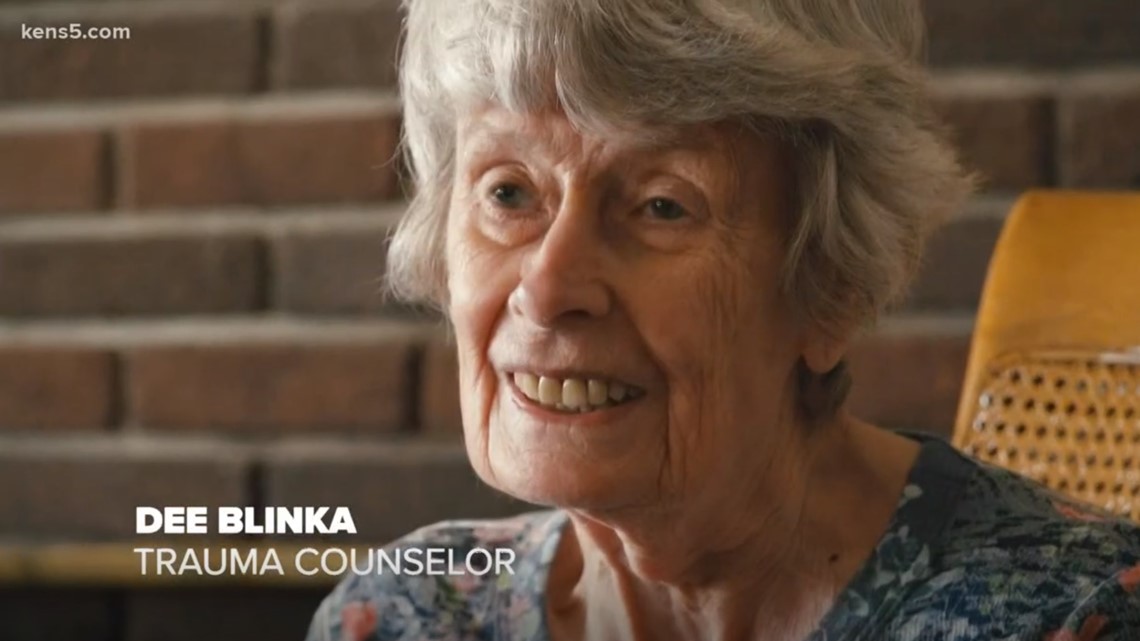 Blinka added, "One of the things that happens with the trauma like August 3, the mass shooting in El Paso, unless you're really trained in the way that we are trained, the tendency is for a lot of people to feel afraid that 'as I talk to this person about what they experienced, I'll make it worse.'"
Blinka and Russ' life experiences put them in a unique position to work in counseling. Blinka is in her 80s. Her journey of healing others began with a promise she made when she was 7 years old.
"We were getting bombed in England [during World War II], we ducked down under the table," Blinka said. "I looked around under the table, my mother and father were there, my grandfather and grandmothers were there, the family dog was there. The bombers were overhead, they were dropping bombs. I looked at their faces, I could see the terror. The little kid [in me] was saying, 'it's not right that parents should be afraid and can't hide it from children.' I made a promise to God, which little kids do, 'if you save me Lord, I want to help people who feel anxious.'"
Russ retired from the El Paso Police Department after working several assignments including the gang unit, robbery homicide and crimes against children.
"Being able to help others, and I know that sounds so cliché, it really does give you the sense of satisfaction," she said. "I think I found the most satisfaction when I was at Crimes Against Children. It seems like you're going to people's homes at the worst time in their life because a child has been abused in one way or another. But I remember years later, I was at a McDonalds, one of the girls goes, 'ma'am, I know you don't remember me because I was so young when this happened, but I just want to let you know how much you helped me.'
"That right there, you know where you're supposed to be in life," Russ added. "I think everything just kind of led me in the direction of counseling, especially assisting people with trauma."
Ekleberry, a woman of faith, believes she was meant to meet Blinka and Russ.
"I was telling Dee [Blinka] that I was very proud of us, but I said, basically, we have been in a roundabout way preparing for that day [August 3], for what was to come," Ekleberry said.
The women helped organize Trauma & Resilience in the Borderland Conference that brought in trauma experts to El Paso to help teach about 200 El Paso and surrounding area therapists in the last three years.
The third conference in 2019 wrapped up the weekend before the Walmart shooting.
Sunday August 4, the day after the massacre, more than 60 trauma-trained therapists showed up ready to help for free, Blinka said.
"Everybody has the capacity to do their own healing," said Ekleberry. "We're just facilitating. I was always thinking about it and we always wanted to create this network, when something happened, we would be able to go and help. It just came sooner than later, unfortunately. I was hoping we would never have to use this.
"When we hear about the shootings in schools, I want to be ready to be able to be in there and help out," she said. "I feel the techniques that we have are amazing, and we can help in such a global way for one incident; we can have a whole auditorium of people processing that one event."
"This is a normal experience unfortunately in the America today," Blinka said. "And the normal reaction is to feel awful. But we can get you to where you can go on."
That's what the Phillips family wants for people who are living with the pain of loss. "If you think it can't happen in your state or in your community, you're wrong," Sandy said. "Our plan is to first of all respond, respond with survivors who can give survivor to survivor support, therapists, trauma therapist who can give trauma therapy immediately and help with the PTSD that will no doubt reveal itself."
"I don't know if we can change the World," Ekleberry said, "but we can make a difference one person at a time."
Here are some resources for organizations that study and help with trauma, including trainings, grants and therapy.