When Magali Urbina and her husband, Hugo, bought a nearly 400-acre pecan farm along the Rio Grande in April 2021, it was supposed to be a fun retirement project. They planned to open a coffee shop, a restaurant and a glamping area on the riverbank.
Then they noticed groups of migrants walking through the orchard, some leaving trash behind. So when the Texas Department of Public Safety offered to install a chain-link fence near the riverbank last year, they welcomed the idea. The fence even had a gate with a lock so Hugo could continue fishing on the river.
But as Gov. Greg Abbott geared up his efforts to stem illegal immigration at the border, state troopers began patrolling the riverbank and National Guard members sped through their property to reach the river. Then came the rolls of concertina wire that cut off their access to the river altogether.
Urbina, a Republican who said she voted for Abbott for reelection, said the day it became too much came on a late-July afternoon when she spotted a pregnant woman cross the Rio Grande and push her way through the concertina wire. The woman's arms were cut and bloodied. Urbina said she called nearby Border Patrol agents, who cut through the state's fence to reach the woman.
When a few state troopers approached, the 52-year-old retired elementary school teacher sternly told them, "Back off. This is my property and she is going to get through." An ambulance took the pregnant woman away.
Urbina, like others in this border town of about 30,000 residents was at first tolerant, if not supportive, of Abbott's efforts to stop illegal immigration through Operation Lone Star.
State lawmakers have allocated nearly $10 billion so far for the state's border buildup, which began in 2021 and has sent Department of Public Safety troopers and National Guard members to parts of the 1,200-mile Texas-Mexico border, where they often arrest migrants who cross the Rio Grande and charge them with trespassing.
In Eagle Pass, the state has blocked a portion of the riverbank at Shelby Park, which flanks the international bridge, with a wall of shipping containers. It has installed rows of concertina wire from the park downstream to at least the end of Urbina's property — roughly 5 miles of riverbank. Last month, the state deployed a 1,000-foot floating barrier in the river made from a line of buoys with mesh hanging below them and what appears to be circular saw blades mounted between them.
The river is shallow enough in this part of the border that migrants can be seen walking around the barrier.
And in recent months, Eagle Pass residents and city leaders have become uncomfortable with the state's tactics or have dropped their support of Abbott's efforts, saying there must be a better way.
Eagle Pass Mayor Rolando Salinas Jr., who in June agreed — without the City Council's approval — to declare Shelby Park private property so state troopers could arrest migrants for trespassing, has recently reversed his support, saying that since he signed the agreement with the state, "things have changed, things that obviously I don't like."
Some of the critics include troopers that Abbott sent to the border: The Department of Public Safety recently opened an internal investigation into one trooper's claims — made in an email to a superior — that troopers had been ordered to push migrants back into the river and deny them water, and that the razor wire had seriously injured migrants.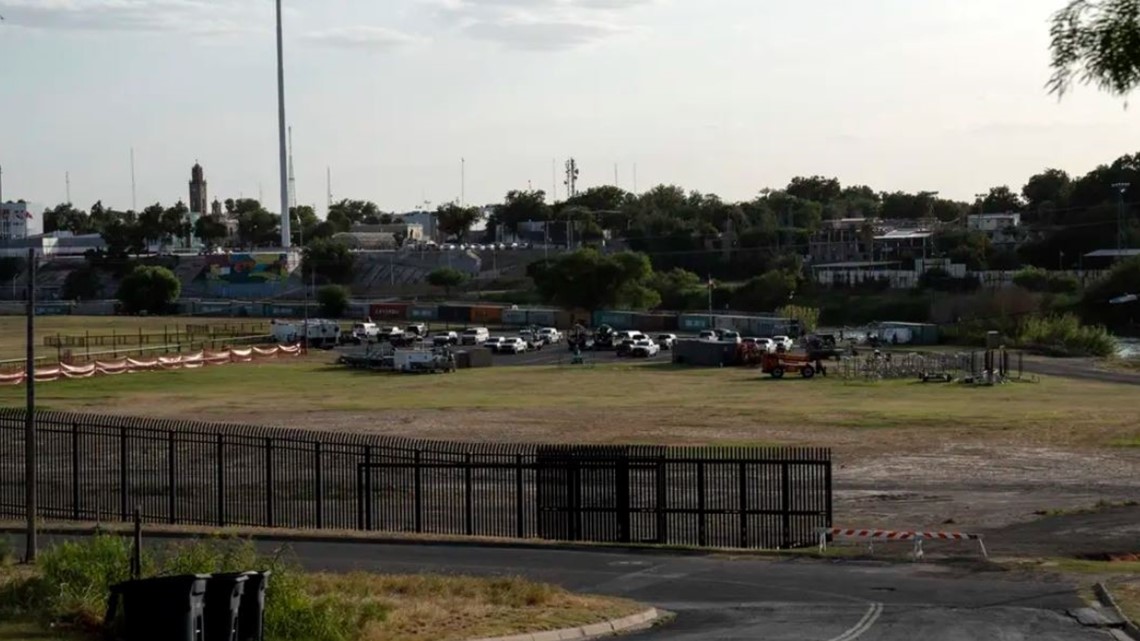 DPS spokesperson Travis Considine said that as part of the investigation, officials are looking into allegations made by five troopers.
The Urbinas said when they asked the DPS to remove the razor wire from their property, they were told that Abbott's disaster declaration for the border — which Abbott signed in 2021 — allows the state to use private property to protect its borders.
Ericka Miller, a DPS spokesperson, referred questions about the Urbinas' complaints to a news article quoting Victor Escalon, a DPS regional director for much of South Texas.
"We do everything we can to prevent crime, period," he said. "And that's the job."
Magali Urbina, who said she's consulted a lawyer about forcing DPS to remove the concertina wire, said no landowner likes migrants crossing through their property, but she also doesn't support what Abbott is doing.
"There's a humane way to do it," she said. The image of the pregnant woman bleeding near the river has stuck with her. She's seen the bodies of drowned migrants floating in the river past their orchard. Last week, Mexican officials removed a body that had drifted into the floating barrier.
"We can't help them all, but maybe we're supposed to help some. Maybe that's what God's calling us to do," she said on a recent afternoon as she drove her blue Cadillac Escalade near the river bank. She said she wants the Biden administration to make it safe for asylum seekers to enter the U.S. and she hopes the federal government changes immigration laws so migrants don't have to risk their lives.
Meanwhile, she said she laments people dying.
"How many people have lost their lives?" she said. "And how many will continue to lose their lives?"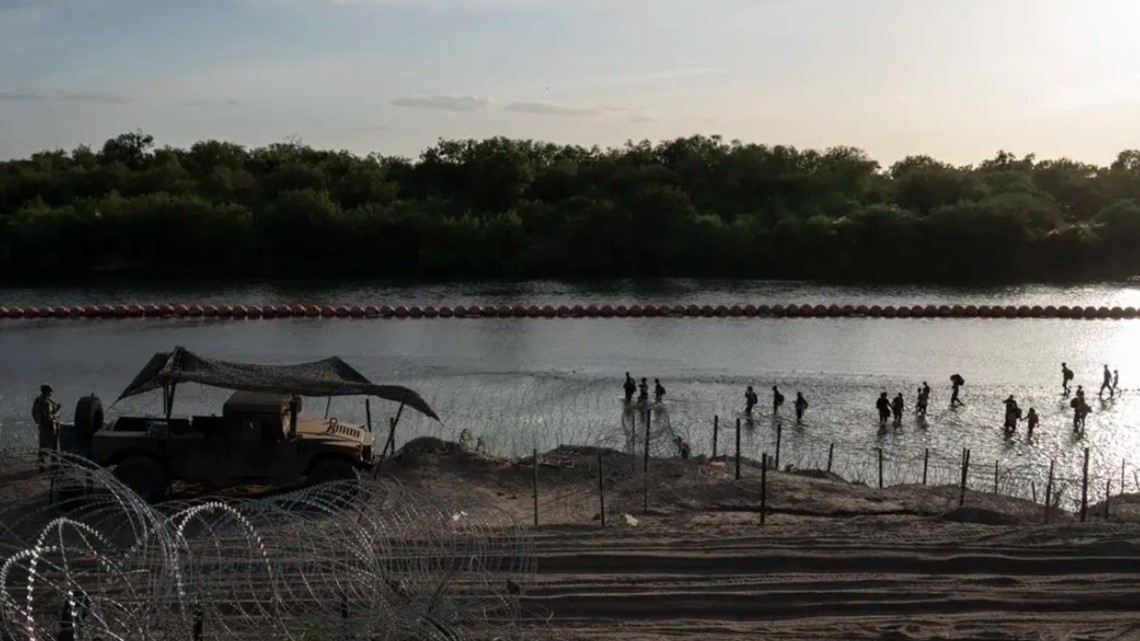 "Every challenge has its reward"
In this part of the Rio Grande, the layers of barriers the state has deployed haven't stopped migrants from crossing. They gather in a park on the Mexican side, near the bridge that connects Eagle Pass and Piedras Negras. Then they gingerly step into the river, some holding trash bags filled with clothing, bracing themselves for slippery rocks and the tricky current.
When they wade across the waist-deep river and approach the U.S. side, they are blocked by the concertina wire.
A Tribune reporter observed dozens of migrants at a time crossing the border over several days in late July. Some asked National Guard members for help, others asked to be allowed through the wire.
In one instance, a woman groaning in pain and holding onto a crutch pushed through the wire as two National Guard members watched the woman struggle. They eventually pulled her to her feet.
The U.S. Border Patrol — which enforces immigration law along the border — appeared to have surrendered this stretch of the river to the state forces, blocked off from the riverbank by the chainlink fencing and concertina wire.
A Border Patrol spokesperson didn't respond in detail to questions from the Tribune about how its agents are co-existing with state forces in Eagle Pass.
"Border Patrol continues to work with local, state, and federal partners to secure the border," the spokesperson said in a statement. "Migrants are urged to seek legal means to enter the U.S. and not fall victim to smugglers' tactics that put them in danger, crossing between ports of entry."
Many of the migrants said they came from South or Central America and wanted to request asylum in the U.S. On a recent Sunday morning, a group of about 40 migrants that crossed the river said they were from Venezuela, Colombia and Honduras.
"Si la selva no me mató, los alambres menos" — If the jungle didn't kill me, neither will the wire — one migrant said as he walked through the river, a reference to the dangerous Darién Gap, a roadless jungle connecting Colombia and Panama that many must cross on their way north.
Among the group was 30-year-old Jocelyn and her husband, Alexander, 37, who only wanted to be identified by their first names, with their 6-year-old daughter. In Venezuela, they said they both worked as civil engineers.
They said they left Venezuela because of poor public safety, lack of educational opportunities for their daughter and gang members who demanded money to let them live in peace, they said. When they reached Piedras Negras after about three months of traveling, they said they slept next to a convenience store for two nights before making the crossing.
"This is worth it," Alexander said, standing on the riverbank before the family crossed into the U.S. "Every challenge has its reward."
When National Guard members or troopers encountered migrants trying to cross the river, they told them to follow the river downstream until they found an opening in the concertina wire. The migrants then walked along the bank — or in the river where the wire blocked passage — until they reached an opening where other National Guard members waited to load them into unmarked white vans and take them away.
At the start of Operation Lone Star, DPS was ordered to arrest only single men. In December, troopers were ordered to also arrest single female migrants, according to DPS, which said minors, adults over 65 and families are turned over to Border Patrol.
The Houston Chronicle recently reported that troopers have recently begun separating some men from their families and arresting them.
On Aug. 1, 33-year-old Wender Quintero trudged through the water, trying to keep up with a group of about 40 other migrants. He wore sunglasses, a blue T-shirt and black pants and walked with crutches.
Quintero said he was hit by a motorcycle outside his home in Venezuela a year ago — suffering injuries that required eight surgeries and 84 screws in his face and left scars across his body. Standing on an island in the river on a hot afternoon, he said he needs medical attention that he can't get in his home country. So he left Venezuela for the U.S. without telling his wife and three children — he said he didn't call them until he was approaching the Rio Grande to make the crossing.
"'God be with you,' she told me," he said, then broke down in tears, gasping for breath. Then he continued walking toward the gap in the concertina wire.
Council reverses decision that allows DPS to arrest migrants in Shelby Park
Jessie Fuentes fumed when he saw workers razing a small island in the river bordering the Urbina's property to install the floating barrier.
Fuentes owns Epi's Canoe & Kayak Team, an Eagle Pass-based kayak rental business that he launched eight years ago after retiring from teaching. He grew up swimming and fishing in the Rio Grande.
When the buoys went into the river, Fuentes decided to fight back. He filed a lawsuit against Abbott and the Texas Department of Public Safety, claiming that the floating barrier harms his business and that Abbott did not have the authority to regulate cross-border traffic.
"You don't respect us, you're making us look like a third-world country," Fuentes said during an interview at his home before he led a group of reporters and advocates on a tour of the Rio Grande and the floating barrier. "You're making that river that ties us together disastrous. You're ruining the ecosystem, you don't care about what you're putting in the middle of it."
Other residents have voiced their anger at City Council meetings after learning that the mayor had turned Shelby Park into private property to help Operation Lone Star.
At least 500 migrants were arrested after crossing the river into the park in July.
"I am deeply saddened to see Shelby Park become a place of militarization, human rights violations and xenophobic rhetoric instead of a place of recreation and friendship," 19-year-old Karina Flores, of Eagle Pass, told the council members in late July, after dozens of residents and immigrant rights advocates demonstrated outside of City Hall. Several other citizens voiced opposition to the mayor's agreement with DPS during the council meeting.
Escalon, the DPS director overseeing operations in South Texas, told the council that the agreement was a key part of the state's mission in Eagle Pass and without it, the community would be in crisis.
"And the way to avoid that is by our presence," he told the council.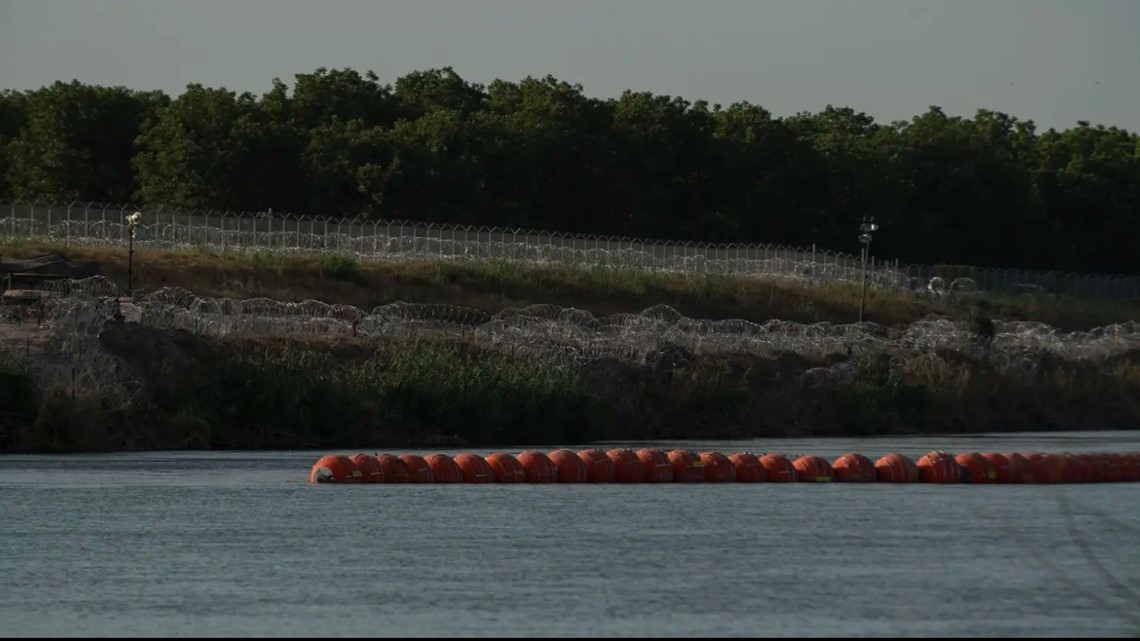 In the end, the council unanimously rescinded the agreement with the state, making the park public property again. Salinas, the mayor, also voted with the council.
"Obviously if it's inhumane, I'm not going to say, 'Yes, I'm totally for people getting cut [by razor wire],'" he said before the vote.
On the other side of the Rio Grande, Mayela Aldape, a 34-year-old immigration attorney who works at a migrant shelter in Piedras Negras, said that no matter how much Texas tries to deter migrants, they're going to continue to cross.
She said she advises migrants to be patient and make an appointment to request asylum through the U.S. government's cellphone app, CBP One. But many of the migrants have complained the app either crashes because of high demand or the 1,450 appointments offered each day get filled up, which forces them to sleep on the streets in Mexico or wait for months in crowded shelters.
Aldape said she hears harrowing stories from migrants who say they have received death threats from criminal gangs in their home countries who demand protection money or try to recruit their children into the gangs.
"I wish people understood that leaving their home countries isn't easy, the trek to the U.S. isn't easy, because they're risking death," she said from her office in the shelter. "How desperate does one have to be to risk their lives and the lives of their children?"
The Texas Tribune is a nonprofit, nonpartisan media organization that informs Texans — and engages with them — about public policy, politics, government and statewide issues.