SAN ANTONIO — With a Winter Weather Advisory going into effect early Thursday morning, preparations are underway for freezing weather that could bring snow flurries to the San Antonio area. We're tracking the latest developments here.
A cold front is expected to push through San Antonio on Wednesday night through Thursday morning, bringing a 40-degree drop in temperatures that will continue through the end of the week.
Latest forecast
Traffic conditions
VIA Metropolitan Transit says it was monitoring weather conditions and plans to continue operating "as long as it is safe to do so." But passengers should anticipate delays if road conditions are affected by the potential freeze.
Passengers can stay updated on schedule or route changes via VIA's website and social media channels.
Texas Department of Transportation San Antonio maintenance crews started pre-treating roads Wednesday morning.
Warming Centers
Below is a list of the warming centers set to open at noon Thursday in San Antonio.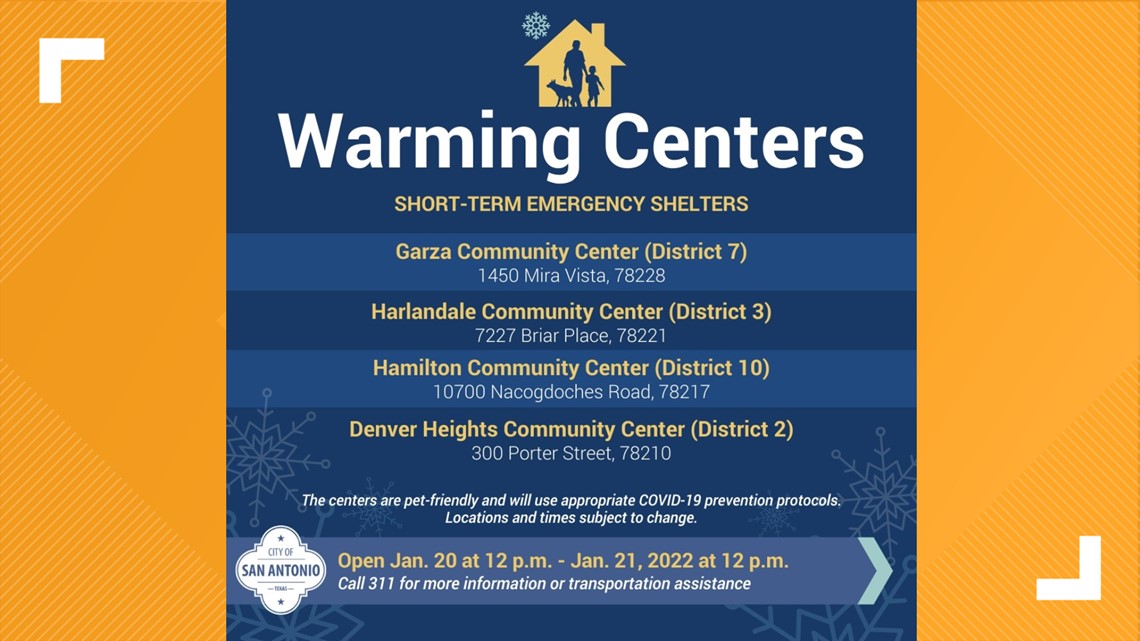 Bexar County announced additional warming centers, which are scheduled to be open from 7 a.m. to 7 p.m. Thursday.
2096 Talley Rd., San Antonio
23103 Bulverde Rd., San Antonio
20825 Babcock Rd., San Antonio
2456 FM 1516 South, China Grove
6427 Evers Rd., San Antonio
9810 Southton Rd., San Antonio
Preparing and protecting pets and plants
The City of San Antonio's Animal Care Services is asking residents to take immediate steps to prepare their pets.
"With San Antonio facing several days of wintery weather the remainder of the week, Animal Care Services is urging residents to take immediate steps to protect their pets. New state law dictates dogs can no longer be tethered with chain at any time; however, the State and city animal laws also dictate dogs cannot be left outdoors restrained and unattended in the case of officially defined extreme weather or situations in which an animal is in severe distress."
ACS said outdoor dogs should be brought inside during inclement weather, but even after temperatures warm up – pets must always be provided the legally required shelter, shade and access to drinkable water.
ACS officers will be on patrol through the rest of the week addressing potential violations and violators can face impoundment of their pet, fines up to $2,000 and 180 days in jail for repeat offenders.
Possible animal ordinance violations can be reported by calling the city's 311 customer service line.
Also, the San Antonio Botanical Garden is warning people about protection their plants during the severe weather.
SAN ANTONIO WEATHER CONDITIONS
SEVERE WEATHER 101
When severe weather threatens the area, it is important to know what risks a storm can bring and what you should do to stay safe.
One of the most important things to know is where you are located on a map, so when a watch or warning is put into place, you can identify if you are at risk. When the National Weather Service puts out warnings, they are county-based and sometimes include cities as well. It is important to know where you live in the county and that you can identify it on a map.
It is also important to know the difference between a watch and a warning. A watch means that conditions are favorable for something to happen, but a warning means that something has developed and it is important to take action.
So, what would cause a thunderstorm to be qualified as a "severe" thunderstorm?
Hail that is one inch large is also considered to be about the size of a quarter.
Another ingredient that would lead to a storm becoming severe is if winds are 58 mph or greater.
Winds at this strength could cause damage to roofs and could even cause trees to be knocked down.
Finally, if a tornado is present inside a thunderstorm it would qualify the storm as becoming severe.
In this instance, a tornado warning would be issued.
A tornado watch can be issued for an area if strong storms are expected, and if the storms bring the risk for tornadoes, but not all storms include the threat for tornadoes. The ingredients in the atmosphere for a tornado to form are not always there when storms are present.
If the area you are in is ever under a tornado warning, it is important to know where you should go inside your home.
Head to the lowest, interior room of your home. The basement would be best, but if you don't have one, head to the first floor of the home and get away from exterior walls, or walls that lead to the outside of the home.
It is also important to stay away from glass. The more walls you can put between you and the outside, the better.
While lightning can be frequent in storms and very dangerous, it does not lead to a storm being qualified as severe.
Remember, when thunder roars, go indoors.
Storms can also lead to flooding. Flooding may not cause a storm to be labeled as being severe, but it is the deadliest kind of weather.
South Texas is known to have major flood events every few years, so it is important to use caution and to always stay out of floodwaters. Remember, turn around, don't drown.
Entering flood water is very dangerous as you can be swept off of your feet and you don't know what could be in the water that could hurt you.
The best thing you can do to be ready for severe weather is know what you will do in the event it strikes where you live.
Make sure your family has a severe weather action plan.
Have a place everyone goes inside your home and keep supplies there, such as food, medication, batteries, and flashlights.
Don't forget you can download the KENS 5 app for the latest news and weather information each day while you are on the go.