SAN ANTONIO — A Tornado Watch for Bexar County was issued until 8 a.m.; surrounding areas in South and Central Texas were included in the watch.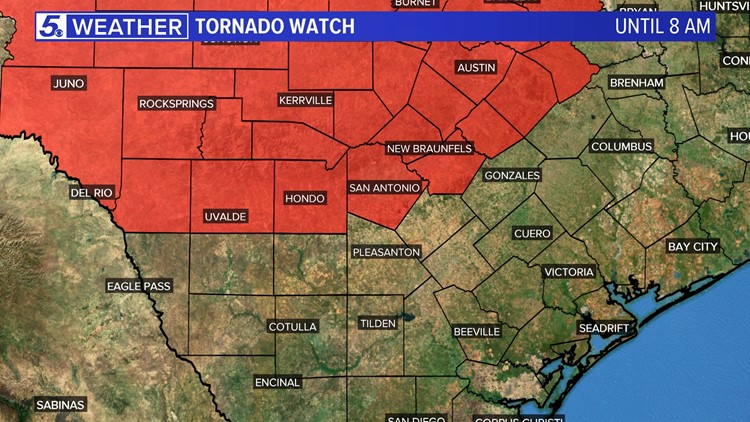 Looking ahead to Easter Sunday, a Wind Advisory was issued between 9 a.m. and 7 p.m., with wind gusts of up to 40 mph, according to Meteorologist Meagan Massey.
While the first wave of severe weather turned north away from San Antonio just after 11 p.m. Saturday, KENS 5 meteorologists are tracking the latest forecast.
Storms drop giant hail on parts of South Texas
Hail fell in parts of Del Rio around 8 p.m Saturday as the first wave of severe weather moved across South Texas.
KENS 5 viewers sent in the following photos of hail -- some of it the size of baseballs.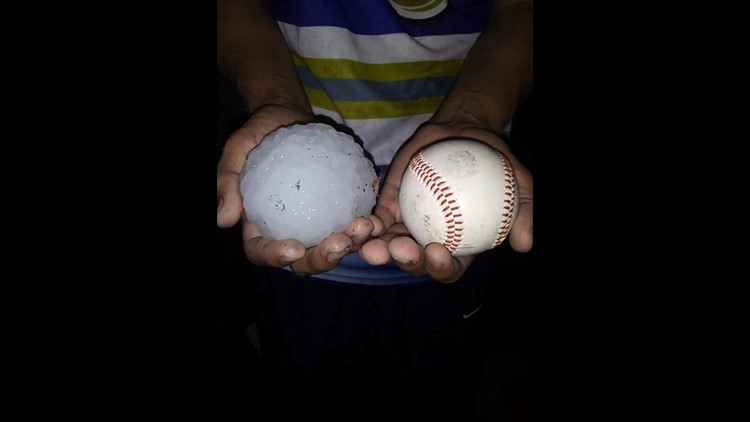 This size hail is considered damaging and more hail this size could be possible in some storms later this morning.

What is a Tornado Watch?
A Tornado Watch means that conditions are favorable for tornado development. People located in and around the watch area should keep an eye toward the sky and listen to their NOAA weather radio or tune to KENS 5 Eyewitness News for further weather information.
What is a Tornado Warning?
A Tornado Warning means that a tornado has been detected by the National Weather Service Doppler radar or a reliable report of a tornado has been reported from the field or indicated on radar. A tornado warning is usually issued for portions of one or two counties for an hour or less. The storm could also produce large hail and destructive straight-line winds. If the tornado warning includes your neighborhood or workplace, you should seek safe shelter immediately.
Tornado safety
In the case of a tornado warning, here are some tips for staying safe depending on where you are when the storm hits.
House or stand-alone building:
Get to the lowest level possible
Go to an area with as many walls between you as possible
Get in a bathtub or interior closet
Get out of the mobile home and get in a sturdy building if possible
Get out of the mobile home and hunker in a ditch
If no ditch or building is nearby, plan ahead and get to a sturdy building ahead of time.
Get to the lowest level (go to a neighbor's apartment on the first floor)
Regardless of what floor you're on, get in a bathtub or interior closet
If you are on a higher level and can't get to a lower apartment, hunker down in the breezeway of the apartment building
If possible, pull over, park, get inside a building and out of the storm
If you have to stay in your car, try to find a ditch to park in and use your emergency brake
DO NOT park under a bridge or overpass
Miscellaneous tips for keeping safe in a tornado:
Cover yourself with a mattress, sleeping bags, or pillows
Wear a helmet to protect your head
Hunker down as much as possible
Don't forget you can download the KENS 5 app for the latest news and weather information each day while you are on the go.