SAN ANTONIO — Get ready San Antonians for a cold snap that will bring rain and chilly weather as the next cold front arrives in less than 24 hours.
Showers and storms are possible ahead of the front beginning Friday afternoon followed by a big drop in temperatures overnight into Saturday morning.
Almost the entire country will feel colder temperatures thanks to a cold front that will also bring the chance for the Hill Country to experience near-freezing temperatures this weekend.
Next 24 hours:
Friday morning: A frontal boundary will arrive to the Hill Country around 8 a.m. dragging showers and storm activity. San Antonio won't experience showers until early afternoon. Take your umbrellas for your evening commute.
Friday afternoon: Shower and isolated storms are possible around 1 p.m. and will hang around through the evening. High temperatures could still hit the 70s before cooler air settles in. However, take those jackets to Friday night football as temperatures drop by sunset.

Friday evening: Cooler air and windy conditions will be in store as the front passes with with wind gusts around 25 - 35 mph. By 7:30 p.m. temperatures could already drop to the low 50s and 40s overnight.
Weekend cold snap:
Saturday: Certain Hill Country areas will wake up to temperatures in the 30s and 40s for San Antonio. A fall-like day is in store for San Antonians with sunny skies and high temperatures only in the low 60s. Sport that fall attire!
Sunday: Early morning will bring the coldest air of this season, especially in certain Hill Country spots where temperatures will get close to freezing in the low 30s.
In San Antonio morning lows will also be slightly cooler than Saturday with temperatures in the low 40s. Highs in San Antonio will once again only be in the low 60s.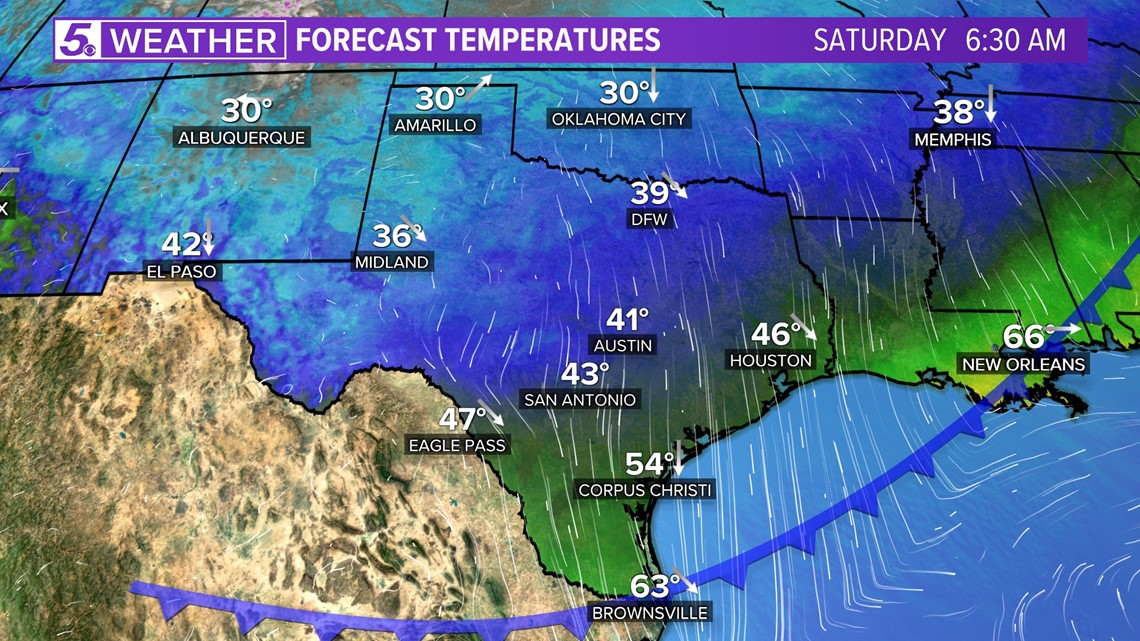 Next week:
Monday San Antonians will have a 30 percent chance of showers and isolated storms as another system moves through warming high temperatures in the mid 60s.
The "warmer" afternoon temperatures will be short-lived as another cold front pushes through by Monday evening. This will allow high temperatures to trend near 20 degrees below average in the mid-50s through Thursday of next week! Brrr...keep those sweaters close by.
This is a developing weather event. Refresh the page for the latest updates.