SAN ANTONIO — Good measurable rainfall has finally arrived to San Antonio!
As a cold front moves into San Antonio late Tuesday evening widespread rainfall with isolated thunderstorms will occur through early Wednesday morning.
Then, a second cold front will arrive late this week bringing below-average temperatures for the weekend.
Here's what San Antonians can expect:
Thursday (High 70 and Low 40): A beautiful afternoon with high temperatures in the low 70s is expected until another cold front moves through San Antonio by late evening. This front is expected to bring cold weather with a near 15-degree drop in high temperatures for Friday. No rain is expected with this front.
Friday (High 55 and Low 39): A cold morning in store with temperatures in the 30s. Dry air and windy conditions will be in place behind the front with wind gusts over 30 mph. These conditions will be in place through evening.
Weekend: Plenty of sunshine as an upper-level ridge builds allowing for a warming trend. Chilly mornings are in store for the weekend with temperatures near-freezing for Saturday and 40s for Sunday. However, afternoon temperatures will stay in the low 60s. You'll want to dress in layers for the weekend.
Enjoy the cooler weather!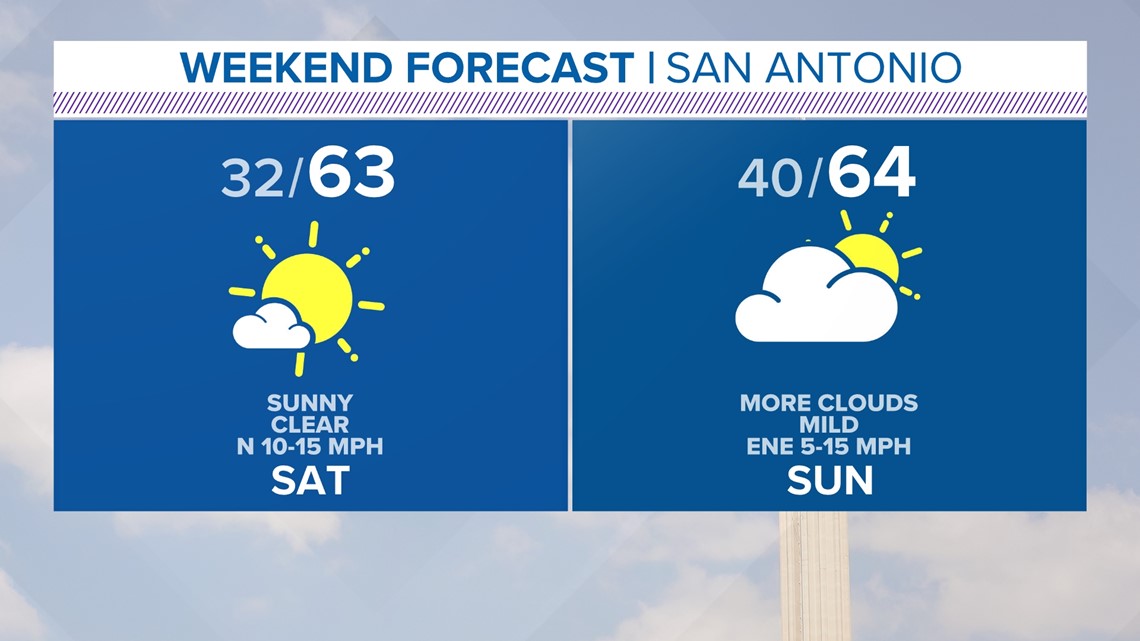 Rain comes back in the forecast next week as another front heads to San Antonio around Tuesday. Currently we have a 40% chance of showers for Tuesday.