SAN ANTONIO — Cold weather is bearing down on San Antonio and the Hill Country on Tuesday. These wintry conditions are expected to stick around until Thursday morning.
After Sunday afternoon brought temperatures in the mid-70s to the Alamo City, the cold front caused the mercury to plummet into the 30s and 40s for the region to start the week. A Winter Storm Warning is in effect for Bexar County and the Hill Country region stretching toward Austin until 6 a.m. on Thursday.
Overhead clouds and shower activity could bring up to two inches of rain to the area by Thursday. San Antonians will want to have those sweaters and rain boots; the sun won't return in earnest until Thursday.
Here's what San Antonians can expect:
Gusts can reach as high as 25 MPH in San Antonio with some freezing rain.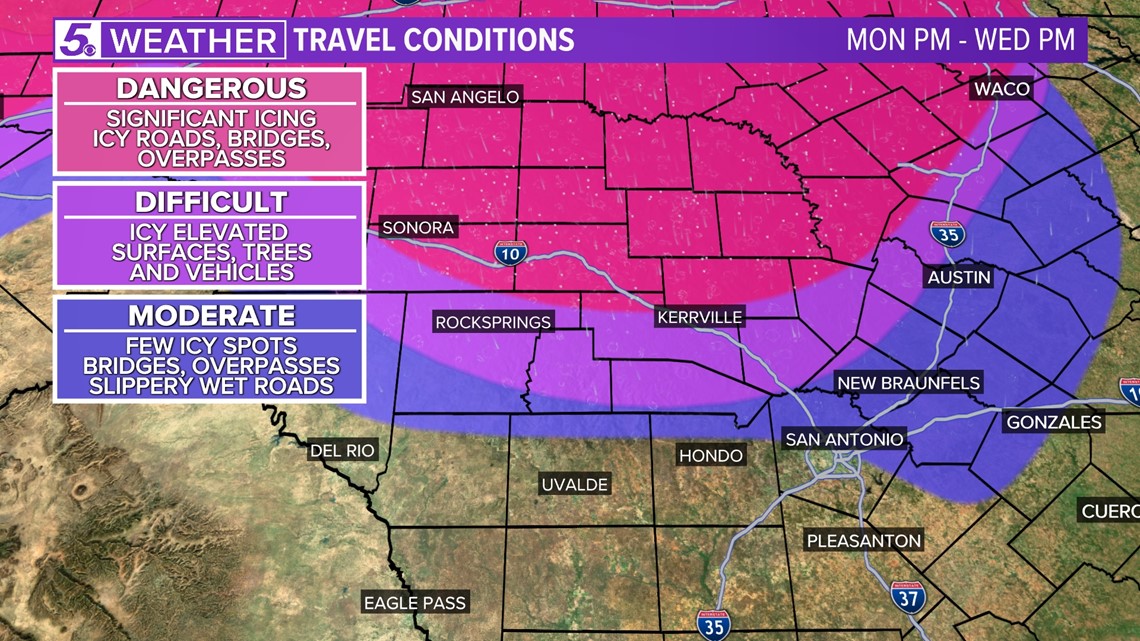 Tuesday (High 37 and Low 35 in San Antonio / High 33 and Low 30 in New Braunfels): This will be one of the coldest mornings of the week with some freezing rain in the Hill Country. Temperatures in San Antonio have started off in the high 30s with light rain that will increase by the evening. Chances for rain and storms ramp up heading into the Wednesday morning hours.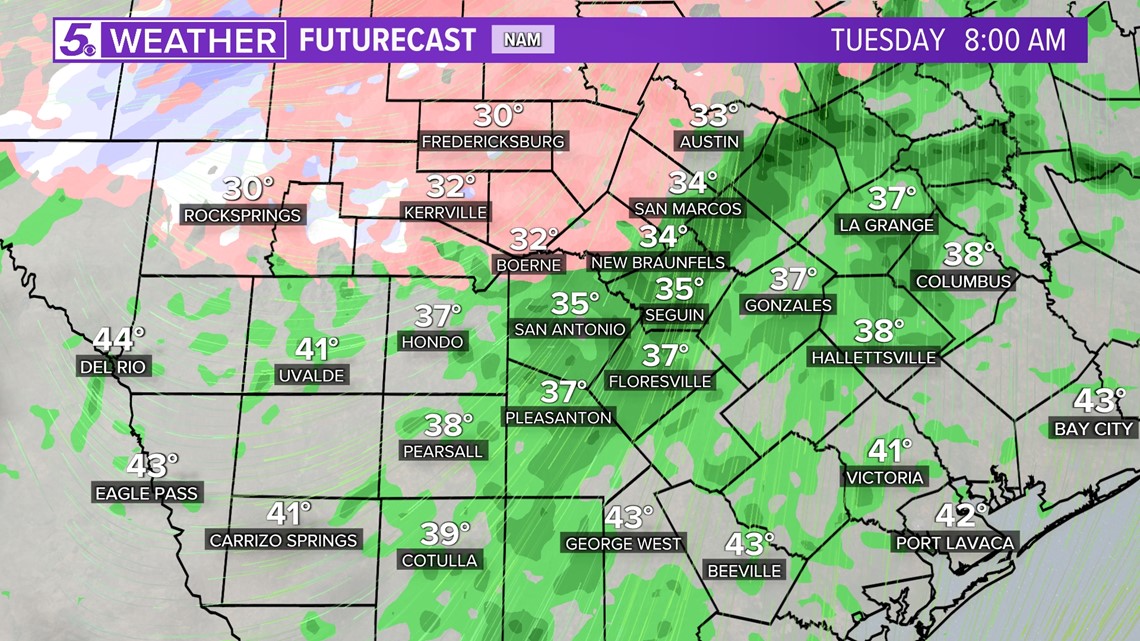 Ice accumulations of one quarter inch to three quarters of an inch are possible in the Hill Country.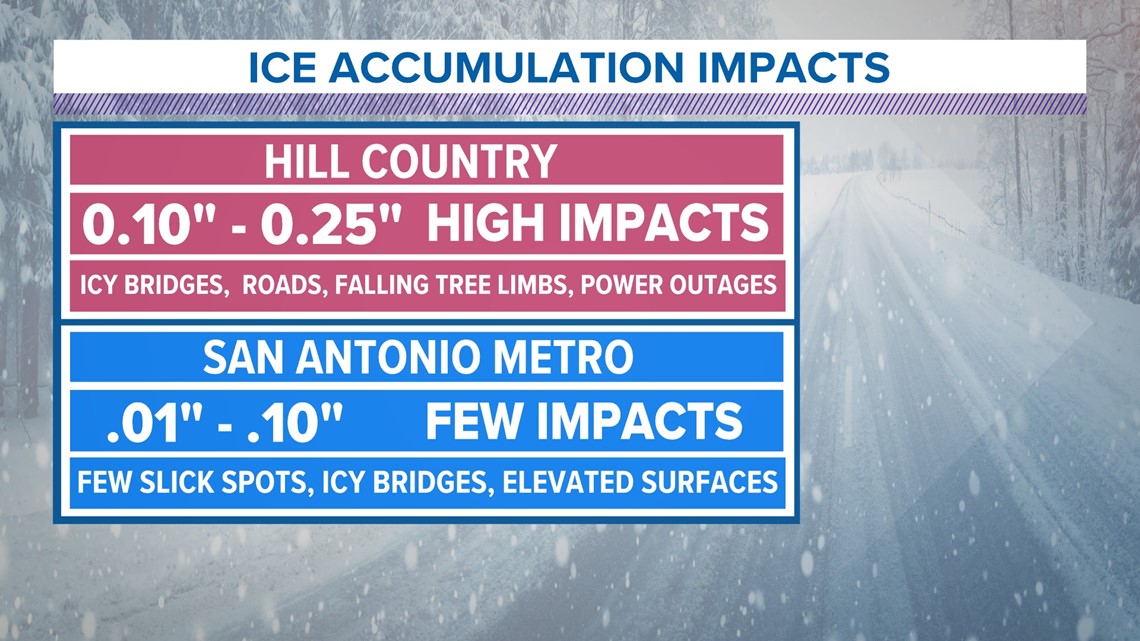 Wednesday (High 39 and Low 38 in San Antonio / High 36 and Low 35 in New Braunfels): This will be the best day for widespread shower activity, with chances at 90% for San Antonio and Hill Country communities. A cold, dreary and foggy morning will continue with chances of showers throughout the day.
It will be a cold rain, too, as temperatures will likely remain firmly in the 30s. Keep your jacket handy!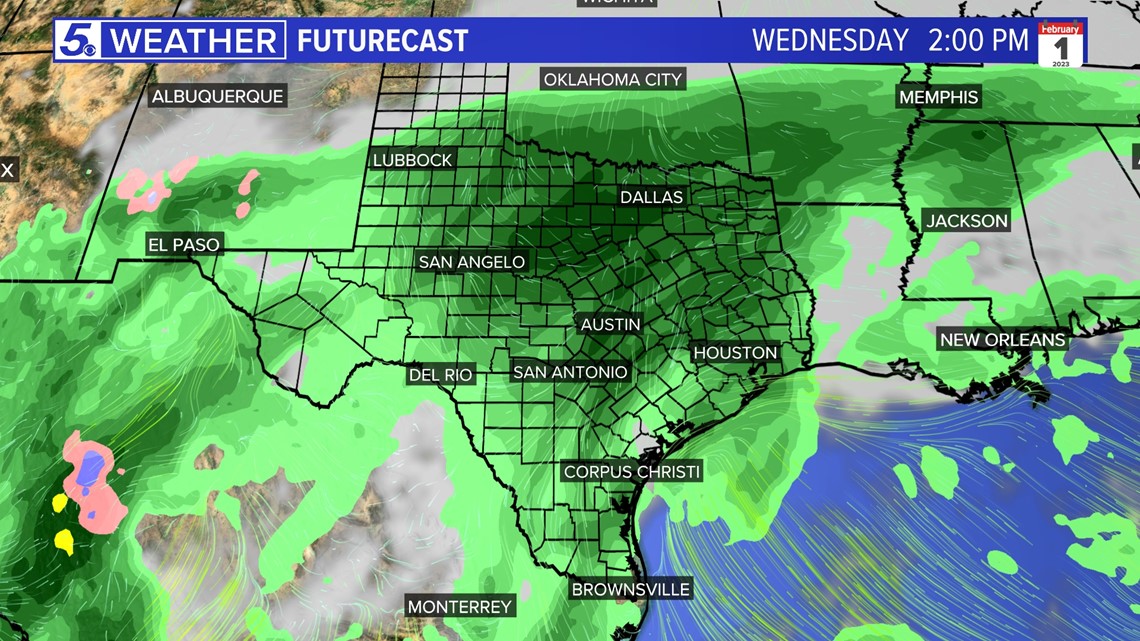 Thursday (High 55 and Low 39 in San Antonio / High 51 and Low 36 in New Braunfels): This should be the last day of rain as showers and storms move out by around 6 p.m., but cloudy skies should remain. Temperatures will finally warm up into the 50s for both San Antonio and Hill Country communities. Strong wind gusts remain, some of them reaching 20 MPH.
Looking ahead, the sun returns by Friday as temperatures return closer to average levels in the 60s. Outdoor plans for Saturday look gorgeous with lots of sunshine and a cool afternoon.