SAN ANTONIO — Mired in an extended stretch of gloomy weather that's made San Antonio look closer to Seattle, the region has gotten accustomed to constant cloud cover for the better part of the last two weeks.
It's also brought rain chances nearly every day of that span as the Alamo City gets dampened down to start December. Has the precipitation been enough to bring San Antonio out of the extreme drought it's been experiencing for months?
The short answer: not quite. While most of Texas has been able to recover from the extreme or exceptional drought that plagued nearly half of the state as recently as mid-August, an 11-county pocket of severe drought that includes San Antonio, Austin and much of the Hill Country remains the biggest such moisture vacuum in the state.
Click here or use the slider below to see how Bexar County's drought situation has chanced since August 16, in comparison with the rest of Texas. The two darkest shades constitute extreme or exceptional drought.
The last two weeks of rain, meanwhile, have yielded only incremental improvement to the south-central Texas drought situation.
According to KENS Weather Chief Bill Taylor, ever since San Antonio received 0.51 inches of rain on Nov. 19, daily totals have dwindled. The second- and third-biggest daily rain totals in that time came on the Friday and Saturday after Thanksgiving, with a quarter of an inch recorded each day.
And, with December's rain mostly consisting of light drizzle, the Alamo City has recorded only 0.16 inches through the first five days of the month. The National Oceanic and Atmospheric Administration says the area stretching from San Antonio eastward/northeastward needs to get much wetter – to the tune of nine to 12 inches of rain – to emerge from its current drought emergency.
As for when the drizzle will turn into drought-extinguishing showers... well, it won't be soon for San Antonio. This week will continue at trend of mostly cloudy weather and light-to-moderate chances of light rain, with an isolated shower or two possible Thursday.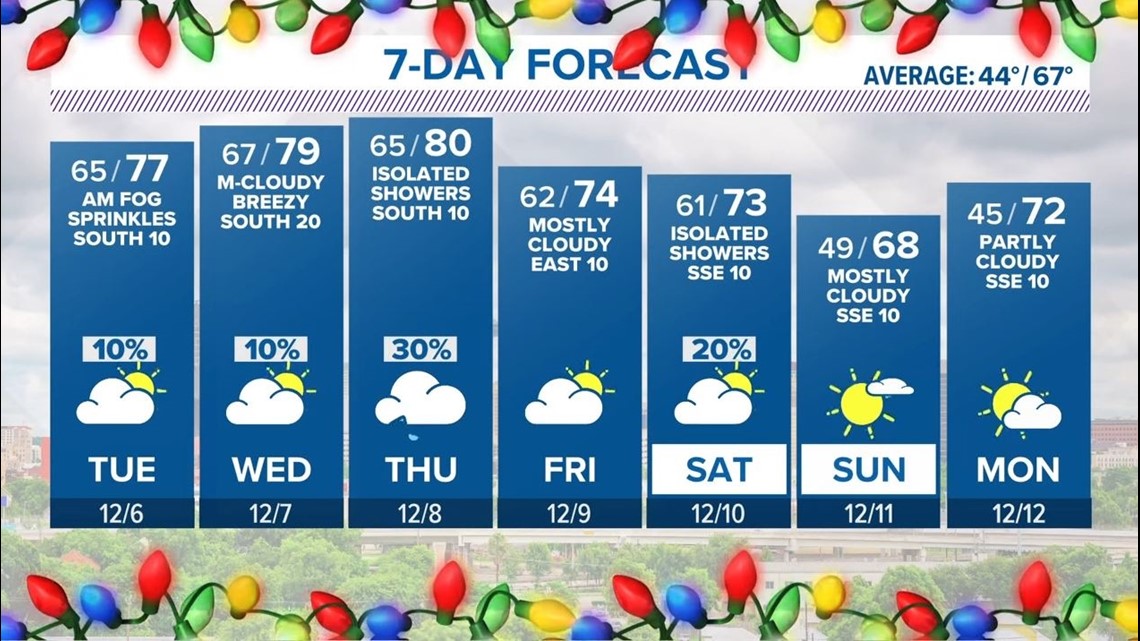 For good measure, use the slider below or click here to see how Texas drought stands at the end of November compared to the start of the year.
>TRENDING ON KENS 5 YOUTUBE: