SAN ANTONIO — Rain is back in the forecast for San Antonians!
The next 72 hours will bring some of the best chances of showers/storms San Antonio has seen in awhile. However, these are hit and miss showers where not everyone will see it.
The good news is a couple of different factors are occurring in the atmosphere that could allow some isolated showers to develop heavy downpours. So be on the lookout!
Here's what San Antonians can expect:
Thursday (High 97 and Low 77): There are a couple of impulses in the atmosphere that will combine with peak heating for showers/storms this afternoon. As daytime heating occurs around 3 p.m. radar could begin lighting up with showers around Bexar County.

Some larger showers/storms that develop could create gusty outflow boundaries bringing breezy conditions to nearby areas. Isolated storms may also bring locally heavy downpours. Since these will be isolated some areas could see over an inch of rain where others will see nothing. No severe weather is expected.
The good news is that everyone should experience slightly "cooler" high temperatures as more clouds and rain stay in the area.
As we lose heating of the day, closer to 8 p.m. rain chances will diminish as the atmosphere begins to stabilize. Thursday is our best chance of rain this week but chances stays in the forecast Friday and Saturday.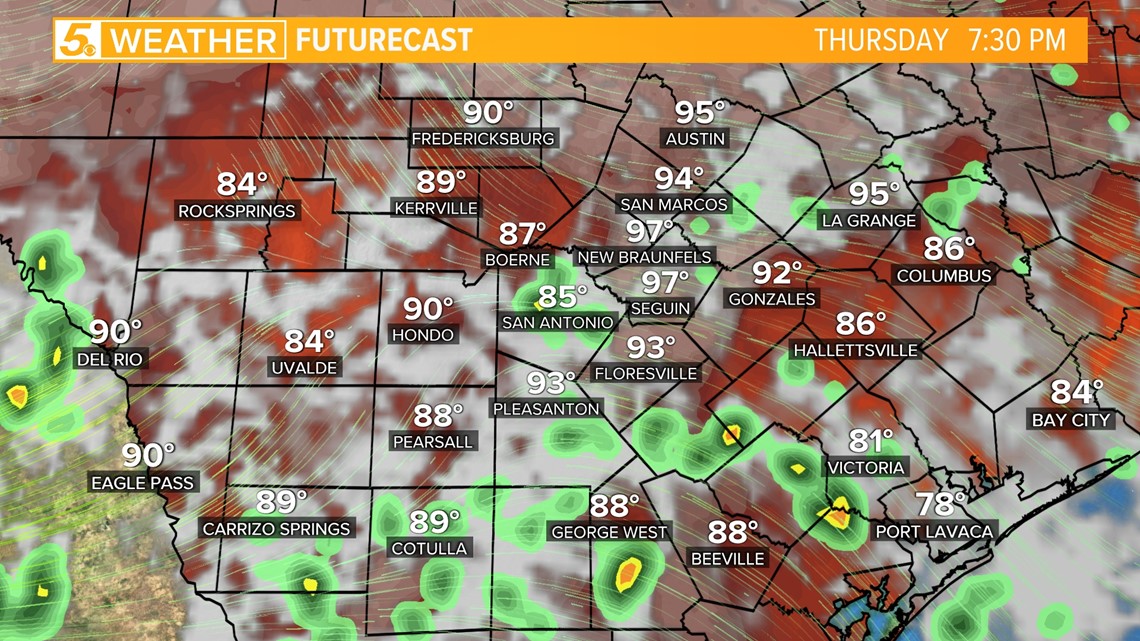 Friday-Saturday (High 95 and Low 76): There is a disturbance that will develop in far south Texas Friday through Saturday. This in combination with daytime heating keep rain chances alive.
Around 4 p.m. showers/storms could be seen popping up around Bexar County. However, coverage may be slightly less than Thursday.
Once again the showers/storms to develop will be more isolated Friday and Saturday. This means breezy conditions and locally heavy downpours could develop from stronger storms. No severe weather expected.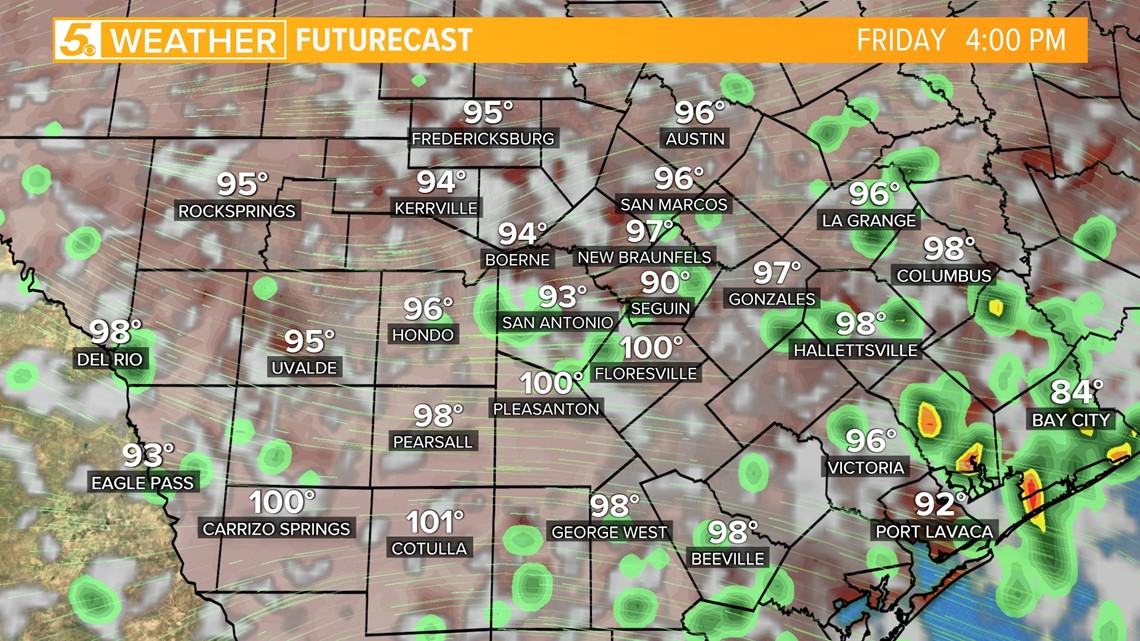 Temperatures also stay average for this time of year. No triple digit heat! By Sunday rain chances drop to 30% but temperatures continue to stay below average around 95 degrees.
San Antonians will begin next week with a dry forecast and temperatures will trend back to 100 degrees by Wednesday.