One year ago many San Antonians were left in the dark with winter weather alerts for 8 days
Arctic air was in place three days before the first Winter Storm Warning was issued in San Antonio.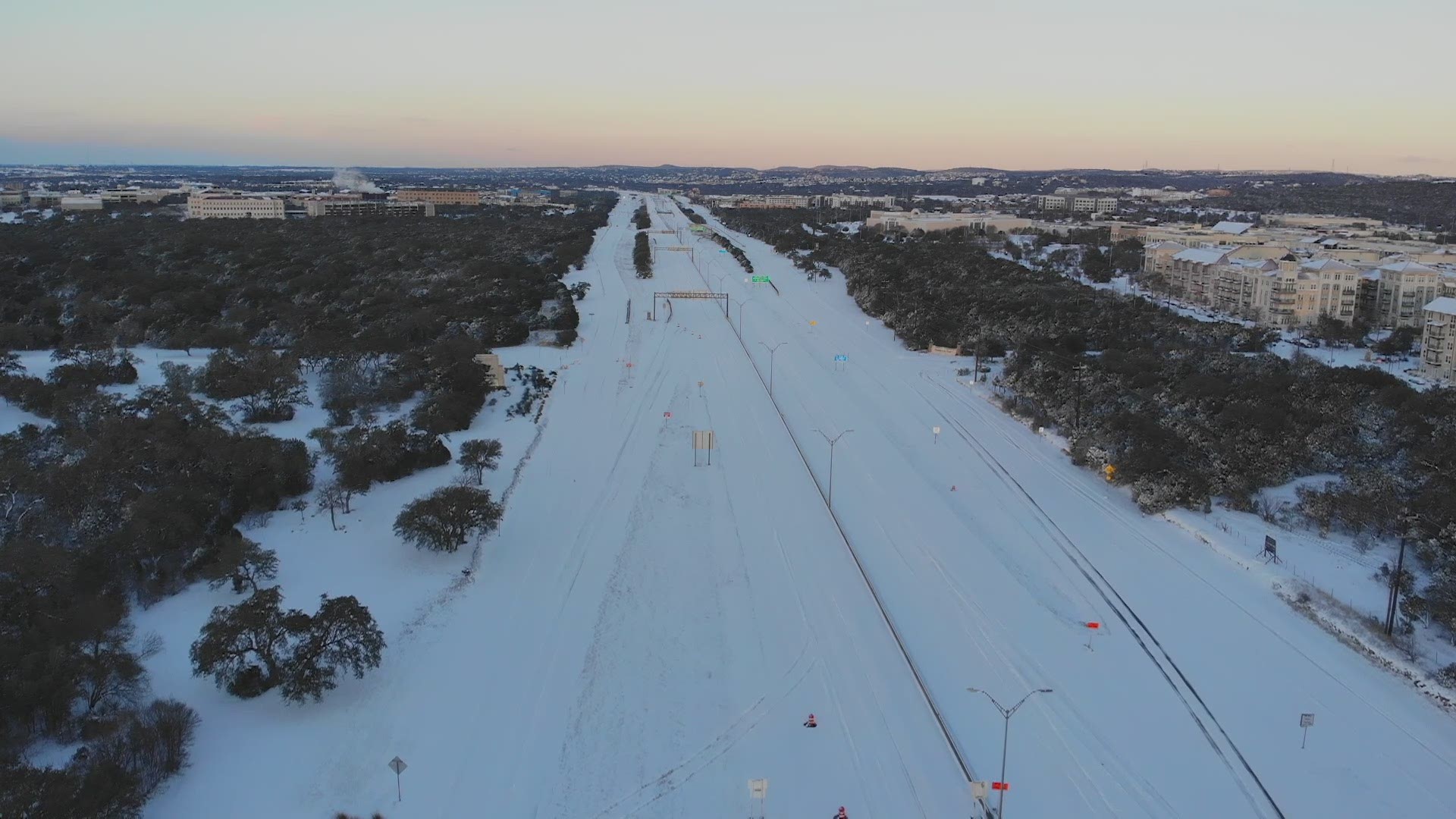 As San Antonians bathe in 70-degree weather this week, it's hard to imagine the events of one year ago, when many were without heat, water, electricity and groceries due to Winter Storm Uri.
The historic winter storm that occurred on Valentine's Day 2021 brought dangerously cold temperatures for several days. Uri had a major impact to all Texans, and although the damage is still being fully assessed, the event could go down as the first billion-dollar disaster of 2021 globally, surpassing even Hurricane Harvey, according to the National Weather Service.
Here's what San Antonians experienced one year ago and why winter alerts lasted for eight days.
Saturday, Feb. 13
:
Day 1
A Winter Storm Warning was issued the day before Valentine's Day as an arctic cold front was expected to bring sleet and freezing rain ahead of it to Bexar County. The Winter Storm Warning was set to expire by Monday at noon.
Ahead of the front, San Antonians flocked to H-E-B to stock up on groceries in preparation for roads freezing over. However, stocking up on food, if perishable, would soon be a waste over the next 24 hours.
Sunday, Feb. 14
:
Day 2
By Valentine's Day almost every county in Texas was upgraded to being under a Winter Storm Warning. The day was filled with snow, sleet and freezing rain in southeast Texas.
On Sunday night snowfall reached San Antonio and thundersnow was reported in Galveston County.
The temperatures plummeted to a low of 13 degrees recorded at the San Antonio International Airport. The snow continued to fall overnight on Valentine's Day, making roads impossible to drive on.
Monday, Feb. 15
:
Day 3
Temperatures continued to plummet early Monday morning as the arctic cold front passed over San Antonio. The area reached a low of 9 degrees and a high of only 28 degrees, according to a report by NWS.
The combination of icy conditions and extreme cold temperatures caused ERCOT unable to meet high demand issuing rolling blackouts across the state. This was supposed to allow power, once turned off, to kick back on after so much time. However, many San Antonians continued to stay without heat for several days.
Total snowfall amounts from Feb. 14 to Feb. 15 was 3.7 inches.
Tuesday, Feb. 16
:
Day 4
As if the loss of power wasn't enough, new issues of pipes bursting were caused by the continuation of below-freezing temperatures.
San Antonio experienced another day in the 20s but luckily H-E-B and other food establishments opened their doors for selected hours to help those who lost groceries during the power outages.
As if things weren't bad enough, another winter storm system moved through San Antonio Tuesday night, bringing freezing rain to fall on snow-covered surfaces.
Wednesday, Feb. 17 - 18
:
Day 5 - 6
On Wednesday afternoon, temperatures were able to reach above freezing before another round of snowfall during the evening. The snowfall continued through Thursday as a Winter Storm Warning remained in effect.
Feb. 17 to Feb. 18 were the last two days of winter precipitation. This left San Antonio with a new snowfall record for the month of February with 6.2 inches of snow that fell over four days.
Feb. 19 - 20
:
Day 7 - 8
Despite snowfall ending, San Antonio was placed in a Freeze Warning Friday morning with temperatures in the 20s.
The afternoon sun helped start the thawing process on roads, which were clear by Friday evening as TxDOT worked throughout the day.
Friday night and Saturday morning were the final hours San Antonio reached below-freezing temperatures. On Saturday afternoon temperatures were in the mid-50s and power started to return to residents en masse.
What happened?
:
Below-freezing for days
Several rounds of arctic air were pushed through San Antonio allowing the cold air to stay in place for several days. However, it all began three days before the first Winter Storm Warning was issued.
1st front - On Feb. 10 the first push of arctic air arrived to south-central Texas dropping temperatures in the 20s and 30s. This allowed freezing rain to fall by the morning of Feb. 11 near the Hill Country. This cold air stayed in place for several days until an even colder air mass arrived on Valentine's Day.
2nd front - The Valentine's Day front was fueled by a strong upper level low-pressure that brought snowfall and temperatures plummeting into the single digits overnight. This significant drop in temperatures placed major strain on the power grid leading to rolling power outages as ERCOT could not meet energy demand. This system also brought 3 to 8 inches of snowfall across south Texas.
3rd front - San Antonio saw no sign of a warmup as another upper-level disturbance was expected just two days later, on Feb. 16. This system brought freezing rain as the system carried warm air aloft.
A reinforcing cold front pushed through with the upper level disturbance creating more winter precipitation for San Antonio.
After the third front, San Antonio finally saw a warning trend with high temperatures but lows stayed in the 20s for the next two days. Many San Antonians saw power kick on and CPS Energy began talks on how to weatherize power plants and transmission sites.