SAN ANTONIO — San Antonio is breaking all kinds of records as a sweltering summer arrives at August.
According to the National Weather Service, 2022 may be the first year that San Antonio has experienced three consecutive months of record-breaking heat.
The average high temperature for each of the past three months was at least 10 degrees above normal. 94 degrees was the average high in May, June's top temperatures averaged out at 99 degrees and the trend continued with an average high of 101 degrees in July.
In fact, July was so hot that San Antonio officially broke a record for the number of 100 degree days in any one month, with 28 total days of triple-digit heat. That makes July 2022 the Alamo City's warmest on record, following the warmest May and June on record, according to the NWS.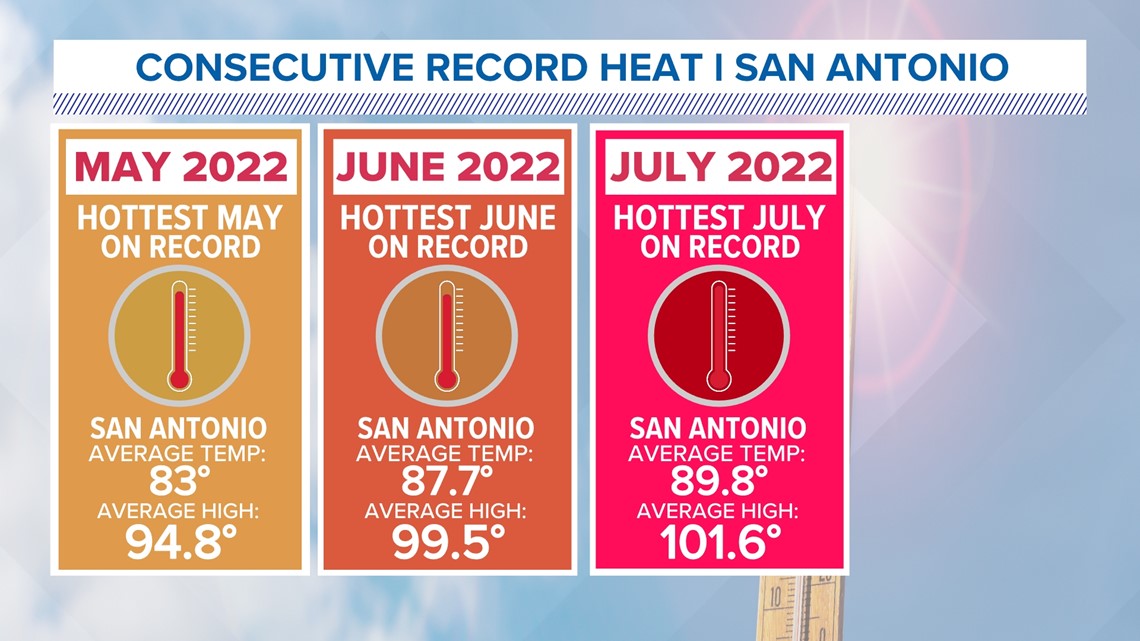 Adding to July's misery, last month was the second-driest July on record, NWS says. But summer isn't over yet, and unfortunately, thanks to persistent drought, the lack of rainfall isn't helping our temperatures.
How drought plays a role in summer temperatures
When the ground and soil are dry, sun heats the air above to a much stronger degree. That happens because the sun uses no energy to evaporate dry soil, allowing for the air above to heat more intensely, leading to rising air temperatures.
A NOAA report suggests that dry soils can drive a rise in temperature, like a heat wave. On the reverse end, hot temperatures can also accelerate soil at the surface to dry up, leading back to a loop of higher temperatures. Humidity and winds can also affect soil moisture.
Parts of Bexar County are currently experiencing exceptional drought for the southern portion and extreme drought for communities to the north.