Latest Road Condition Updates
A Hard Freeze Warning is in effect until 9 a.m. Saturday. The Texas Department of Transportation is warning drivers if they need to travel Saturday morning to be extra cautious on the roads because "icy conditions may exist." See the full tweet here.
TxDOT says there is possible ice on I-10 EB frontage road between De Zavala and Huebner due to a broken water main. Use extreme caution.
Chopper 5 flew over San Antonio. Here's a look at the roadways:
The chopper also showed a pileup on 1604 and 281:
A few highways remain closed due to icy conditions:
There are 39 roads closed due to the icy conditions. Most of these closures are near the downtown area or on the north side. A winter freeze is in effect until 10 a.m. See each closure here.
TxDOT is also urging drivers to stay off the road if they can:
The worst of the winter storm is now behind San Antonio, including multiple rounds of snow and sleet, but overnight temperatures in the 20s will harden moisture left on the ground from Thursday's precipitation.
As a result, it may be difficult to drive on San Antonio roadways until about 10 a.m., when that remaining ice and snow will begin to melt with rising temperatures.
TxDOT employees have been working tirelessly through the storm to prepare the roads for these wintry conditions. Travel is not advised.
Although some roads have opened, the wintry weather could have an effect on the roadways later in the day. Be careful if you need to be on the roads. Authorities advise you to stay home unless it's absolutely necessary to travel.
Another round of wintry mix is coming down in San Antonio overnight, and though ice accumulation on the roads won't be as severe as it was earlier this week, transportation officials are still encouraging commuters to be wary on the road.
There are 36 roads closed as of now in San Antonio. And according to the National Weather Service, another patch of light freezing rain and possibly sleet is moving through the Hill Country. Meanwhile, moderate freezing rain areas from early this morning continue to retreat east.
There is also a huge traffic backup on Interstate 10 near UTSA Boulevard on the northwest side.
TXDOT is reminding people that if you don't need to be on the road, stay home.
All streets and bridges in New Braunfels should be considered impassable until further notice. Authorities are advising the community to not travel at this time.
With the freezing rain and low temperatures, all streets are covered in one to two inches of ice. "It is extremely dangerous to travel at this time and will remain so until temperatures rise above freezing and the ice melts off of roadway," The City of New Braunfels says.
A look at Texas roads as the National Weather Service calls travel "impossible" this Wednesday morning:
Overnight freezing rain in the San Antonio region, particularly north of I-10, has led to major ice accumulation on roads—making travel a particularly dangerous endeavor, if not an impossible one.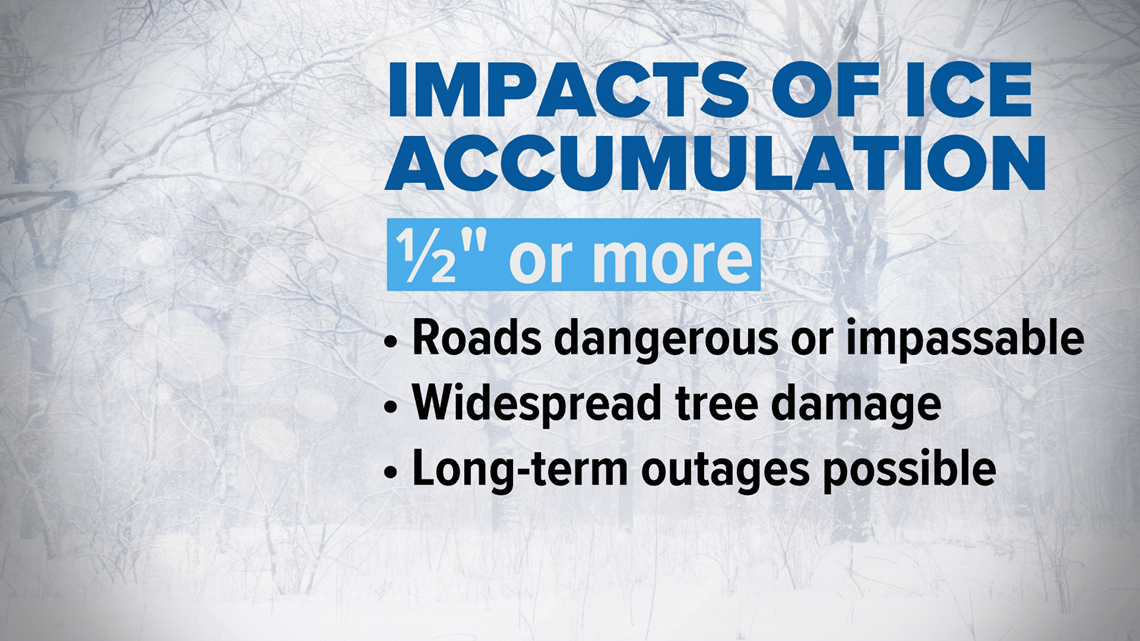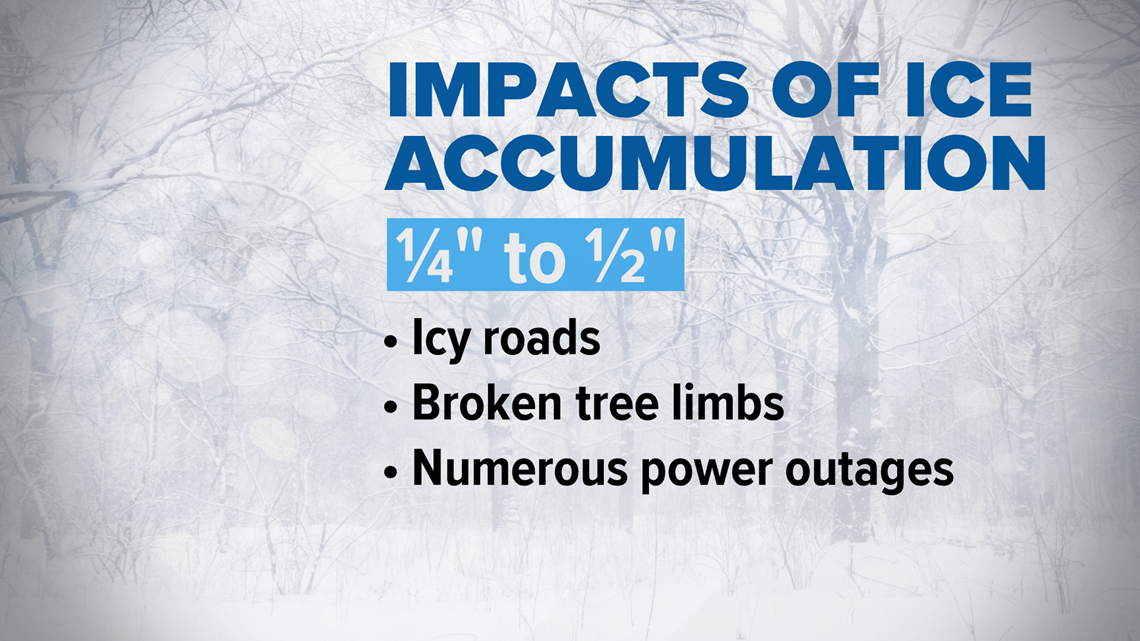 TxDOT San Antonio is reminding drivers that entrance ramps to major highways remain close. Some highways have reopened, but drivers need to exit and use the frontage road to transfer to another highway.
Some highways are now open after TxDOT crews treated them after the icy conditions. Eyewitness News reporter Holly Stouffer gave this update:
Tuesday 7:30 a.m. The National Weather Service tweeted a warning about an invisible danger, black ice.
TxDOT officials say that all major highways in the city remain closed to commuters as ice hardens up in the overnight freezing temperatures.
TxDOT San Antonio announced that they are immediately closing all major highways due to ice, and directing drivers off those roads. They reminded residents to stay home and off all roadways.
Monday 12 p.m.: Kerrville Police Department posted an update on the power outage at traffic lights in the town.
Monday 8:15 a.m. TxDOT San Antonio is clearing snow and treating lanes on major highways.
Monday 6:30 a.m.: There are 32 roads currently closed in Bexar County. Majority of the closures are near the downtown area. Click here to see the full list.
Monday 4 a.m.: TxDOT San Antonio says crews are now clearing major highways. People are still encouraged to stay home to make room for first responders and essential workers.
The City of San Antonio and Bexar County are closing some roads and highway segments. Conditions will worsen overnight and through Monday. The public should stay at home unless it is absolutely necessary to travel, the city's Office of Emergency Management said.
As a result of the dangerous, icy conditions many City streets, Bexar County roads and TxDOT highways are being closed, including:
All major highways to include:
North and south bound lanes of 281 from loop 410 to 1604
East and west bound lanes of IH 10 from Loop 410 to 1604
East and west bound lanes of Loop 1604 from 281 to IH 10
Hwy 151 between Loop 410 to 1604
1604 East and West from IH10 to 281
US 281 North and South between St Mary's & Basse Rd
US 281 at IH 35
Wurzbach Parkway
Loop 1604 Overpasses / Flyovers:
Loop 1604 West & Hwy 90 W
Loop 1604 West & Hwy 151
Loop 1604 West & IH 10 West
Loop 1604 East & US 281 North
Loop 410 Overpasses / Flyovers:
NW Loop 410 & Hwy 151
NW Loop 410 & IH 10 West
NW Loop 410 & US 281
NE Loop 410 & US 281
SE Loop 410 & IH 37 South
Downtown Loop – Upper Levels & Ramps:
Upper level of inbound IH 10 West downtown
Upper level of IH 35 Northbound and Southbound downtown
Downtown Loop
Sunday 1 p.m. The San Antonio Fire Department posted a picture of an overturned fire engine on its Facebook page. Luckily, the crew was ok. See the full post below:
Sunday 12:30 p.m. Kerrville officials posted the latest road closures on its Facebook page, including the continued closure of Loop 534. The full post is below:
Sunday 10:14 a.m.: TXDOT San Antonio continues to warn drivers.
Driving Tips for Ice and Sleet:
TxDOT is encouraging everyone to stay home throughout the morning until the sun can help dry the roads. If you do have to drive, here are some tips from TxDOT:

Slow down. Speed limits are based on normal road and weather conditions, not winter road conditions.

Maintain at least three times the normal following distance on snow or ice.

Use extra caution on bridges, ramps, overpasses and shaded areas as they tend to freeze first.


If your vehicle starts to slide, ease off the gas pedal or brakes. Steer into the direction of the skid until you have regained traction. Then straighten your vehicle.