VILE Podcast | 'I really did kill those babies': Testimony reveals alleged confession in Jones case
New evidence in the "killer nurse" case has come to light. In the finale of Vile, we examine alleged confessions Genene Jones made while in prison.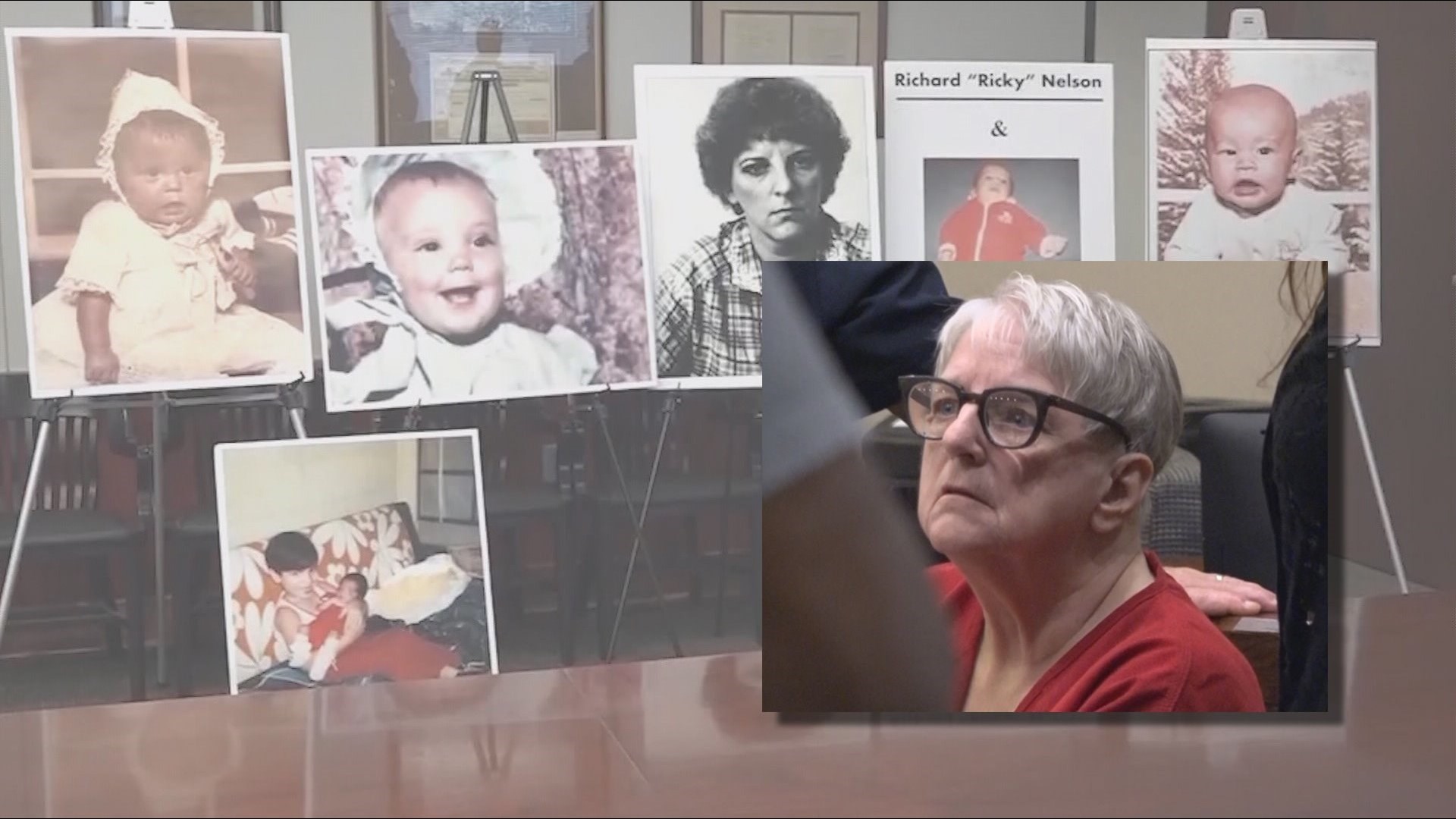 "Looking back, I think this whole thing is just a meant-to-be thing because, if you think about it, if they would have tried another case [in the early 1980s], she would have walked. It would have fallen underneath that umbrella of the mandatory release, and there wouldn't have been anything to fall back on like there is now.
As horrible as it was for anybody in San Antonio to have to wait this long, you know it's a double-edged sword. The positive side of it is that [prosecutors] had these other cases to pull out, whereas if they would have done it all then, there would have been nothing. There would have been no way to keep her from walking, absolutely nothing," Petti McClellan said.
It's been nearly 40 years since Genene Jones' case first appeared in the public eye.
That time has been marked with media coverage here in San Antonio and all over the world. For example, author Peter Elkind showed KENS 5 a copy of his book published in French. There was even a made-for-TV movie, which former Kerr County District Attorney Ron Sutton said sensationalized the case.
"Deadly Medicine had to make a big issue of that I was single at the time and Dr. Holland was single at the time, and they had to make an issue of us having an affair, which we didn't do. It made a better movie, I guess," Sutton said.
But behind the smoke and mirrors are the facts. Investigators from the Bexar County DA's office said they've been uncovering more never-before-seen evidence as Jones' case moves closer to trial.
It would seem that she hasn't kept completely quiet all these years.
We've talked about the frightening pattern that emerged among Genene Jones' patients. A CDC study found that children were 10 times more likely to die during a time that Jones was working in the pediatric ICU of Bexar County Hospital.
There's also a possible explanation for Jones' own actions.
Many connected to the case say Jones seemed to get a thrill out responding to crashing patients and insisted on inserting herself into an emergency.
Pattern of behavior
:
As early as Elkind's 1989 book The Death Shift, he noted the possibility that Jones exhibited symptoms of Munchausen Syndrome.
"Munchausen as I read about it, understand it and talked to some people about it who are experts in it, it's not something that excuses behavior. It's something that explains a pattern of behavior. So, it wasn't something she was embracing. Rather it was kind of a description of a pattern I think she truly was engaged in where she craved attention, and craved attention in a medical setting.
When she came on duty 3-11 p.m., 2-3 days in a row just under Genene Jones, they'd have an emergency. I think there's a pattern in her life as a parent and life as a nurse where she's harming kids that she's caring for because she gets some sort of thrill of being the center of attention in a medical setting."
Jones' former fiancé, Ron English, echoed these thoughts.
"Like Peter and I have talked about, we still believe she was vying for attention. 'Look at me. I am the heroine. I saved your child.' I knew her well enough that she wanted the glory of being the rescuer and the savior. I think she would say, 'Ok, if I inject this child with this, I know enough about medicine to bring the child back. Then everybody will praise me.'
Her glory... 'Look at me. Look how I saved your child.' I don't think she really intended to. If you knew her well enough, when her son would get sick, it would be the same thing. She would say, 'The doctors said this, but I did it this way....' That's when I kind of pieced it all together," he said.
English said Jones also had a history of claiming to have serious medical issues herself. In fact, she appeared in court for her arraignment late last year wearing a surgical mask.
Her attorney, Cornelius Cox, would not comment on details, but did offer a brief explanation.
"In terms of medical issues, I can't get into any specifics. I would imagine some of that is just precautionary measures that are taken," he said during a statement to the media.
She has also used a wheelchair, and most recently, a walker in court appearances.
A San Antonio psychologist spoke with KENS 5 about the so-called Munchausen Syndrome in general terms.
"Typically, it wouldn't really be professionally ethical to talk about a specific case and certainly not try to diagnose someone in absentia without having personally examined them, done a clinical interview and clinical testing, that sort of thing in order to impose a diagnosis on someone," Cynthia Jacox said.
Jacox is a psychology professor at Northwest Vista College. She said she has treated patients for more than a decade.
"I was a clinical physiologist in Seattle, Washington for 15 years in private practice, moved here to Texas in 2009, took a couple years off and then came here to Northwest Vista and began teaching psychology classes," Jacox said.
Contrary to popular belief, she said the name 'Munchausen Syndrome' itself is not a formal diagnosis.
"It's a term that was introduced several years ago as a suggested diagnosis, but it was never actually adopted as a diagnosis. So Munchausen Syndrome, that term, people are very familiar with. There's Munchausen Syndrome and Munchausen by Proxy, but the actual diagnosis from a clinical perspective is actually 'factitious disorder': Factitious disorder imposed on self, or factitious disorder imposed on another. So, the idea of Munchausen Syndrome really falls under that clinical diagnosis. If someone were to be judged as what we commonly call having Munchausen Syndrome and Munchausen Syndrome by Proxy, it would officially be diagnosed as factitious disorder or factitious disorder imposed on another," she said.
However, Jacox said it's important to note that a person with the disorder is not considered insane. She said they realize that what they are doing is for the purpose of drawing attention to themselves.
"That really is what the description of the disorder is; Someone who presents themselves as having medical problems, basically knowing that they are presenting them, and in doing so, that they are being deceptive or aware. It's not a delusional disorder where a person actually believes that they have that medical problem. They actually realize that they're imposing a deception in doing that. So, that's where the term factitious disorder comes from," she said.
Jacox said it's also a relatively new concept in terms of psychology research history.
"It was originally even mentioned in psychological literature until about 1980. It's most common in situations of parents representing their children as having some sort of medical disorder. It is seen in the health fields as well. As I was reading about it, kind of refreshing my mind about it and reading the literature about it, it mentioned that very frequently people with this disorder do go into health-related occupations," she said.
In her presence
:
In two interviews with Jones, Elkind said he tried to understand what motivated the crimes she committed. Prior to her murder conviction, he said there was a sharp contrast in Jones' demeanor.
"She went on the attack. She asserted that a doctor was having an affair with a nurse, that this particular physician was incompetent. She blamed everybody else, and she pointed fingers. She is an extremely aggressive personality. That came across quite clear in my meeting with her, and that's why she was willing to talk to me in the first place, I think," he said.
After his investigation into the case was published in Texas Monthly, and Jones was eventually serving time, Elkind spoke with her again.
"The time after my story appeared, after she was charged, she talked to some other people at the jailhouse as I recall. Once she was in prison, I don't think she spoke to anyone else. I spoke with her a few years after she had been sentenced and was in prison.
There, she had a different tone. She was suggesting that she had found religion, although she seemed to be fumbling for exactly what religion she had found. She was saying, 'I'm intrigued about the Jewish religion,' but she was wearing a cross. It was hard to sort of know what to make of all of that. She was less profane. She wasn't using any four-letter words at that stage.
She was as defiant as ever that she had done anything to harm kids. She said that others were responsible for any problems that had taken place. 'If kids got hurt, it wasn't me. All I did was love the kids and take care of the kids.' That was her take on it," Elkind said.
He reflected on what it was like interviewing Jones in person.
"This is as horrific a crime as you can imagine: Harming children, harming multiple children. You're in the business of caring for children. It is every parent's worst nightmare. It's an unimaginable crime. Certainly, I had spoken to parents whose kids she had harmed. I'd spoken to Petti McClellan and Reid McClellan whose daughter she had murdered. I understood their pain as much as you can without having gone through that yourself.
So you know, you certainly have the sense of being in the presence of someone who has committed unspeakable evil. But I was there to hear her story and sort of understand what to think about her. I think the meeting with her did a lot to resolve the matter in my mind, because she told so many lies about the sequence of events. I also understood her much better after having met with her. I understood why, in her own way, she was a compelling personality for people.
I understood how aggressive she was. I understood how combative she could be. It helped explain her a lot to have spoken with her there," Elkind said.
'I was heinous'
:
After new charges were brought against her, Jones denied our request for an interview for this project. So at this point, you won't hear her voice – But you will hear from her in her own words.
Amid reports of the possibility that Jones could get out of prison, she received communication from the Texas Board of Nursing regarding the status of her license.
In 1986, board members held a hearing and found that "Genene Jones presents an imminent peril to the public health, safety or welfare."
At that time, the board ordered that "in view of the appeals process," Jones' nursing license was suspended until she "appears before the board of vocational nurse examiners."
"Of course she was in prison, so she wasn't going to appear before the nursing board to practice nursing at all. She technically just had her license suspended. She never had it revoked. All that time. By the way, at one point in the hospital when she was in prison, they wrote to the authorities and said, 'Is there any reason this inmate can't work in the prison medical facility?'
Her license had been suspended. In 2011, when news started to get around and concern got around that she might actually get released at some point, the nursing board went back to pursue this further. Following the procedures, they wrote a letter for her in prison. She replied back, and that's the letter that is at issue," Elkind said.
Based on these records, her license was suspended until 2011. In the official order to revoke it, the board cites Jones' convictions for murder and injury to a child and notes her sentences.
She sent a stunning letter to the nursing board that reads like a confession. She references her "crime" without going into many details.
The letter reads, in part:
"I will take this opportunity to apologize to the board and to the nurses it represents for the damage I did to all because of my crime. My only defense is that I was not of sound mind then or any time before 1994. That is not an excuse, just a fact. God in his infinite wisdom and mercy granted me a sound mind upon receiving him as lord of my life. I look back now on what I did and agree with you that it was heinous, that I was heinous. But God's mercy is new every morning to remind me that I am forgiven by Him. I pray that someday you will forgive me also.
I have no plans to ever renew nursing in my lifetime or a license that I am sure, if your records go back that far, was revoked somewhere down the line of time."
It's not clear whether Jones made any other admissions to the nursing board.
KENS 5 requested all records of communications between the board and Jones from her conviction in 1984 to present day, not including this letter from Jones that we did obtain in an open records request.
The board forwarded our request to the Texas Attorney General's Office, but it was denied on the grounds that they are confidential personnel records.
Referencing her "crime" is not the only admission of guilt that Jones allegedly made while in prison.
Some reports of this are more direct than others.
Ron English said he caught on to Jones showing signs of guilt when she used to write letters to him and her former attorney, Bill Chenault, early in her prison term.
"We were all kind of, we were friends. When Genene would write me and write Bill, she always had one thing to say. Several times in the letter she said, 'This place is really very nice, and the work here is absolutely fascinating. I absolutely love it.' I would write back with, 'What kind of work are you doing?' She never really answered me, but said the work is really fun.
Bill said he got the same letters, and he said he felt that she wanted to be there. She had some sort of guilt complexes that he felt she needed punishment for something. That's why she began to say, 'I enjoy it here.' That's when I started getting kind of fascinated with the criminal mind," English said.
The Texas Department of Criminal Justice said inmates' job information is not public.
Jones' defense filed a motion for speedy trial, arguing that decades-old murder charges should not be brought against her so long after the children died.
We played an archive clip of Nick Rothe in a previous episode of Vile. He's a former assistant DA who prosecuted Jones' 1984 Injury to a Child trial in Bexar County. He spoke after Jones' only San Antonio conviction up to this point.
"In terms of Ms. Jones and her connection with the incidents at the hospital, as far as I'm concerned with this event, I don't see any indictments coming down against her. I think it would be superfluous at this time," Rothe said in the past.
Jones was already serving a 99-year sentence for Chelsea McClellan's murder at the time of this conviction, and as KENS 5 reported, many connected with the case believed she would be in prison for the rest of her life. The mandatory release law didn't seem to be on their radar.
After decades of waiting for Jones to be charged in additional deaths, and now waiting for a new conviction to keep her behind bars, one of the biggest pieces of evidence in the case against her was released to the public in court just a few weeks ago.
It seems to be the kind of evidence that could blow a case wide open. Prosecutors say there is a witness to Genene Jones' confession.
Rothe also testified about his experience with the past investigation at the April hearing.
"I felt like, it's easy to throw numbers around, but I felt like there were 23 children who never should have died at the hospital. I've read other numbers, but trying to be as close in as possible in all that. The investigation involved a number of things besides children who died, it also involved many many children's cases when they called a 'code blue.' You see that all the time in TV. These children stopped breathing, or their heart stopped, and they lived. So, it wasn't a homicide case. One case for sure was injury to a child. We were investigating that, not just murder, but these other cases as well," Rothe said.
When it comes to bringing additional charges against Jones in the early 1980s, Rothe said it's complicated. The DA's office was focused on so-called 'slam dunk' cases.
"All of these cases, you know, it was very difficult because the investigation started in 1983. This epidemic period we had was like in 1981. You're in a hospital with more than 300, I don't know, but hundreds and hundreds of people milling around there, wards with lots of people in them. Lots of nurses, lots of doctors, lots of interns and lots of other people. Consequently, we couldn't find any cases at the time where we had direct evidence.
The cases we were going to get are going to be circumstantial evidence cases. Whichever side of the fence you want to work on, circumstantial evidence is a tough row to hoe through, for the prosecution especially, because you have to exclude everything else except the guilt of the defendant. In a case that big and that old, it becomes harder and harder to do. Yes, I felt like there was a good probability. I felt that Ms. Jones had a direct hand in these children's deaths, but I wanted to make sure that if she got tried that she got the most punishment you could get at the time, of course.
Injury to a child and murder: The punishment is the same. I thought, well, I feel much closer and more convinced about the Rolando Santos case than I do about the other ones in terms of being able to secure a conviction, not only just a conviction. Sometimes that's easy to get. It's making it stick that's the hard part.
I wanted to make sure that whatever charges we brought and whatever we tried, that that case had the best chance of being confirmed on appeal. I was right, because it was. So was Kerrville. They were clean all the way through," Rothe testified.
The confession: 'Babies, plural'
:
Prosecutors believe they do have new clear-cut evidence in the case against Jones.
The Bexar County DA's office cited instances in which Jones allegedly confessed to more than one crime against the children she treated.
Assistant DA Jason Goss testified that, to his knowledge, the current prosecution team was the first since the case against Jones broke in the early '80s to look into several old records in storage from the Bexar County DA's Office. This included a nursing assignment log from the Pediatric ICU where Jones worked.
"They would fill out a nurse assignment sheet for each day of the week and for each date in the year, which nurses were assigned to which shift, and in fact which nurses were assigned to which bed within the shift. That evidence was crucial to putting her in the room with the baby at the time that the baby died. We had two bound nurse assignment logs that were found in a mislabeled box," Goss said.
Goss dropped several bombshells in the case during this April hearing. He said that under the former Bexar County DA administration, two pieces of evidence came to light.
"The first was Rosemary Cantu, who was the mother of our baby [referenced in the indictment], Rosemary Vega, who came forward with an eyewitness account of Genene Jones injecting her child. That happened in 2013. It was our understanding that she had previously told her civil attorney, but had never told the prosecutors at the time. There was no evidence in any of the boxes about a statement that she had made."
Investigator Larry DeHaven uncovered a letter sent to Genene Jones from a psychologist whom Goss testified incidentally lives in Canada.
"It was a jail letter that Larry had uncovered in a mail trap that the psychologist in particular was responding to something that Genene Jones had written. She said that, her statement was, 'You mentioned being in a detached state when drawing and administering the medication you used in the crimes.' She continued to reference Ms. Jones to several books on serial killers and serial killer psychology, which was important to us because at the time, she has only been convicted of killing Chelsea McClellan," Goss said.
However, Goss said the psychologist in question refused to turn over correspondence with Jones to the Royal Canadian Mounted Police. He testified this indicated to the prosecution that there were admissions of guilt from Jones no one had seen before.
The Bexar County investigation revealed that an inmate came forward and said she was incarcerated with Genene Jones, and the two were playing checkers.
Another inmate then asked if she knew who Jones was and then reportedly referred to Jones as quote "the nurse who killed all the babies."
The inmate who came forward told prosecutors that Jones put her head down and did not dispute the claim.
Goss testified that the prosecution is taking this as a quote "admission by omission."
In a separate incident, he says another inmate wrote to the parole board about Jones.
"We uncovered a parole letter, a letter requesting that Ms. Jones not be granted parole. It was from an inmate, which was strange because fellow inmates don't usually write those letters. She said that she did not want Genene to get parole, and that Genene told her, 'I didn't kill the babies. The voices in my head did.'
Once we got that, we also interviewed that inmate. She talked to us and told us that was true, which is another admission that no one else had at any time before the time that we talked."
Prosecutors also obtained a key piece of evidence when sifting through parole records: Jones' alleged first confession.
In a memorandum from a 2011 parole review, Goss said there is evidence that Jones told a parole board member that she had confessed to multiple crimes before, in a previous meeting with a parole officer.
Goss said that he, Norton and DeHaven spoke with that parole officer late last year.
"We identified her as Marcy Ferguson, who did a parole review in 1998. In 1998, we found that this would have been the first time that Genene had confessed. Marcy Ferguson writes, contrary to prior reports and file material, inmate Jones admitted she committed the present offenses. She tearfully stated she was sick and claims she feels bad for the victims' families.
Based upon that, Jay, Larry and I went and interviewed Marcy Ferguson about the meeting that she had with Genene Jones. In that interview, Ms. Ferguson told us that yes, she did confess to those crimes when they talked about it during the normal review.
She described a situation where Genene was leaving the room, stopped at the door, turned around, and said: 'I just want to get this on the record.' Ms. Ferguson said, 'OK, what's going on?' She said, 'I really did kill those babies.' Babies, plural.'
Ms. Ferguson describes that at this point she begins to look through the files they were discussing with Rolando Santos and Chelsea McClellan. She starts kind of thumbing through those, as if to say, 'OK, you're talking about this,' and Genene said, 'You won't find them in there.' Ms. Ferguson said she took that to mean, 'I'm not talking about the babies that I've been convicted of. I'm talking about the other ones.' Then [Jones] told Ms. Ferguson that she didn't want to see this in Texas Monthly,'" Goss said.
To his knowledge, Goss testified that the first time his team got the parole records was the first time anybody from the DA's office had ever seen them or knew that this admission existed.
"Speaking with Ms. Ferguson, no one had ever known who she was. She didn't report it to Texas Monthly. She didn't tell anybody else. She just took that as part of the parole hearing. One of the things she said was she said she would never forget it. She would never forget the exchange. She remembers the encounter. Ferguson told us that she had spoken with Genene Jones for 30 minutes, and that's all she had ever spoken to her. Ms. Jones remembered Marcy Ferguson and remembered what she had said," Goss testified.
The cemetery
:
Genene Jones is expected to go to trial for the murder of Joshua Sawyer, the first San Antonio murder indictment that the DA's Office announced. It could happen this fall.
She is being held in Bexar County on a $1 million bond for each of the five murder indictments.
There are accounts of confessions, read aloud to a courtroom and from Jones herself in print, and then there's this.
It wasn't the first time she suspected Jones had done something to intentionally harm her baby. In fact, Petti McClellan told us she knew from the start.
But she shared a chilling story about the moment when her suspicions about Genene Jones were heightened to glaring knowledge:
"After Chelsea died, I can't explain the grief. I was so lost. I needed answers. I knew something had happened, and I prayed and prayed and prayed for, you know, God to help me because I was going crazy. I was like, people think I'm losing it here. I'm not. I know.
I mean, I went to the cemetery every day. Every. Day. I drove up there one day, and [Genene Jones] was kneeling at Chelsea's grave. She was rocking back and forth wailing. It wasn't a cry. It was the most God awful wailing I've ever heard, and I've never heard anything else like it since. She just kept saying, 'I'm sorry, I'm sorry, I'm sorry.'
Then she would say, 'Chelsea, Chelsea, Chelsea,' Then when I walked up to her, I was like, 'What are you doing here? Get away from her grave.' At first, she didn't even respond, and I said it again.
Then she stood up. Literally, she walked right by me. She looked right at me, and it was like I was invisible. It was like she just looked right through me, walked by me, got in her car and left," Petti said.
Thank you for following Vile Podcast.
KENS 5 has been taking a look back at the history of the Genene Jones case and tracking new developments. This is ongoing coverage. If you are connected to the case, and you would like to speak with us, email swelsh@kens5.com.
Check out KENS5.com/Vile for all episodes in our podcast series, plus photos and videos related to the story.