New Castroville development brings comparisons to other San Antonio areas
Castroville is currently home to about 3,000 people and a very unique history dating back to the mid-1800's. A new planned development would add hundreds of homes.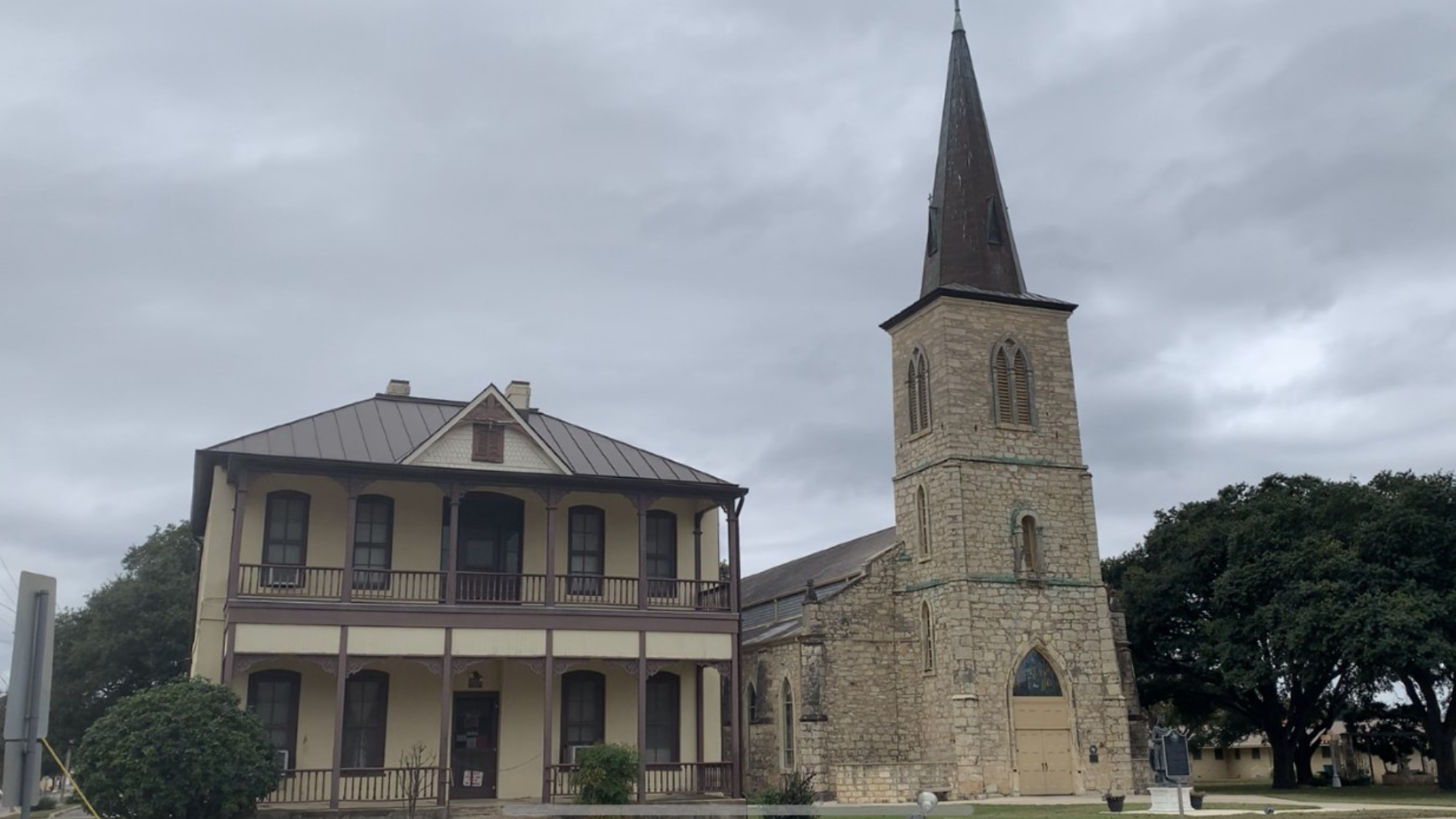 As San Antonio continues a trend of expansion and growth, towns west of San Antonio are seeing that expansion land right on their doorstep.
Castroville is currently home to about 3,000 people and a very unique history dating back to the mid-1800's. A new planned development would add hundreds of homes in the coming years.
In this episode of Commerce Street, an Eyewitness News Original podcast, the mayor of Castroville along with members of the community expressed their hope to maintain their "small town" feel while also welcoming the new residents. One of the developers spoke about the basics of the project, what makes Castroville appealing to San Antonio commuters and the difference between the town and other surrounding areas like Boerne.
The development
:
A nod to history
Alsatian Oaks has been years in the making.
The planned community of large-sized lots will add hundreds of new residents to the small town of Castroville. Will Collins, CEO of Merit Commercial Real Estate, has overseen the 430-acre development from the beginning.
"The project is located on Highway 90 at at the intersection of FM 471. It's the southern intersection from 471. It also picks up right by the river and runs north from Highway 90," Collins said. "It's taken a while to get here. Our first investment was in 2009. We actually put the 430 acres together over a series of acquisitions. We first acquired 30 acres back in 2009 with several follow up investments," Collins said.
Mayor Darrin Schroeder has worked closely Merit. He's protective of the town's current residents, while also willing to add his guidance to the project to ensure success. He hopes with the right input, the new community can compliment Castroville's unique style and history.
"I thought it was kind of interesting and it's inevitable that people will build houses. They will buy a property," Schroeder said. "I'm one that if I had the choice, I would move into Castroville and close the door behind me and not let anybody else in. But when I came here, they were so welcoming to me. People here are just absolutely amazing."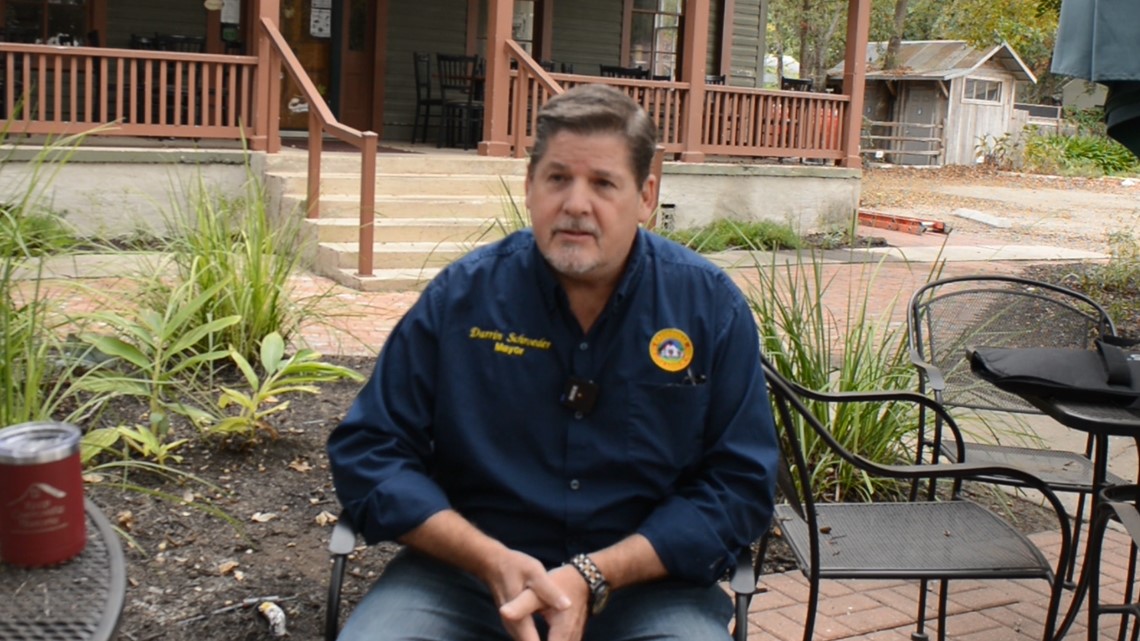 The scope of the project gave Schroeder pause.
"It was a bit of a shock. It's a large subdivision. It will essentially double the size of Castroville in just a few years. We had originally anticipated about 30 [years], and it's probably going to be less than 10," Schroeder said.
But, he appreciates Merit's willingness to hear the residents' concerns.
"It was done really well, actually, because it was not uncontrolled growth. You think about urban sprawl...urban sprawl is uncontrolled growth. This was very controlled growth well and his group had been really good about partnering with us," Schroeder said.
It's something that Merit Commercial Real Estate has welcomed with open arms.
"We believe that it's in our best interests as well to really honor the unique culture and heritage of the city of Castroville," Collins said. "We think that that's going to attract or increase demand for homes, for retail, for restaurants, for medical office space. And we think that due to the size and scale of our project, we will be able to play a key role in setting the tone for the high quality and high standards in design for new development in this area."
The traditions
:
Les and Patricia Tschirhart
The history and heritage of Castroville live in Patricia and Les Tschirhart, whose relatives include the original founders of the town.
"Our families arrived in 1845 and they came from France. My grandchildren are eighth-generation Alsatians," Patricia said.
"Her great-great grandparents and my great-great-great grandparents rode the same ship from from Alsace to here. Actually, they came from Belgium, but they were Alsatian," Les said.
Alsace is a historic region of France that borders Germany and Switzerland.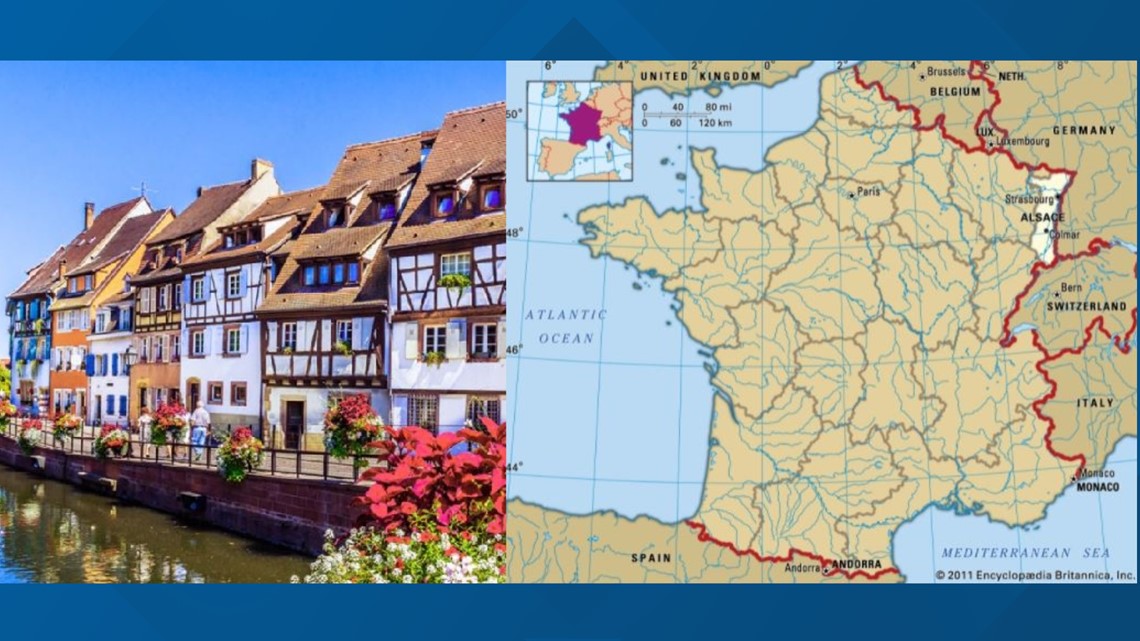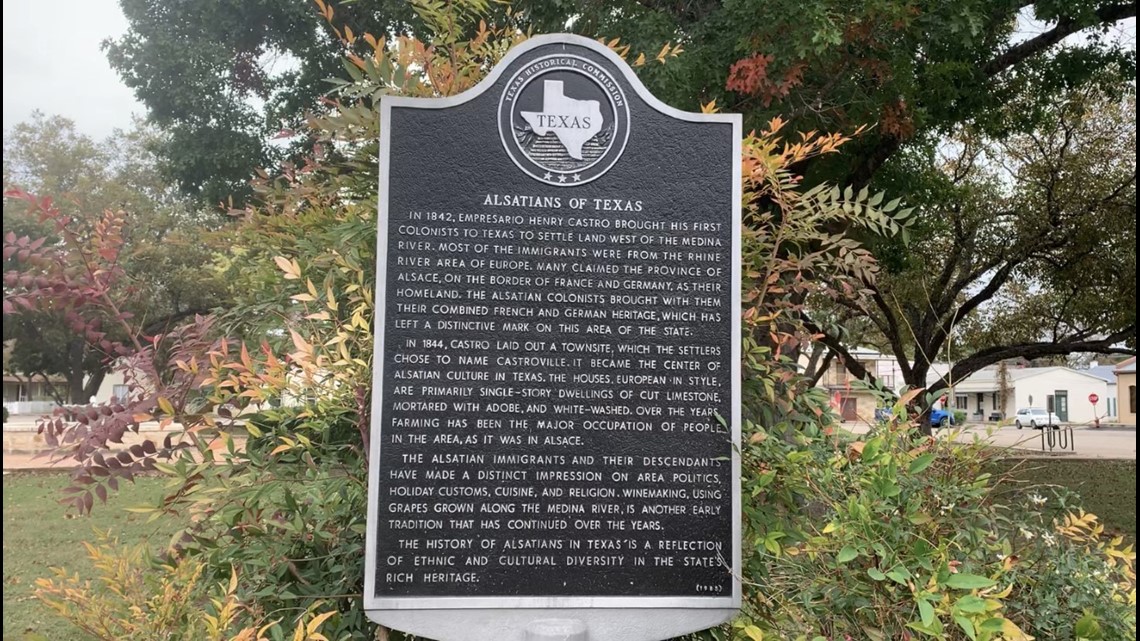 "I said when I was a child and when Patty was a child, we went all around Castroville and it was unusual to hear English language spoken on the streets. It was Alsatian and Spanish and our parents, neither of our parents could speak English when they started school, they still spoke the old Alsatian dialect. And but of course, it's dying now. There's not many of us speaking it," Les said.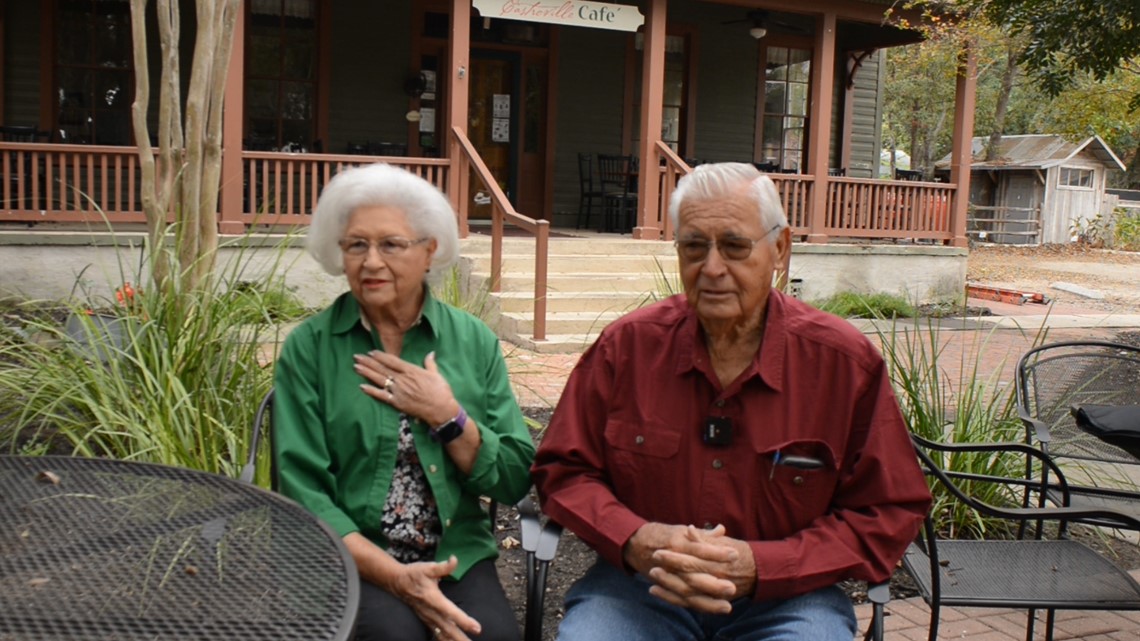 As they make efforts to preserve the town's language and cultural traditions, they are also ready to welcome new residents to the development.
"Well, it's progress. We're not going to stop, but there were some who at one time wanted to stop this and keep Castroville really intact," Les said. "But it's inevitable. The growth is inevitable, but they're still keeping the old buildings and the history of Castroville alive here. So I think both of them can exist. The big problem here, of course, is the traffic has really changed this town."
"I think we will just embrace our growth and make the best of it and embrace it. It'll bring good things, may bring some bad things, we don't know. We trust that our mayor and his council will take care of us and we elected them to do that," Patricia said.
Take a look at a photo gallery showing landmarks around Castroville:
Photos show historic Castroville's buildings, business and homes
'That's 800 dogs'
:
The veterinarians
Longtime residents Luis and Mary Arguellas also understand what makes Castroville so special.
"One thing that struck us just immediately when we got to town-and setting up bank accounts and that - People were so nice and we were suspicious that were too nice!" Luis laughed. "But, it turns out that it was a genuine, genuine niceness and we've been here ever since and raised our kids here and and opened a veterinary clinic and had been blessed really with a great community."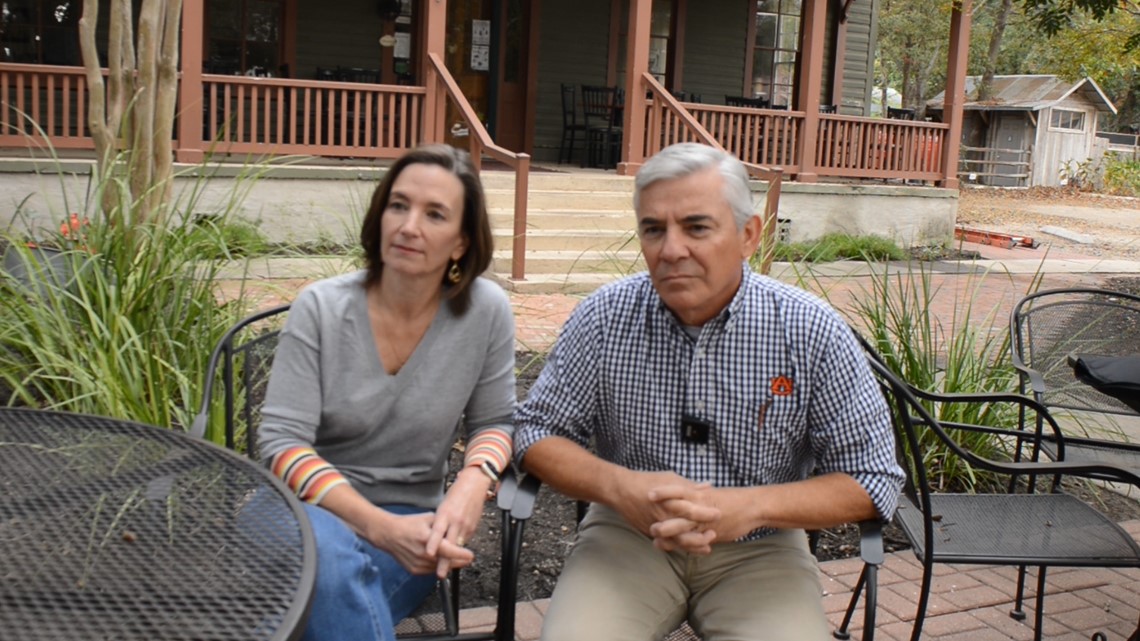 The couple came to Castroville in 1995 and are both veterinarians. Like the Tschirharts, they are welcoming the growth of the town and are hopeful the new residents can see the value of such a unique place.
"When you think about it, Castroville, it's pretty. It's welcoming. It's got a lot of positives for it that people are attracted to," Mary said. "You know, we've got camping, we've got RV parks, we've got a great school district. You know, there's a lot of a lot of pluses for Castroville."
They are choosing to see the benefits of bringing in newcomers to Castroville.
"You know, that's a thousand lots that are projected. That's 800 dogs. But you know, there is a traffic thing, but I think we're going to manage," Luis said. "And eventually with that revenue, infrastructure will come and everything that's done in this town has been done the right way. And we've noticed since we have been here for 26 years, it's been an amazing community. They come together and they do things right. I didn't have that where I grew up, which is a nice community and all but this town is really been very welcoming and it was a great place to raise a family."
The future
:
What comes next for Alsatian Oaks
As for the development itself, Collins made a surprising comparison to another desirable suburb of the San Antonio area.
"We believe that Castroville's got a lot of great fundamentals as a suburban community or a bedroom community to the San Antonio market. We believe that this is the next Boerne," Collins said. "You know, to use an analogy, we believe that Castroville in 2009 was akin to Boerne in that in the mid 80s, it had the potential to grow into that sort of community, higher end community with folks who would live in a a town that had its own unique identity and heritage, but was accessible to the big city amenities and the offices of San Antonio. So we loved the fact that this was on Highway 90. While the distance maybe a little longer, the drive time is shorter then than it would be for folks who are living on Potranco Road or Culebra and 1604."
Both Collins and Mayor Schroeder emphasized the need for high quality building materials, lot sizes and designs.
"We came to agreement with the city of Castroville that we would maintain a minimum lot size of 6000 square feet versus a more densely populated residential housing. And that was a big one for them," Collins said. "Secondly, we agreed that all the homes would be three-sided masonry. Masonry includes stucco, stone and brick. So verses all four sides being some sort of siding or wood siding product. Three sides are required to be masonry. And then also, we have architectural control over the whole product. It's constructed out here and we have worked with the home builders that are coming out here to to provide direction on architectural accents and architectural elements that you can find in the community today that represent the Castroville community."
Overall, Collins and Merit Commercial Real Estate pledged to honor the wishes of the residents of Castroville and their own long term investment.
"Our investment horizon and our investment perspective has always been long term. It's generational. So, we have taken the time to do this right and listen to the concerns of the community. Listen to what the residents want to see out here. So, trying to honor in every way what we can do to keep intact the uniqueness of Castroville."