Best of 2020: Commerce Street, a business podcast from KENS 5
In Commerce Street, a podcast from KENS 5, host Erica Zucco and producer Kristin Dean explore topics about business, the economy and technology in the Alamo City.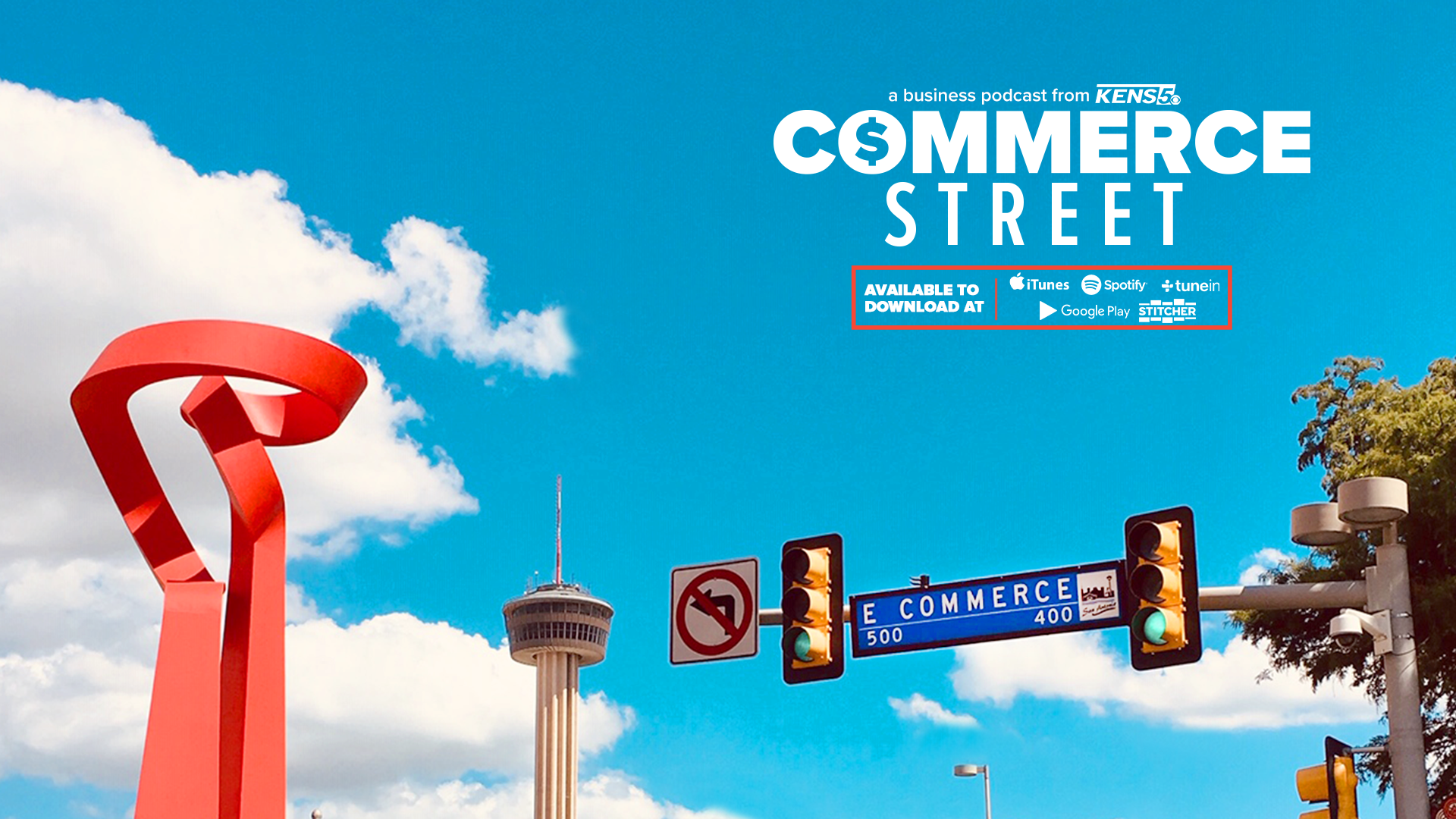 San Antonio is a tech-savvy city on the rise with a rich history. In Commerce Street, a podcast from KENS 5, host Erica Zucco and producer Kristin Dean explore topics about business, the economy and technology in the Alamo City.
The year 2020 changed everything for businesses and the economy in San Antonio, so we focused on how industries are getting creative and innovating to survive. We also talked with city leaders and industry experts about how San Antonio's diverse and varied economy will help give a boost during the recovery. And with so many people out of a job due to the pandemic, we highlighted job training and accelerated career programs to help people pivot to in-demand industries and get back on their feet.
We also had some projects in the works before the pandemic hit San Antonio in mid-March about organizations that are breaking new ground in research and technology. They include a feature on the new E-Sports program at St. Mary's University and how Southwest Research Institute here in San Antonio is exploring our galaxy and finding cancer treatments.
Scroll through below to take a look at our best episodes of 2020! And if you have ideas for topics to tackle in 2021, please reach out to Erica Zucco or Kristin Dean.
Surviving and thriving
:
Local businesses get creative
San Antonio's downtown typically draws visitors from across the nation. But without the stable stream of tourists, convention-goers and government workers that typically guarantee a strong customer base, downtown businesses are facing unique challenges.
That's why Centro San Antonio launched its Main Street Business Program - an initiative aimed at equipping small businesses with what they need to survive and thrive through the pandemic. That mission also attracted the City of San Antonio to select Centro as a partner in its plans for economic recovery.
In this episode, we spoke with one of the program's architects and one of the on-the-street "Navigators" about what they're doing and why.
From visits with Santa to yoga classes and even tango performances, local hotels are hoping innovation will bring a boost to the industry. With out-of-state vacations discouraged, typical tourists cancelled trips amid the pandemic. But some hotels are pivoting to attract people within driving distance to enjoy events, amenities and workspace options.
In this episode, we talk to a hotel industry research group and consultancy firm and one of the many hotels thinking outside the box and finding ways to engage with customers safely.
Listen to the full conversation below:
Career Change
:
Pivoting to In-Demand Jobs
The first class of students have begun their training at a free new training center at Port San Antonio.
We first told you about Port San Antonio's plan to transform a former Air Force fitness center into a training hub in August. In an update episode of Commerce Street, a business podcast from KENS 5, we heard from the organizations making the dream a reality and some of the students working toward a better future.
The Texas Center for Nursing Workforce Studies says our state will need at least 60,000 more nurses and nursing staff workers than we're expected to have. That's based on the demand for healthcare – and the number of nurses entering versus leaving the workforce.
Breaking New Ground
:
Research and Innovation in SA
The multi-billion dollar industry of Esports is booming...on the airwaves, in arenas, and on at least one San Antonio college campus.
St. Mary's University is diving into the exploding world of Esports and challenging the traditional notion of sports and athletics. The university is organizing an Esports team under the Athletic Department and hopes to have a team of student athletes very soon.
The scientists and engineers at SwRI put the Alamo City on the map when it comes to collaboration and innovation. The institute's fascinating projects attract some of the greatest minds in science and engineering.
Hakima Ibaroudene, who was part of a team that won an international competition with a revolutionary way to diagnose breast cancer, said she knew from day one that SwRI was her home-away-from-home.