SAN ANTONIO — One of the best high school basketball coaches in San Antonio history, a football player who completed his collegiate career as the top rusher in Texas annals, a legendary basketball player, an All-America track athlete, a trailblazing athlete and administrator and an athletic director with a vision have been selected for induction into the SAISD Athletic Hall of Fame.
That's a lot to pack into one paragraph, but it was difficult to pick one honoree over the others as the headliner.
Their names are Rudy Bernal, Adriane Lapsley Butler, Larry Collins, Rudy Davalos, Diz Reeves and Gilbert Salinas and they are the SAISD Athletic Hall of Fame's Class of 2019, which will be inducted Aug. 17 at the Alamo Convocation Center.
Here is a rundown on what each of the six members in the Class of 2019 accomplished as an athlete, coach or administrator in the San Antonio Independent School District. The six are listed alphabetically.
Rudy Bernal, Lanier boys basketball coach, 1983-2014: Bernal headed the boys basketball program at Lanier for 31 seasons, compiling a 567-442 record and leading the Voks to the state tournament in 2000 and 2001. Lanier made the final in 2001, beating a Dallas Lincoln team that had future NBA star Chris Both at center in the semifinals and falling in the title game to Beaumont Ozen, which was led by center Kendrick Perkins, another future NBA player. His last four Lanier teams went 25-12, 29-7, 29-6 and 24-8 for a combined 107-33 record. Bernal graduated from Lee in 1973, but a big part of his heart always has been at Lanier, where his father Ramiro played on the Voks' 1943 state championship team before marching off to World War II. Bernal led Antonian to the TAPPS 6A boys basketball state title this year.
Adriane Lapsley Butler, Brackenridge, Class of 2002: Butler competed in volleyball, basketball and track at Brack before she was a three-time All-America track athlete at Georgia Tech. Although overlooked by most college recruiters, Georgia Tech coaches Alan Drosky and Nat Page saw her as young athlete with a strong upside. They were right. Butler flourished at Georgia Tech, earning All-America honors in the indoor 60-meter dash once and twice in the 4x100-meter relay. Butler, who completed her college career in 2006, holds the school record in the indoor 55-meter dash and a member of the 4x100 and 4x200 relays. She has been an assistant women's track and field coach at Georgia Tech since 2007.
Larry Collins, Edison, Class of 1974: Collins was an All-City running back who ripped off 1,000-yard seasons as a junior and senior at Edison. Collins was also a standout sprinter for the Golden Bears' track team, qualifying for the UIL state meet in the 100 and 220 his senior year. He went on to run track and play football at Texas A&I (now Texas A&M-Kingsville), where he was a starting running back on four teams that went 46-1-1, won three consecutive NAIA national titles and four Lone Star Conference championships. Collins earned Little All-America and All-LSC honors, and ended his career as the most prolific ballcarrier in Texas collegiate history with more than 5,000 yards, including playoffs.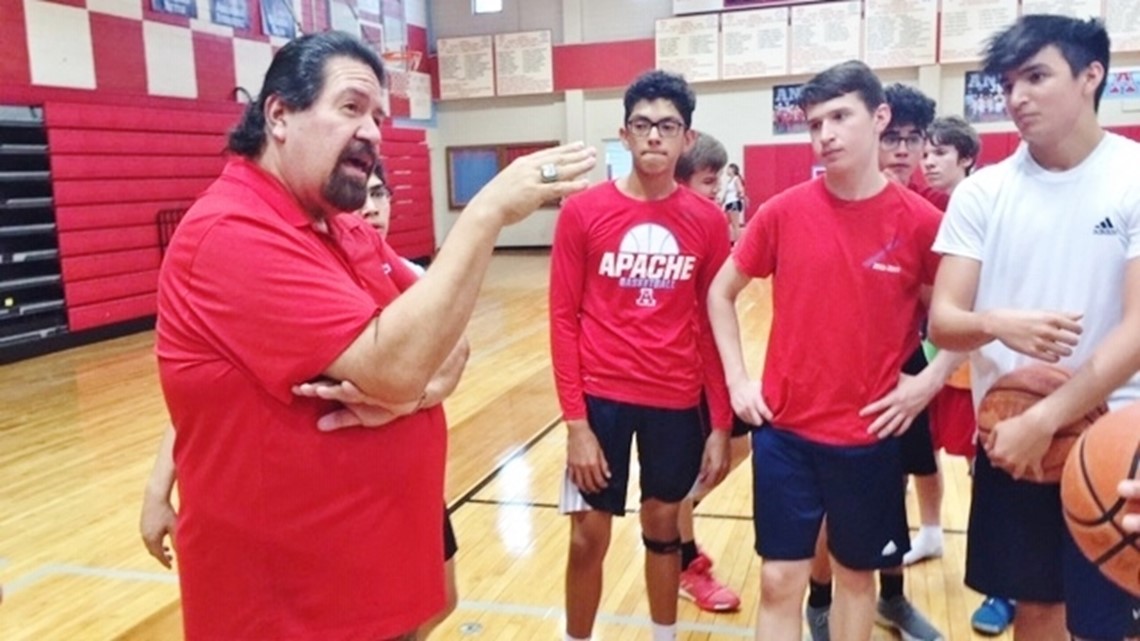 Rudy Davalos, Edison, Class of 1956: A standout basketball high school and college basketball player, Davalos earned All-State honors with the Golden Bears before going on to a stellar career as a point guard at Southwest Texas State. Davis helped lead SWT, now Texas State, to the NAIA national championship in 1960. Davalos was an assistant coach with the Spurs in their first three seasons in San Antonio (1973-76), and was named UTSA's first athletic director in 1976. He also was athletic director at Houston and New Mexico before retiring in 2006. Davalos was one of the first Hispanics to serve as an athletic director at a Texas university.
Diz Reeves, SAISD athletic director, 1995-2002: Reeves was the driving force behind the improvements made to the SAISD Sports Complex, located adjacent to Burbank High School. The Sports Complex features baseball, football, softball and soccer fields and one indoor hitting facility. The primary baseball field was renamed the Diz Reeves Diamond in 2018. A West Texas native, Reeves worked in the field of education for 39 years, including 21 as an administrator, teacher and coach in the SAISD. He was a head baseball coach at Highlands and head football coach at Brackenridge before becoming the district's athletic director.
Gilbert Salinas, Burbank, Class of 1977: A San Antonio legend, Salinas was famously called "the world's tallest Mexican" by former coach and college basketball TV analyst Al McGuire when Salinas played at Notre Dame. At 6-foot-11, Salinas towered over other high school players when he played at Burbank. A four-year starter on the varsity, he anchored the 1976-77 Bulldogs team that reached the Class 4A state final. Salinas, who once blocked 18 shots in one game, earned All-America and All-State honors as a senior. Recruited by some 350 schools, Salinas signed with Notre Dame and earned four letters with the Fighting Irish. He was a freshman on the 1977-78 team that earned ND's only berth in the Final Four. Salinas was drafted by the Atlanta Hawks in 1981.
Bernal hardly could believe it when he was informed last week that he's been chosen for induction into the SAISD Hall.
"I'm very humbled," Bernal said. "I don't even know if I belong with a group like that, if I belong in something like that. I love what I do. I don't do it for all the accolades or anything like that, but it's very nice to be singled out. It makes you think about all the players and coaches you've worked with through the years."
Bernal, 64, grew up hearing stories about Lanier basketball from his father, who played on Voks teams that reached the state tournament in 1942 and 1943, and an uncle, Joe Bernal, Ramiro Bernal's younger brother. Joe Bernal played on the 1944 Lanier team that went undefeated until losing in the state tournament.
The Voks' marches to the state tournament in 2000 and 2001 woke up the echoes of their glorious past, when Lanier basketball gave the school's close-knit community something to rally around during the dark days of World War II.
"It's still surreal just to think about it," Bernal said. "For those kids to do what they did (in 2000 and 2001) and represent our community and the city of San Antonio, I think we did as good a job as anybody could have done.
"It will definitely be nice to see a lot of those former players and former coaches. I enjoy spending time with those people. Just to remember. I have fond memories of a lot of those times, a lot of those years I spent at Lanier."
Collins, 63, played football under the late Morris Stone at Edison. His position coach was Phil Danaher, who went on to become Texas high school football's all-time leader in coaching victories.
"I feel very honored to be going into the SAISD Hall of Fame with such a great group of people," said Collins, who lives in the Rio Grande Valley but visits San Antonio regularly. "This really touches my heart. I'm just glad it happened. It means so much because it is where I started, the Edison community and the SAISD.
"I played Pop Warner football in the Mark Twain (Middle School) area and took off from there. To get the opportunity I had at Edison and then A&I, I had to have the help of so many other guys and my coaches. I'm very grateful to my offensive linemen. I'm very happy, very pleased."
The SAISD Athletic Hall of Fame was established in 2014.