BUFFALO, N.Y. — Bills safety Damar Hamlin was in critical condition after he collapsed on the field Monday night, the NFL said, and Buffalo's game against the Cincinnati Bengals was suspended.
Early Tuesday morning, the Bills released a statement revealing that Hamlin suffered a cardiac arrest on the field. Medical professionals at the stadium were able to restore his heartbeat on the field, before he was transferred to a local hospital. According to the Bills Hamlin is undergoing further testing and treatment and is currently sedated. He is still listed in critical condition.
Jordon Rooney, a family representative who described himself as a good friend of the player, told ABC's "Good Morning America" on Tuesday that Hamlin's relatives are in good spirits but going through a lot and need their privacy. He declined to give details on Hamlin's condition other than to say he is sedated.
"All I can say is he's fighting; he's a fighter," Rooney said.
Hamlin was administered CPR on the field, ESPN reported, and he was surrounded by teammates, some of them in tears after he was hurt while tackling Bengals receiver Tee Higgins.
Higgins led with his right shoulder, which hit Hamlin in the chest. Hamlin then wrapped his arms around Higgins' shoulders and helmet to drag him down. Hamlin got to his feet, appeared to adjust his face mask with his right hand, and then fell backward about three seconds later and lay motionless.
Hamlin was treated on the field by the team and independent medical personnel and local paramedics, the NFL said, and he was taken by ambulance to the University of Cincinnati Medical Center.
Hamlin's Marketing Rep. Jordan Rooney said on Twitter that Hamlin's vitals are back to normal and tests are currently being run on him.
The NFL announced more than an hour after the injury that the game would not resume. When or if the teams would return to the field was not immediately clear.
"Our thoughts are with Damar and the Buffalo Bills. We will provide more information as it becomes available," the league said in a statement. "The NFL has been in constant communication with the NFL Players Association which is in agreement with postponing the game."
On Tuesday afternoon, the Cincinnati Bengals also released a statement:
An ambulance was on the field four minutes after Hamlin collapsed, with many players in tears, including cornerback Tre'Davious White. The quarterbacks — Buffalo's Josh Allen and Cincinnati's Joe Burrow — embraced.
Hamlin collapsed at 8:55 p.m., and when he was taken off the field 16 minutes later, the Bills gathered in prayer. Five minutes after the ambulance departed, the game was suspended, and players walked off the field slowly and into their locker rooms.
Hamlin's uniform was cut off and he appeared to be getting CPR from medical personnel. ESPN reported on its telecast that Hamlin was also given oxygen.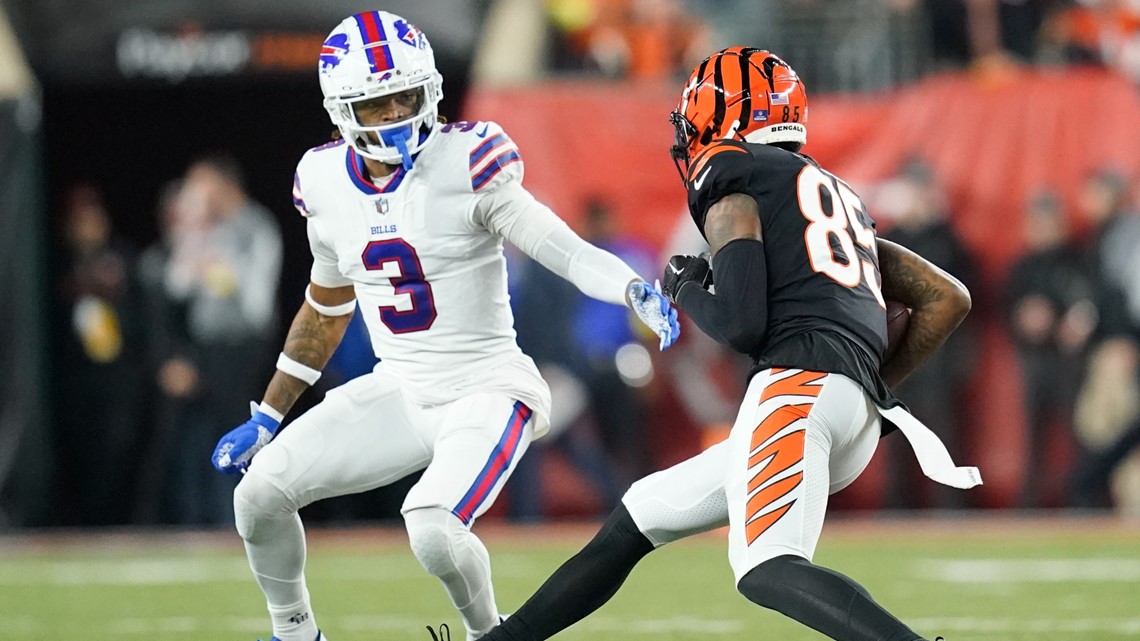 "No one's been through this," longtime NFL quarterback Troy Aikman said on the ESPN telecast. "I've never seen anything like it, either."
The Bengals led 7-3 in the first quarter of a game between teams vying for the top playoff seed in the AFC. Cincinnati entered at 11-4 and leading the AFC North by one game over Baltimore, while AFC East champion Buffalo was 12-3.
The aftermath of the injury was reminiscent of when Bills tight end Kevin Everett lay motionless on the field after making a tackle on the second-half opening kickoff in Buffalo's 2007 season-opening game against the Denver Broncos.
Everett sustained a spinal cord injury that initially left him partially paralyzed.
The 24-year-old Hamlin spent five years of college at Pittsburgh — his hometown — and appeared in 48 games for the Panthers over that span. He was a second-team All-ACC performer as a senior, was voted a team captain, and was picked to play in the Senior Bowl.
He was drafted in the sixth round by the Bills in 2021, played in 14 games as a rookie and then became a starter this year once Micah Hyde was lost for the season to injury.
Entering the game, the 6-foot, 200-pound Hamlin had 91 tackles, including 63 solo tackles, and 1 1/2 sacks.
A tweet from the Pitt football account was simple and clear: "Damar Hamlin is the best of us. We love you, 3," the tweet said, referring to Hamlin by his college jersey number. "Praying for you."
Former Bills players and state leaders sent out their thoughts and prayers for Hamlin following the incident:
This is a developing story. There will be more updates to come as they become available.