San Antonio-area No. 1 picks in NFL draft
Kyle Rote: WR-HB, Jefferson/SMU, New York Giants, 1951, No. 1 overall pick
Tommy Nobis: LB, Jefferson/Texas, Atlanta Falcons, 1966, No. 1 overall pick
Randy Johnson: QB, Sam Houston/Texas A&I, Atlanta Falcons, 1966, No. 16
Jim Hill, DB: Highlands/Texas A&I, San Diego Chargers, 1968, No. 18
Marvin Upshaw: DE-DT, Robstown/Trinity, Cleveland Browns, 1968, No. 21
Gary Green, DB: Sam Houston/Baylor, Kansas City Chiefs, 1977, No. 10
Tommy Kramer: QB, Lee/Rice, Minnesota Vikings, 1977, No. 27
Russell Erxleben: P, Seguin/Texas, New Orleans Saints, 1979, No. 11
Derrick Hatchett: DB, Jay/Texas, Baltimore Colts, 1980, No. 24
Gabe Rivera: DL, Jefferson/Texas Tech, Pittsburgh Steelers, 1983, No. 21
Jermane Mayberry: OL, Floresville/Texas A&M-Kingsville, Philadelphia Eagles, 1996, No. 25
Erik Flowers, DL: Roosevelt/Arizona State, Buffalo Bills, 2000, No. 26
Johnny Manziel: QB, Kerrville Tivy/Texas A&M, Cleveland, 2014, No. 22
Imbued with a strong work ethic instilled by his hard-driving father, UTSA defensive end Marcus Davenport learned the meaning of commitment at an early age.
Ron Davenport, an Air Force veteran, was tough on all three of his sons. He coached them in youth football and has held them to a high standard in all aspects of their lives.
"My dad's the real reason why I haven't been able to quit or stop," Davenport said. "There were times when he would push us hard. There was no such thing as quit because he's going to be there regardless. As long as I've lived, there was no quit, and so that was really a big influence."
"My dad was my biggest critic and then I grew to be my biggest critic. That kind of taught me to have strength. He never held nothing back. There was no such thing, no empathy," he said.
Marcus, the second of the three sons, has come a long way since those early days in Pop Warner Football. A standout at Stevens High School, he went on to star as a defensive end at UTSA.
On Thursday night, barring an unforeseen, last-minute change, Marcus Davenport will join an elite list of San Antonio-area athletes who have been selected in the first round of the NFL Draft.
Named Conference USA Defensive Player of the Year as a senior last season, Davenport could be picked as high as the middle of the opening round, according to some pundits. Davenport is among 22 prospects who have been invited to be on hand for the NFL Draft, which starts at 7 p.m. Thursday at AT&T Stadium in Arlington.
UTSA head coach Frank Wilson, Davenport's family and former Stevens head coach Darryl Hemphill will attend the event with Davenport.
Davenport played his first two seasons under head coach Larry Coker, who was fired in January 2016. Wilson, an assistant coach at LSU, succeeded Coker two weeks later.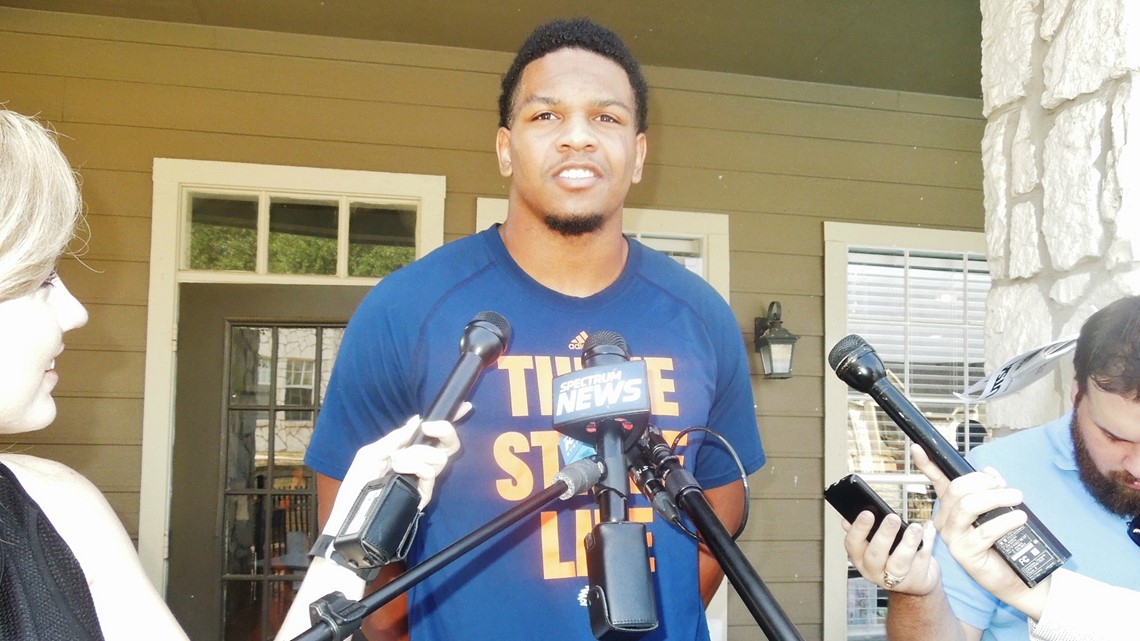 Thirteen San Antonio-area players, including No. 1 overall picks Kyle Rote in 1951 and Tommy Nobis in 1966, both Jefferson graduates, have been selected in the first round of the NFL draft. Davenport would be the first area athlete to be a first-rounder since Kerrville Tivy's Johnny Manziel went to the Cleveland Browns in 2014.
Davenport's life has been a blur since he completed his career at UTSA on the Saturday after Thanksgiving. He played in the Reese's Senior Bowl in Mobile, Ala., in late January, and continued working out to prepare for the NFL Combine a month later in Indianapolis.
After the Combine, he traveled throughout the country to visit NFL teams. Somewhere along the way, Davenport found time for some introspection.
"It's crazy," Davenport said, looking ahead to draft night. "I came to the realization that nothing will ever be the same. I will never be viewed the same. I cannot act the same. I have to grow, too. It's just surreal because I know this is what a lot of people have dreamed for. This wasn't necessarily my dream, but it's growing into it."
At 6-foot-6 and 264 pounds, Davenport has the height, length, speed, quickness, skills and instincts that NFL teams look for in a defensive end. A top-flight pass rusher, Davenport finished his senior season with 55 tackles and set school records with 17.5 tackles for loss, 8.5 sacks and eight quarterback hurries.
Wilson spoke of Davenport's ability to keep things in perspective as his stock in the draft has risen.
"What Marcus has said to me is, 'Coach, I'm a work in progress. I've got so much to get better at in my entire game,'" Wilson said. "And that's who he is, just a young man who looks at his coach and says, 'Coach me, coach. Get me better.' That has a thirst for knowledge, that wants to know, 'how can I perfect my craft? What are some of the things I can do to get better?' At a time and age when guys are entitled and really think they have it all figured out, he's not that guy. He wants to get better. He wants to be coached, and it's just refreshing to see."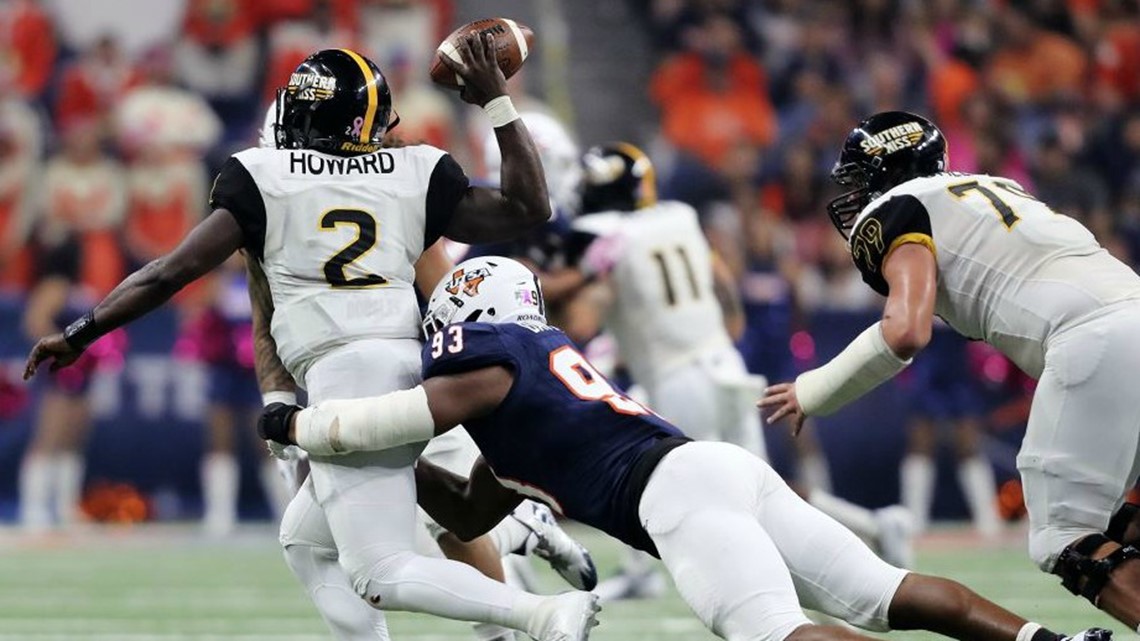 Wilson attributed Davenport's humility to his upbringing.
"That's a testament to his parents, to his father and his mother (Ronnetta), and the way that they've raised him," Wilson said. "He comes in the office, we sit down, we talk and just have a real dialogue about what to expect in the coming days, weeks, years to come."
"And how to never forget where you came from and that foundation. He's a guy who's ever indebted to the people who have helped him in his life, in his voyage, if you will."
Always a team player, Davenport credited the people who have helped him along his path to the NFL.
"I've got great friends," Davenport said. "I've got a great support system. I went to UTSA and they support me. I don't think I have fans. I have supporters. I feel fans are fanatics. I don't need those kinds of people behind me."
"I've got supporters, people who have their own goals, their own visions. I might be a little ahead in the race right now, but they're going to catch up and we're going to thrive together," Davenport said.
Davenport was committed to UNLV before he made a recruiting visit to UTSA. It didn't take him long to change his mind and stake his future with the Roadrunners' fledgling program.
"The real reason was the family atmosphere I felt here," Davenport said. "I found another family. They helped me grow into myself and helped me grow my own passion."
Driven to succeed, Davenport never has needed motivation on the football field. He's one of those athletes who enjoys the game within the game, relishing the preparation it takes to succeed.
"It's the grind," Davenport said. "That's probably the best part. I found that it's really the process. The getting there is better than actually winning, especially when you've got such great people around you."