SAN ANTONIO — San Antonio Spurs rookies Jeremy Sochan and Malakai Branham are having a solid start to their pro careers.
The fans are cheering for them each and every game and are eager to see their on-court development get only better with each game.
And the team veterans are noticing their contributions to the team and what they bring to the court.
In this series, I spoke with a trio of Spurs veterans and asked them to give their quick thoughts on Sochan and Branham.
We start off this mini-series with part one featuring Keldon Johnson's thoughts on Sochan's intangibles that he brings during games.
"He plays defense and plays basketball the right way. That's all you can ask for as a rookie. He plays hard," Johnson said. "Everything else will come, he's only going to get better. He puts in the time and puts in the work, so I'm confident he's going to have a bright future."
STATS: SOCHAN'S INTANGIBLES ACCORDING TO JOHNSON
Johnson pointed out Sochan's defense so let's take a look at a few defensive numbers from the rookie.
Currently, among NBA rookies, he is seventh in rebounds per game at 4.9, ninth in total blocks at 18, fifth in offensive rebounding at 1.7, and third in Defended Field Goals Made at 6.2.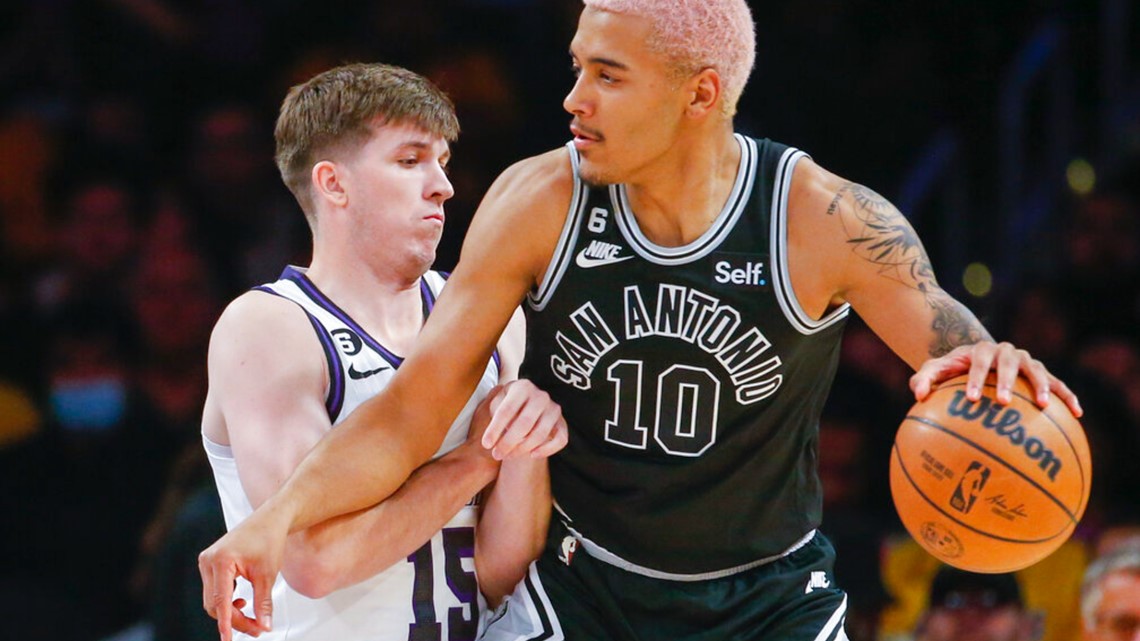 He's led the team in rebounding in six games this season as well as leading the team in steals in eight games and nine games in blocks.
His defensive numbers are great among his rookie class but he is aware of the rookie wall that is closing in fast.
"I already doubled my college games and college season. It's crazy," Sochan said.
In Dec. 2022, he was averaging per game: 25.8 minutes, 11.0 points, 6.2 rebounds, 3.2 assists, and 45 percent shooting from the field.
Over his last five games, he is averaging per game: 28.4 minutes, 13.8 points, 6.4 rebounds, 2.0 assists, and 50 percent shooting from the field including 66 percent shooting from the three-point line.
"He's 19 years old. He can guard all five positions," coach Gregg Popovich said. "Obviously, he's got to work on his shot. I don't think that is a secret. He knows it."
Like any rookie, there is room for improvement but the No. 9 pick in the 2022 NBA Draft has been a bright spot this season.
Stay tuned this week for part two as another Spurs veteran will give his thoughts on rookie Branham.