SPURS PRESEASON SCORES, SCHEDULE
Oct. 5: Orlando Magic 125, Spurs 89, AT&T Center
Oct. 8: Miami Heat 107, Spurs 89, Miami
Sunday: New Orleans Pelicans 123, Spurs 114, AT&T Center
Wednesday: at Houston, 7 p.m.
Friday: vs. Memphis, 7:30 p.m., AT&T Center
SAN ANTONIO – Described as a "freak" and a "beast" by the Spurs, highly touted New Orleans Pelicans rookie forward Zion Williamson lived up to the hype in his first game at the AT&T Center on Sunday.
Running the floor like a guard and using his 6-foot-7, 285-pound body to effectively bang under the basket, Williamson scored 22 points and finished with 10 rebounds in the Pelicans' 123-114 preseason victory over the Silver and Black.
New Orleans improved to 4-0 in the preseason and the San Antonio dropped to 0-3.
Williamson, the No. 1 overall pick in the NBA Draft this summer, hit 8 of 11 shots and played 31 minutes. All but one of his shot attempts – he missed a three-pointer – were in the paint.
While still a 19-year-old just starting to learn the basics of the pro game, Williamson demonstrated why he's being hailed as the NBA's next superstar.
"He's a freak, as far as his physicality," veteran Spurs forward DeMarre Carroll said. "You can still say he's mentally young. Certain things, you've got to understand when you're out there in the game. But other than that, the sky's the limit for the kid. He's a freak, so at the end of the day, he's got a bright, bright future."
Spurs coach Gregg Popovich also had praise for Williamson, who played only one season at Duke before turning pro.
"Well, he's exactly what you would think," Popovich said. "He's a competitor. It's a great combination of speed and strength, as we all know, and he uses it well. He's a tough one."
Last season's consensus college player of the year, Williamson went into Sunday's game averaging 23.7 points, 5.3 rebounds, 2.7 assists and 1.3 steals. He had one assist and two steals against the Spurs.
"I didn't know he was that big,honestly, like that wide," guard Bryn Forbes said, when asked his impressions of Williamson. "He's a beast. Freak athlete. Never seen anything like that, really. He looks like a D-end (defensive end in football). A D-end that can jump. Crazy. Never seen anything like that."
Williamson was asked if he puts added pressure on himself to play well and live up to the high expectations people have of him.
"Not at all," he said. "I don't really think it's pressure to play the game I love. I go out there, have fun and just try to get the win and compete."
With San Antonio and New Orleans both in the NBA's Southwest Division, the Spurs will see Williamson four times during the regular season. They play each other Jan. 22 and March 18 in New Orleans, and April 5 and April 15 in San Antonio.
"He's that strong and still that fast," said San Antonio center Jakob Poeltl, who spent most of the game banging against Williamson under the boards. "That's very unusual, and he has a good feel for the game as well.
"He's finding his teammates, he's attacking hard. So, you don't see it every day. It should be some fun games against him. They look like they have a good young squad."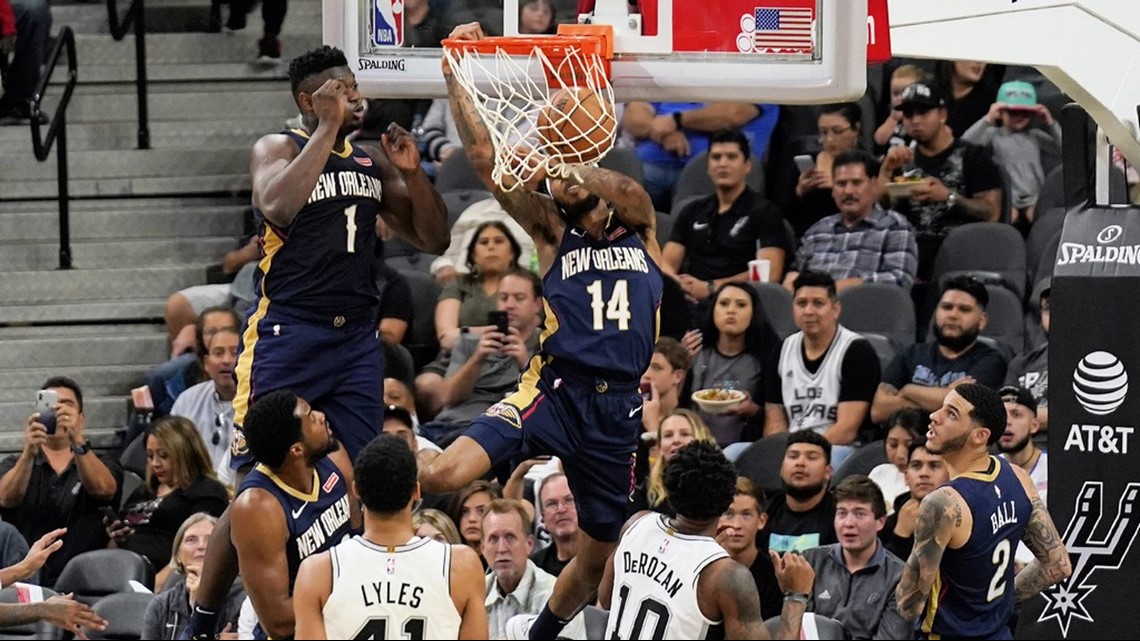 Forbes and DeMar DeRozan led the Spurs' scoring Sunday with 18 and 16 points, respectively. Forbes hit 7 of 13 shots, including 3 of 6 three-pointers. Carroll, who hit 3 of 4 three-pointers, added 13 points.
Marco Belinelli (11) and Patty Mills (10) rounded out the Silver and Black's double-figure scoring.
San Antonio played without forwards LaMarcus Aldridge and Rudy Gay, both given the night off by Popovich to rest.
After losing their first two preseason games by 36 and 18 points, the Silver and Black played well in the first half against the Pelicans. They jumped out to a 17-3 lead and were up 66-56 at the break. But the Spurs started to fade in the third quarter, getting outscored 35-16 to trail 91-82 heading into the final period.
"We really didn't keep the pressure on them, like we did from the start," Forbes said. "We started out well and then we kind of tapered off, so that's one of our focuses. Just play a full 48 (minutes) and finish games."
The Silver and Black continue their preseason schedule at Houston on Wednesday night, and play their preseason finale against Memphis on Friday at the AT&T Center.
San Antonio hosts the New York Knicks in its regular-season opener on Wednesday, Oct. 23.