SAN ANTONIO — In case you missed it, San Antonio Spurs forward Keldon Johnson is in China as part of a sneaker promotional tour of his Chinese-based sneaker line from Qiaodan.
As part of the tour, he is hosting meet and greet sessions with his Chinese fans, signing autographs, and catching all the sights and sounds China has to offer.
While on tour, the Spurs forward laced up his sneakers and hit the court with fans putting on a show.
Johnson showed off his three-point shooting connecting on seven-straight three-pointers and attacking the rim while dunking on a player much to the delight of the crowd.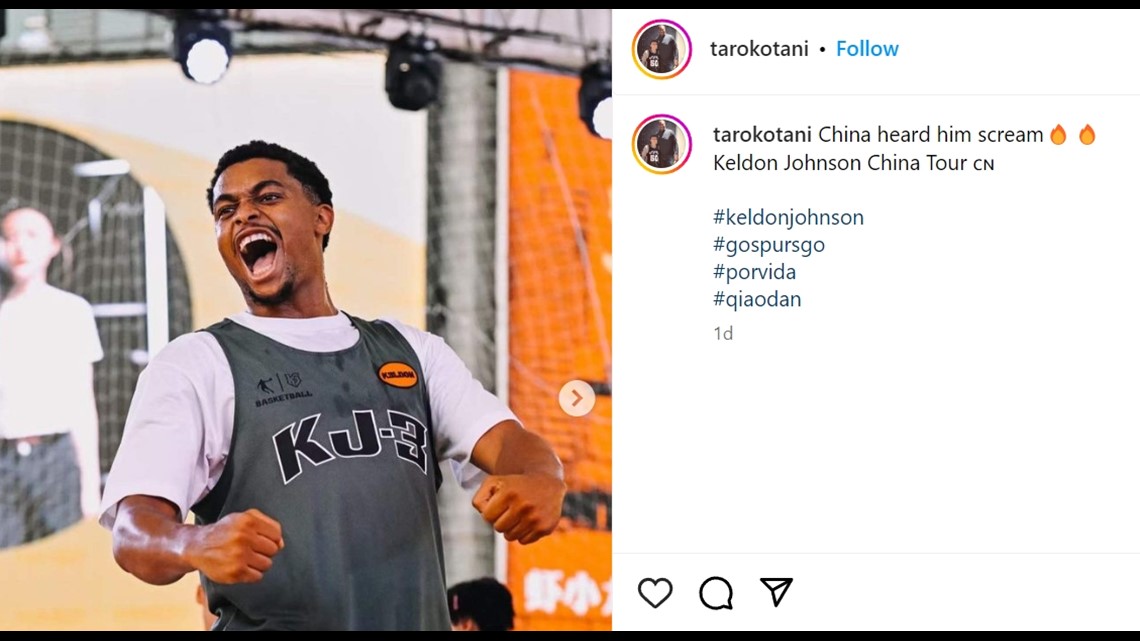 The only thing he may want to redo is trying to put on a one-man dunk show.
Instead of thrilling the crowd with his signature power dunks, he missed eight dunk attempts in a row!
Check out the video of Johnson getting stuffed by the rim:
He was in good spirits after yelling at the crowd with that energy he always brings.
Johnson has a sneaker deal with Qiaodan Sports. It includes a signature sneaker line and commercials.
Johnson wore his signature Qiaodan sneakers throughout last season but if you are looking to own a pair you will have to wait.
It is unknown if and when these sneakers will be available to the U.S. public. Currently, they are only available in China.
Since going on the air in 1950, KENS 5 has strived to be the best, most trusted news and entertainment source for generations of San Antonians.
KENS 5 has brought numerous firsts to South Texas television, including being the first local station with a helicopter, the first with its own Doppler radar and the first to air a local morning news program.
Over the years, KENS 5 has worked to transform local news. Our cameras have been the lens bringing history into local viewers' homes. We're proud of our legacy as we serve San Antonians today.
Today, KENS 5 continues to set the standard in local broadcasting and is recognized by its peers for excellence and innovation. The KENS 5 News team focuses on stories that really matter to our community.