BROOKLYN, N.Y. — Taking advantage of a draft bounty affording them three first-round picks for the first time in franchise history, the San Antonio Spurs on Thursday night nabbed a trio of 19-year-old freshman to bolster the team's young core: 6'10" Jeremy Sochan, 6'5" Malaki Branham and 6'5" Blake Wesley.
San Antonio's positioning in the 2022 NBA Draft marked the highest they've been in the selection process since they took Tim Duncan with the top overall pick in 1997.
Another second-round pick was later traded to the Memphis Grizzlies.
With the ninth pick in the 2022 NBA Draft, the San Antonio Spurs selected:
Jeremy Sochan
Sochan is a 6'10" wing out of Baylor and may be the best and most versatile defender in the draft. He's Polish-American, but grew up in England, and considers himself a "citizen of the world."
He has a 7-foot wingspan, and though he has room to grow on offense, but fills an immediate need on the roster.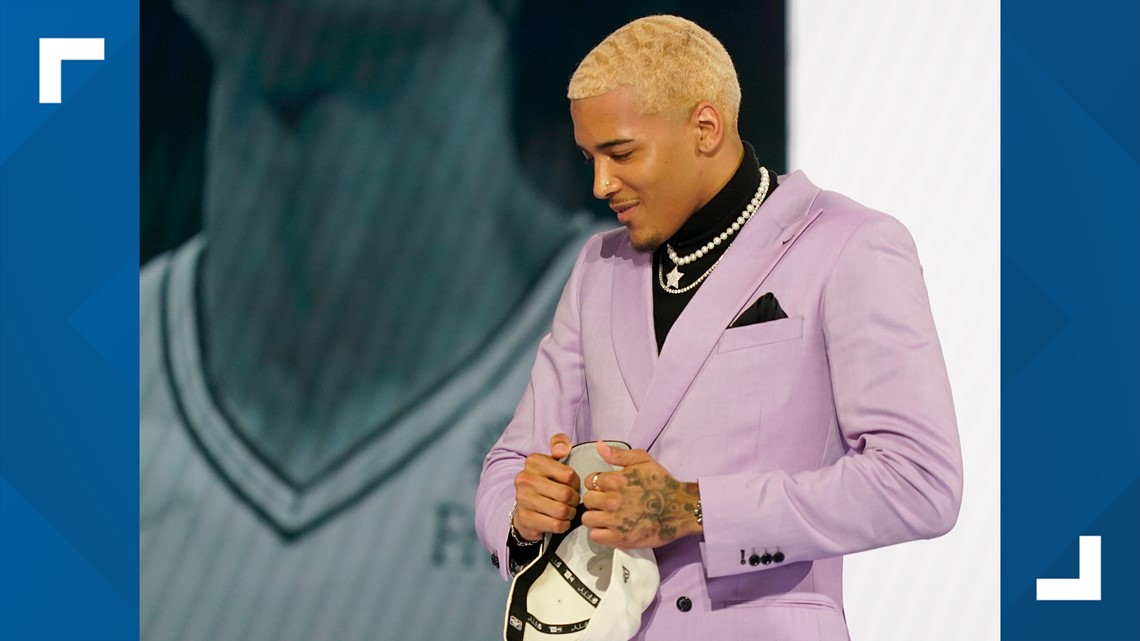 "I think I'm going to fit really well," he said after he was picked, saying the Spurs play well as a team. "It's a really young squad. We have a lot of energy. I feel like they were one of the best teams in assists. I really feel like I really fit with that."
After he was selected, he had a message for Spurs fans.
"I just want to tell you guys that I'm going to bring energy every day. I'm going to really compete and bring a lot to the table. I can't wait," he said. "We're going to have fun."
With the 20th pick in the 2022 NBA Draft, the San Antonio Spurs selected:
Malaki Branham
Branham is a 6'5" guard out of Ohio State. He shot nearly 50% from the floor, and over 41% from deep last season as a freshman for the Buckeyes. He can score at all three levels, and has good size for his position.
Staff at Ohio State said it was notable how often and how consistently he showed up to the gym and worked on his craft by himself.
"My work ethic started probably like sixth or seventh grade," he said. "That's when I really took it serious. It got me here. I'm just blessed."
After he was selected, he said he admires Dejounte Murray.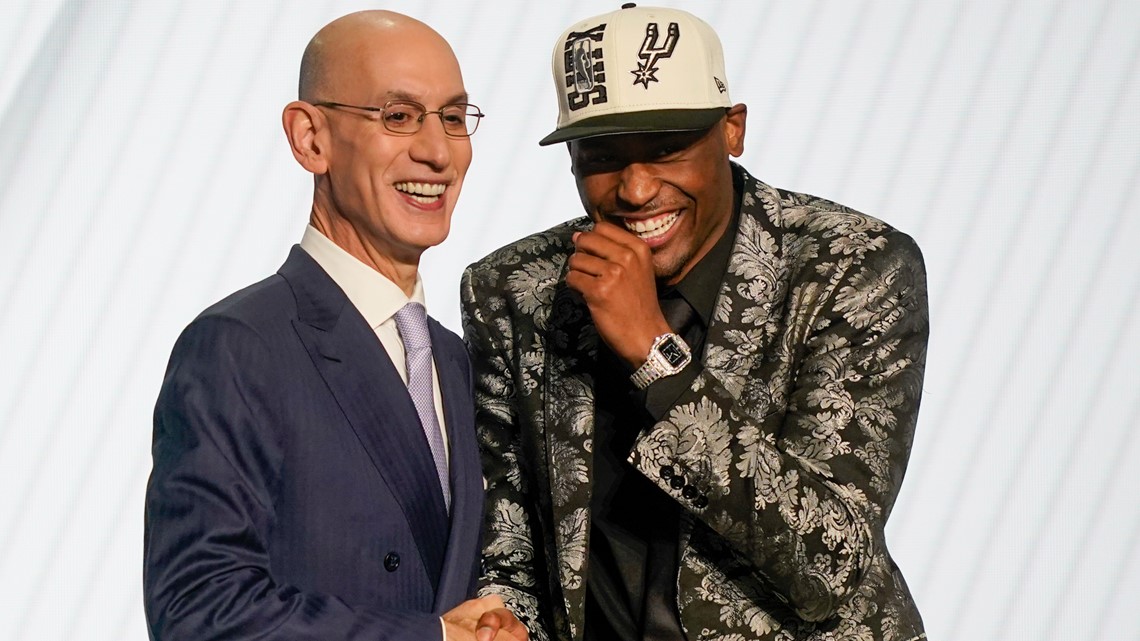 "He was kind of in the same range that I was, and also just hard worker and he's a great defensive player," Branham said.
He's often wearing an ear-to-ear smile, and explained why.
"On the basketball court, I'm just having fun," he said. "If you're not having fun, why are you doing it? Also off the court, I'm a smiley, laughy kind of person once you get to know me."
He also said that he worked out for the Spurs with his new teammate, Blake Wesley.
With the 25th pick in the 2022 NBA Draft, the San Antonio Spurs selecedt:
Blake Wesley
Wesley is a 6'5" guard out of Notre Dame, and his selection caps off a trio of 19-year-old first-round picks for the Spurs. Over 35 games in his freshman season for the Irish, Wesley tallied 14.4 points and 2.4 assists per game, shooting 40% from the field and 30% from beyond the arc.
"One thing I'm going to bring is defense. That's what I like to do. That's what they need. I love to defend," Wesley said. "The one thing I'm going to work on is my shot. If I can get more consistent in my shot, keep getting my reps up in my free time, just getting a lot of shots up and getting a lot of workouts in."
He was excited to be new teammates with Branham after they worked out together.
"That's crazy to be his teammate," he said. "That workout went good. We competed. I feel like that was the best workout that I ever went against -- Malaki, Dyson, Wendell, Bryce McGowens, Ryan Rollins."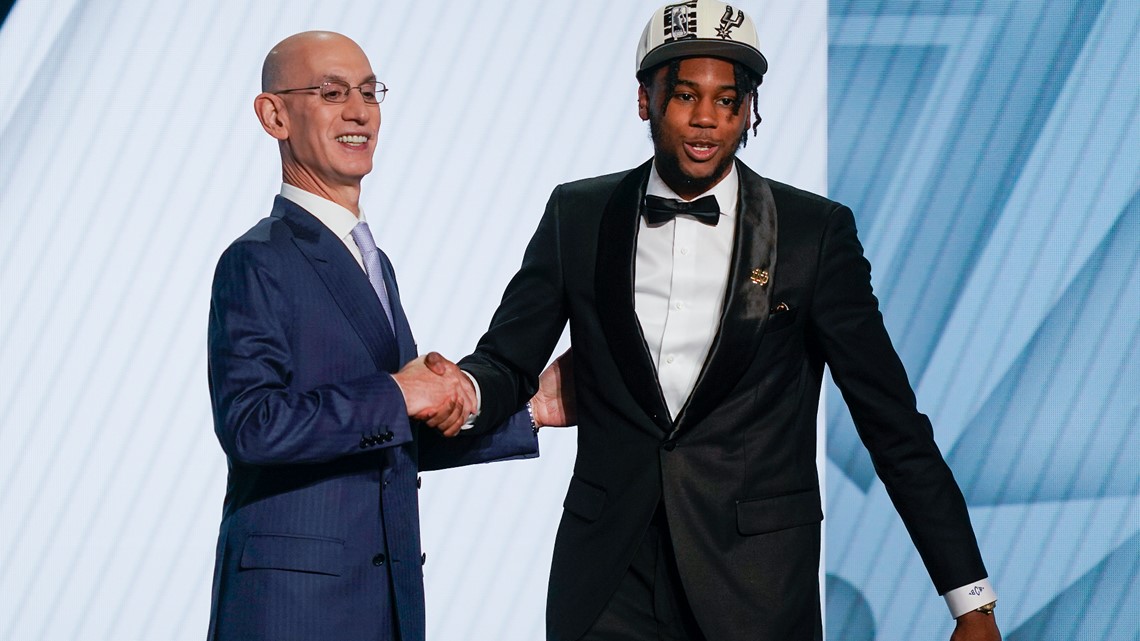 When asked if he had a message for Spurs fans, here's what he had to say: "They may not know me but, I'm a funny guy, outgoing, love the fans. Get along with everybody. So Spurs fans, you're going to love me."
With the 38th pick in the 2022 NBA Draft, the San Antonio Spurs selected:
Kennedy Chandler
Chandler is a 6-foot guard and Memphis native who is heading home to suit up for the Grizzlies after being traded by San Antonio. He averaged just under 14 points and 5 assists a game in his freshman season at Tennessee.
ESPN insider Adrian Wojnarowski reported the Spurs are receiving a future second-round pick and cash for the trade.
Before the picks...
Coming into the night, it remained to be seen whether Spurs GM Brian Wright and his team would make all of their picks. The front office had plenty of flexibility to work different deals, and there had been chatter about the team potentially looking to package some assets and move up.
"We're always going into the draft trying to find the best possible prospect for the long term of the organization," Wright said during a Zoom conference call heading into Draft Night.
"We can add size. We can add guards. We have to continue to build this out. We've always taken the approach of best available player," Wright added. "And if the best available player is a guard, we have no issue taking that person."
Speaking of guards, Spurs fans went into panic mode late the night before the draft after Bleacher Report dropped a bombshell that the team is listening to trade offers for Dejounte Murray, who became an All Star after his first season as the on-court leader of the team.
The report said that San Antonio had told interested teams that it would take a "Jrue Holiday-like" package. The Milwaukee Bucks acquired him in a four-team deal after giving up Eric Bledsoe, George Hill, three future first-round picks, and two additional pick swaps.
Translation: "We'll listen to your offer, but it has to be a really, really, really crazy offer."
The report went on to say that the Spurs and Hawks had discussed a framework that would send back John Collins and other assets to San Antonio, but the sides seem pretty far away on a deal.