SAN ANTONIO — The Spurs competed well in the first half, but had no answer for Miami's 3-2 zone defense that held San Antonio to just 34 points in the second half en route to a 107-87 blowout late.
DeRozan, Spurs burned by Heat in Wednesday loss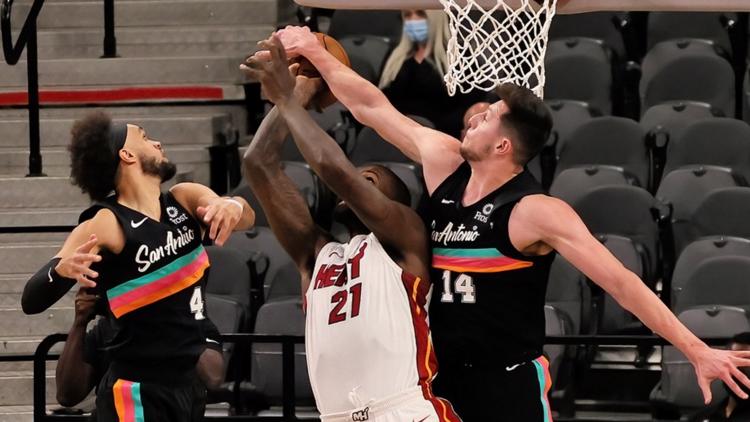 After the game, coach Gregg Popovich didn't answer questions from the media. He said that his team performed poorly against the Heat's press, and they deserved to win because they stuck with it. He added that it was a good effort through about three and a half quarters, and it was. They trailed the defending Eastern Conference champions by just six with under seven minutes to play.
"They got hot on top of us playing poorly on the offensive end, and that was a bad combination and they ended up kicking our butts," Popovich said. "That's the bottom line, we lose 'em together, and we move on."
Derrick White spoke about Miami's aggressive zone
"It's something that they're really good at, I mean it got them to the championship last year," he said, noting that San Antonio missed a few good shots and needed to execute better.
Miami closed the game on a 20-6 run, and Pop pulled the plug early with a game tomorrow night. Devin Vassell came into the game late, but fans weren't happy that he didn't see meaningful minutes especially as his shooting could have helped against that zone.
The Spurs fell to 28-29 on the year. DeMar DeRozan was asked if the Spurs were better than this, and he answered strongly in the affirmative.
"No question, we're definitely much better than a .500 team, we just hit bad rhythms," he said. "We have spurts where we compete with the best of the teams and we show why we are a great team. For some reason when we come home we kinda struggle."
"We've got 15 games left, and every game is critical from here on out," DeRozan said. The next opportunity to get things right at home will come tomorrow night against the Pistons.
"That's the nice thing about the schedule though, is when you have tough games like this you don't got a lot of time to dwell on it, cause we right back at it tomorrow," White said. "We've gotta move on, get our mind and our body right and get this win tomorrow."
Recap
Derrick White knocked down a three between two defenders and Rudy Gay made a few in-between shots to bring the Spurs within three.
Miami hit a triple to go up 85-79, then neither team scored for over two minutes as the defenses tightened up.
The Heat were able to hold on longer with a stifling zone that suffocated San Antonio's offense and functionally ended the game.
Jakob Poeltl hit a pair of free throws, a rare feat, but that was the only scoring San Antonio did for over six minutes of game time. It was a 13-2 run for Miami, this one giving them a 97-81 lead with just over four minutes left to play.
Popovich called timeout and cleared the bench, and Keita Bates-Diop made San Antonio's first basket in forever. It may have been a bit early to pull the ripcord, but the Spurs had a game the next night to think about.
Dejounte open the second half with a pair of triples, and Keldon Johnson added one to make it a 9-5 run and give the Spurs a 7-point lead.
Miami scored two in a row, but White answered after catching at the arc and knifing in for a floater.
The Heat ripped off a 12-2 run behind Adebayo, who may have still been annoyed about that dunk-turned-charge from earlier. The Heat went to a very aggressive zone defense that took the Spurs out of their rhythm.
Jimmy Butler made it 14-2, putting Miami up 73-66.
Lonnie Walker IV hit Drew Eubanks under the basket, the only problem is he hit him in the back of the neck. Eubanks held onto it on his back, posted up aggressively and finished.
He skied high for a putback jam, then showed impressive range on a forceful block. The Spurs trailed 77-72 heading to the fourth after losing the third 26-19.
A slow, defensive game slowed down even further in the second quarter. Halfway through the quarter, each team had 14 points in the period and 41 in the game.
When Jimmy Butler and DeMar DeRozan got back on the floor together, they battled. DeRozan hit a few tough ones, and Patty Mills atoned for a couple of air balls with a corner three to put the Spurs up 51-49. Butler tied it, then Bam Adebayo untied it by cramming it over Derrick White who tried to take the charge.
Pop challenged, and the officials actually took the poster dunk off the board, gave Adebayo a foul, and gave the ball to the Spurs. Patty Mills drew a charge on Butler on the next play.
DeMar isolated on the last play, drove in, and floated one home to put the Spurs up 53-51 at the break.
Keldon Johnson and Dejounte Murray opened the game with a triple apiece for San Antonio. Jakob Poeltl made his presence felt at the rim defensively, blocking one shot and altering several others.
Murray missed a pull-up from the elbow, but Poeltl tapped it to Johnson and got it right back for an easy dunk.
DeMar DeRozan posted up and spun in for a jumper, putting the Spurs up 12-10.
Duncan Robinson got loose for a three after San Antonio held him in check for the first five minutes. Pop called timeout.
His team turned it over right out of the timeout and gave up another three to Duncan Robinson. Pop called timeout, 25 seconds after his last one, to see what they didn't understand about his previous message.
There was some more sloppy play both ways, but DeRozan settled things down with a jumper. Miami missed a few right at the cup.
DeRozan came up hobbling a bit after tweaking his ankle, but stayed in the game. Lonnie Walker IV came in and hit a deep three off the dribble.
Walker shoveled a pass to Poeltl for another dunk. White hit a three, which he's made a habit of doing in recent first quarters.
Poeltl got two blocks in the same possession, giving him three at the end of a 27-27 first quarter.
Miami Heat vs. San Antonio Spurs
San Antonio; Wednesday, 730 p.m
BOTTOM LINE: San Antonio looks to break its four-game home slide with a victory over Miami.
The Silver and Black are 12-18 in home games. San Antonio is eighth in the Western Conference in rebounding averaging 44.2 rebounds. Jakob Poeltl leads the Spurs with 8.0 boards.
The Heat are 13-15 in road games. Miami is third in the NBA giving up only 107.4 points while holding opponents to 45% shooting.
The Spurs and Heat face off Wednesday for the first time this season.
TOP PERFORMERS: DeMar DeRozan leads the Spurs scoring 21.1 points per game, and is averaging 4.4 rebounds and 7.2 assists. Poeltl is averaging 7.1 rebounds and 9.5 points per game over the last 10 games for San Antonio.
Kendrick Nunn ranks fourth on the Heat averaging 13.8 points and grabbing 3.2 rebounds. Duncan Robinson is averaging 3.9 made 3-pointers and scoring 14.1 points over the last 10 games for Miami.
LAST 10 GAMES: Spurs: 4-6, averaging 112.6 points, 44.5 rebounds, 25.6 assists, 7.4 steals and 5.6 blocks per game while shooting 46.8% from the field. Their opponents have averaged 110.8 points on 46.4% shooting.
Heat: 6-4, averaging 108.5 points, 38.1 rebounds, 28.7 assists, 9.6 steals and 4.6 blocks per game while shooting 48.0% from the field. Their opponents have averaged 108.2 points on 47.7% shooting.
INJURIES: Spurs: Trey Lyles: out (ankle).
Heat: Victor Oladipo: out (knee), Bam Adebayo: out (knee), Tyler Herro: out (foot), Jimmy Butler: out (ankle).