SAN ANTONIO — Victor Wembanyama fever is taking over San Antonio after the Spurs won the 2023 NBA Draft Lottery and secured the No. 1 spot.
Wembanyama is the obvious first pick at next month's NBA Draft and San Antonio is embracing all things Wembanyama.
Including local coffee spot, Mudslingers Drive Thru Coffee.
Mudslingers is introducing a new drink called "The Alien" which is inspired by Wembanyama's nickname for his out-of-this-world basketball skills.
The drink is part of Mudslingers' "Lighting Bolt" line of drinks meant to provide a jolt to help people get through their day.
"It is a fusion of kiwi, green apple, and Red Bull," Mudslingers said. "It's bold, refreshing, and full of energy -just like Wemby. We'd like to introduce our newest Lightning Bolt - The Alien."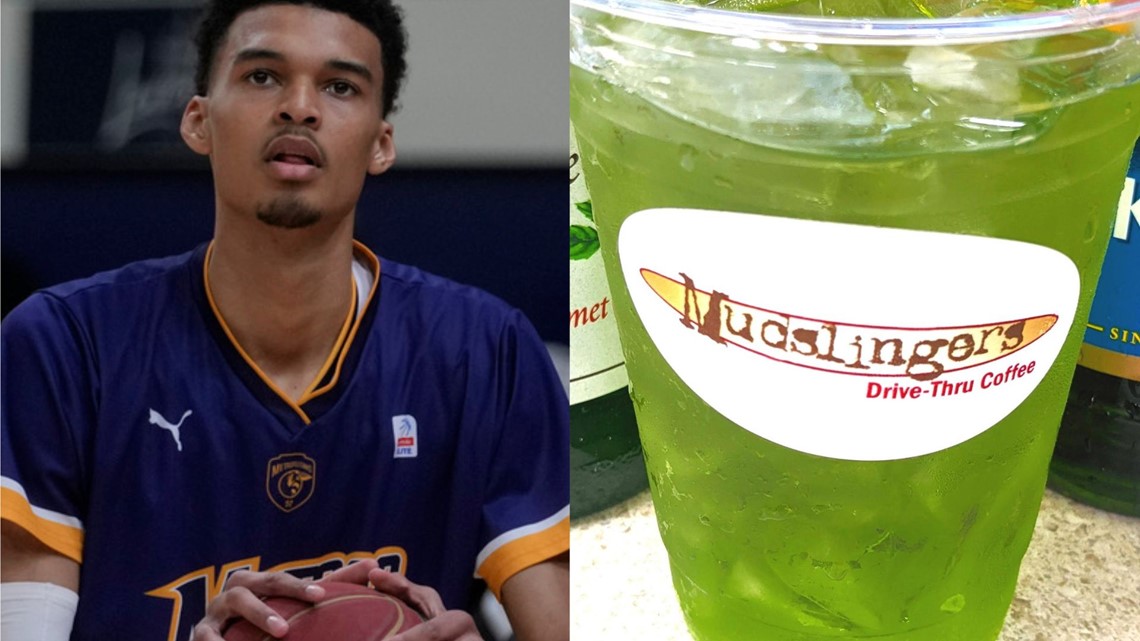 Spurs fans do not have to wait until Wembanyama's San Antonio arrival.
The drink is available right now and will be a permanent menu option.
"It'll be a permanent option," Mudslingers said.

The coffee spot also said more Spurs-themed drinks are on the way but the story of how "The Alien" drink came to be is interesting.
"Obviously, we wanted to showcase how excited we were about the Spurs' No. 1 pick and how Wemby immediately changes the fortunes for San Antonio," said Mudslingers. "Thinking about what kind of drink would fit best, we decided on our Lightning Bolt, which is a Red bull infused beverage. Like Wemby, it's a modern combination of flavor and energy. Because his nickname is the Alien, we wanted The Alien Lightning Bolt to have an eye-catching green color."
And the drink also pays tribute to Wembanyama's French roots.
"It turns out that the original Granny Smith apple was first cultivated in Australia, but was a product of cross-breeding French crabapples which fits perfectly with Wemby's heritage," Mudslingers said. "We also decided to add kiwi, which is a unique and somewhat exotic flavor for Texas, very similar to what Wemby will bring to San Antonio."
Aside from "The Alien" drink, you can expect giveaways, their new drink called the "OG OJ" for those who want to enjoy an Orange Julius once again, and more including the grand prize: A year-long coffee gift card.
So head out to Mudslingers right now to pick up "The Alien" before Wembanyama makes his way to San Antonio.
Mudslingers Drive-Thru Coffee is located at 2404 Thousand Oaks Dr., 78232.