SAN ANTONIO — Reports of the Spurs' demise – at least for now – appear to have been greatly exaggerated.
After losing back-to-back games by 39 and 31 points, the Silver and Black picked themselves off the mat Sunday and broke out of their funk with a 131-118 win over the Portland Trail Blazers at the AT&T Center.
All-NBA guard DeMar DeRozan and All-NBA forward LaMarcus Aldridge were too much for the Blazers, finishing with 36 and 29 points, respectively. The 36 points are a season high for DeRozan, who hit 13 of 27 shots after starting out 3 of 12. He also had eight rebounds, six assists and two steals.
Aldridge made 11 of 15 field-goal attempts and finished with eight rebounds. Rudy Gay (18), Patty Mills (15), Derrick White (10) and Davis Bertans (10) also scored in double figures.
Punishing the Blazers with his deadly midrange jumper and silky-smooth moves to the basket, DeRozan scored 26 of his points in the second half and had 18 of the Spurs' last 20 points of the third quarter.
"I came out not necessarily trying to figure the game out, but taking what they gave me," DeRozan said, when asked about the difference in his scoring in each half. "Couple shots, I missed early on. I just felt like I rushed it. Third quarter, I knew we were trying to get LA (Aldridge) going on a run and in a rhythm.
"As soon as he came out (of the game) in the third quarter (I saw we were) just kind of stagnant. We had a couple of turnovers in a row, (and) I just wanted to be more aggressive and put the pressure on them, and that's what I do."
The Silver and Black shot a scorching 60.2 percent (50-83) and were even better from the three-point line, hitting 11 of 15 attempts for 73.3 percent. They had 29 assists on their 50 made field goals.
Spurs coach Gregg Popovich was asked about DeRozan's ability to push through when his shot isn't falling.
"Right, you know, that's why he has been an All-Star for so long," Popovich said. "Scorers shouldn't have a conscience. You just keep going. If you have a bad stretch. you know the percentages are probably with you.
"He's been around a long time. He's very confident and he knows what he can do. That's not going to bother him if he misses a few shots."
Mills talked about DeRozan's ability to take over a game down the stretch.
"When games are on the line, he has the ability to take over," Mills said. "He has done it his whole career and he's done it multiple times for us this season, and he did it again for us tonight. Just being able to to know the time and score and the situation, and feel the moment trying to flip, and he goes into his aggressive mode.
"But at the same time, being able to still be a willing passer in those times and get everyone involved. It's great to have that mentality from him."
The Spurs (11-12) were coming off a 136-105 home loss to Houston on Friday and broke out of a two-game skid. Before getting trounced by the Rockets, they took a 128-89 shellacking from the Timberwolves on Wednesday in Minneapolis.
The Spurs haven't won back-to-back games since winning four in a row in an eight-day span (Oct. 27-Nov. 3). They are 5-10 since then .
San Antonio has a back-to-back on the road against the Jazz on Tuesday and the Lakers on Wednesday. The Silver and Black play the Lakers again Friday night at the AT&T Center.
Damian Lillard paced the Blazers (13-10) with 37 points and C.J. McCollum and Al-Farouq Aminu had 24 and 20, respectively.
PHOTOS: Spurs defeat Trail Blazers, 131-118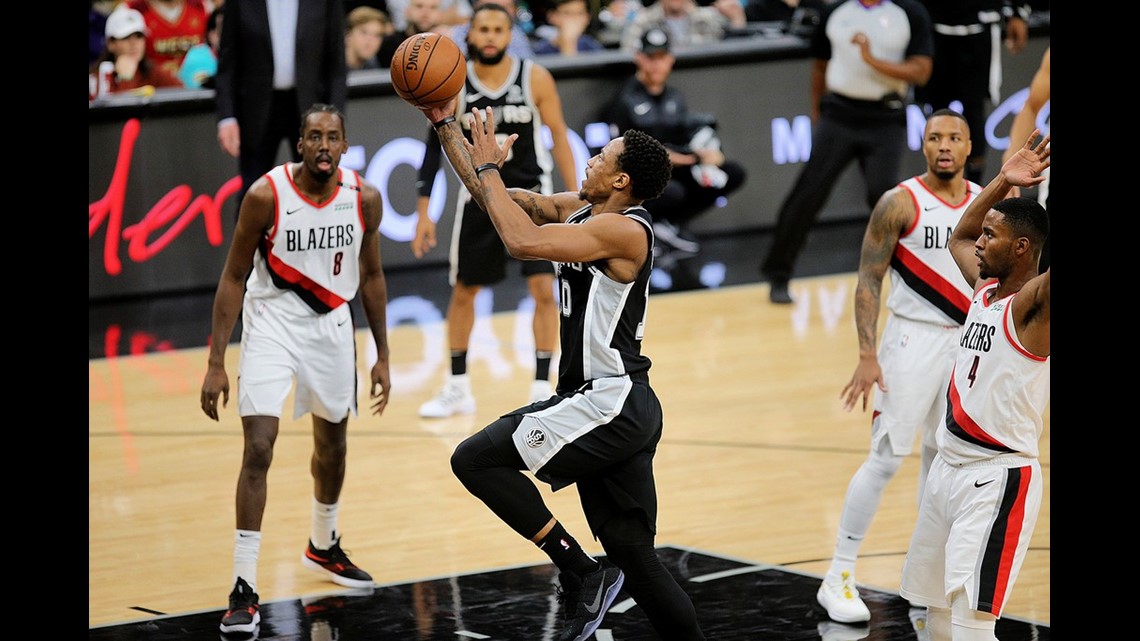 DeRozan scored 18 of his 36 points in the third quarter, nailing 7 of 12 shots. The third period was a 35-35 standoff, but the Silver and Black led 97-90 going into the fourth quarter. Aldridge had 23 points on 9-of-12 shooting after three quarters.
"Well, I thought on their offense, LaMarcus played like an All-NBA player and DeRozan played like an All-NBA player," Portland coach Terry Stotts said. "I mean those two guys are great offensive players and they got on track tonight, and the other guys made threes.
"I mean, going into this game we said they've got two All-NBA players and everyone else shoots the threes, so that's kind of what happened defensively."
The Spurs hardly slowed down the Blazers, who shot 52.3 percent (45-86). They were 12 of 29 from beyond the arc.
The Spurs were aggressive at both ends of the court from the outset. The Blazers led 33-32 after one quarter, but the Silver and Black were up 62-55 at the half.
Aldridge led the San Antonio scoring in the first half with 16 points, hitting 6 of 9 shots. DeRozan and Gay had 10 points in the half.
"LaMarcus Aldridge played great," Popovich said. "He was huge on both ends of the court. We had a lot of guys who played well. (With) DeMar and LA and Rudy, you know they can score. The ball is in their hands quite often, like any team with their explosive players.
"But there's got to be other peoplw who step up and Derrick White was great tonight. He showed a lot at both ends of the court. He deserves a lot of credit for the level of composure you saw out there."
White, who made 4 of 7 shots, finished with five rebounds and six assists. Mills also finished with six assists.
The Spurs shot 54.8 percent (23-42) in the first two quarters. They were 5 of 9 (55.6 percent) from the three-point line. The Silver and Black had good ball movement, getting 15 assists on their 23 made field goals.
Lillard led the Blazers' first-half scoring with 20 points. Portland had the exact same shooting numbers as San Antonio, hitting 23 of 42 attempts for 54.8 percent.