SAN ANTONIO — San Antonio Spurs fans have another Silver and Black mural to visit and this new one features rookie Victor Wembanyama.
The new mural is located in downtown San Antonio at Mark's Outing dine-in spot.
It features Wembanyama in the team's white jersey with his name painted behind him.
It also reflects the rookie's French roots with the Eiffel Tower and the country's flag complete with San Antonio's own Tower of the Americas.
Check out the new mural courtesy of Spurs fan Frankieee_SVT on Twitter.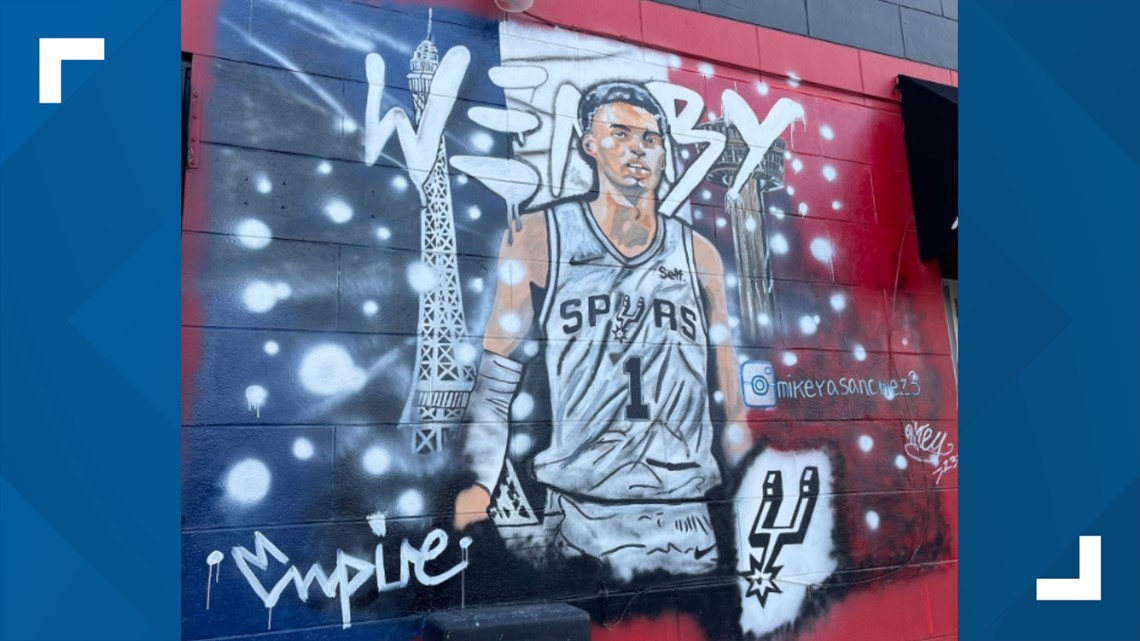 Mark's Outing also shared a video of the final product making it a must-see mural for all Spurs fans to enjoy.
The mural was created by San Antonio artist Michael Sanchez.
"Wemby fever" is taking over San Antonio and murals of him are popping up faster than a Spurs fastbreak.
There is another mural of him on the city's South Side at Rudy's Seafood as well as one at Tacos Al Carbón of him enjoying one of the food spot's tacos.
And if that isn't enough, Mudslingers Drive Thru Coffee has a drink inspired by Wembanyama called "The Alien", and there is even a hot dog fit for the 7-3 19-year-old courtesy of "El Weinecero" called "The Wembynaso."
San Antonio is definitely ready for the new Spurs season to start and for the Wembanyama era to begin.
You can visit the new mural at Mark's Outing at 1624 E. Commerce St. 78205
And don't forget about Centro San Antonio's open call for a Spurs-themed mural in downtown San Antonio. The honorarium for the Spurs-themed mural will be $100,000 for the winner.
Do you have any photos of the many Spurs murals in San Antonio? Let us know on Twitter at @KENS5, and at @JeffGSpursKENS5.