Spurs coach Gregg Popovich had nothing but good things to say Wednesday afternoon about All-NBA forward Kawhi Leonard, who was traded to the Toronto Raptors earlier in the day.
"We hope that this will be a good situation for everybody involved," Popovich told the media at the Spurs' practice facility. "Kawhi, obviously, worked very hard to become the player he is. Our staff worked very hard to help him get there. We wish him all the best as he moves on to Toronto. I think that he's going to be great."
Leonard and veteran guard Danny Green were traded to the Raptors for All-Star shooting guard DeMar DeRozan, 7-foot center Jakob Poeltl and a protected first-round pick in the 2019 NBA draft.
"Danny Green will be missed," Popovich said. "He's been here quite a while, and he was a big part of what we do, both on and off the court. He was a great community guy, and we're going to miss him very much.
"Trades are tough. I talked to Kawhi on the phone. I talked to Danny on the phone. Those are personal relationships that you have with people, and that's always difficult. It's probably the toughest part of our profession."
Leonard, a two-time All-NBA pick during his seven seasons with the Spurs, and Green both made the league's All-Defensive Team after the 2016-17 season.
The Silver and Black got one of the league's best shooters in the trade. A four-time All-Star, DeRozan averaged 23.0 points, 3.9 rebounds and 5.2 assists last season.
"With DeMar coming to San Antonio, I couldn't be happier," Popovich said. "I think this trade is going to be good for both teams. DeMar is a four-time All-Star, All-NBA player. He's been great in the community there. Team player, somebody that I've respected and watched play for a while now. We're thrilled to have him here.
"Jakob is a young talent that I think has a great opportunity to develop into a very good NBA player. We're very anxious to get them involved in the program, let them know how we do things and become important parts of the program. We're thrilled with the trade we were able to make."
The trade ended speculation about where Leonard, who has spent his entire career with the Spurs, would land in a trade deal. Leonard played only nine games last season as he struggled to overcome a mysterious quadriceps injury. He sent shock waves through the NBA in mid-June when reports surfaced that he wanted out of San Antonio.
Popovich met with Leonard on June 19 in San Diego, Calif., two days before the NBA draft. The conversation reportedly went relatively well, but Leonard was resolute in his determination to leave San Antonio. It was then that observers figured it was only a matter of time before Leonard was gone.
"We talked often over the summer about a lot of different things, both on and off the court," Popovich said. "Attempts were made to see what would be the best and in the end, this trade appeared and we felt that this was the way to go."
Popovich was asked if he thought he had an ample opportunity to mend his relationship with Leonard
"Kawhi conducted himself wonderfully when he was here," Popovich said. "He helped us win a fifth championship. As I said, he was a hard worker all the time. We wish him well. But at this point, it's time to move on.
"I'm concerned about Jakob and DeMar and our basketball team, and putting that together. We've got a lot of young kids and it's exciting. In no way, shape or form, does it do any good to go back in time and talk about A, B or C. It's time to move on."
Still, Popovich was asked about criticism that Leonard received from fans for not being on the Spurs bench during games late in the season and in the playoffs
"That's all ridiculous," Popovich said. "Kawhi was a great teammate the whole way through. He did his work. He was no problem for anybody, but talking heads out there have to have stories. And I get it. If I was talking head – maybe I am – I'd have stories, too.
"All those stories that denigrated him in that regard, that was unfortunate and inaccurate."
The session with the media was the first for Popovich since his wife, Erin, died during the playoffs last year.
Asked how tough the offseason has been, he said: "It's been difficult."
Popovich also talked about veteran point guard Tony Parker, who signed with Charlotte as a free agent this month, and other players on last season's team. Parker played 17 seasons with the Spurs before signing with the Hornets.
"That was real tough, but he's good," Popovich said. "He's going to be in San Antonio forever. He'll come back after he's done playing in Charlotte, and we'll still drink wine together, go to dinner and watch the kids grow.
"There's a season for everything, and a time and place for everything. This was really good for Tony. He'll get more playing time. It'll kind of rejuvenate him a little bit. I think he's really excited to be there in Charlotte."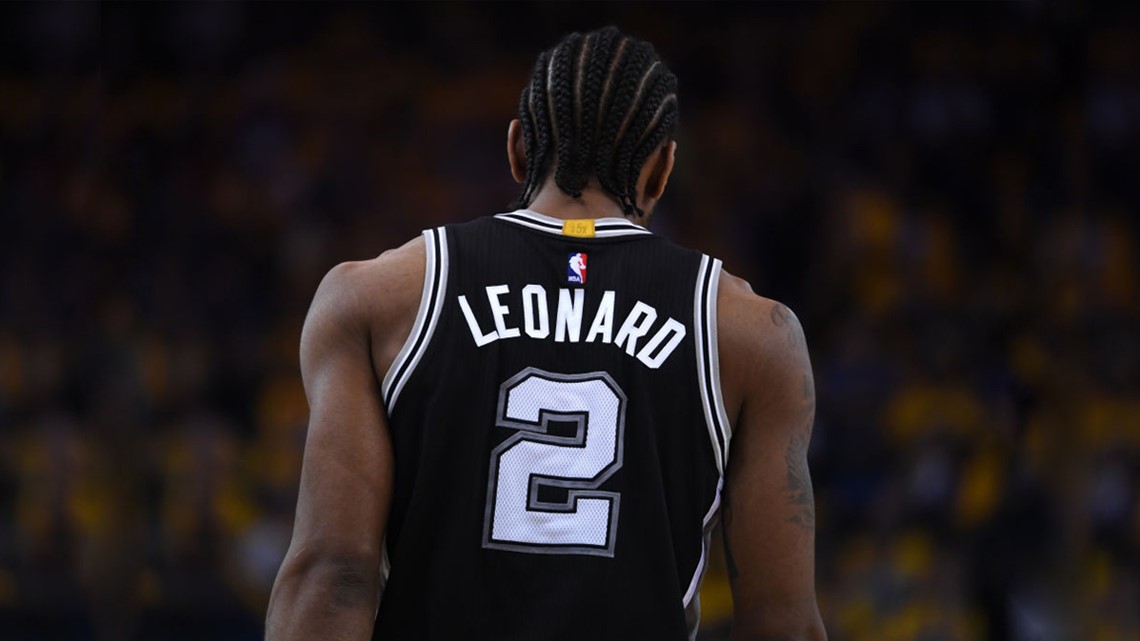 Parker, 36, was 19 years old when he went to his first training camp with the Spurs. He became the team's starting point guard early in his rookie season and held the position until he was supplanted by Dejounte Murray in January.
Popovich drew a good laugh when he talked about aging guard Manu Ginobili, who turns 41 on July 28. Ginobili has one year left on his contract, but has not indicated whether he'll return for his 17th season with the Silver and Black. Ginobili signed a two-year, $5 million deal last August.
"Manu is chasing bears up in the Northwest," Popovich joked. "Let's see, he's a free agent, right? So I guess he's not under contract?"
When the media corrected him, Popovich smiled and said: "That means we could make his contract null and void because of the hang gliding, bear chasing and zip-lining stuff that he's doing up there. I sent an investigator to get it on film, because you've got to prove it in court. You've got to get film on him."
Popovich left no doubt that he wants Ginobili back.
"About two weeks ago, I sent him a picture when he was younger, and he is dunking over somebody and his hair is flying all over, it was kind of a hint like, 'You know you can keep doing this sort of thing.' " Popovich said. "And he sent me back a picture of my first year here as an assistant. I'm not sure what that meant, like, you are crazy, you are old, too."