SAN ANTONIO – Spurs fans had waited a long time for this one.
The highly anticipated San Antonio-Toronto game Thursday night may have been just another game for the players, but the crowd at the AT&T Center made it feel like it was Game 7 of the NBA Finals.
The atmosphere was that electric for the clash that marked former Spurs All-Star forward Kawhi Leonard's first game back at the AT&T Center since he was traded to Toronto in July.
DeMar DeRozan, an All-NBA guard who came to San Antonio in the trade for Leonard, set the tone for the Spurs' 125-107 victory, scoring 19 of his 21 points in the first half and recording the first triple-double of his career.
While DeRozan was inspired by the cheers of Spurs fans, Leonard was booed every time he touched the ball – from the team warmups to the final buzzer. Leonard even was booed when a short video tribute to him and former Spurs guard Danny Green, who was traded to Toronto with Leonard, was played on the AT&T Center scoreboard before player introductions.
The fans gave Green a loud ovation when he was introduced and cheered for him during the game. His reception stood in stark contrast to the boos and jeers that rained down on Leonard after he was introduced.
Despite the noise, Leonard had a good game, finishing with 21 points on 8-of-13 shooting. He had only one rebound, but dished out five assists and made two steals. On the downside, he coughed up three turnovers.
Leonard was asked if he expected the negative reaction from fans.
"Probably, but I embraced it and enjoyed the moment," he said. "It's only going to make me better."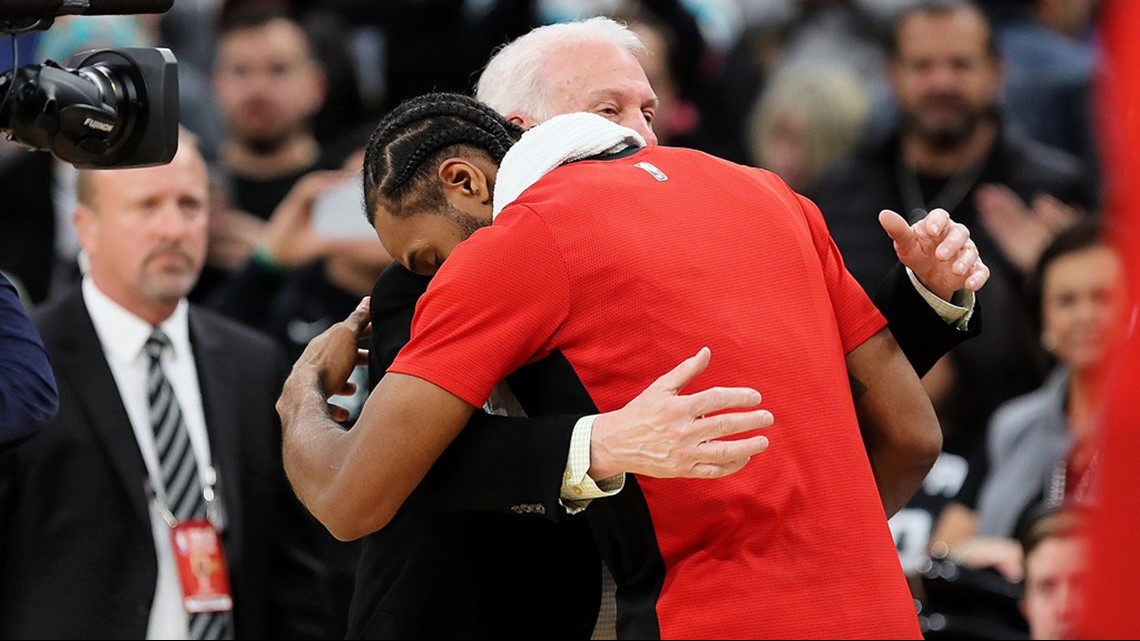 Besides booing Leonard, fans chanted "Traitor" and "Quitter" every time he stepped to the free-throw line.
Leonard blamed the media for the negative reaction.
"The media does a great job to stir people's minds and to influence them to think a certain way, so I already knew how that was going to be," Leonard said.
Spurs coach Gregg Popoivich addressed the booing of Leonard when he spoke with reporters after the game.
"I felt badly about it," Popovich said. "Kawhi's a high-character guy. We all make decisions in our lives about what we're going to do with our futures, and he has that same right as any of us. So, I felt badly, honestly."
While Leonard was the center of attention, the night belonged to DeRozan, who was a four-time All-Star in his nine seasons with the Raptors before Toronto management pulled the trigger on the trade that changed his life.
In addition to scoring 21 points, DeRozan grabbed 14 rebounds and had 11 assists, both game-highs, to complete his first triple-double. His rebounding total tied his season high.
"I told him it was about time," Popovich deadpanned, referring to DeRozan's triple-double. "I did."
DeRozan was aggressive at both ends of the court from the get-go.
"I know I came close came a bunch of times this season," DeRozan said, referring to a triple-double. "But to get it versus (the Raptors) is kind of cool."
Leonard played six complete seasons with the Spurs before being limited to only nine games by a quadriceps injury last year. The diagnosis of the injury and subsequent rehabilitation for it led to a rift between the Spurs and Leonard, who sought a second opinion and ended up doing his rehab work in New York after severing ties with the club's medical staff.
Leonard sent shock waves through the NBA when reports surfaced in mid-June that he wanted out of San Antonio. Fans initially were baffled and then angered by Leonard's decision to take his game elsewhere. That he never publicly cleared the air only added to the frustration of Spurs fans.
Leonard and Green were traded to Toronto in a blockbuster deal that brought DeRozan and center Jakob Poeltl to San Antonio. The Spurs also received a protected 2019 first-round pick from Raptors in the trade. Leonard played seven seasons with the Silver and Black and was a key member of the 2013-14 team that won the franchise's fifth NBA title.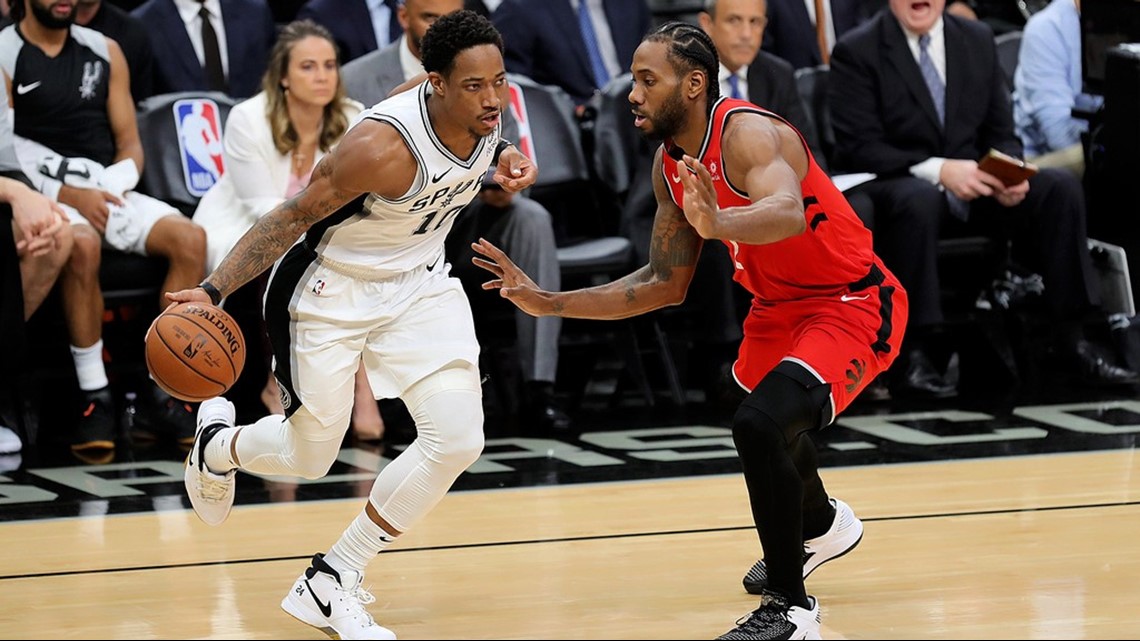 Thursday night's game was played against that backdrop.
Spurs forward LaMarcus Aldridge scored a game-high 23 points on 10-of-14 shooting, and Bryn Forbes and Derrick White finished with 20 and 19 points, respectively. Forbes had a stellar game offensively, hitting 7 of 10 shots, including a career-high 6 of 7 three-pointers. White was 8 of 11 and nailed 2 of 3 three-pointers.
White, who was primarily responsible for guarding Leonard, got high marks for his defense and all-around game at point guard.
"Derrick is rising to the challenge," Popovich said. "He wasn't expected to be in this position this season, and he's grown by leaps and bounds every week. With every game, he seems to be more confident making great decisions, and his demeanor is wonderful. The guys trust him out there. I'm really happy for him. He is doing a fine job."
PHOTOS: Spurs top Raptors in Kawhi's return to San Antonio
White, who more than held his own while he guarded Leonard, deflected credit to his teammates for helping keep the MVP candidate in check.
"I think our activity defensively was great," White said. "All five of us just flying around out there. Then offensively playing downhill, good things were happening. I've never been in an arena for something like that.
"It was crazy in there. I think (the fans) did a great job of cheering for us. Kawhi is a great player. Just tried to make it tough on him."
Rudy Gay (13) and Patty Mills (12) rounded out the Silver and Black's double-figure scoring.
The Spurs (22-17) climbed five games over .500 for the first time this season with their third consecutive victory. The Silver and Black are 11-3 since dropping three games below .500 on Dec. 5.
Toronto dropped to 28-12.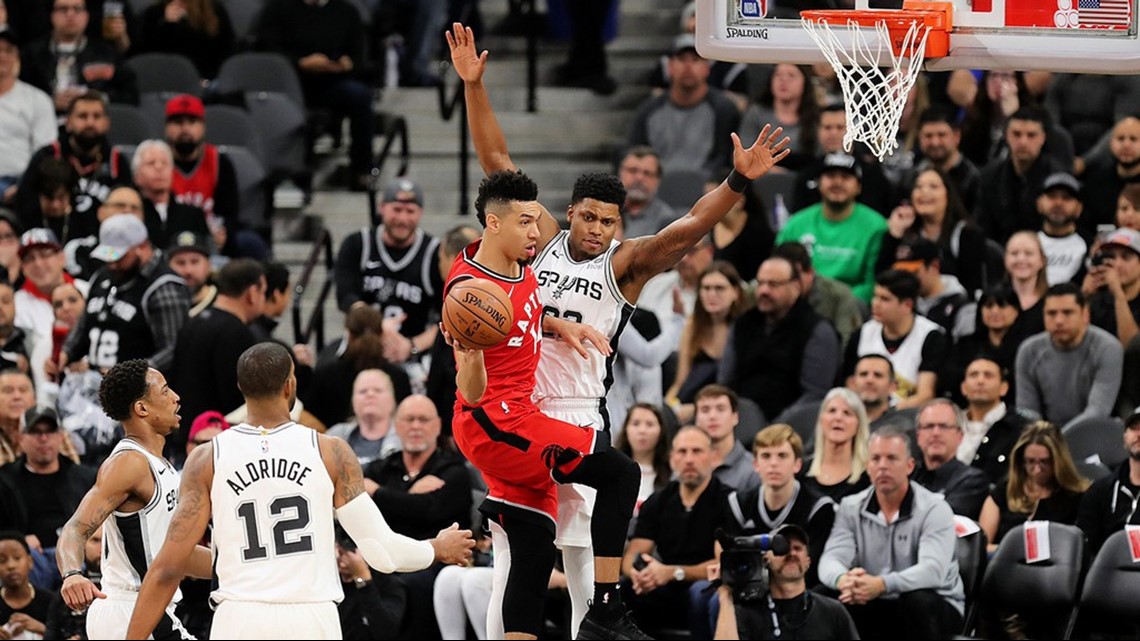 San Antonio, which opened the week with a win over Boston on New Year's Eve, plays Memphis on Saturday night at the AT&T Center.
The Spurs shot 55.3 percent (47-85) overall for the game and were 48.1 percent (13-27) from the three-point line.
Toronto shot 44.8 percent (39-87) and made just 4 of 30 attempts from the three-point line. Delon Wright scored 15 points for the Raptors and Serge Ibaka and Norman Powell had 14 each. Green failed to score and missed seven shots, six from beyond the arc. Toronto played without All-Star point guard Kyle Lowry, who was sidelined with lower back pain.
The Silver and Black kept Toronto's defense scrambling with their ball movement, finishing with 32 assists on their 47 made field goals.
Ahead by as many as 28 points in the third quarter, the Silver and Black settled for a 96-75 lead going into the fourth quarter.
The Spurs were up 67-51 at the half after leading by as many as 26 points. San Antonio shot 59.1 percent (26-44) in the first half. The Silver and Black were 3 of 11 from the three-point line.
DeRozan led the Spurs' first-half scoring with 19 points on 7-of-11 shooting. He also had 10 rebounds and five assists. White and Aldridge scored 11 points each.
The Raptors shot 50 percent (22-44) in the first half. They were only 2 of 12 from three. Leonard and Norman Powell were Toronto's top scorers with 11 points apiece in the first two quarters. Leonard was 5 of 8 from field and missed two of three free throws. He had one rebound and three assists.
"They jumped on us from the beginning and they got out and ran," Green said. "They dictated the tempo, they dictated the pace. They made a lot of shots and we didn't. Defensively, we didn't play well, or rotate well.
"Besides the shot making, I just wasn't very happy with the way we competed. I think we could have competed better, myself especially. Games happen like that sometimes. It's one of 82, and e got aonther big one in a couple of days."