On Saturday, we finally heard the words that San Antonio Spurs fans and Argentinian basketball fans have been dreading, and we heard them from the man, himself.
Manu Ginobili officially announced his retirement.
At no point, did Manu get emotional during the press conference. He appeared settled with his decision and happy to take the next step, often joking about what it's like to have a full summer off and how his kids feel about having their dad around more.
PHOTOS: MANU'S LAST PRESS CONFERENCE
PHOTOS: Manu Ginobili officially announces retirement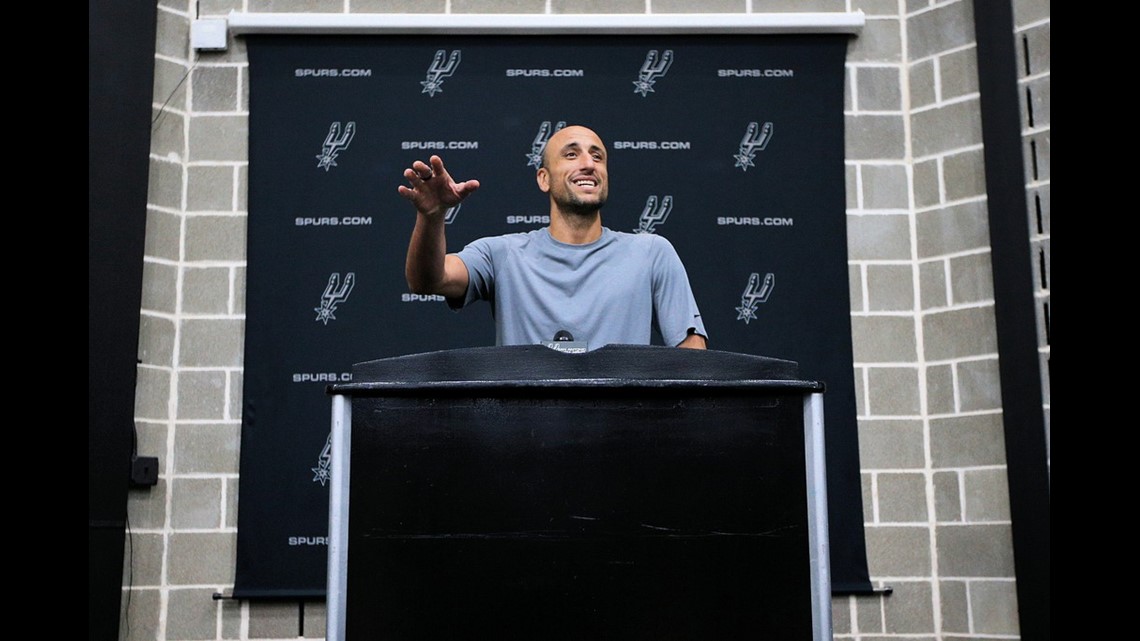 "'I don't want you to retire, dad,'" said Ginobili, recalling what it was like having that conversation with his oldest son. "'The chicken tenders in the family room are awesome.' No. I'll get you some different chicken tenders in a different situation. That can't be the reason why I stay!"
In a way, Manu Ginobili looked like he had a lot more to give, given how well he played in the playoffs and the way he took over and beat the Warriors in Game 3 of the team's series against the Golden State Warriors. But that also may have been a result of Manu knowing that it was his last run and leaving it all on the floor.
"I took last season mentally as my last season… I left the door open just in case," he said. "Slowly the door started to close more. I couldn't see my body going through that kind of grind again. I felt that I had a good season, that I left everything I had in that previous season, both physically and mentally."
Ginobili revealed that the team was well aware that he was heavily leaning toward retirement after the season was over. He said that he talked to head coach Gregg Popovich and let him know before going on vacation. Manu said that Pop briefly tried to convince him before they parted ways at the end of the season, but that when he returned, the two talked and quickly came to the understanding that his career was over and that he wasn't coming back for his 17th season in San Antonio.
He said that he's loving the relief that comes with not preparing his mind and body for another season and having extra time to spend with his family, although he said that he'll be around to help the young guys on the team and will attend some games this upcoming season.
"For all these years, since adulthood, I've been taking care of my body, getting ready for the Olympics, getting ready for the World Cup, for the season, recovering from an injury, getting in shape for the next thing, and I'm loving this uncertainty. I'm loving this time that I can go to the gym whenever I want, that I can take my kids every morning to school," he said. "I guess, eventually, I'm going to miss it, because it's been 23 years and, I've said it multiple times, I loved doing what I did, so for sure, I'm going to miss it in different moments."
FOR THE FULL PRESS CONFERENCE, CLICK HERE OR WATCH BELOW: