SAN ANTONIO — OVERTIME:
FINAL SCORE: Spurs win 154-147 (2OT).
When a game goes into double overtime, there are bound to be some big numbers, but the number of career milestones from Thursday night's Spurs win over the Thunder is astonishing.
Gregg Popovich became the third-winningest coach in NBA history with 1,222 wins.
LaMarcus Aldridge set a new career high with 56 points. Derrick White's 23 points were also a career high.
The Spurs made 16 of their 19 three point attempts. That's 84 percent.
For the Thunder, Russell Westbrook had a career-high 24 assists. He also had 24 points and 13 rebounds for a triple-double.
Jerami Grant had a career-high 25 points and Terrance Ferguson made 7 three-pointers, a career best.
These two teams play again on Saturday in Oklahoma City. Buckle up.
PHOTOS: Spurs hold off Thunder in double-OT thriller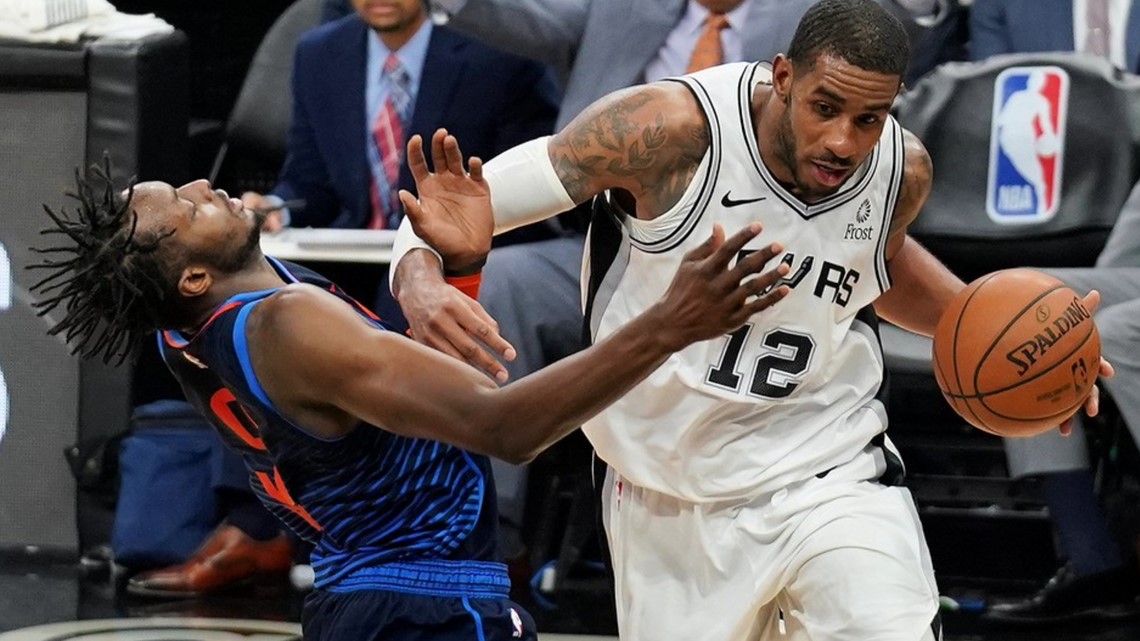 ---
Everybody looks tired out there. It's a shame, too. After such an epic game, the last two and a half minutes went without a single made field goal. The Spurs went up by 5, but then it was a series of free throws that got them to the finish line.
---
Paul George's layup for OKC tied the game at 143, but he was called for a technical foul. LaMarcus Aldridge made the free throw, then the Spurs got a couple of layups, and Derrick White blocked a dunk. Even then, the victory was not assured.
---
It came down to a one-on-one between DeMar DeRozan and Paul George in a tie game. DeRozan's shot missed, so we'll play a second overtime. That gives LaMarcus Aldridge a chance to add on to his career-high 49 points.
FOURTH QUARTER:
At the end of regulation, the score is tied at 130.
The shot below ended up not being the game-winner, thanks to a bizarre sequence involving a foul on an out-of-bounds play, a turnover, and another foul. On to the next.
---
Derrick White! The shot that might end up being the game-winner! Oklahoma City came back down and hit a layup, but this shot was enormous in a tie game.
---
LaMarcus Aldridge just keeps getting buckets. He's getting to the line (10 of 10 free throws) and is up to 42 points. He scored 12 straight points for the Spurs at one point down the stretch.
---
The Spurs might be running out of gas. Playing their second game in as many nights and their third in four nights, the Spurs gave up a 21-9 run to start the fourth quarter.
THIRD QUARTER:
After three, the Spurs lead 105-93.
The Spurs did eventually miss a three point attempt; they're 14-for-15 for 93 percent after three quarters. And LaMarcus Aldridge is up to 30 points. DeMar DeRozan only has 9, but he has 10 assists.
---
After shooting 10-for-10 from behind the arc in the first half, it looks like switching sides of the court didn't slow down the Silver & Black. The Spurs made their first two three-point attempts of the third quarter. Marco Belinelli has 5 of 'em. Davis Bertans has a trio, and Patty Mills and Bryn Forbes have each connected twice.
SECOND QUARTER:
At halftime, the Spurs lead 70-63.
So the Spurs probably aren't going to blow the Thunder out. Oklahoma City is a good team. But keeping the lead at double digits throughout the first half is pretty good. Marco Belinelli is 4-of-4 from long range, but it's DeMar DeRozan making the highlights.
---
Where was this last night? The Spurs are shooting 58.8 percent from the field and are 9-for-9 from behind the arc as we approach the midway point of the second quarter. In last night's loss in Memphis, the team shot just 36 percent from the floor. You know it's your night when this drops.
FIRST QUARTER:
After one, the Spurs lead 33-23.
It's a game of runs, and the Spurs are making more of them. After a 10-0 Spurs run gave the hosts a 12-10 lead, things leveled out a bit, with the Thunder taking a 19-14 lead. Then the Spurs scored 17 of the next 18 points in the game. Marco Belinelli made threes on three straight possessions, with two Thunder turnovers sandwiched in the middle.
---
Talk about hot and cold to start. The Thunder opened up a 10-2 lead in the first four minutes, but the Spurs scored the next 10 points, taking a 12-10 lead after 6 minutes and forcing the Thunder to take a timeout.
We also got an early contender for Play of the Game. Watch your head, DeMar!
---
For the first time this season, the Thunder, the Spurs and all their All-Stars will share the floor.
LaMarcus Aldridge and DeMar DeRozan. Paul George and Russell Westbrook. It's a matchup worthy of the prime-time audience on TNT.
These teams will be very familiar with each other in a few days' time. They square off again Saturday night in Oklahoma City.
After winning five straight, the Spurs cooled off Wednesday night, posting a poor shooting performance marked by turnovers in a loss to the Memphis Grizzlies.
RELATED: GAME BLOG: Spurs fall to Grizzlies, 96-86
The Silver & Black will hope for some home cooking to heal whatever plagued them 24 hours ago. It won't be easy. The Thunder have been winning way more than they lose, and that's even with star guard Russell Westbrook missing some games and suffering from a shooting slump.
RELATED: SPURS GAMEDAY: Thunder present formidable challenge for Silver & Black
Tip-off is slated for 8:30 p.m. Central. Follow along with our KENS 5 Spurs team below: