San Antonio forced the Bucks into six turnovers in the first period, getting out to a 15-12 lead. Jakob Poeltl notched the first two buckets for the Spurs, and got the assignment of guarding Giannis Antetokounmpo.
The defense was plenty disruptive, and Doug McDermott drained three triples. Lonnie Walker IV entered the game and knocked down a triple, then drove through contact for a difficult layup, then another.
The Spurs built a 28-22 lead before Giannis came back in and started doing his thing, tying things up at 32 at the end of the period. San Antonio had 10 assists at the end of the first.
San Antonio opened the second on a 6-0 run, with Derrick White finishing a pair of buckets in close and playing excellent defense at the rim on the other end. Milwaukee was able to take a 41-38 lead as the Spurs' defense faltered a bit.
The Spurs built the lead back to five as Giannis picked up three offensive fouls in the period, but he was able to make up for that with strong downhill attack that generated opportunities at the rim and at the arc for his teammates.
Milwaukee built a six-point lead before Derrick White stemmed the tide with a tough driving bucket.
San Antonio trailed 56-52 at halftime.
The Spurs were in danger of falling behind by double digits, but Derrick White soared in for a block and finished a layup the other way despite a foul from Giannis, his fourth, sending him to the bench.
Milwaukee wound up extending their lead anyway before stout defense and a McDermott triple trimmed it back to single digits. Dejounte Murray pulled up for a pair of mid-range buckets, the Spurs forced a few more turnovers, and an impossible finish by Lonnie Walker IV made it a 72-70 Bucks lead.
Bryn Forbes picked a great time for his first three of the season, knocking one down to give the Spurs a 73-72 lead. Antetokounmpo came back into the game, and Milwaukee went back in front by eight.
Devin Vassell floated one home, Lonnie finished another ridiculous hanging layup, and Milwaukee's lead was shaved to 85-81 heading to the fourth.
The final period started with a Spurs miss, but Jakob Poeltl grabbed the board and got it to Doug McDermott for three. The next possession, McDermott got the ball in the same spot and drained it to tie the game.
Milwaukee got hot from three and quickly built their lead back to double digits. Derrick White pulled up from three in pick and roll and drained it.
Lonnie Walker IV stole a cross-court pass and found Keldon Johnson for a tough reverse off a eurostep in transition. White drew a charge. Keldon Johnson answered a mid-range bucket by Middleton, then got to the hoop for a difficult finish through contact.
Milwaukee scored, but Middleton fell and McDermott got another open three, breaking his career-high with seven makes from beyond the arc.
Poeltl stole a roll pass intended for Giannis, and Dejounte Murray dunked it on a back cut. Milwaukee hit a three, and Poeltl fought for two offensive rebounds on the same possession, but the Bucks managed to steal it. Another Milwaukee three made it a 10-point game again.
San Antonio fell 121-111.
Pregame


The San Antonio Spurs (1-1) will host the defending NBA champs Milwaukee Bucks (1-1) Saturday night in the second game of a back-to-back.
In their previous game versus Denver, Nikola Jokic had 32 points and 16 rebounds to lead the Nuggets past the Spurs 102-96.
Keldon Johnson led the Spurs with 27 points and Derrick White had 16 points.
Before the Spurs tipped off against the Bucks, Coach Gregg Popovich spoke about Giannis Antetokounmpo, George Hill, and Mike Budenholzer. He also said it's been great fun working with his group of players as they focus on doing the little things they'll need to do to win games.
Here are five things to watch for in Saturday's game:
1. Cold shooting? Bryn Forbes has gone 0-6 from the field in two regular-season games.
2. Clean up the sloppy play. The Spurs had 20 turnovers in their road loss versus Denver.
3. The Bucks and Spurs have split each of their last three season series, 1-1. The home team has won every game in the series over the last three seasons.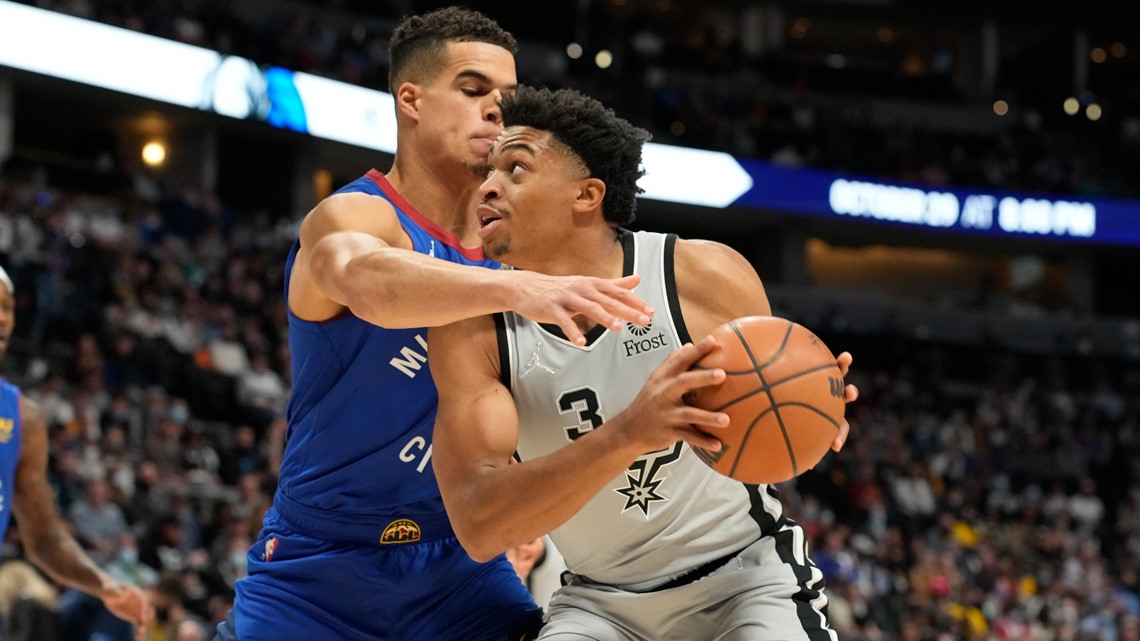 4. A problem! Bucks' Giannis Antetokounmpo has posted a double-double in each of the first two games of the new season.
5. Big scorer! Spurs' Johnson is averaging 21 points per game after two regular-season games.
Stay here throughout the season for complete Spurs coverage.