SAN ANTONIO — Former San Antonio Spurs guard Dejounte Murray is back in San Antonio and he is excited about his return.
"I'm just excited to be back in the city," the Atlanta guard said. "A lot of years put in here from being from Seattle. A long way and it'll always be home for me."
Murray was traded from San Antonio to Atlanta in 2022 for Danilo Gallinari, and three first-round picks as part of the Spurs' intent to rebuild the franchise from the ground floor.
Tomorrow's game against the Spurs will be his first time facing his former club but San Antonio remains close to his heart.
"I'm more excited to come to play, and try to get a win," Murray said. "It will always be home for me."
He spent six seasons with the Spurs after being drafted in the first round in 2016. He grew from a bench player to the starting point guard to becoming an NBA All-Star in 2022.
And he says he remains in contact with his former San Antonio teammates as he continues to try to help them.
He adds that with Gregg Popovich still on the sidelines, they'll be fine as their NBA careers develop.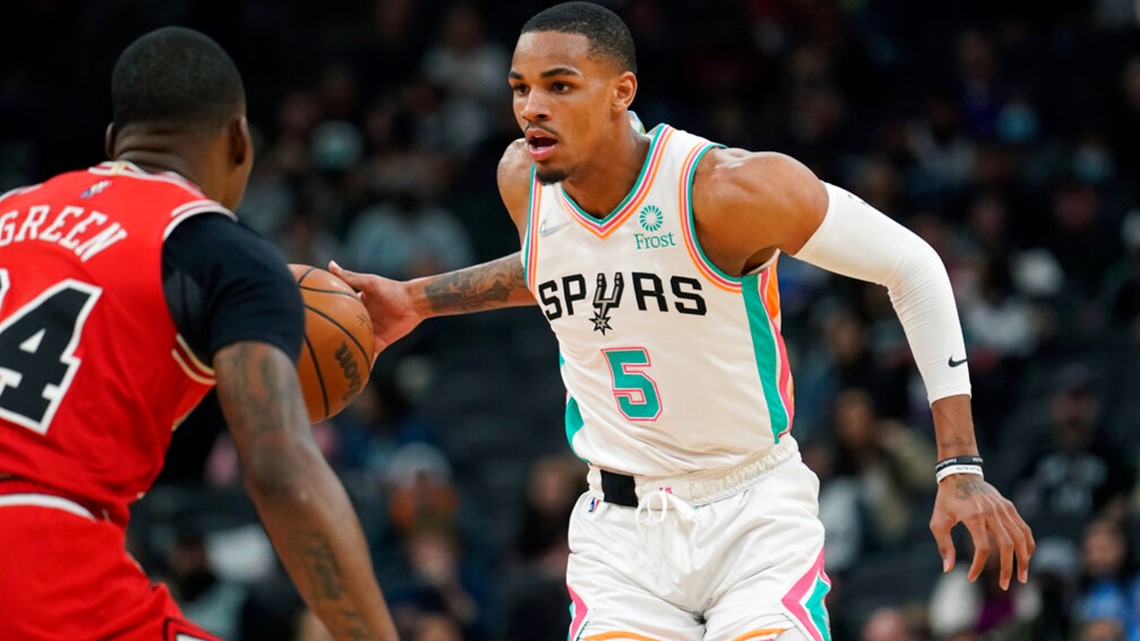 "At the end of the day, they're with Gregg Popovich," he said. "A great guy and he's going to continue to teach them how to play the game the right way."
Ultimately, Murray believes the Spurs have the ability to get back to the top of the NBA despite the current rebuild.
He points to the team's ability to draft well, sign high-character players, and how Popovich teaches off-the-court lessons to help make the players well-rounded.
And despite Murray now with the Hawks, he still holds close to his heart the strong bond he made with Popovich during his time in San Antonio.
"That relationship that we connected on and created will something that'll last forever," he said. "There were times I lost people over and over and that was somebody I went to go cry to because I had no family living in San Antonio. We connected really well in that."

Coming back to San Antonio puts a smile on his face.
He'll likely get a touching video tribute ahead of tomorrow's tipoff and continues to call it "home."
"I love San Antonio," he said. "When we got here, I was smiling because I love it. It's home. I just want to go, have a great time, get a win and see great people."
However, when he was traded, there were social media messages from him about the Spurs that fans did not take too kindly.
He posted on Instagram that the Spurs will not be back to relevancy for 15 years and shared his experiences playing with the team describing it as the team playing "mind games" with former Spur, Stephen Jackson.
Does this leave an open question as to how Spurs fans will welcome him tomorrow night at the AT&T Center during player introductions: With cheers or jeers?
"That's one thing, I don't know how other people feel," Murray said. "You got a lot of people that are mad."
Murray continued by saying that real fans will understand that it is fine for him to express himself as he sees fit.
"You got a lot of people that are happy but like I said, the real people, that are humans, they understand that it's appropriate for us to say how we feel and we shouldn't get judged because we have more money than you or have more fame than you," he said.
Said Murray: "Those [fans] are the ones that are going to show me the love that I deserve because, at the end of the day, I love this city. I love the San Antonio Spurs organization. I love everything about it. However it goes is however it goes."
The Spurs host the Hawks Sunday at 3:00 P.M.
Murray reflected on his time teaming up with former Spurs coach Becky Hammon, who is now the Las Vegas Aces head coach and is up for the Basketball Hall of Fame enshrinement.
"Becky, she's a great person," he said. "That was somebody who put their arms around me and wanted to be there for me. We were able to build our relationship off of always being counted out."
Murray says he makes trips to Las Vegas to see the Aces play and is proud of her.
"I'm not surprised by anything she's doing. I'm so happy for her," he said. "We still talk as of today. I'm proud of her. She deserves it."