New Judson High School football coach Rodney Williams almost left the Rockets in 2014 to coach at Corsicana, where a good friend was the head coach.
"That was the plan," Williams said Tuesday night.
But Steve Hoffman, who had coached with Williams at Clemens and was preparing for his second season at Corsicana in 2014, talked his buddy out of making the move.
"Steve said I was a dummy if I left Judson," Williams said.
Five years later, Williams is glad he heeded Hoffman's advice.
Williams, 45, was promoted to interim head football coach and athletic coordinator at Judson on Tuesday night by the Judson ISD board of trustees.
Williams was offensive coordinator and assistant head coach for five seasons under Sean McAuliffe, who resigned last month to become head football coach at Houston Cypress Ranch. McAuliffe also was promoted and named interim head coach when he succeeded Mark Smith in 2014.
"He has a great professional body of work, and it's his time," Judson ISD athletic director Mike Miller said of Williams. "It's an honor and a privilege to have a quality coach like Coach Williams on our staff and he was the best guy for the job."
Born in Hallettsville and raised in Flatonia, Williams is the first African-American head football coach in Judson's storied history.
"You always dream about being the guy one day," Williams said. "Those kids already know that, head coach or not, I'm going to be me. I've been the same person since I set foot on this campus. We'll go from there and after a two-second clap, let's go to work."
The Rockets have won six state championships under coaches Frank Arnold, D.W. Rutledge and Jim Rackley since becoming a perennial winner in 1982. Judson has recorded a state-record 42 consecutive seasons since 1977, when the late Jerry Sanders coached the Rockets to their first 10-win campaign.
"I came to Judson to accept the challenge of living up to Coach Arnold, Coach Rutledge and Coach Rackley," Williams said. "I took that challenge and now that I'm making history, it's a chance to take that challenge to another level.
"We have had a lot of talented African American kids who have been very talented, and they've never seen a young, black male in the position of top dog. Hopefully, not just the kids coming up this year, but those in the past that have had some hiccups in college, maybe now they'll be like, you know, this guy just stuck it out and he looks like me. I can do it, too."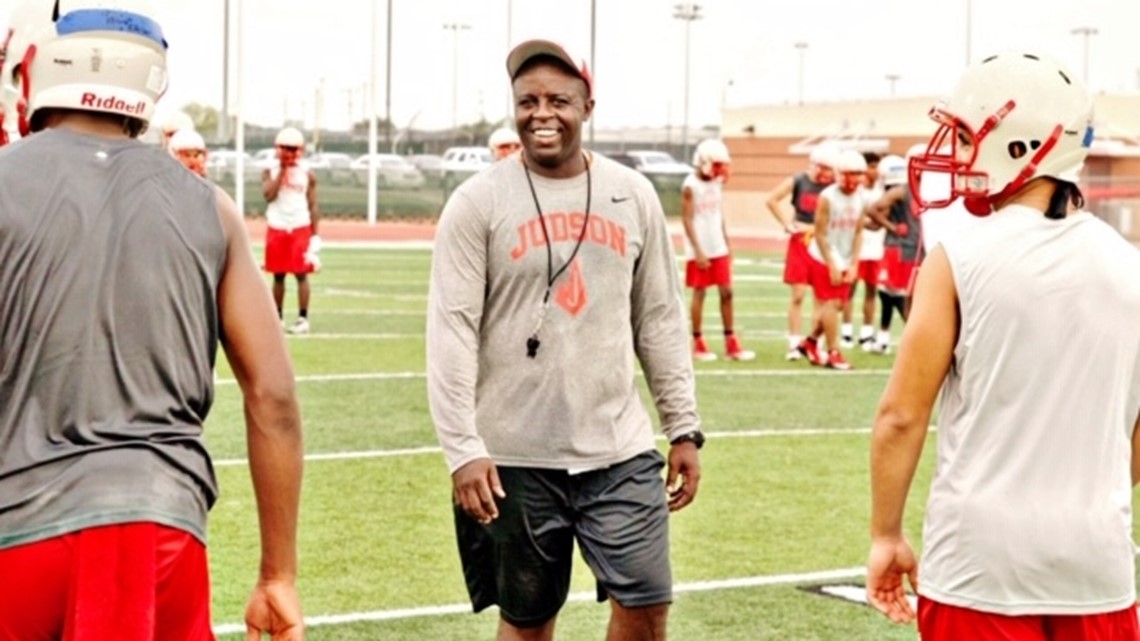 Williams is completing his seventh school year on the Rockets' coaching staff. He was an assistant coach at Clemens for 10 years before joining Smith's staff at Judson in 2012. Williams coached the Rockets' running backs until McAuliffe, who succeeded Smith as head coach, promoted Williams to offensive coordinator and assistant head coach in 2014.
Williams will be Judson's third head coach in eight seasons, following Smith (2012-2013) and McAuliffe (2014-2018).
The Rockets have gone 54-13 and advanced to the state semifinals twice with Williams as their offensive coordinator. Judson finished 11-1 last season, losing to Lake Travis 38-21 in the Class 6A Division I state quarterfinals.
From all accounts, the wheels of the Rockets' football program have continued to turn without a hitch since the team started spring training April 22. Williams and defensive coordinator Thomas Sitton have run the workouts.
"I told the kids when Coach Mac (McAuliffe) left, 'Look, the face may change in front of you, the faces may change behind you, but this is your team,'" Williams said. "I said, 'You guys play for the love of Judson. But guess what? In the end, if you put forth all the effort you can to be what Judson stands for, you'll be fine.
'We will find you all somebody that's going to lead you, but you all need to keep that mind: We always talk about representing the brand. You've got to rep the brand, you've got to play for Judson, and don't worry about the head coach's face.'"
Miller has handled the daily administrative duties of running the Rockets' football program since McAuliffe's departure, and has even helped coach at every practice.
Miller said last week that Judson probably would have an interim head coach by this Thursday, but stopped short of saying the coach selected would be hired to lead the Rockets into the 2019 season. The Judson ISD never opened the job to applicants outside the district.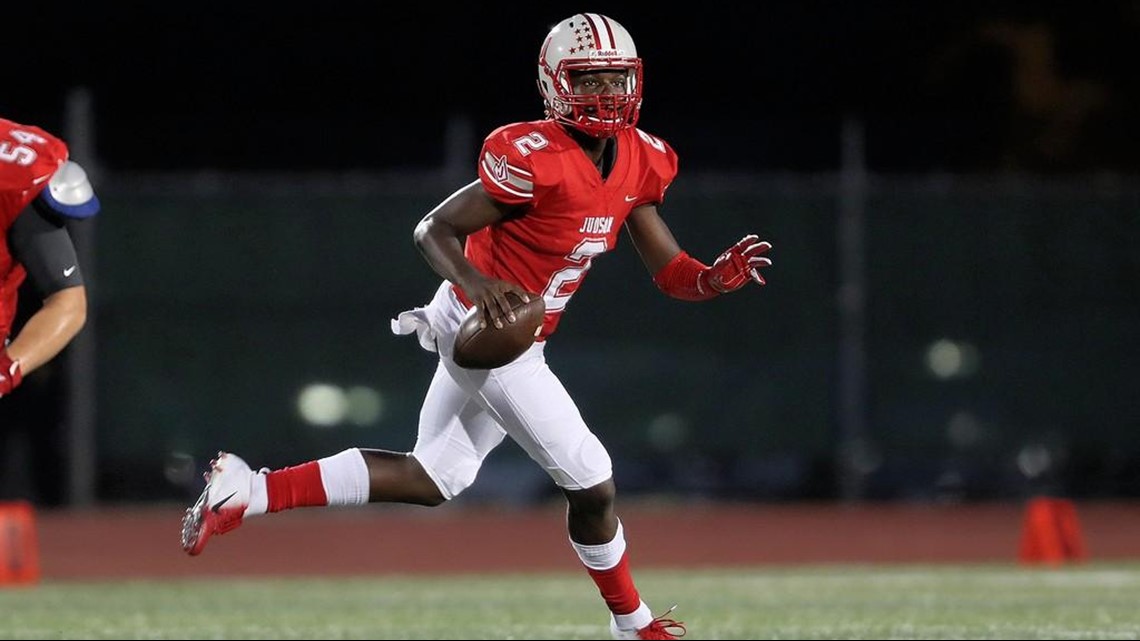 "He's the best person for the job at this time," Miller said of Williams. "He relates well to the players. He's a big part of the recent success of the Judson Rockets, and he has the support of the community, and the school and everyone involved in Rocket football."
Highly popular among the players, Williams was the favorite to be the Rockets' new head coach if the district opted to promote from within.
Williams said he plans to retain every member of the current coaching staff.
"I love all the guys we've got," Williams said. "Defensively, we've got to add some guys because we lost some guys. But offensively, we've been pretty much the same since I took over in '14.
"We know each other so well that we'll just tweak some things here and there to keep people off balance. I don't see us going out and getting anybody on offense."
Judson will end spring training with its annual spring game May 22 at Rutledge Stadium. Rutledge, who retired as executive director of the Texas High School Coaches Association in December, will be on hand to autograph copies of his book "Rocket Man: The story of D.W. Rutledge and the Judson High School Football Dynasty."
A 1992 Flatonia HIgh School graduate, Williams played baseball at St. Mary's for four seasons. He continued his baseball career in independent leagues in Canton, Ohio, and Madison, Wis., for two years before returning to Flatonia in 1999.
After coaching in Flatonia for one year, Williams was a teacher and coach at Dobie Middle School in the Schertz-Cibolo-Universal City ISD until joining the Clemens coaching staff in 2002. He remained at Clemens until going to Judson in 2012.
"All I've asked since I started coaching in Flatonia is give me a chance," Williams said. "When I went got out of high school and wanted to play baseball, college coaches told me, 'You went to a 1A school.' I'd tell them, 'Just give me a chance.'
"When I applied for the Steele, Clemens, Madison and Gonzales (head coaching) jobs, everybody told me, 'Well, you've never been a head coach.' I told them, 'Well, give me a chance.'"
Williams also has been an assistant coach this season for the Judson softball team, which is in the third round of the playoffs. His oldest of three children, Keely, is a freshman outfielder for the Rockets.
"I've told my wife (Rhonda) that this has been the most fun I've had in my coaching career," Williams said. "In all of the years coaching football and coaching baseball, this has been the most fun that I've had coaching. I had never coached high school softball in my life until this year. I'm having a blast."
Williams graduated from St. Mary's in December 1997 and earned a master's degree from Texas A&M-Kingsville.