SAN ANTONIO — Denied an upset against 10th-ranked Michigan last week, the Army Black Knights took out their frustrations with a decisive 31-13 victory over UTSA on Saturday afternoon.
A crowd of 30,718 watched Army (2-1) lead from wire to wire, punishing the Roadrunners' with their run-oriented triple-option offense. The Black Knights finished with 358 yards of total offense, churning out 340 rushing on 55 attempts for a 6.2 average.
Making his first start, sophomore backup quarterback Jabari Laws paced Army with 137 yards on 23 carries and scored one touchdown. He broke loose for a 34-yard gain on the Black Knights' first offensive play, setting up their first TD.
"It was definitely awesome," Laws said, when asked how it felt to get out on the field. "All my teammates rallied behind me."
Laws subbed for senior Kelvin Hopkins Jr., who rushed for two TDs in last week's 24-21 double-overtime loss to Michigan in Ann Arbor. Hopkins missed the game with an undisclosed injury.
"He made plays for them," UTSA coach Frank Wilson said of Laws. "He's hard to hit. He's not big in stature, and so (he) kind of hides under those big offensive linemen and kind of squeaks out of there at times."
Army is now 1-2 at the Alamodome. The Black Knights lost to Texas A&M 28-24 in 2006 and to Notre Dame 44-6 in 2016.
The Roadrunners (1-2) were coming off a 63-14 beating from Baylor in Waco. They played much better Saturday, but they still lost by double digits.
"Proud of our effort," Wilson said. "I thought our team played hard. I thought it was a hard-fought game by both teams. Realistically, we're not into moral victories, but just fortitude and fight and grit and determination to play through the final whistle of 60 minutes."
Fittingly, Army's final possession ended with a TD. Connor Slomka did the honors with a 3-yard run, ending a 13-play, 70-yard drive that took 7:27 off the clock.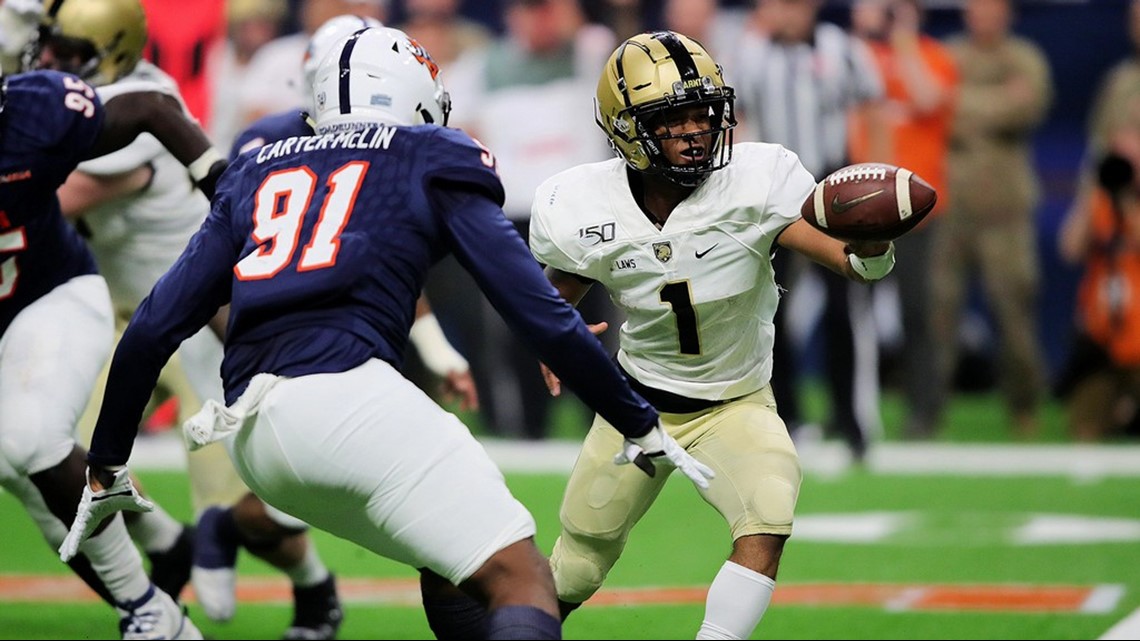 Not surprisingly, Army coach Jeff Monken had plenty of good things to say about Laws.
"He played great," Monken said. "It was his first start, never taken a college snap. He played well and I was proud of him."
The Roadrunners finished with 260 yards, gaining 51 rushing on 27 attempts and 209 passing. Frank Harris completed 23 of 31 passes, with one interception, for 187 yards. He was sacked five times
Wilson didn't sound overly concerned about his offense, writing off its struggled to the tough competition the Roadruners have played the past two weeks.
"We've had our work cut out for us," Wilson said. "I think once we start conference play, it will give us a fair evaluation exactly where we're at. And it starts right at the top with a very quality North Texas team, who competed for our conference championship over the last couple of years.
"So, we get a chance to go to Dallas and compete with that team, and I think that will be a true measurement exactly where we're at as a team before we press a panic button."
UTSA opens Conference USA play against North Texas (1-2) next Saturday in Denton. Kickoff is set for 6:30 p.m.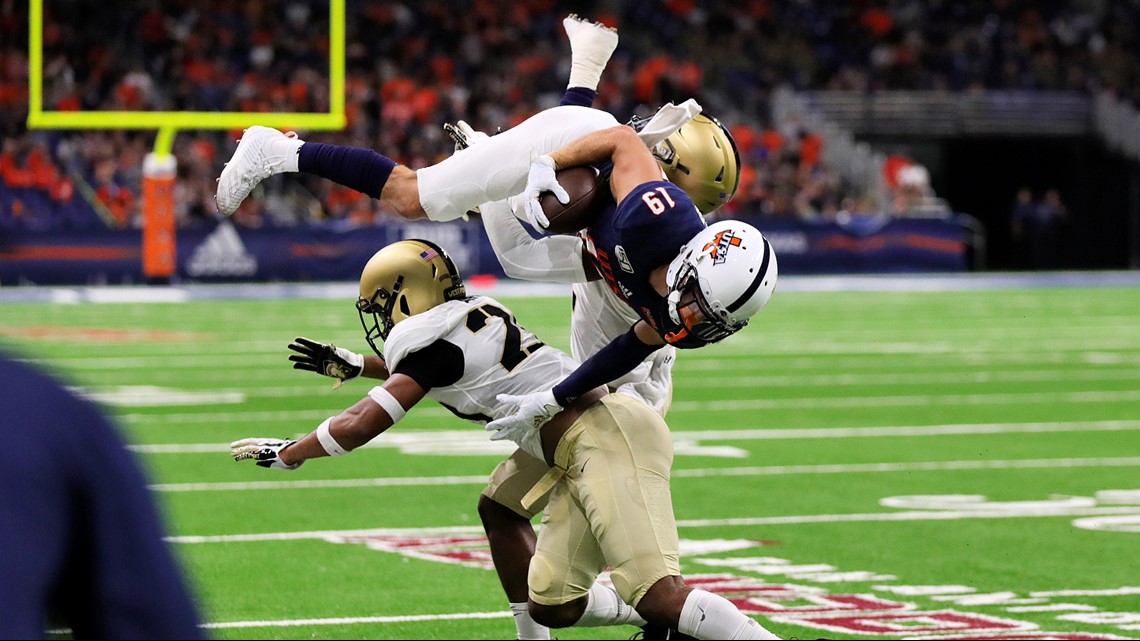 Army led 17-7 after three quarters and went up 24-7 on running back Kell Walker's 16-yard sweep around right end. Walker's TD ended a nine-play, 70-yard drive with 10:43 left. David Cooper converted his third of four extra-point kick of the game.
Brett Winnegan returned the ensuing kickoff 65 yards to the Army 32, setting up a 7-yard TD run by Judson graduate Sincere McCormick with 8:50 left. McCormick's TD ended a six-play drive that consumed only 1:53.
The Roadrunners were left with a 11-point deficit, 24-13, after a bad snap prevented them from kicking the PAT.
Ahead 10-7 in the last three minutes of the third quarter, Army cashed in a fumble by UTSA wide receiver Joshua Cephus to score its second TD.
Cephus caught a 7-yard pass to the Black Knights' 42 on a second-and-10 play, but Javari Bourdeau dislodged the ball from him. Jacob Covington picked up the ball at the 44 and returned it 15 yards to the Roadrunners' 41.
Laws scored on a 41-yard option keeper around right end on the next play. Cooper kicked the extra point to put Army up 17-7 with 2:23 left in the third quarter.
Army had the ball first and struck quickly, scoring on a 26-yard run by Walker, who took a pitch from Laws on the option and went around right end for the touchdown. Cooper added the extra-point kick to make it 7-0 with only 53 seconds elapsed on the game clock.
Laws' TD ended a three-play, 75-yard drive. The big play in the offensive was Laws' 34-yard gain on first down.
Army capitalized on a fumble by Harris on the ensuing possession to add to its lead. Harris was trying to pass when he coughed up the ball after being blindsided by Elijah Riley. Nose guard Kwabena Bonsu recovered the fumble for the Black Knights at the Roadrunners' 39.
Army stalled on the drive and had to settle for a 40-yard field goal by Cooper with 10:41 left in the first quarter.
So what was the biggest challenge of trying to defense Army's triple-option?
"Just how fast they move, man," Carter-McLin said. "You practice for it all week and you practice for it, and you get scout-team guys taking over there, trying to replicate the look.
"Those guys (scout-team players) do a great job, but the speed of it is so much different when you go out there, and those guys that do it year-round. It's tough to get a good look at it until you actually get it."