SAN ANTONIO — Chalk one up for the San Antonio Commanders, who made their debut Saturday before an enthusiastic crowd of 27,857 at the Alamodome.
Logan Woodside passed for 255 yards, Nick Rose kicked three field goals and the defense had three interceptions and six sacks, leading the city's Alliance of American Football franchise to a 15-6 win over the San Diego Fleet.
"It don't surprise me at all," running back Aaron Green said of the fan support the Commanders got. "Like I said, this is home. Born and raised here, so I know how much we love sports. I knew it was going to be a great turnout. I think my teammates were more surprised than I was."
AAF co-founders Bill Polian and Charlie Ebersol watched the game at the Alamodome and addressed the media afterward.
"First of all, thanks to the fans of San Antonio," Polian said. "That was a great atmosphere. I got a bunch of texts from friends One captured it best. He said, 'Wow' – explanation point. I'm glad.
"We're neutral but it's nice for these fans to be rewarded for the support that they showed, especially on a night like this. You know, this is not ideal weather in San Antonio . . . As I told most of you yesterday, our hope was that this would be like real pro football and that's exactly what it looked like."
PHOTOS: SA Commanders sink the Fleet in inaugural AAF game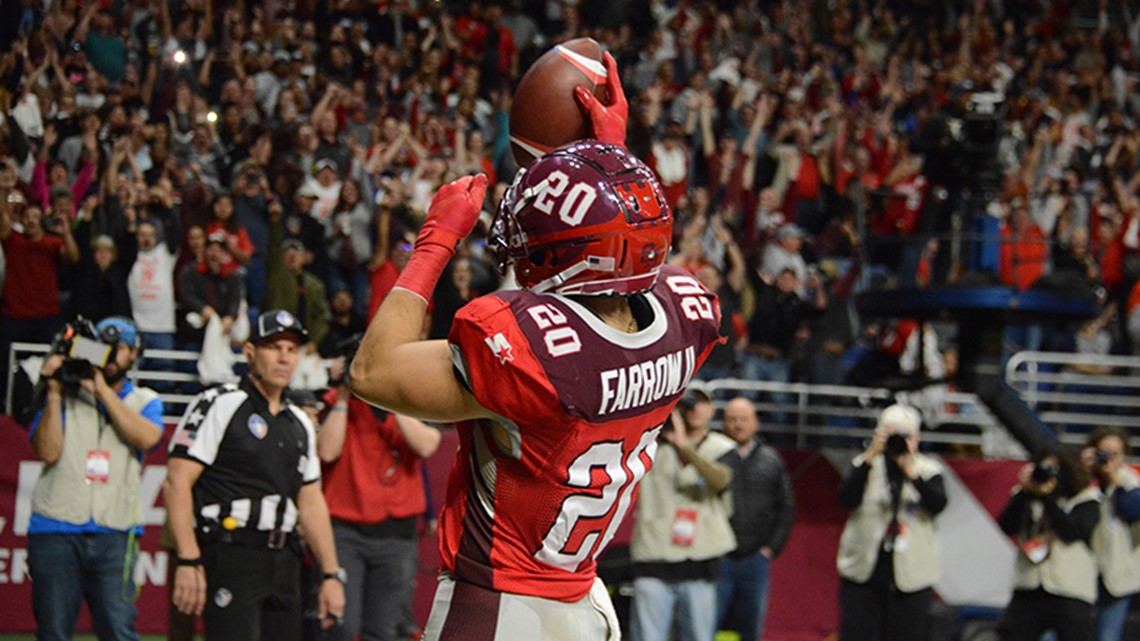 Green, a standout at Madison High School before going on to an outstanding career at TCU, led the Commanders' running game with 43 yards on six carries.
"We didn't play too well on the offensive end," Green said. "We would like to score more points than that. But the most important thing is we got the win. Hopefully the fans keep coming, and we keep winning for the city."
Commanders coach Mike Riley praised his defense and overall effort of the team.
"I was very impressed with our defense and how we stayed after it throughout the evening," Riley said. "They made some really athletic plays in the secondary and (showed) a tenacious front. I was really proud of our team and how we continued to play and do what we needed to do to win."
The Commanders broke a 6-6 tie on a 3-yard run by Kenneth Farrow II, who crossed the goal line on the first play of the fourth quarter. Cornerback De'Vante Bausby set up the TD with a 19-yard interception return to the San Diego 49.
Woodside connected with wide receiver Alonzo Moore for a 46-yard completion on the next play, which was the last of the third quarter. Marquise Williams was stopped on the two-point conversion attempt, leaving the Commanders holding a 12-6 lead.
Photo by Antonio Morano (bit.ly/XR79FT) / Special to KENS5.com
Under AAF rules, teams must go for two after every TD. AAF games also have no kickoffs and no TV timeouts, making for a faster pace.
"I was really happy with the way the officials worked," Polian said. "First time the crew's been together. I thought they moved the game exceptionally well. Timing and pacing was exceptional, very surprising for this early in the season."
Rose gave San Antonio some insurance when he converted his third field goal of the game, a 28-yarder that increased the Commanders' lead to 15-6 with 3:37 remaining.
The Fleet drove to the San Antonio 8 in the final two minutes before Zack Sanchez snuffed out their last scoring drive with an interception in the end zone.
After a scoreless first quarter, the Commanders took a 6-0 lead on field goals of 29 and 23 yards by Rose, a University of Texas alum.
Rose's second kick followed a 68-yard interception return by safety Orion Stewart, who was knocked out of bounds at the San Diego 31. Aided by an unsportsmanlike penalty against the Fleet, the Commanders reached the Fleet's 4 before stalling.
PHOTOS: San Antonio Commanders win big in first ever game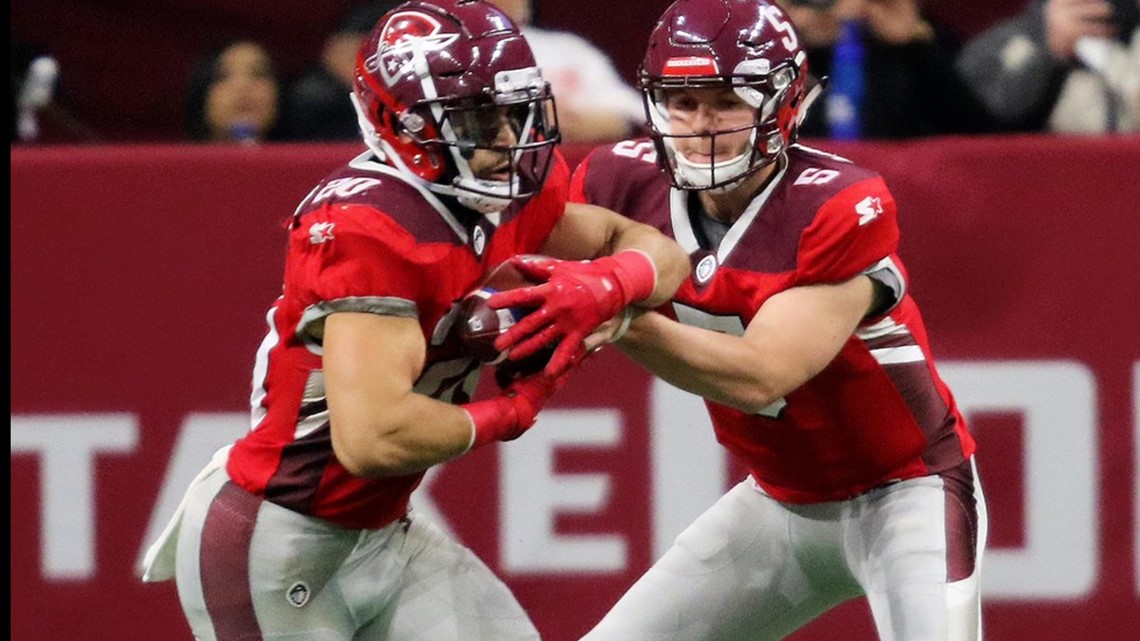 "I wish I could have gotten into the end zone, but anything to help my team win," Stewart said.
Asked about the secondary's three interceptions, Stewart said: "I think that was something we wanted to do, get our hands on the football. Area 51 is what we call ourselves. I think all year long we'll have a pretty good secondary, and try to get our hands on the ball. That was a damned good show by the secondary."
Rose's 23-yard kick put San Antonio up 6-0 with 3:53 left in the half. The Commanders' first points in club history came on Rose's 29-yarder with 11:19 left in the second quarter. San Antonio had a first-and-goal at the 8, but got nothing on second and third downs before Woodside was sacked for a 3-yard loss.
The Fleet finally got going on the ensuing possession, driving from their 25 to the Commanders' 29 before running out of steam. Facing a third-and-16 at the San Antonio 43, San Diego quarterback Mike Bercovici gained 14 yards to the 29.
Donny Hageman kicked a 47-yard field goal to cut the Commanders' lead to 6-3 with 1:22 left before the break.
Photo by Antonio Morano (bit.ly/XR79FT) / Special to KENS5.com
Disaster struck San Antonio on the third play of its next possession, when strong safety Ryan Moeller intercepted a tipped Woodside pass at the Commanders' 35 and returned the theft 12 yards. The Fleet drove to the San Antonio 10 before settling on a 28-yard field goal by Hageman with six seconds left before the half.
Woodside completed 18 of 36 passes and was intercepted twice. Bercovici hit 15 attempts, with two interceptions, for 176 yards before giving way to Philip Nelson, who was 5 of 10 for 68 yards. He was picked off once.
Woodside, who starred at Toledo, talked about the atmosphere inside the Alamodome when he met with the media after the game.
"It was awesome," he said. "First and foremost, you've got to thank the crowd. They were incredible and kept us in it the whole game. The defense played unbelievable and the offense, we did just enough to win the game."
The Commanders outgained the Fleet 364-295 in total offensive yardage, finishing with 125 rushing and 239 passing. San Diego had 99 yards on the ground and 196 passing.
San Antonio hosts the Orlando Apollos, who are coached by Steve Spurrier, next Sunday at 3 p.m. Orlando rolled to a 40-6 victory over the Atlanta Legends on Saturday night.