SAN ANTONIO — It's one thing to lose. It's another to squander an opportunity.
San Antonio's AAF team did both Sunday.
The Arizona Hotshots spoiled the Commanders' bid to clinch a playoff berth Sunday, leading from wire to wire in a 23-6 victory before 23,504 at the Alamodome.
"All we did was make it harder," San Antonio coach Mike Riley said. "That's what we did tonight. We made it harder, so it's just going to be absolutely a question of response. It's going to be how we respond to it. I think these guys will do a good job."
The Commanders (5-3) still can make the playoffs with a victory in either of their last two games. They play Memphis in their regular-season home finale Saturday at 11 a.m.
The crowd for Sunday's game was the smallest in four home games for San Antonio, which had its four-game winning streak stopped. San Antonio drew 30,345 to last week's game against the Salt Lake Stallions.
Winning their third game in a row, Arizona (5-3) avenged a 29-25 loss to the Commanders in Week 5 of the Alliance of American Football season. The Hotshots' head coach is Rick Neuheisel, who quarterbacked San Antonio's USFL team, the Gunslingers, in 1984 and 1985 before the franchise folded.
San Antonio linebacker Jayrone Elliott, who leads the AAF in sacks with 7.5, expressed confidence that the Commanders will bounce back against Memphis.
"We're a young team," said Elliott, who had one sack Sunday. "We're still learning, we're still growing. I would rather had us lost now than in a couple of weeks in the playoffs. No matter where we go – like I said last week – I'll go play in the parking lot with these guys.
"I feel like our coaches are going to do a good job of bouncing back, getting us in the right position to be successful. And I'm going to do a better job of challenging our guys. It starts with me. I played bad today. Trust me. Our team is going to bounce back."
Hotshots quarterback John Wolford completed 17 of 23 passes for 216 yards and one touchdown, and running back Tim Cook scored on runs of 6 and 20 yards.
San Antonio outgained Arizona 305-300 in total offense, gaining 173 rushing and 132 passing. The Hotshots finished with 91 yards rushing and 209 passing.
Wolford's scoring strike, a 58-yarder to Rashad Ross, put Arizona up 6-0 with 9:18 left in the first quarter. Although it was early, the big play seemed to take some of the starch out of the Commanders, who finished with two turnovers. The Hotshots scored TDs after both of them.
Sunday's game was somewhat similar to the Commanders' road victory against Arizona – only in reverse. San Antonio hit big plays and cashed in on turnovers to jump out to a 26-0 halftime lead before the Hotshots made a game of it.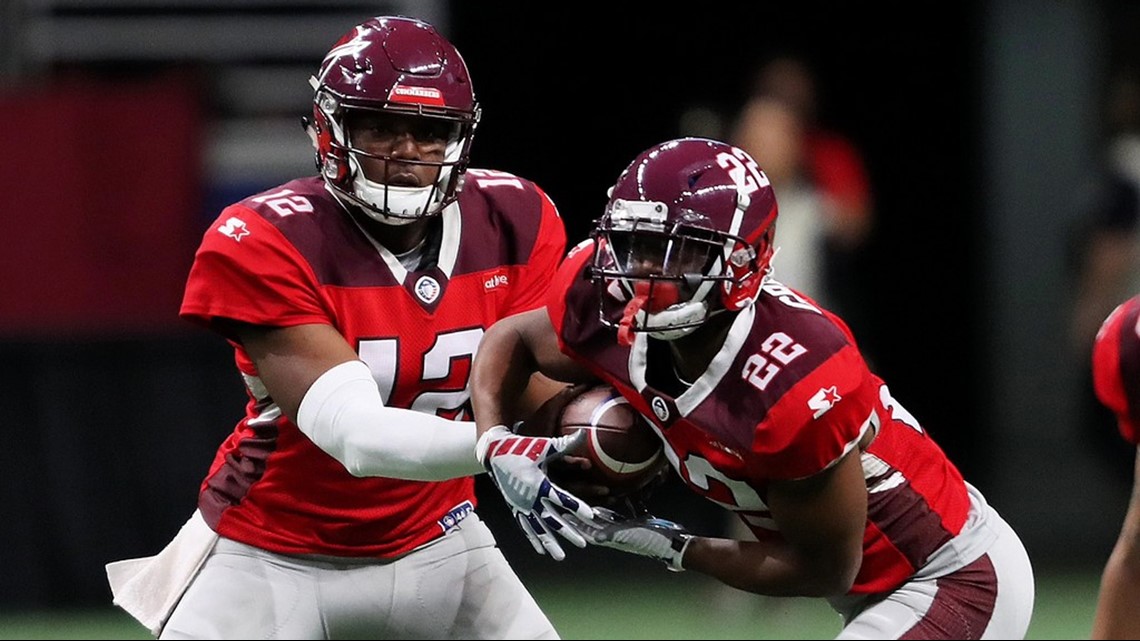 This time, it was Arizona that hit the big plays and capitalized on turnovers.
"Obviously, very disappointing loss," Riley said. "I think Arizona is a good team, played a good game. But it was really a tale of how the (Commanders') games have been won. The games, to me, have been a tale of both turnovers and big plays.
"They hit their big play early, got a jump on it, got a lead. We just missed a big play early, and then we turned the ball over. That made all the difference in the world."
After squelching San Antonio's final scoring threat by forcing a fumble, the Hotshots put the game away with a six-play, 69-yard drive that ended with Cook scoring on a 20-yard run with 4:10 left. Wolford passed to tight end Connor Hamlett for the two-point conversion and 23-6 lead.
The clinching drive began after quarterback Marquise Williams, who replaced starter Logan Woodside with 6:36 left in the first half, fumbled after getting sacked for a nine-yard loss on third-and-9 at the Hotshots' 18. Linebacker Da'Sean Downey recovered for Arizona at the 31.
Williams completed 17 of 23 passes for 130 yards and was sacked three times. Woodside was 4 of 9 for 32 yards and was sacked once.
Trailing 15-3 at the half, San Antonio cut the deficit to nine with a 35-yard field goal by Nick Rose that capped the first possession of the third quarter.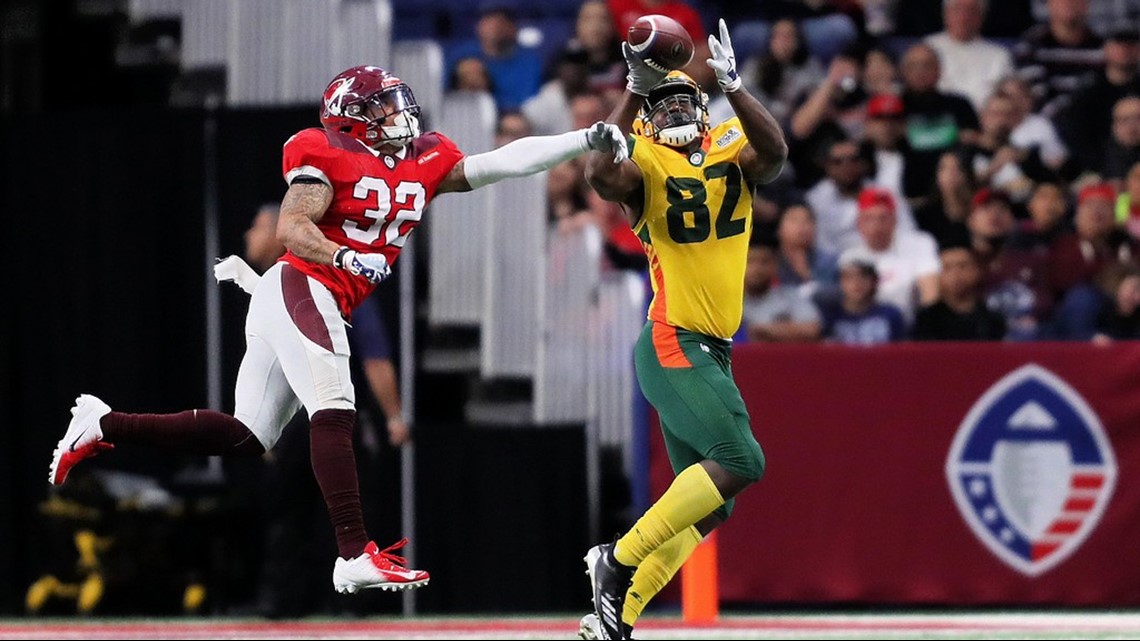 Badly outplayed for most of the first half, the Commanders cut Arizona's lead to 15-3 at the break on a 54-yard field goal by Rose with 47 seconds left. Williams replaced starting quarterback Logan Woodside at the start of the 12-play, 39-yard drive that consumed 6:39.
Nick Folk kicked a 25-yard field goal to give Arizona a 9-0 lead in the first minute of the second period.
Things got worse for the Commanders on their next possession when cornerback Dexter McDougle picked off a Woodside pass at the Arizona 49 and returned the interception to the S.A. 13.
Wolford picked up only two yards on a third-and-11 play at the 14, but Commanders linebacker Darnell Leslie was flagged for unnecessary roughness. The penalty was enforced from the 12, giving the Hotshots a first-and-goal at the 6 after the half-the-distance mark-off.
PHOTOS: Commanders fall to Hotshots, 23-6
Cook scored his 6-yard TD on the first play after the penalty to put Arizona ahead 15-0 with 6:56 left in the first half. Wolford's pass on the two-point conversion was incomplete.
The Hotshots outgained the Commanders 192-123 in total offense in the first half, rushing for 28 yards and passing for 164. San Antonio had 91 yards rushing and only 32 passing in the first two quarters.
Wide receiver Greg Ward Jr. said he believes the loss will galvanize the Commanders.
"Most definitely," he said. "It's just going to being everybody together. We're going to go out there and practice harder. This starts in practice. We've just got to be on our P's and Q's."
MORE COMMANDERS COVERAGE: