Houston — One of the worst fears for drivers is getting stranded on the side of the road.
If you check the back of your Texas license you'll see the number for Texas roadside assistance.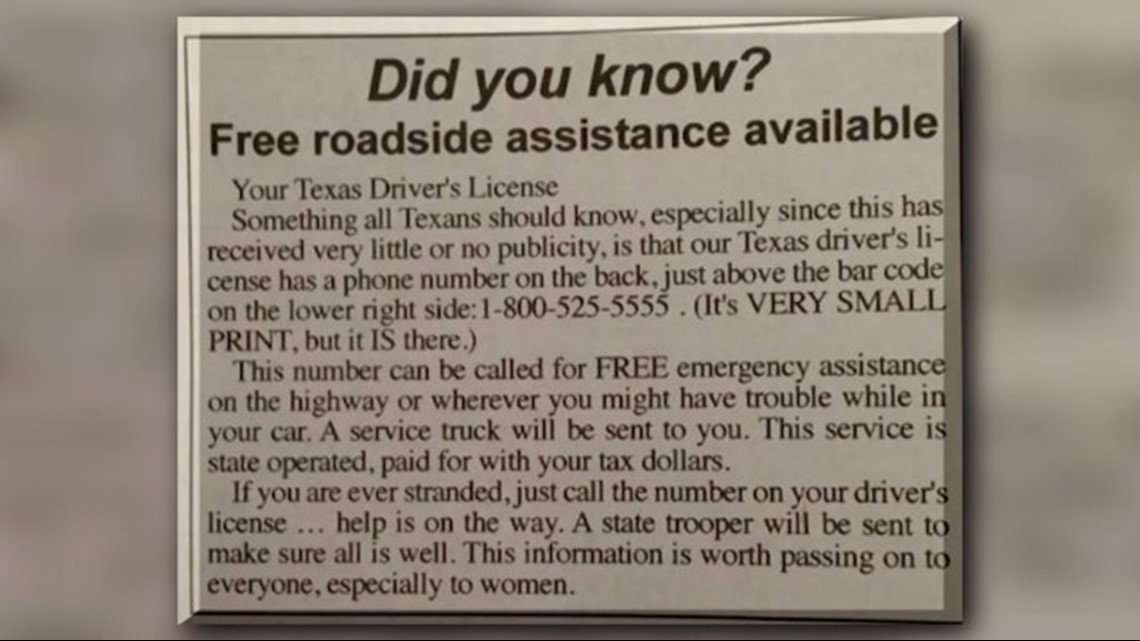 A viewer saw an article on Facebook that stated the services were provided by DPS. We went straight to DPS Lieutenant Craig Cummings to verify the claim.
"When somebody calls that number on the back of their driver's license, it goes to a call center and they'll determine where to route that call," Lt. Cummings said.
He said dispatchers will determine how best to help you including sending a tow truck or law enforcement.
"Based on where the driver is located, there may be a free service provided by a wrecker that can come but that's based on the wrecker service," Lt. Cummings said. "That's not something that DPS provides."
Drivers are responsible for any fees imposed by any wrecker service.
Therefore, we can verify the claims made in the article a viewer provided as FALSE.
Lt. Cummings said drivers should be aware of that number in case they need it.
"If you're in a location that you're just really unfamiliar with where you're at, call the number on the back of your driver's license and let us help you determine what's best needed or we can send a law enforcement officer out there just to help you be a little safer when you're out on the highway," he said.
DPS reminds drivers there is a Move Over law in place.
It requires you to move over for law enforcement, first responders or tow trucks on the side of road.
It doesn't require you to move over for drivers on the side of the road but as a courtesy, you should.
VERIFY: Sources
Department of Public Safety