Story update May 25, 2023: This story has been updated to reflect Florida Gov. Ron DeSantis' status as an official candidate for president.
After the announcement, people online said former Democrat presidential candidate Hillary Clinton, who ran against Donald Trump in 2016, had endorsed DeSantis. Clinton purportedly made the endorsement during an interview on MSNBC.
THE QUESTION
Did Hillary Clinton endorse Ron DeSantis, as seen in the viral video?
THE SOURCES
Twitter user @Ramble_Rants
Review of Hillary Clinton's social media accounts
THE ANSWER
No, Hillary Clinton didn't endorse Ron DeSantis for president. The video is a deepfake.
WHAT WE FOUND
There is no record on any of Hillary Clinton's social media accounts or on her website that shows an official endorsement of Ron DeSantis. Clinton most recently tweeted about DeSantis on May 23, criticizing the governor for some of the policies he has enacted in Florida.
The viral video claiming to show an endorsement is fake and was created on April 11, more than a month before DeSantis announced his candidacy for president. Twitter user @Ramble_Rants took credit for its creation. In Twitter comments under the fake video, @Ramble_Rants admitted to creating the video and in another tweet said they made it with user @C3PMeme.
VERIFY was able to trace the video to the @Ramble_Rants account using InVID, a video forensics tool, and RevEye, which is a tool used to conduct a reverse image search from a single frame of the viral video. This is the earliest instance the video was posted online.
The fake video of Clinton was created using existing video from a 2021 interview between Clinton and Sunday TODAY host Willie Geist. Sunday TODAY airs on NBC networks, and not on MSNBC. The fake video went viral on April 11, but Clinton hasn't been interviewed on MSNBC since at least March 8, 2023.
In both the fake video and the original video, Clinton is wearing the same outfit, she's sitting in the same position and the background is the same.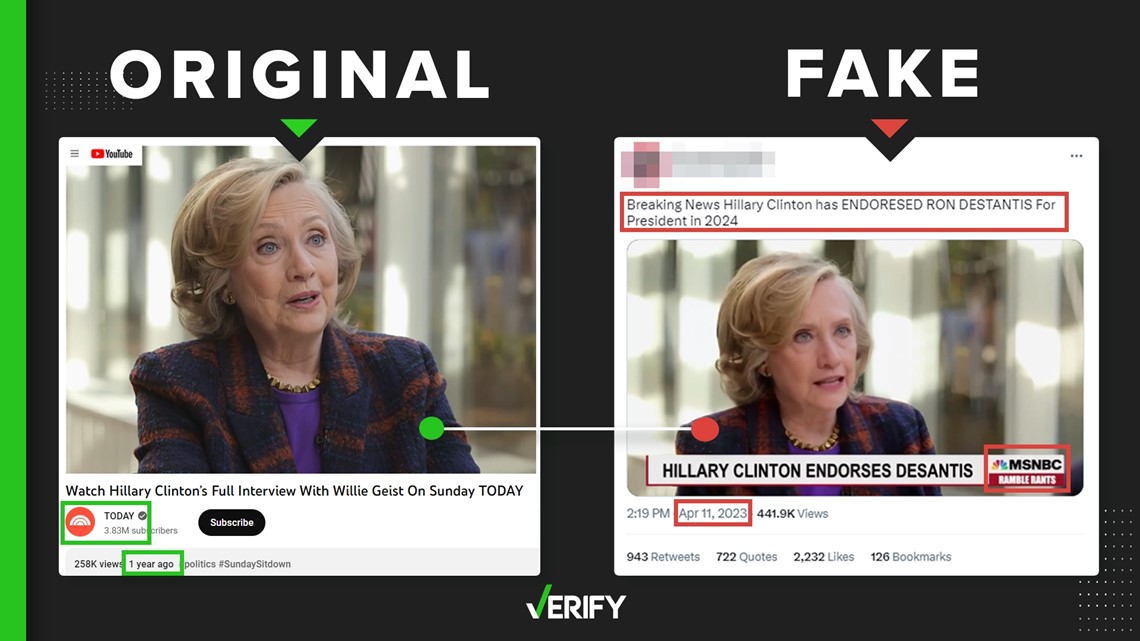 In the Dec. 12, 2021 video, Clinton was interviewed about her new teaching session on online platform MasterClass. She also talked about the then-possibility of former President Donald Trump running for president again. At the time the original interview aired, Trump had not announced his bid for 2024. She did not mention DeSantis at all.
The audio from the original video was replaced with fake audio of Clinton's voice. The faked audio is out of sync with the lip movements in the video.
VERIFY reached out to DeSantis, Clinton and MSNBC for comment but did not hear back at the time of publication.