UVALDE, Texas — The hopes, dreams and passions of the Uvalde 21 smile on the town a year later.
Though it's hard to smile back knowing they were robbed of those dreams, it's what's driving their families and the community to never let the world forget the beautiful souls taken on May 24, 2022.
Chris Seiler had overwhelming support for the first Memorial Roping and Scholarship Presentation in honor of his daughter, Makenna Elrod Seiler, one of the 21 murdered.
"Everybody here is a volunteer," Seiler said. "They're, all my friends and family, my friends from high school, are here."
Dozens of barbecue groups pulled out their best slabs, and more than 100 roping teams competed for a chance to win buckles and saddles forever marked with the memory of Makenna Elrod Seiler.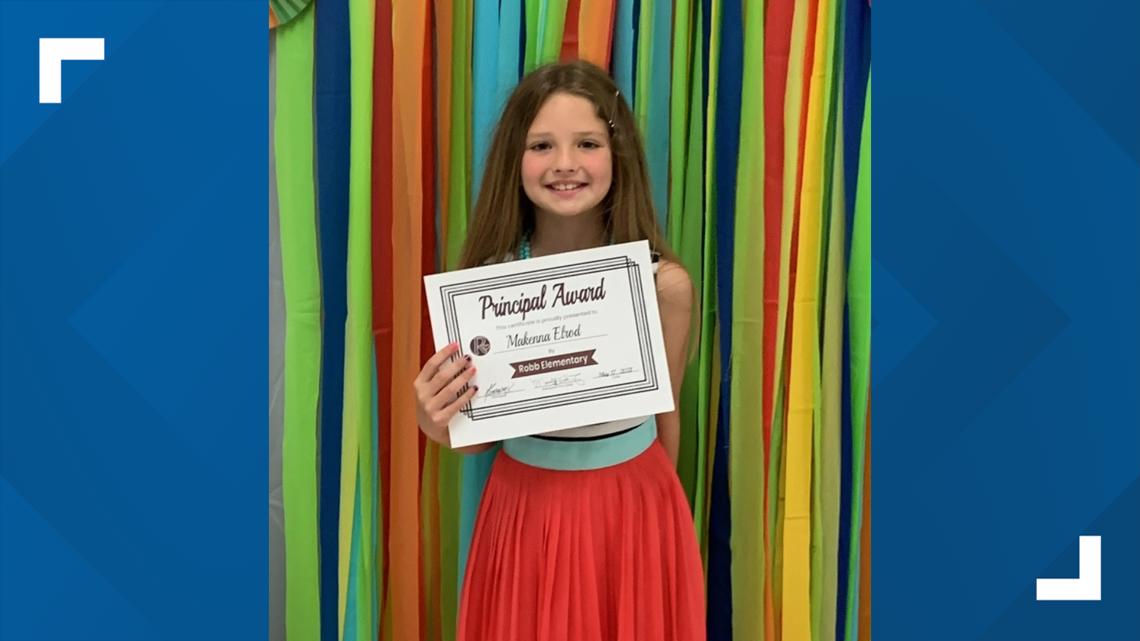 "All she wanted to do is ride horses," Seiler said.
Seiler hopes the award will keep his baby girl's legacy alive.
"I know they'll last way beyond our years, and if they happen to find this and look her name up, then she's living," Seiler said.
Makenna Elrod Seiler would have been 11 years old this year. In her short life, she had many loves – animals, baseball, butterflies, her siblings, dancing with her daddy and hanging with her momma, April Elrod.
"It's kind of been a blur," Elrod said. "So we're just trying to take it a day at a time, a breath at a time. She was a giver. And all she did, and whoever she was around, she made them feel like they were her best friend."
Even now, she is still giving.
"Young lady, that scholarship is $20,000," the announcer said at the scholarship presentation.
Carly Martinez, 17, is the first to receive Elrod Seiler's memorial scholarship. She plans to go to Southwest Texas Junior College in Uvalde.
"Each time I [am] back in the box, a little bit of Makenna is with me," Martinez said. "Anytime I get a chance to share, Makenna is part of my story. I'm going to go to junior college for business, eventually ag business, and have my own equine business with horses."
It's giving Martinez a chance she never had.
"I know Makenna would be so proud that she's helping someone in a big way," Elrod said. "You know, we wanted to do a full-ride scholarship so that we can really make a difference in somebody's life."
It's giving her parents a reason to keep pushing.
"Planning this thing has probably saved my life. Because sitting alone and thinking about what happened isn't the way to – it was just hard," Seiler said.
It's giving her family the glue that's brought them closer.
"The family has really, really come together, and more people are showing up because they recognize we're not promised anything," said Elrod Seiler's great aunt, Mandi Battaglia Seiler.
It's giving those extra nudges to let them know she's not truly gone.
"I took her some of her Easter baskets and some things at her grave and a tiger swallowtail," Chris Seiler said. "There wasn't another butterfly around that came and landed, landed on my hand. It stayed there and let me pet it and I just knew that was her."
He is celebrating the love she gave by writing a song called "Makenna Eyes." Just as he wrote, he doesn't need to see her brown eyes and big smile to know that she's always with him.
The family plans to host the memorial roping and scholarship every year around Makenna Elrod Seiler's birthday, April 19. They are always taking donations to the Makenna Elrod Seiler Foundation.