Closing arguments are set for 9 a.m. Friday, according to Lt. Gov. Dan Patrick, and then 30 Texas state senators will deliberate Paxton's fate.
Thursday began with Paxton's lawyers calling their first witnesses of the trial, after the prosecution rested Wednesday evening.
The witnesses for Paxton on Thursday included his current top staffers who discussed how and why the whistleblowers in his office were fired and how their settlement was reached.
The staffers also testified to the general nature of the office, with one saying he hasn't witnessed any wrongdoing by Paxton, or anyone else, since working there.
Catch up on all the highlights from Thursday:
Paxton's defense rests, closing arguments scheduled
At 5:35 p.m., Paxton lawyer Tony Buzbee announced that the defense has rested their case. The two sides then began conferencing with Lt. Gov. Dan Patrick, who after about 45 minutes announced that closing arguments would begin at 9 a.m. Friday.
Each side will get one hour for closing arguments.
The trial rules also allowed for time for rebuttals, but Patrick did not announce any plans for a rebuttal.
Paxton deputy says state should still pay whistleblower settlement
Grant Dorfman, the current deputy first assistant attorney general under Paxton, testified Thursday about why the office settled for $3.3. million with four whistleblowers and said the state should be the one to pay it.
The fired whistleblowers -- former staffers who raised concerns about Paxton's involvement with Nate Paul: Blake Brickman, David Maxwell, Ryan Vassar, Mark Penley -- were among Paxton's top staffers who went to the FBI with allegations about Paxton and Paul, an Austin real estate developer at the center of bribery accusations against Paxton.
Dorfman, who joined Paxton's top staff after the whistleblowers were fired, took the stand Thursday and was questioned about how the settlement with the whistleblowers was reached.
Dorfman said the attorney general's office hashed out the settlement with the whistleblowers' attorneys over the course of two mediation sessions in February 2021.
Dorfman said the attorney general's office, at Paxton's authority, decided it would "certainly" be best settle the case, given the costs involved with such litigation. The two sides settled on $3.3 million, which was "more than we would have like to settle for," Dorfman said, but he acknowledged that's often how settlements go.
When asked if Paxton was ever liable in the whistleblower lawsuit, Dorfman explained that the agency, not Paxton, was the defendant. And when asked if the he still believes the state should pay out the settlement, Dorfman said it should.
The settlement has yet to be paid. A state payment would have to be approved by the state legislature. Paxton has asked legislators to pay the lawsuit, a move they've yet to approve.
AG's HR director says whistleblowers were fired for good reason
Henry De La Garza, the assistant attorney general over the office's human resources division, testified that the whistleblowers who were fired in 2020 were fired for good reason.
The fired whistleblowers were David Maxwell, Mark Penley, Ryan Vassar and Blake Brickman, all of whom have testified against Paxton in his impeachment trial.
De La Garza said the four were exempt from being designated as whistleblowers because they were "high-level policymakers" as part of Paxton's top staff. All four were fired after raising concerns over Paxton's alleged dealings with and alleged favors for Nate Paul, the Austin real estate developer at the center of the case against Paxton.
De La Garza described the four whistleblowers' conduct after raising the concerns about Paul as insubordinate. Ultimately, De La Garza said, he concluded that the four whistleblowers would not be able to effectively work with Brent Webster, the new first assistant attorney general who took over for Jeff Mateer. Mateer also had raised concerns about Paxton and Paul and then resigned.
De La Garza testified that the attorney general's office had "legitimate non-retaliatory reasons" for firing the four whistleblowers.
Daniel Dutko, the attorney for the prosecution, fired back on cross-examination, confirming with De La Garza that any firing that happens within 90 days of an employee reporting to law enforcement should be presumed to be retaliatory. De La Garza agreed.
Dutko then pointed out that all four of the whistleblowers were fired well within 90 days of going to the FBI. De La Garza agreed.
Then Dutko called back to a favorite line of Paxton's attorneys in the trial: "Have you ever heard of the expression, 'There are no coincidences in Austin.'"
Morning testimony a "split" for Paxton, analysts say
Paxton's attorneys called two witnesses to the stand before lunch Thursday: Justin Gordon, the chief of the attorney general's open records division, and Austin Kinghorn, Paxton's associate deputy attorney general for legal counsel.
How did their testimony help or hurt Paxton's case?
Fort Worth Star-Telegram columnist Bud Kennedy and defense attorney Deandra Grant, who are providing analysis for WFAA on Thursday, described the morning testimony as a "split" for Paxton.
Here's their analysis of the key moments Thursday morning:
Witness says he never witnessed any wrongdoing in the AG office
Austin Kinghorn, the associate deputy attorney general for legal counsel, concluded his testimony Thursday by saying he has never witnessed any wrongdoing in the office, by Paxton or anyone else. If he had, he said, he would have resigned.
Kinghorn was working in Paxton's office in 2020, when Paxton's alleged dealings and alleged favors for Austin real estate developer Nate Paul were happening. After several whistleblowers in the office were either fired or resigned, Kinghorn was promoted to his current role.
He said he wouldn't have stayed at the attorney general's office nearly three years later if he had any ethical concerns about what may or may not have happened.
"I accepted a promotion at a very critical time," Kinghorn said. "I'm still here."
AG official: Special prosecutor didn't get paid because contract wasn't 'satisfied'
Austin Kinghorn, the associate deputy attorney general for legal counsel, testified that Brandon Cammack, the special prosecutor hired by Paxton to investigate Nate Paul's complaint about law enforcement, was not paid because his contract "had not been satisfied."
Cammack testified Tuesday that he was fired by the attorney general's office in October 2020 without being paid his $14,000 invoice.
Kinghorn testified Thursday that Cammack contacted the attorney general's office in November 2020 about getting paid for his invoice. Kinghorn said the office told Cammack that he couldn't be paid because his investigative report, as outlined in his initial contract with the office, "had not been completed."
Chris Hilton, a Paxton lawyer, asked Kinghorn if Cammack would have been paid if he completed his investigative report. Kinghorn said yes.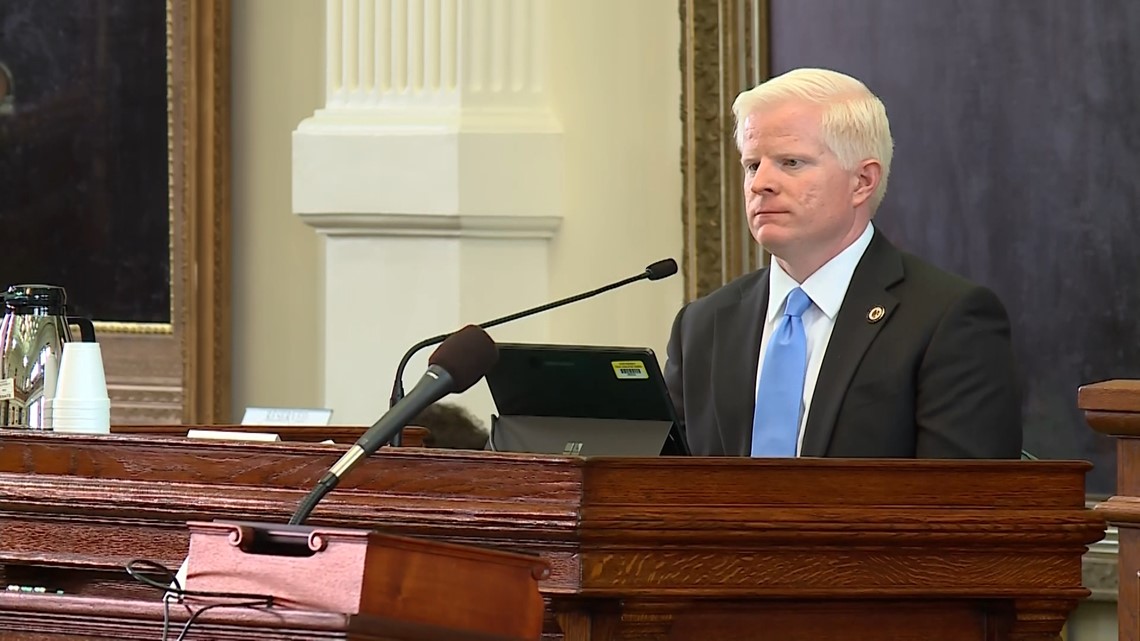 First witness focuses on open records request
Justin Gordon, the open records division chief at the attorney general's office, was the first witness called to the stand by Paxton's lawyers. Gordon explained the process of how the office handled the open records request from Nate Paul's attorney when they were trying to obtain information about the investigation Paul was under in 2020.
Gordon explained the law enforcement involved in the request missed deadlines for seeking an opinion for the attorney general's office about the release of the records that were requested by Paul. As a result, this led the attorney general's office to presume that the records were public, Gordon testified.
Here's our panel's full analysis of Gordon's testimony:
How much time is left in the trial?
The rules of the trial allotted 24 hours to each side for questioning witnesses. As of Thursday morning, Paxton's lawyers had eight hours and 38 minutes remaining, and the prosecution had two hours and 34 minutes remaining.
While Wednesday's session went past 6:30 p.m., much of the time was spent on sidebars and discussions over evidence and testimony. So not much time came off the clock -- about three hours from the prosecution's and about an hour from the defense's time.
Republican "Civil War" if Paxton is convicted?
The Y'all-itics team sat down with Texas GOP chairman Matt Rinaldi for his take on the trial and what could happen within the party if Paxton is convicted. Here's the podcast and article, via WFAA's Michael McCardel:
As time runs out on the Ken Paxton impeachment trial in Austin, there is bad blood brewing within the Texas GOP.
The chairman of the Republican Party of Texas was blunt in his assessment of what happens to his party if the suspended Attorney General is removed from office.
The impeachment trial could also lead to a season of revenge during the Republican primary next March, as many Republicans in the state House of Representatives who voted for impeachment can expect a challenge.
"I do see many of those members being vulnerable in the next primary and I think Republican voters are very galvanized around this issue," Rinaldi said.
That Republican Party of Texas could even use its own dollars against some of those Republicans.
Once a county party censures a GOP officeholder, the executive committee of the state party then decides whether to ratify that censure. If they support it, the state party can then spend money against its own members.
There are already county-level censures against House Speaker Dade Phelan and state Representative Andrew Murr, the chair of the House board of impeachment managers who also delivered their opening statement during the Senate trial.
Rinaldi says the executive committee will hold a ratification vote on those soon.
"If they are censured, we can spend money against them as a state party," he said. "We do not get involved if there is no censure, although I might personally get involved in some of those races."
Day 7 highlights
Motion for direct verdict withdrawn
After announcing a motion for a direct verdict, Paxton's legal team decided to withdraw the motion shortly before 6:30 p.m.
No explanation was given when Lt. Gov. Dan Patrick announced the withdrawal.
Paxton lawyer Tony Buzbee earlier Wednesday evening announced they were filing the motion for a direct verdict, which would have allowed the senators to vote on whether to throw out all articles of impeachment.
Instead, Paxton's team withdrew the motion and decided to call their first witness to the stand.
But another sidebar discussion with Patrick -- the nature of which remained unclear -- led to Patrick adjourning court for the night shortly before 6:40 p.m.


Hardin rests prosecution's case too early, he says
In what unfolded as an odd moment in court, Rusty Hardin, an attorney prosecuting Paxton for the Texas House, rested the prosecution's case shortly before 5:30 p.m.
Except he did so one step too early, before Paxton's attorneys could have another chance at cross-examination.
Paxton lawyer Tony Buzbee spoke up about it, but said he would just recall the witness, Blake Brickman, instead of do cross-examination.
Hardin then explained that he rested the prosecution's case too early by mistake. But Lt. Gov. Dan Patrick decided to move on and allow Buzbee to recall the witness as part of the defense's case.
Alleged Paxton mistress 'deemed unavailable' to testify
Lt. Gov. Dan Patrick shortly before 5 p.m. said Laura Olson, the alleged mistress of Ken Paxton, has been "deemed unavailable" to testify, despite being called to testify in the trial. It was unclear if that meant for Wednesday, or for the rest of the trial, though prosecutors were running out of their allowed time to question witnesses.
She was initially called Wednesday morning, but Patrick said a 24-hour notice rule prevented her from testifying until at least 3:53 p.m. Wednesday. After breaking court at 3:45 p.m., the two sides reconvened around 4:50 p.m., and Patrick announced that Olson was called upon to testify but was "deemed unavailable," a decision that was made by both legal teams, Patrick said.