SAN ANTONIO — A Honduran national will appear before an American judge Thursday on human smuggling charges related to an incident near Knippa on Friday.
Border patrol agents found 12 migrants on a train bound for San Antonio. Two were dead and another 10 required hospital care, according to Homeland Security Investigations.
Authorities found five other migrants near the train. All 17 are adults.
Agents arrested Denniso Carranza Gonzales for "conspiracy to transport illegal aliens resulting in death" Monday.
Gonzales, an immigrant in the United States illegally, told investigators he worked as a foot guide in order to pay off his own smuggling debts. He said he would be "taken care of" for continuing to smuggle groups into the United States, court documents indicate.
Gonzales had been on the job for three months, he told investigators. Friday, he was responsible for guiding twelve Hondurans across the Rio Grande and onto the train to San Antonio.
"He would tell the group which ways to go, and when to hide when helicopters were overhead," court documents say.
He entered the Conex shipping container with the other Hondurans Friday. Another smuggler shut the door behind him, he said.
"They lock from the outside, and once they're locked there's no way to get out," said Craig Larrabee, the special agent in charge of HSI's San Antonio division. "They're steel, so as the temperatures start rising in South Texas, those things are death traps."
When it became difficult to breathe, Gonzales said he attempted to contact the other smuggler. He did not answer.
Then Gonzales claims he told his human cargo to dial 911, a rare step for a smuggler. He says he did not know two migrants had already died.
The federal government charges the Honduran with the most serious human smuggling crime. A judge could sentence Gonzales to death.
"Union Pacific is deeply saddened by this incident and the tragedies occurring at the border. We take the safety of all individuals seriously and work tirelessly with law enforcement partners to detect illegal items and people riding inside or on our rail cars," Union Pacific says.
Highway 90 was closed in both directions at FM 2730 as authorities responded to the incident.
Union Pacific released another statement on Saturday saying, "We are deeply saddened by the tragic loss of life that occurred Friday in a rail car on a Union Pacific train near Knippa, Texas. We are cooperating fully with law enforcement and immigration officials to review this incident and determine how it occurred. Safety is our focus, and we have strict policies in place to prevent unauthorized access of our trains.
We do not condone or facilitate illegal activity, and we will continue to work with officials for the safe and humane treatment of everyone who comes into contact with our company."
(Below video is courtesy Michael Robinson)
The below photo captured by Chopper 5 shows the large law enforcement presence still on the scene several hours after the discovery was reportedly made.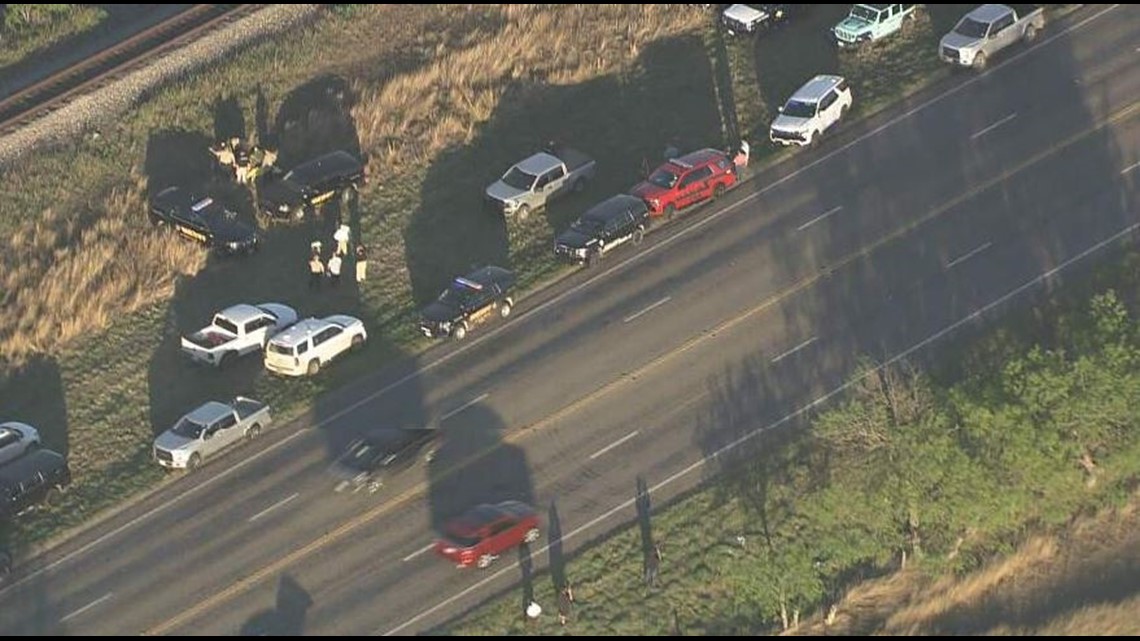 This is a developing story. Check back with KENS5.com for updates.
>TRENDING ON KENS 5 YOUTUBE:
Since going on the air in 1950, KENS 5 has strived to be the best, most trusted news and entertainment source for generations of San Antonians.
KENS 5 has brought numerous firsts to South Texas television, including being the first local station with a helicopter, the first with its own Doppler radar and the first to air a local morning news program.
Over the years, KENS 5 has worked to transform local news. Our cameras have been the lens bringing history into local viewers' homes. We're proud of our legacy as we serve San Antonians today.
Today, KENS 5 continues to set the standard in local broadcasting and is recognized by its peers for excellence and innovation. The KENS 5 News team focuses on stories that really matter to our community.