See the moment: A Paratrooper's Proposal
<p>United States Army paratrooper Keith Earnest's well-orchestrated engagement made him realize falling from the sky is much less stressful than falling for the girl.</p>
Once you've worked up the nerve, the next step is executing the plan. How do you plan to pull it off and make certain it ends with a perfect and memorable moment?
The topic we're discussing is the process of how people choose to get engaged to be married. Some people are content to keep the process traditional – get down on one knee and politely ask, "will you marry me?"
Other people look to combine creativity with romance, while trying to be original.
That's what United States Army paratrooper Keith Earnest tried to do, and in the process, he truly redefined how to "take the plunge."
His well-orchestrated engagement made him realize falling from the sky is much less stressful than falling for the girl.
Earnest met the love of his life, Kaelynn VanBuren, in the winter of 2014.
"My friend Derek [Liechty] knew I was a big hockey fan, so when I was home on leave, he wanted to bring me to a Grand Rapids Griffins game," said Earnest. "It was that night when Kaelynn and I met for the first time."
Kaelynn happens to be Derek's wife's sister, so Keith didn't know what to expect. He certainly wasn't looking for a relationship to spark up.
But that's what happened.
Photos: Kaelynn VanBuren and Keith Earnest
"I came back to Grand Rapids on leave again in the summer of 2015," said Earnest. "Kaelynn contacted me and asked if I wanted to go to downtown Grand Rapids so she could show me around because she knew I was looking for a city to land in after I retired from the military."
That same summer, the two decided to attend a July 4th party together, and it was at that event they both revealed to each other that there was more there than just a friendship.
"I was very nervous about dating Kaelynn because I was such great friends with Derek and Kaelynn's sister, so if it went south, it was going to be a nightmare," added Earnest. "I initially told Kaelynn that we just couldn't venture down that path."
Kaelynn didn't want to give up on the idea that easily.
"When I told her we shouldn't pursue a relationship, she looked at me and said, 'man, you talk a lot. I'm smart and you're smart. I'm not going to hurt you and you're not going to hurt me, so I say we should give it a shot.'"
Fast forward one full calendar year, and Kaelynn couldn't have been more right. The relationship worked, despite the fact that they were forced to spend more time apart than time together.
"With me being stationed in Fort Bragg, North Carolina, it's been very difficult for Kaelynn and me to see each other a lot," Earnest said. "She's traveled down to Fort Bragg a few times.
"You lose certain things that a lot of couples end up taking for granted when extensive time is spent together. I can't read her body language when she's in Grand Rapids and I'm in North Carolina, so we've been forced to place emphasis on verbal communication.
"Being in the military for the past four years, saying 'goodbye' is kind of part of the job."
Keith Earnest is a member of the United States Army's 82nd Airborne with the first brigade combat team. He's spent extensive time paratroop training overseas, including a 9-month tour of duty in Afghanistan in 2014.
Photos: Army Sergeant Keith Earnest
Earnest has made close to 20 jumps from airplanes during his four years as a paratrooper, but none of those jumps will compare to the "jump" of getting engaged that he's about to make.
"Asking a woman to marry you," Earnest asked, jokingly. "I'll take jumping out of an airplane; that's just a parachute and gravity working, so it's much easier."
During the late winter months of 2016, Keith knew that he would be retiring from the Army in less than a year, and he started thinking about the rest of his life. He knew Kaelynn needed to be a major part of that, so he started to think about asking her to marry him.
"I called my friend Derek and said, 'hey, remember how we used to joke around in college about how cool it to be related one day? Well, that may happen, because I want to ask Kaelynn to marry me.'"
Once that conversation concluded, Keith and Derek began coordinating a plan on how the engagement could be a complete surprise for Kaelynn.
"Derek told me about a weekend when Kaelynn and her family were all going up north to their cabin on Little Bass Lake in Johannesburg, near Gaylord," said Earnest. "The cabin is a special place for her because she has many memories there while growing up, so I wanted to add another memory there for her.
"I looked at my schedule and realized that the weekend Kaelynn and her family were going to the cabin was also a time that I could get leave."
Keith put in leave, then he and Derek began planning the engagement. Keith planned to fly up to Grand Rapids, meet up with Derek, then the two would immediately drive that day up to Johannesburg. Keith and Derek needed to loop Kaelynn's parents into the plan so they could make sure that Kaelynn would not be at the cabin for an extended period of time that day so Keith and Derek could get up there and get prepared.
"Kaelynn's parents conjured up the perfect ruse," said Earnest. "They organized an afternoon shopping trip in Traverse City that afternoon, so there was no chance she'd be there when Derek and I arrived.
"I told Kaelynn that I was going to be on a training mission over the surprise weekend," said Earnest. "At the time, she and I weren't planning on seeing each other for at least four months, so there was no chance she'd be expecting anything."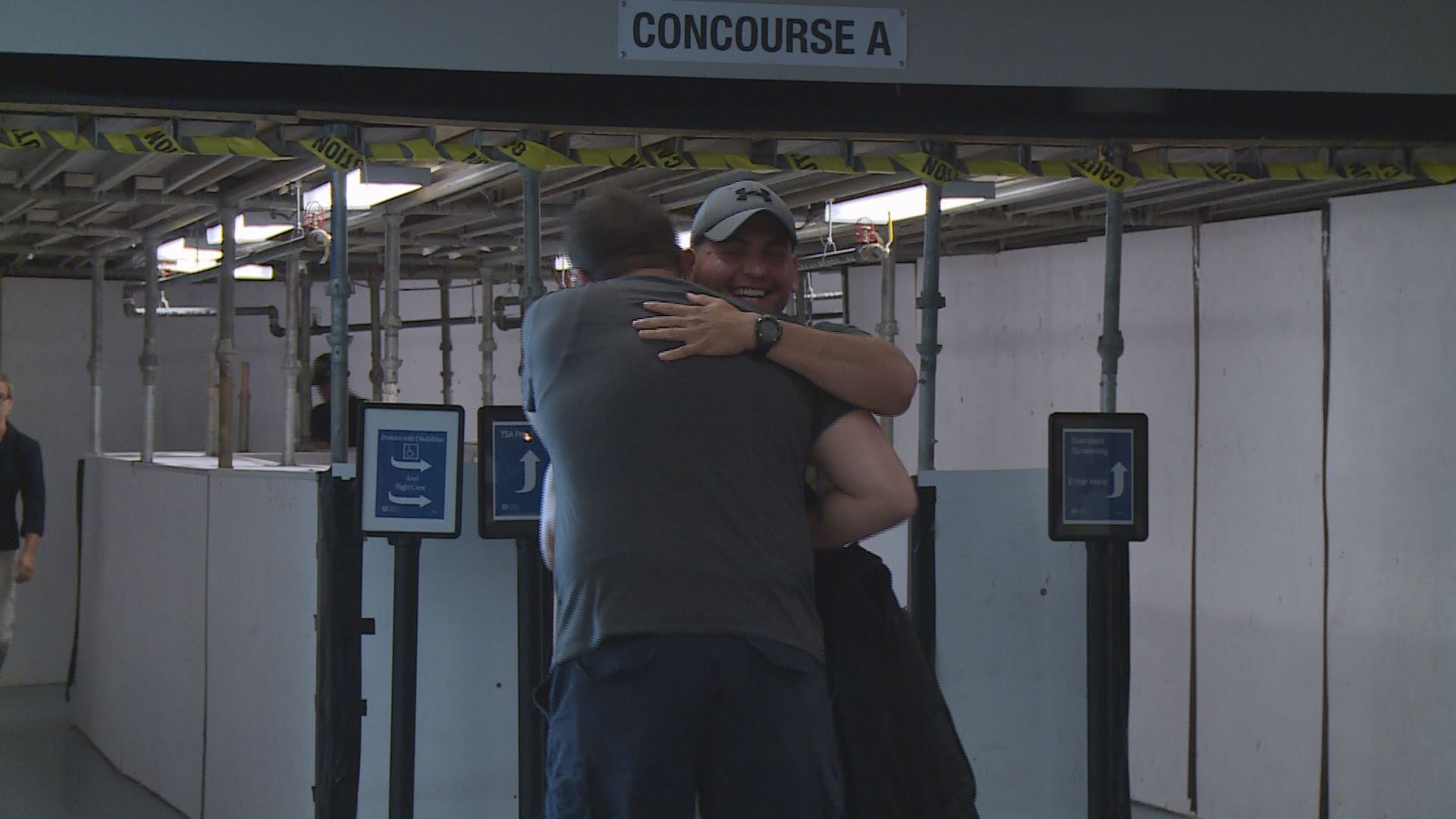 It was a Tuesday morning. Keith Earnest's flight landed at Gerald R. Ford International Airport in Grand Rapids, Michigan around nine o'clock in the morning. His friend Derek Liechty was awaiting his arrival. The two buddies embraced, loaded Keith's luggage into Derek's car, then began their nearly four hour journey north to Johannesburg.
"We got all the rough details worked out," Liechty said, referring to the clandestine plan that's in place that will lead up to Keith's proposal. "The whole family has been in on it since the beginning, so it should be a fun day."
Keith and Derek arrived at the cottage between two and three o'clock that afternoon. They were immediately told by Jon VanBuren, Kaelynn's father, that Kaelynn was going to be returning around four o'clock, so the race against the clock began.
"The plan is for me to get into my Army blues [full army uniform] because other than in pictures, Kaelynn has never seen me in my blues in person," said Earnest. "I will then go stand at the end of the dock and wait for Kaelynn to get home.
"Her father will then tell her she needs to see something strange that's floating on the surface of Little Bass Lake, so she'll come out the back door and see me waiting there for her."
Keith began getting into his Army fatigues. He shined his black shoes as well as the gold buttons on his jacket. The last piece of his outfit he needed to put on was his beret. Keith took a deep breath, opened the back door to the cottage, and began the short walk through the back yard and out to the end of the dock. Once he reached the end of the dock, he turned around, interlocked his hands together, and patiently stood.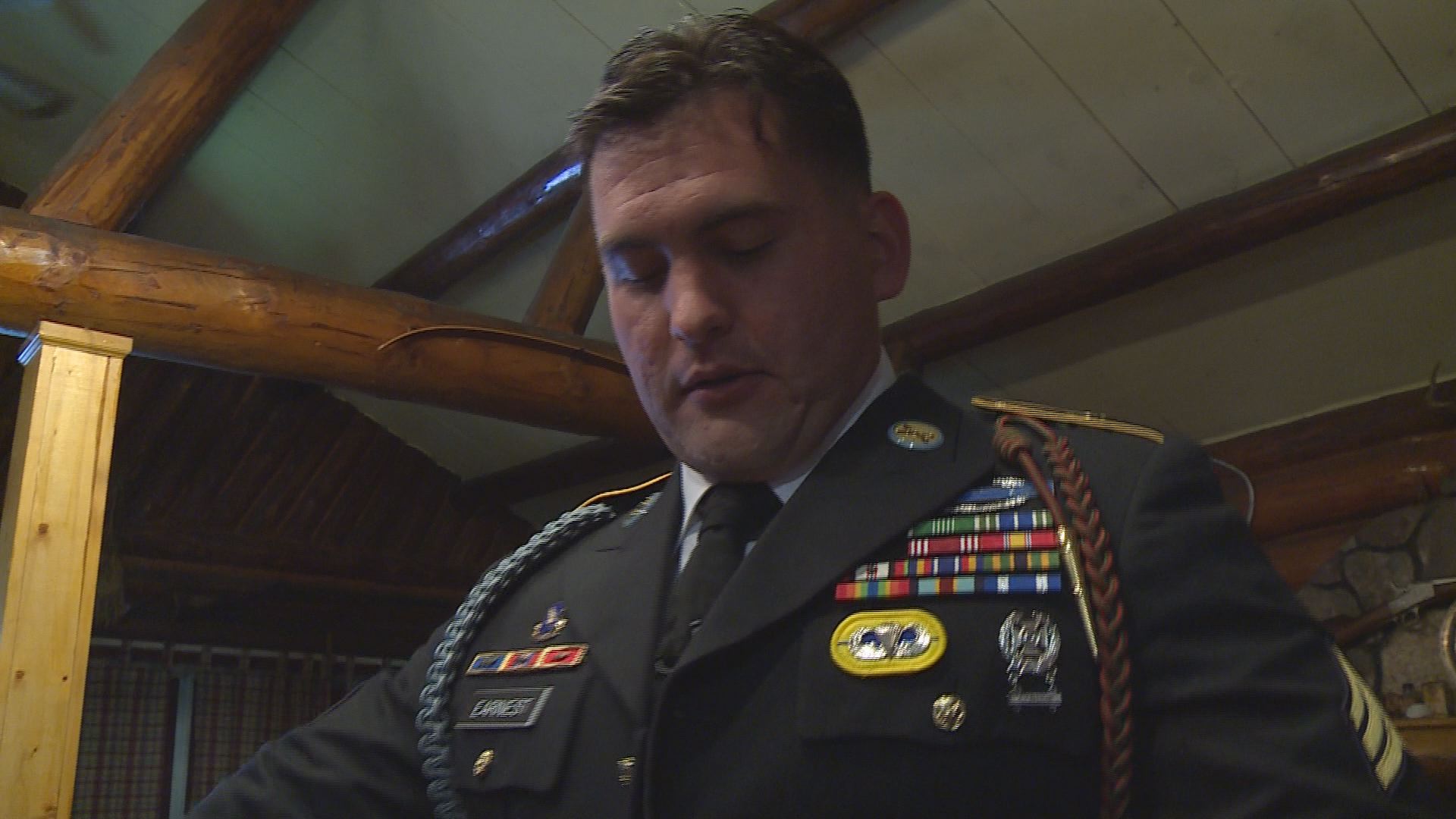 "Kaelynn will be here in 10 minutes," Jon VanBuren yelled from the cottage.
"This is going to be the longest 10 minutes of my life," Keith said, while he held his hand out showing how much he was shaking with nervous energy. "Kaelynn is either going to kiss me or punch me."
Derek Liechty made his way down to the dock to share a few final words with his friend before the big moment unfolded.
"You need to breathe," Liechty told Keith. "I'm so nervous; I wasn't this nervous when I was deployed."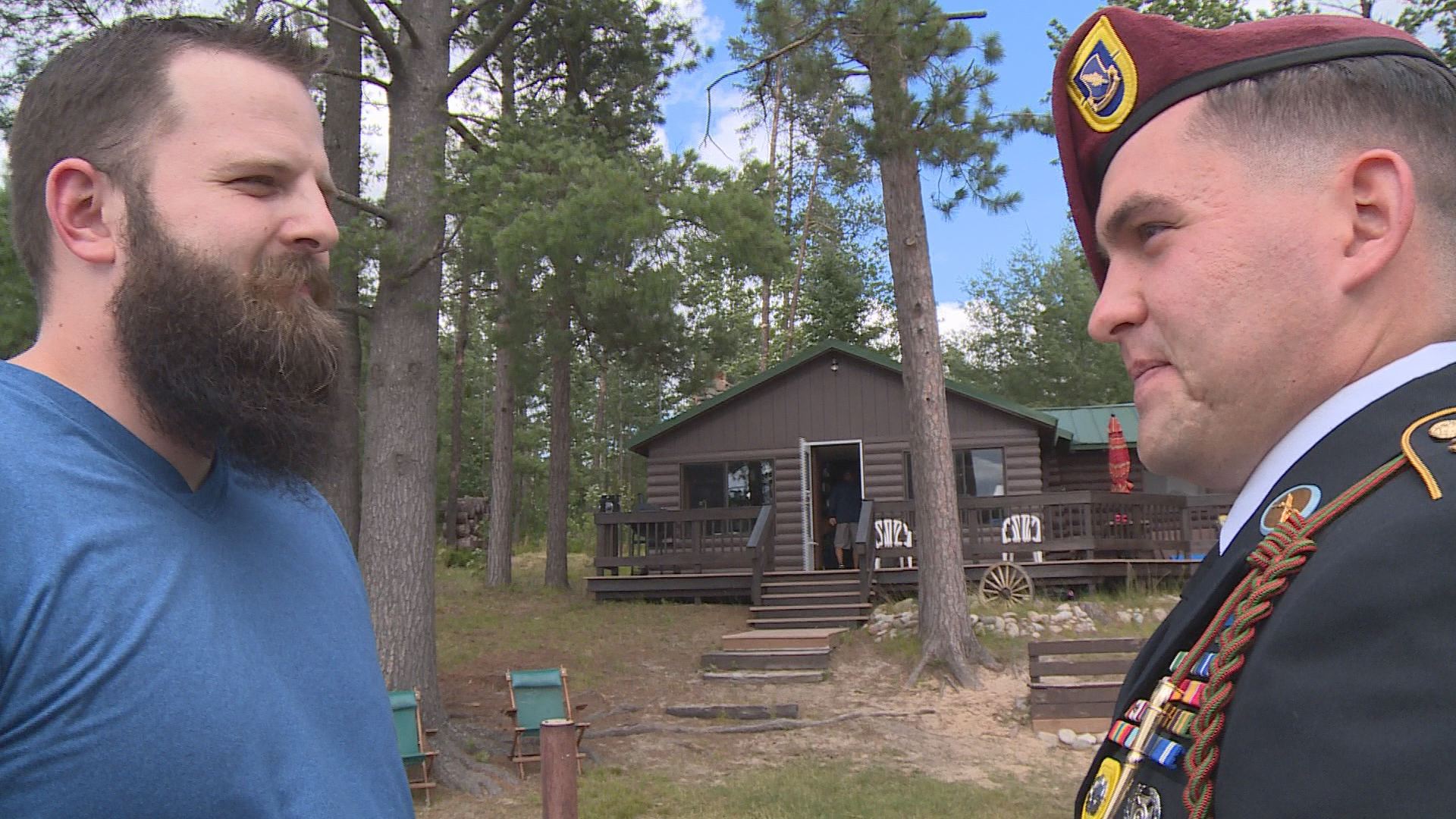 Jon VanBuren then popped outside the backdoor of the cottage again and yelled, "They're a minute out; probably less than a minute away!"
Keith then took another deep breath and said to himself, "Just don't pass out; don't pass out, or throw up."
A car pulled into the driveway of the cottage. It was Kaelynn and a few of her family members returning from the shopping excursion in Traverse City. When Kaelynn came in, her father immediately told her she needed to go check out the peat bog that had been floating on the lake and wrapped itself around the end of the dock.
Kaelynn took the bait, ventured toward the backdoor of the cottage, and just before she stepped outside, she saw Keith standing on the end of the dock. Kaelynn immediately put her hands up to her face.
She was in complete shock.
Photos: Paratrooper proposal
With several family members and close friends spread throughout the backyard, positioned with cameras ready, Kaelynn knew what was about to unfold. She started smiling and began walking down the backyard toward the dock.
Once she reached Keith, the couple embraced.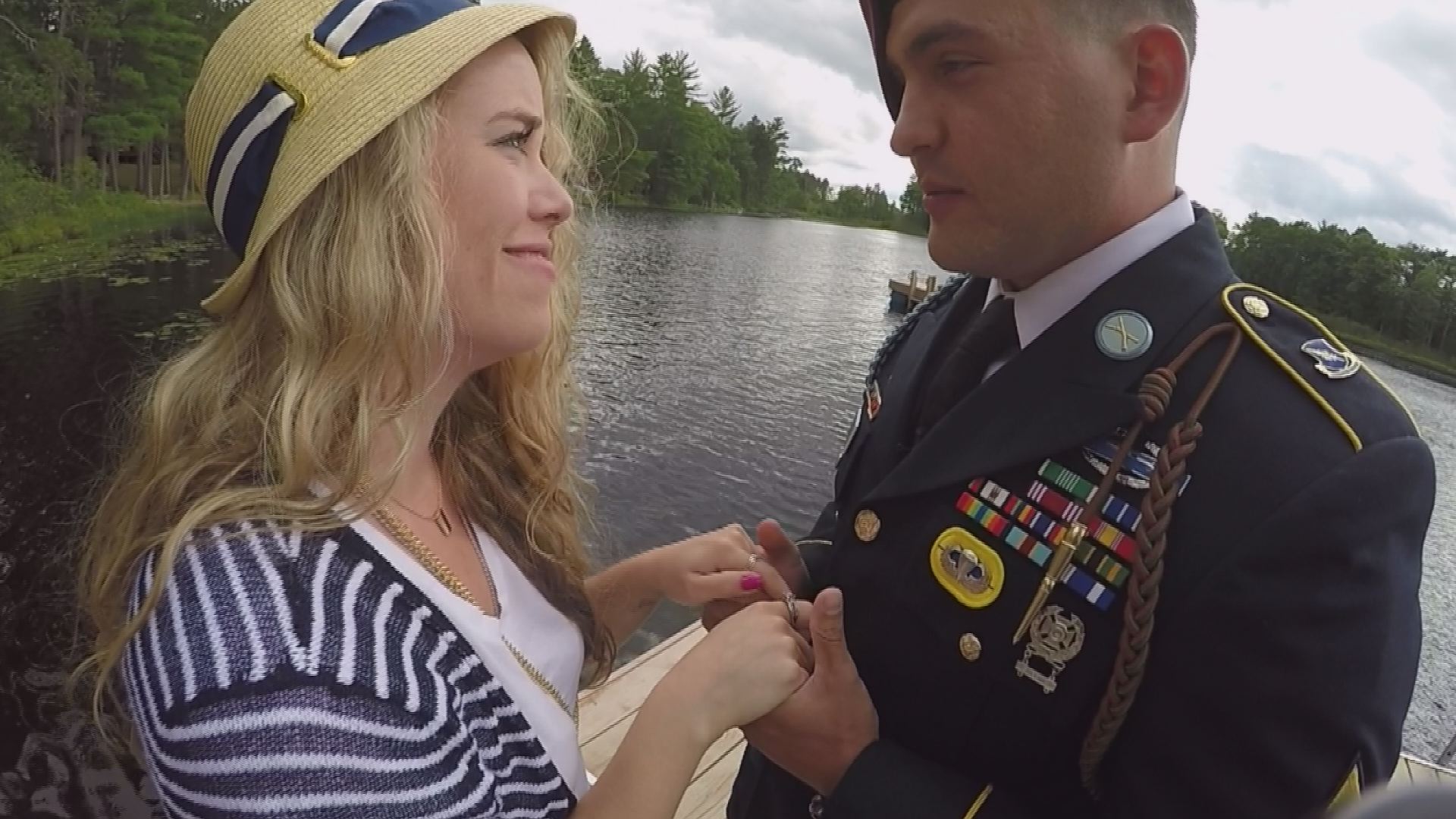 "How are you," Kaelynn said.
"My hands are shaking," Keith said.
"So are mine," Kaelynn said.
"You know, a year ago if somebody were to ask me if I would have been here [preparing to propose], I would have said they were absolutely out of their mind," Keith joked. "I've never been so happy to be so blatantly wrong.
"You're by far the best thing that's ever happened to me; you are amazing; do you remember last week when you were feeling down and you said, 'just tell me I'm pretty'. Do you remember what I said? I said for generations, men have been fighting wars over women like you. You are my 'Helen.' I will burn 'Troy' to the ground to get you."
As Keith started to get down on one knee, he said, "So, in an effort to save 'Troy,' I thought this might work instead."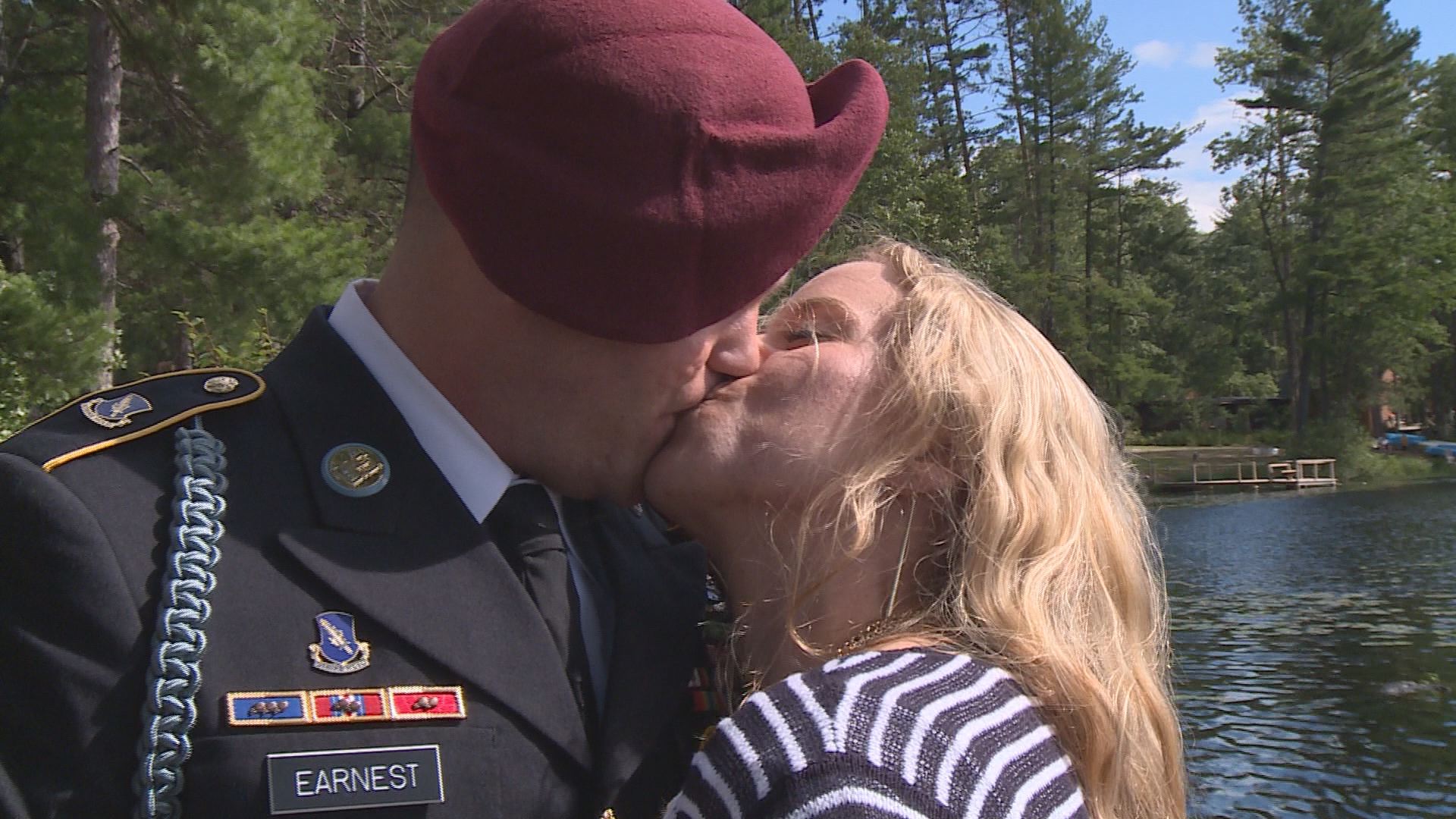 Once on one knee, Keith pulled a red box out of his pocket and opened it, revealing a ring. He took the ring out of the box, grabbed Kaelynn's left hand and said, "In this life, and the next, marry me."
"Yes," Kaelynn said, without hesitation.
Keith slid the ring onto Kaelynn's ring finger, and once again, the two embraced.
"She said yes!" Jon VanBuren screamed, before he started to whistle loudly. The small contingent of family and friend, who were all a part of the secret plan, broke out in applause.
"I don't think I had a coherent thought until she [Kaelynn] made it up to me [on the dock]," said Keith soon after the proposal moment had past. "It was at that point I realized that there were things I had to now say."
"There are times when I think, well, wouldn't it be nice if it was a surprise and I get there, and he'll be there, and it never turns out that way until today," Kaelynn said. "When I first saw him on the dock, standing there in his uniform, I couldn't believe it was happening.
"I don't love him because he's in the Army; the reasons why I love him are the reasons why he's in the Army. It's his self-sacrifice and his virtue that led him to an act of service."
For paratrooper Keith Earnest, the secret proposal plan worked to perfection, and ended up being the best "jump" of his life.
"When I jump out of planes, I always have a reserve chute in case the main chute doesn't work," Keith said. "I had no reserve chute for this jump.
"Kaelynn is my parachute."
Keith Earnest plans to retire from the United States Army in January, then move to Grand Rapids. His plan is to go to the police academy and eventually become a Grand Rapids police officer.
Kaelynn VanBuren will continue to teach theater at Rockford High School.
The couple has set a wedding date of July 1st, 2017.
If you know of a story that would make for a good "Our Michigan life", please send an email to: life@wzzm13.com.
Our Michigan Life can be seen weeknights on WZZM 13 News at 6.