Voter Guide 2022 | Everything you need to know about the general election in San Antonio and Texas
From voter registration questions to explaining how to cast your vote, here's the latest information about the upcoming election in San Antonio and Texas.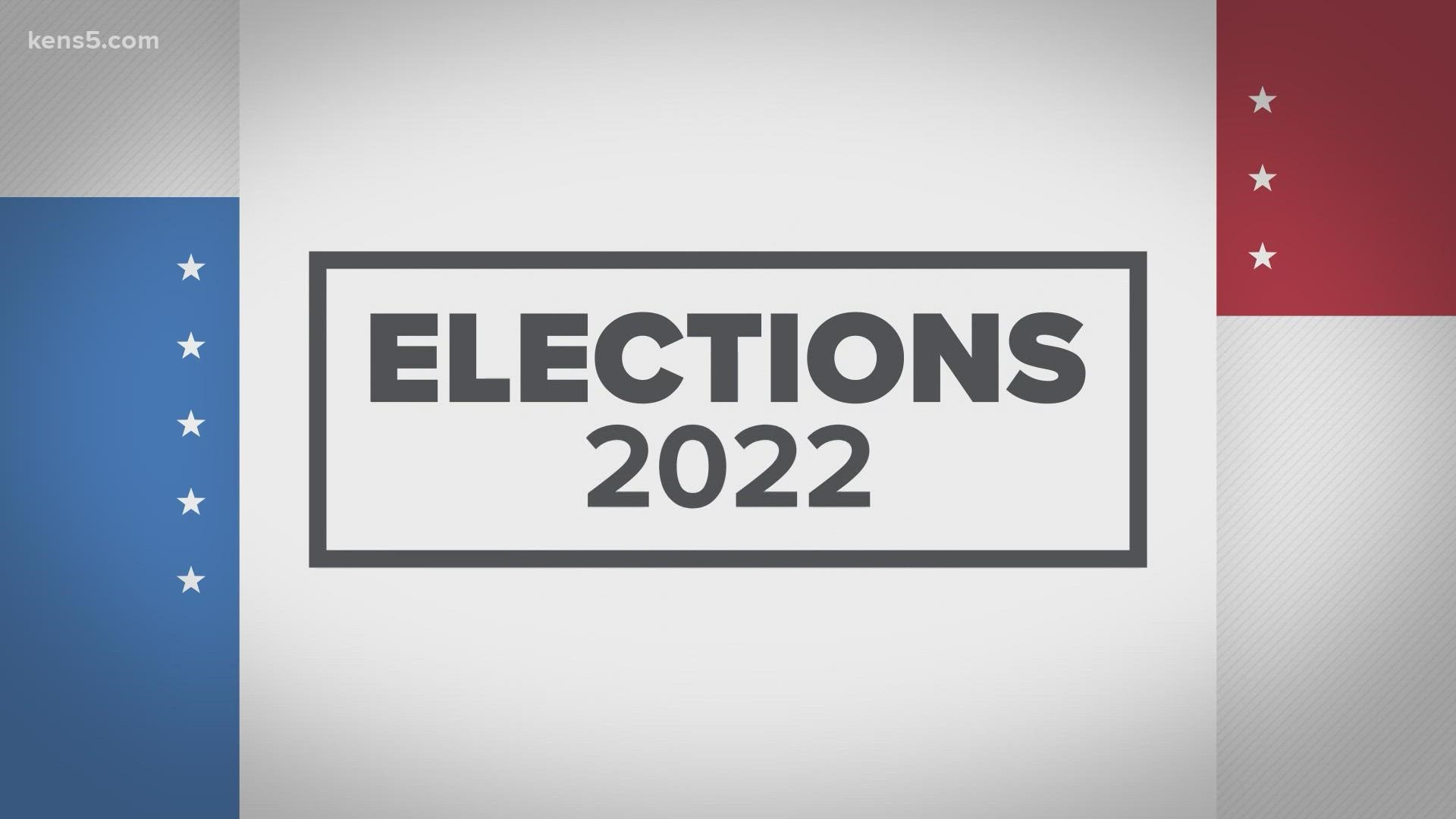 Months after Texans submitted their primary ballots, it's now full steam ahead to a November general election that holds major implications for some of the state's biggest races, along with at least one key Bexar County position.
November 8 is the general election. When polls close, all results will be posted at KENS5.com/elections. We're here to make sure you have everything you need to be ready. Here's how long we have until polls open on Election Day:
We're presenting this voter guide in chronological order of the process. The topics include:
How to register to vote.
Key dates for the election.
How to cast your vote in the election.
Learning about candidates.
Tracking elections results.
How to register to vote
:
In Texas, the deadline to register is Oct. 11, 2022. It's simple: If you aren't registered, you can't make your voice heard this fall.
First things first: You should find out whether you are already registered to vote. Many people in the state may not be sure about where they stand.
Key election dates
:
Here are the dates you'll need to know in order to navigate the election process in Texas:
Monday, Jan. 31: Last day to register to vote in primary election.
Monday, Feb. 14 to Friday, Feb. 25: Early voting for primary election.
Tuesday, March 1: Primary election.
Monday, May 16 to Friday, May 20: Early voting for primary election runoff.
Tuesday, May 24: Primary election runoff.
Tuesday, Oct. 11: Last day to register to vote in general election.
Monday, Oct. 24 to Friday, Nov. 4: Early voting for general election.
Tuesday, Nov. 8: General election.
How to cast your vote
:
On Election Day
The polls in Bexar County will be open from 7 a.m. to 7 p.m. for the general election on Tuesday, Nov. 8. Those who are in line when polls close will have a chance to fill out and cast their ballot.
A complete list of voting locations can be found here. You can also find a sample ballot and those who represent you by entering your street name here.
Remember: Just because you're registered doesn't mean you won't need to be ready at the polls. Make sure to have at least one of the following types of ID:
Texas driver's license
Texas election ID certificate
Personal Texas ID card
Texas handgun license
U.S. citizenship certificate with photo
U.S. military ID
U.S. passport (book or card)
For those who don't have and can't reasonably obtain one of those kinds of identification ahead of Election Day, click here to find out your options.
Early voting
Early voting in Bexar County opened Monday, Oct. 24 and closed Friday, Nov. 4, allowing community members the opportunity to cast their ballots ahead of Election Day. The polls were open until either 8 p.m. or 6 p.m. for early voting, depending on the day.
Voters needed to bring one of the forms of ID listed in the section above. Find a list of early voting locations in Bexar County here.
Mail-in voting
Texans have the ability to vote by mail but must meet at least one of the following criteria:
If you're 65 years of age or older on Election Day.
If you're sick or disabled (here that means having a sickness or physical condition preventing you from appearing at the polls on Election Day without a likelihood of needing personal assistance or of injuring your health).
If you're going to be out of the county on Election Day or during the early-voting period.
If you're confined in jail, but are eligible to vote.
Those eligible must fill out this absentee-ballot application and submit it to the Bexar County Elections Office to be able to submit a mail-in ballot for the general election.
Voter ID
You don't want to get to a polling location and not be ready. There are certain types of ID you need to show before you cast your ballot.
Is my voter registration information public?
Voter privacy rules vary by state. In Texas, if you are registered to vote, your name, address, precinct you live in and registration number is public record. But your birthday or social security number is kept confidential. The Texas secretary of state allows certain individuals to keep their information confidential, including law enforcement, judges and some crime victims.
Who's on the ballot?
:
Bexar County residents will have several high-profile races to decide on during the general election, including who will take over the reins as county judge when Nelson Wolff retires in January. Winners will need a simple majority to be declared the winner.
Below is a sampling of the races. Sample ballots are expected to be made available soon.
Greg Abbott (Republican)
Beto O'Rourke (Democrat)
Delilah Barrios (Green Party)
Mark Tippetts (Libertarian)
Texas Lieutenant Governor
Dan Patrick (Republican)
Mike Collier (Democrat)
Shanna Steele (Libertarian)
Ken Paxton (Republican)
Rochelle Mercedes Garza (Democrat)
Mark Ash (Libertarian)
Dawn Buckingham (Republican)
Jay Kleberg (Democrat)
Alfred Molison (Green Party)
Texas Agriculture Commissioner
Sid Miller (Republican)
Susan Hays (Democrat)
Texas Railroad Commissioner
Wayne Christian (Republican)
Luke Warford (Democrat)
Hunter Crow (Green Party)
Jaime Diez (Libertarian)
Glenn Hegar (Republican)
Janet T. Dudding (Democrat)
U.S. Representative, District 21
Chip Roy (Republican)
Claudia Andreana Zapata (Democrat)
U.S. Representative, District 28
Cassy Garcia (Republican)
Henry Cuellar (Democrat)
U.S. Representative, District 35
Dan McQueen (Republican)
Greg Casar (Democrat)
Trish DeBerry (Republican)
Peter Sakai (Democrat)
Bexar County District Attorney
Marc LaHood (Republican)
Joe Gonzales (Democrat)
Tracking election results
:
KENS5.com will have live updates of all results in the Bexar County and Texas elections throughout Tuesday night and into the coming days as results continue to be counted from mail-in voting. All results will be posted at KENS5.com/elections.