SAN ANTONIO — A cold front brought severe weather on Thursday night into Friday morning. And this weekend, there are chances for wintry-mix precipitation to some areas around Bexar County.
What we're seeing Friday morning
Around 12:15 a.m. on Friday, wind gusts of nearly 50 MPH were recorded at the San Antonio International Airport. Earlier in the evening, lightning was putting on a show in south-central Texas communities as the front began pushing through.
By 2 a.m. on Friday, local power outages were not much of a concern, with fewer than 800 CPS Energy customers having lost electricity. That number did increase to 5,000 at one point, but dropped significantly by 6 a.m.
Weekend: Here comes the chill. As temperatures drop Saturday and Sunday mornings, a couple of shortwave troughs will keep an active weather pattern going.
Some weather models show chances for a wintry mix to arrive for portions of the Hill Country with a small chance of some trailing into northern portions of Bexar County on Saturday morning.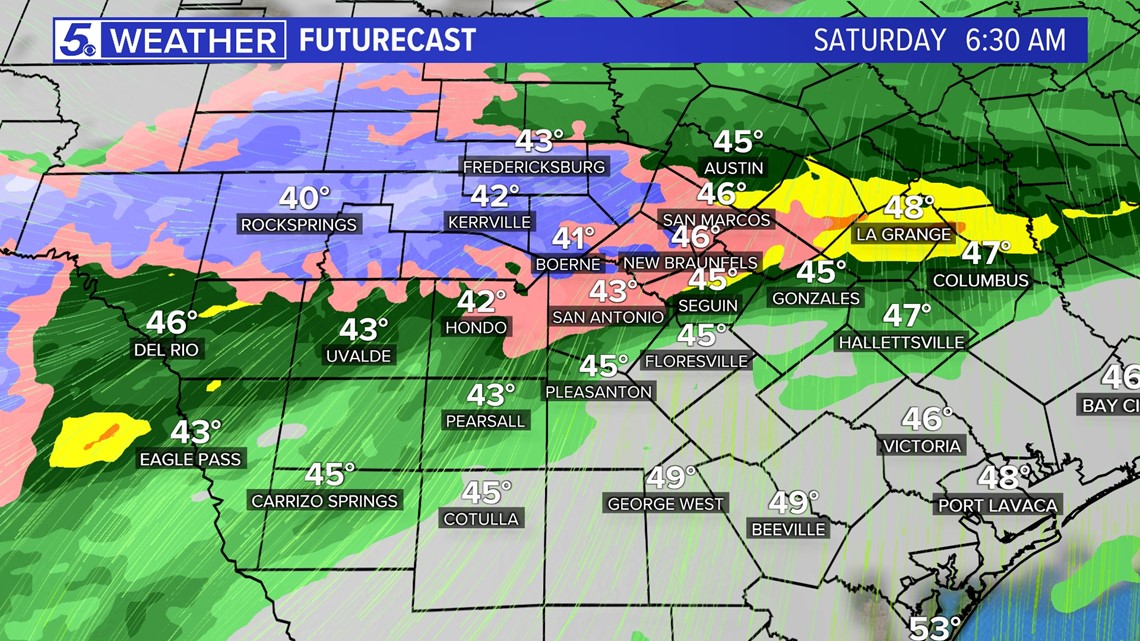 However, since surface temperatures will be above freezing in San Antonio, we are not expecting any major impacts to occur. We will keep updating our forecast for future changes.
Next week: The cold weather and rain stays with us through Tuesday. Monday and Tuesday showers continue, but high temperatures warm back up in the 60s by Tuesday.
Although the past five days will be cold and dreary, much needed rain should arrive to San Antonio where we are still in Extreme Drought.