SAN ANTONIO — The rain and cold weather will unfortunately hang around San Antonio for the Thanksgiving holiday. This is due to a cold front that will also bring a chance of thunderstorm activity for the San Antonio area on Turkey Day and Black Friday.
For those San Antonians who are enjoying the chilly weather, a change is on the way for temperatures to bounce back to average as we near the end of the holiday weekend.
Here's what San Antonians should expect:
Thanksgiving Day (High 67 and Low 59): Ahead of the cold front thunderstorm activity will pop-up creating slick driving conditions for the morning. Fog is also possible for those driving early morning.
Showers and storm activity could stick around by late afternoon around 4 p.m. as the front continues to pass through the city. By Thanksgiving evening most of the rain should begin to diminish.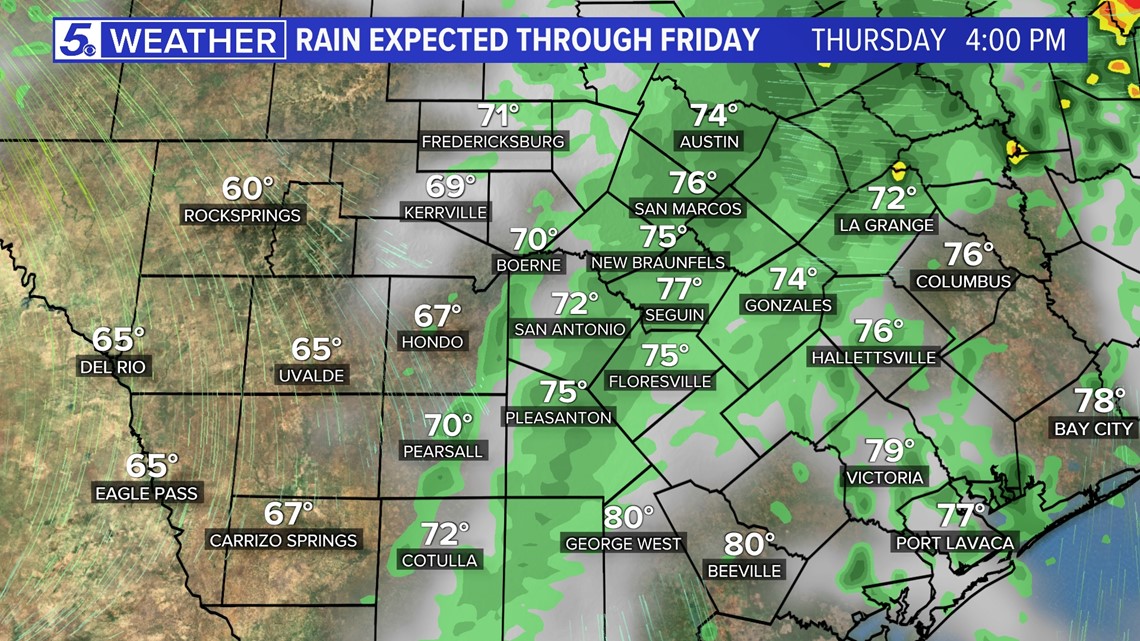 Despite the cold front, afternoon temperatures could still reach upper 60s. Overnight rainy conditions will again kick up thanks to an upper-level low.
Black Friday (High 57 and Low 48): Pack those rain boots if you're plan to go shopping as an upper-level system has now created Friday to be more wet and dreary than previously expected.
Widespread rainfall with isolated storms will continue all day on Friday through Saturday morning. While this weather will make messy roads for those trying to get a head start on holiday shopping, the rain is much needed.
Some locations in the Hill Country could receive over an inch of rainfall.
Winds will be breezy with a north wind over 20 mph. And thanks to the front cooler temperatures will be in place for the rest of the day with highs in the upper 50s.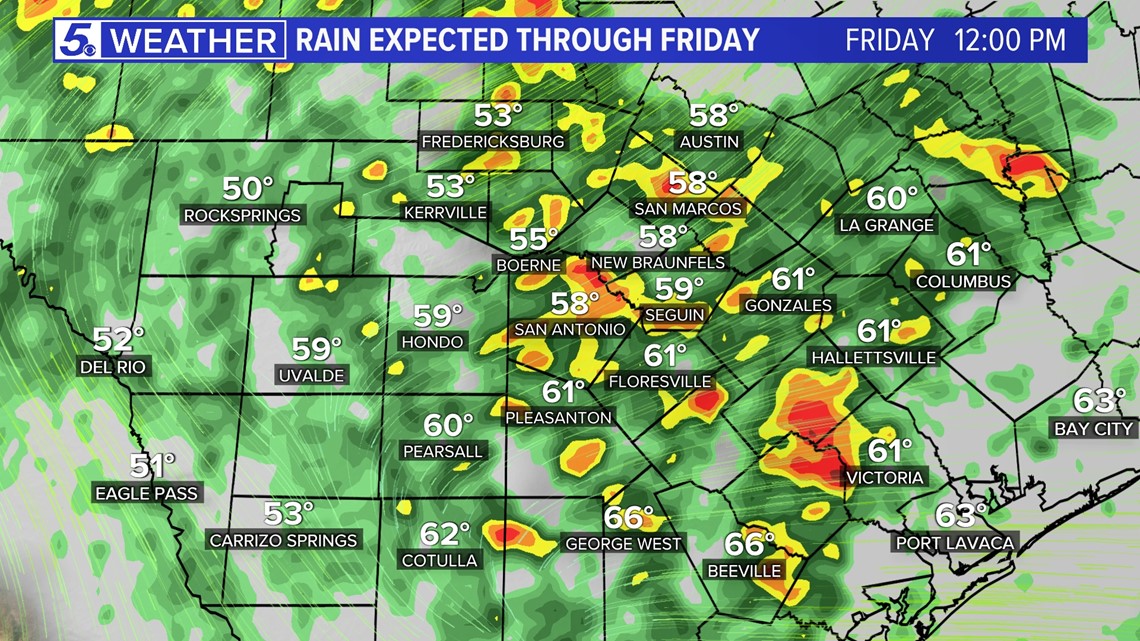 Sweater weather will get a break over the holiday weekend and early next week. Saturday the sun will return and temperatures quickly bounce back to average. Saturday will be a beautiful day with breezy conditions and highs in the upper 60s.
Sunday through Tuesday temperatures will feel more like a San Antonio fall with high temperatures in the low 70s and morning temperatures in the 40s. San Antonians can go back to dressing in short-sleeves in the afternoon and light jackets in the mornings.
>MORE SAN ANTONIO COVERAGE:
>TRENDING ON KENS 5 YOUTUBE: