SAN ANTONIO — Get ready San Antonians for another round of winter weather.
Over the next 24 hours, San Antonians will see rounds of rainfall and even a wintry mix of freezing rain for those who live north of the city. This is due to cold temperatures and an upper level system that will help increase precipitation chances and ice accumulations this week.
For those who live north of 1604 such as Stone Oak, Timberwood Park and Leon Springs could see a greater chance of freezing rain and icy road conditions over the next 24 hours.
Here's what San Antonians need to know:
Tuesday overnight - After midnight on Tuesday rain/freezing rain will develop with temperatures dropping below-freezing in northern Bexar County. Driving is not advised as ice can accumulate on roads throughout the night.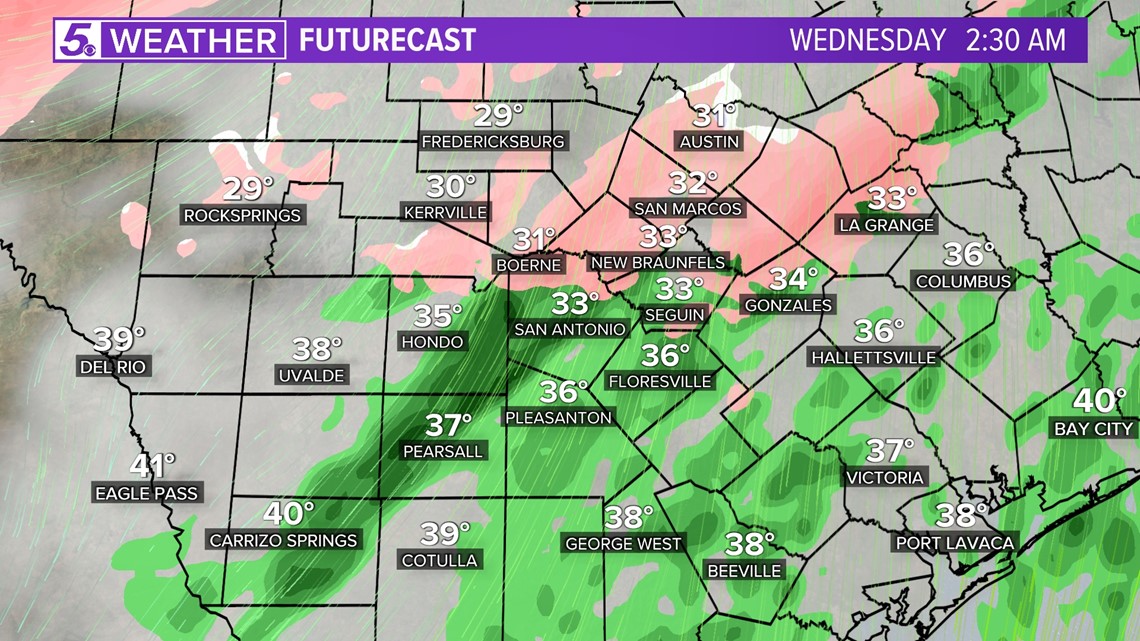 Wednesday morning: The San Antonio metro area could see some freezing rain as temperatures will start in the low 30s and below-freezing in the Hill Country. Rain/freezing rain will be widespread during the morning with some heavier rain spots through noon.
A few icy spots could develop on tree branches, bridges, overpasses, fences and other objects that are more exposed to the winter weather elements. Use caution when walking outdoors on sidewalks and stairs due to ice and slick spots. Driving is still not advised.
Keep a flashlight nearby, phones charged, and warm blankets in case of power outages due to fallen tree branches on power lines.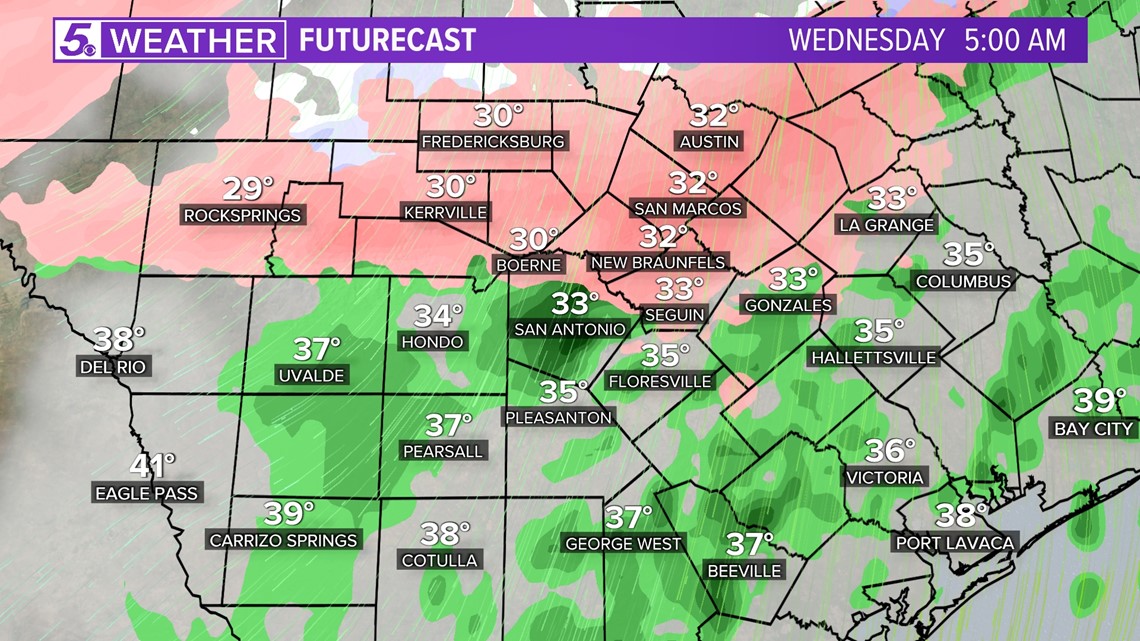 Wednesday afternoon: Widespread precipitation will continue through the evening but temperatures will begin to rise in San Antonio. This will allow the northern portion of San Antonio to see more of a cold rain than freezing rain around 4 p.m. The San Antonio metro area will continue to see rain on and off as temperatures rise to the mid 30s.
Roads should become safer as chances for freezing rain development will drop by late afternoon.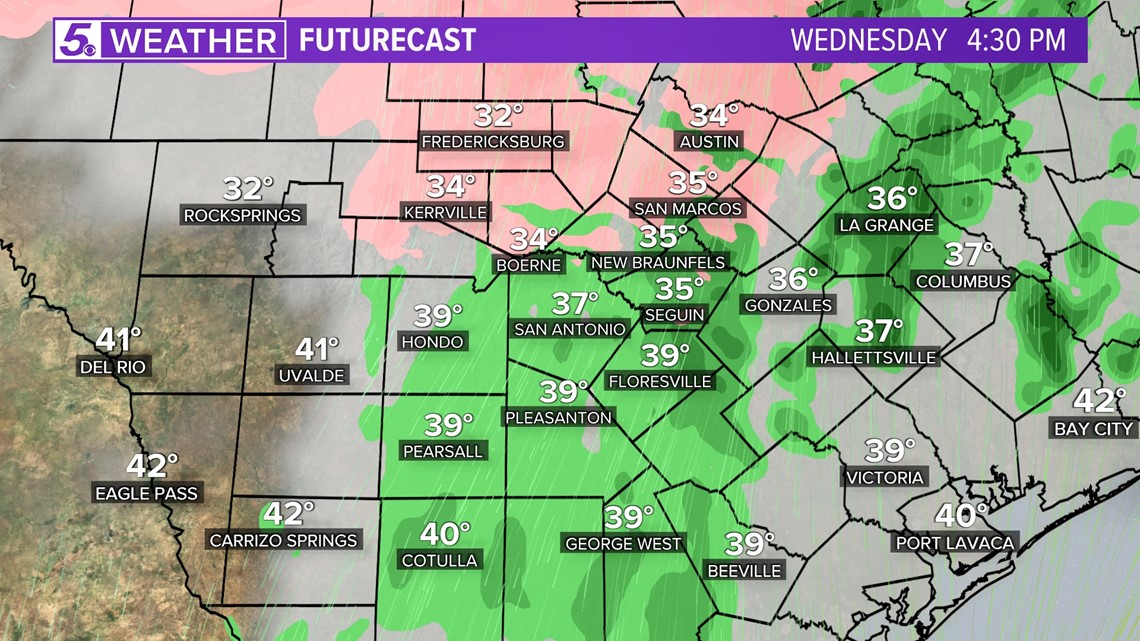 Wednesday evening: Rain should lighten and temperatures stay at above freezing. Much of the wintry mix in the Hill Country should begin to end as well.
Thursday morning: Some rain could still be falling in the morning but only as a cold rain with a majority of the rain staying to the east of Bexar County.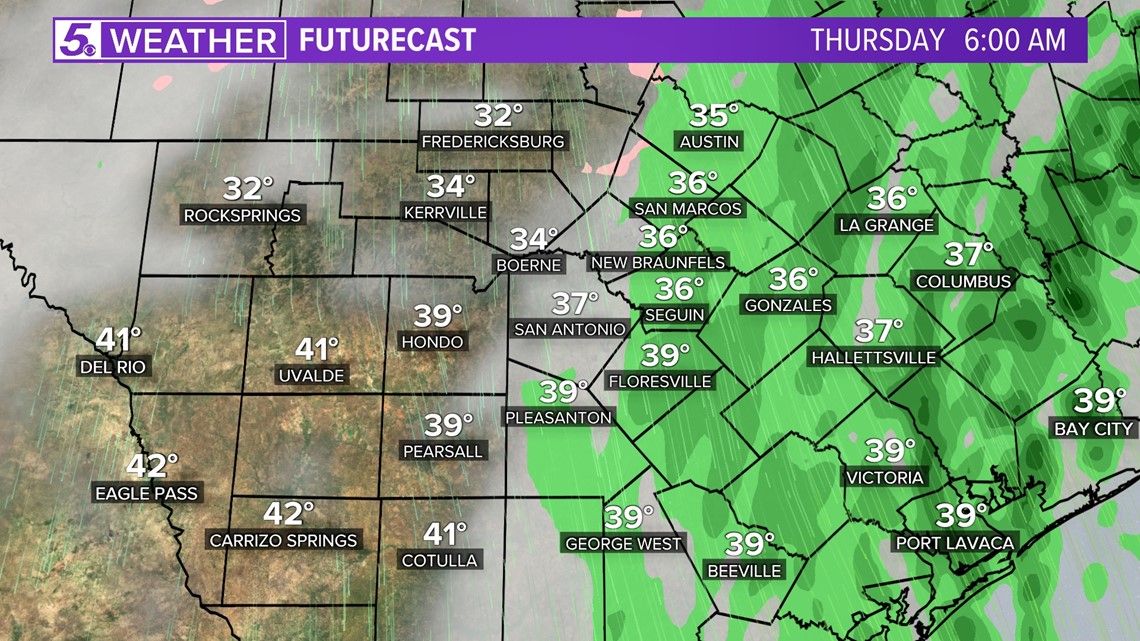 Thursday afternoon: Temperatures will warm into the mid 40s and the rest of the week will be rain-free.
Temperatures will warm in the 60s by the weekend in San Antonio with plenty of sunshine.