SAN ANTONIO — A Hobby Middle School teacher has been placed on administrative leave amid claims that the instructor told students "to go back to Africa" after they didn't stand for the Pledge of Allegiance.
The grandmother of one of those students raised the concerns, contacting KENS 5 and saying her family had been in touch with school administrators.
Barry Perez, spokesperson for Northside ISD, told KENS 5 on Thursday afternoon that the district was investigating the matter, adding that a meeting between Hobby Middle School Principal Lawrence Carranco and the student's family had been organized.
The teacher has not been identified by the district.
The girl's father says the teacher called to apologize a couple of hours afterward, but he's made up his mind: He wants her fired.
"Only a racist mind would go to tell a black person to 'go back to Africa,'" the father told KENS 5 in an anonymous interview.
Tuesday morning, when the father received the text from his daughter, he couldn't believe what he read.
"She texted me immediately like, 'Dad, my teacher just told me to go back to Africa,'" he explained. "Then she said the teacher told the class to, 'Shut the F up.'"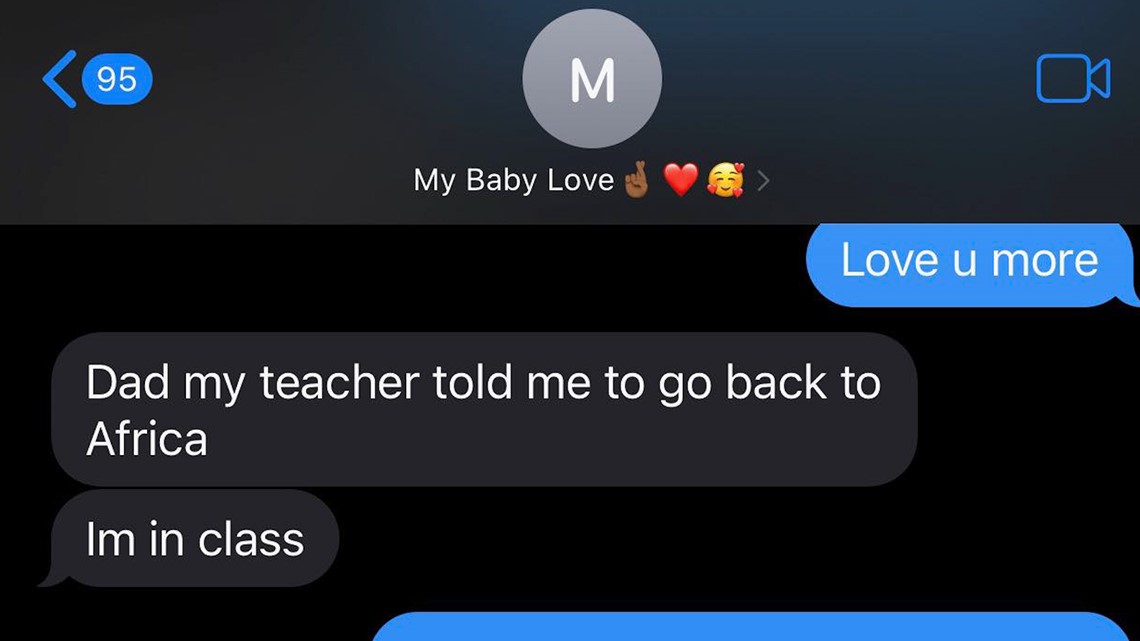 He immediately called the office to report it, telling them his child shouldn't be punished for not standing during the pledge.
"Other parents, they might feel like their child should [stand for the pledge], but mine doesn't have to. It's a freedom of speech."
He said the teacher called him later that morning to apologize.
"She kept trying to apologize for it. 'I don't know why I opened by big, fat mouth and I said that. I was frustrated,'" he recalled. "I didn't feel like her apology was really genuine. I feel like she apologized because she knows she messed up and is in trouble."
On Thursday afternoon, the father met with school administrators, including the principal. They told him the teacher has been removed from the classroom..
"They're trying to make a decision with the school board to see whether they're going to fire her or remove her," he said. "I want her fired. I don't feel that she should be teaching anybody's child or she should even be in a classroom."
The father is sharing his story with KENS 5 to send a message: No school should tolerate this type of language, especially in a classroom directed at a child.
"We teach our kids consequences. you do something wrong, there's consequences behind it. Same thing with adults. When we do something wrong, we've got to face the consequences behind it," he said.
The father was told two students didn't stand for the pledge on Tuesday, and his daughter hasn't reported any issues with this teacher before.
>TRENDING ON KENS 5 YOUTUBE:
Since going on the air in 1950, KENS 5 has strived to be the best, most trusted news and entertainment source for generations of San Antonians.
KENS 5 has brought numerous firsts to South Texas television, including being the first local station with a helicopter, the first with its own Doppler radar and the first to air a local morning news program.
Over the years, KENS 5 has worked to transform local news. Our cameras have been the lens bringing history into local viewers' homes. We're proud of our legacy as we serve San Antonians today.
Today, KENS 5 continues to set the standard in local broadcasting and is recognized by its peers for excellence and innovation. The KENS 5 News team focuses on stories that really matter to our community.