SAN ANTONIO — A special group of young people chosen as Champions For Change are determined to make life better for others in the San Antonio area.
They are team players. They stand up for what is right and advocate for causes, and now they are the champions!
It all started with the Rowan Windham Memorial Cereal Drive. Until his death at the age of 10, Rowan Windham worked to make sure kids did not go hungry in San Antonio.
In his honor, KENS Cares and Methodist Children's Hospital asked the public to nominate young people who exemplify the passion to serve the community.
KENS 5 is proud to recognize the 2023 Champions For Change for their compassion, leadership and inspiring work to help others.
These are their stories...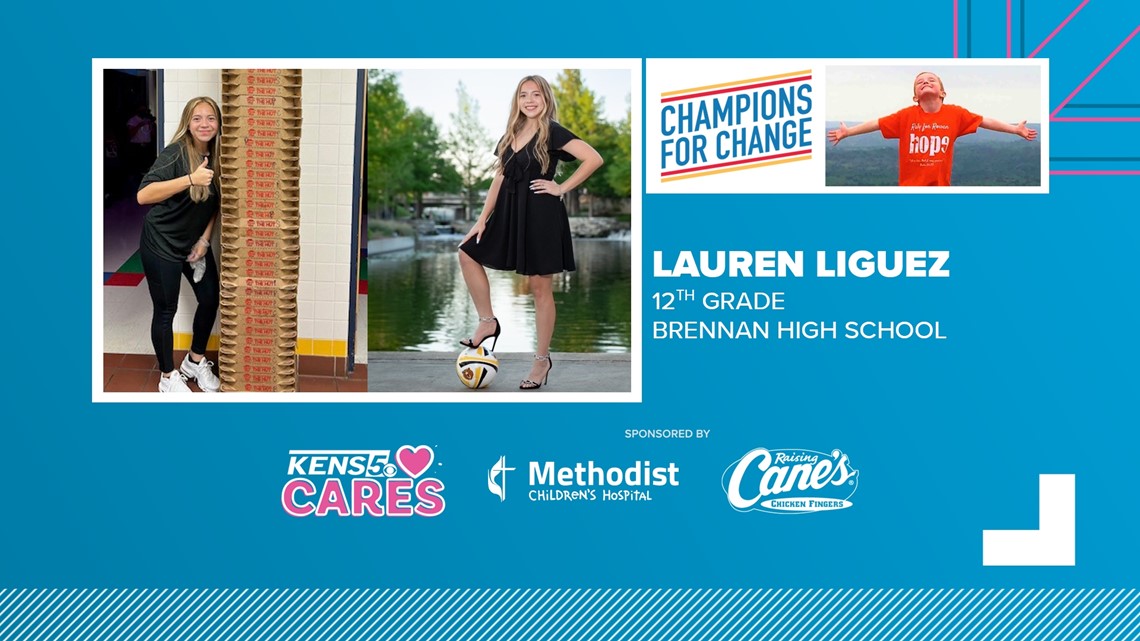 Lauren Liguez, 12th, Brennan High School
Lauren Liguez is a senior at Brennan High School. She is a leader in and out of the classroom. She has various leadership positions including Senior class Vice-President, NHS historian, and Varsity girls' soccer captain at Brennan High School. She is the 2023 Salutatorian with a GPA of over 103. She enjoys volunteering at neighboring elementary schools, the San Antonio Food Bank, and various clubs and organizations on her high school campus. She has helped her fellow students find their voice and become more involved around school by encouraging them to get involved and volunteer alongside her. She is planning to attend the University of Oklahoma and pursue a Master's degree in Architecture.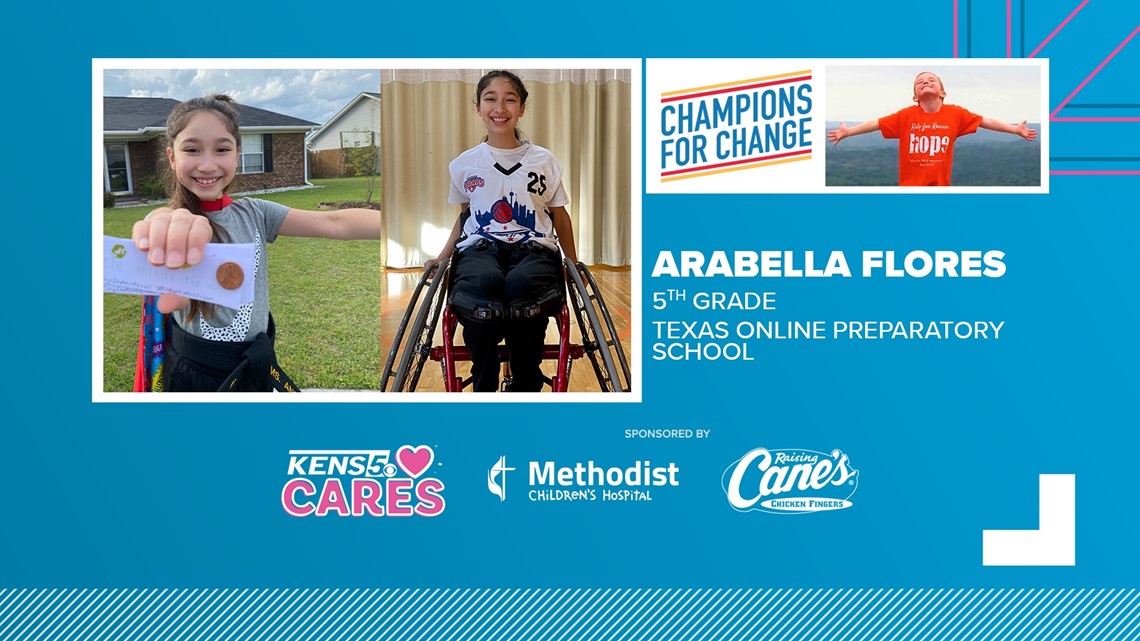 Arabella Flores, 5th, Texas Online Preparatory School
Arabella is a special needs child who goes above and beyond to make others feel special and accepted. She does this by leaving words of encouragement on cards and taped them on rocks, mailboxes and books she leaves at donation centers. Arabella participates in TinySuperhero challenges and distributes what she makes throughout the community to build hope and compassion. She also regularly donates books to the LittleFreeTree so other members of the community may enjoy them. Finally, she does rock art, includes inspirational words and hides them for others to find all while being deaf and wheelchair bound herself.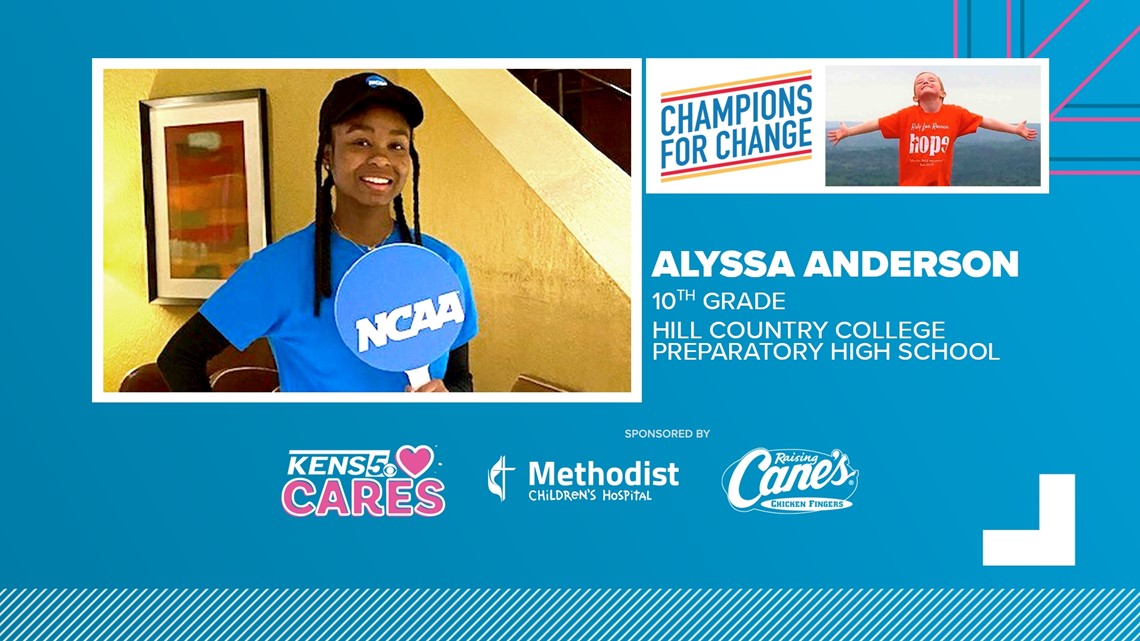 Alyssa Anderson, 10th, Hill Country Preparatory High School
Alyssa Anderson is 16 years old 10th grade honor student at Hill Country College Preparatory High School. She is very passionate about helping others and devotes much of her free time volunteering with organizations in the local San Antonio area. She volunteers for Bike Multiple Sclerosis, which is a cycling event that raises more money than any other cycling event for multiple sclerosis. Alyssa helps set up the registration area and gets cyclists in line to begin the event. She helps at the San Antonio Food Bank by packing food items for those in our community that need food assistance. On weekends, she enjoys volunteering for events sponsored by San Antonio Sports which is a nonprofit organization that provides fitness and sports programs for the community. Her favorite events are the Rock n Roll San Antonio Marathon and NCAA activities. When Alyssa is not studying or volunteering, she loves traveling, watching movies, and listening to music. After she graduates from high school, she hopes to attend college and study forensic psychology.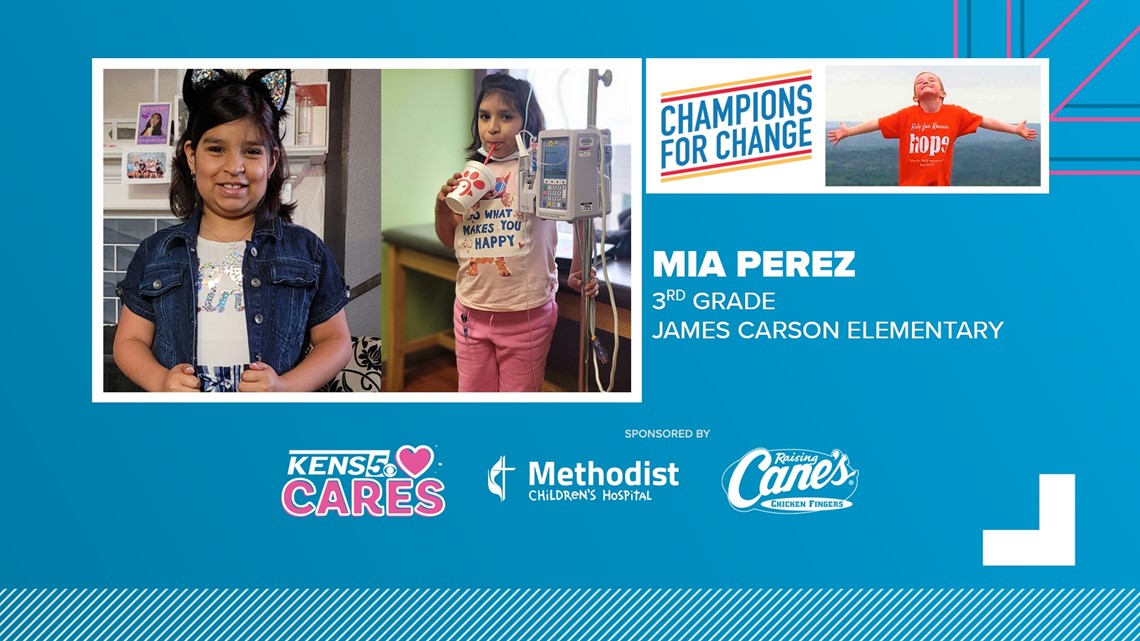 Mia Perez, 3rd, James Carson Elementary
Mia is a 3rd grader at James Carson Elementary. She has been giving back to the cancer community since she was 7yrs old and diagnosed with Leukemia. Anytime she received something while in the hospital, she would ask if the other kids got something too. She was the top fundraiser for San Antonio's first childhood cancer support center. She was awarded the Heart of Gold by Gabriella's Smile Foundation. She also raised childhood cancer awareness by displaying yard signs in her neighborhood and around San Antonio. With assistance of her family, Mia donated $1,000 worth of art supplies to Methodist Children's Hospital. She held two successful blood drives and plans to have another at the end of her treatment. She continues to come up with creative ideas to help kids just like her. After 2 1/2 years she completed her treatment May 19, 2023. Her biggest gift to others is her strength. Watching her endure treatment and everything that comes with it truly a motivator to all those who have followed her story.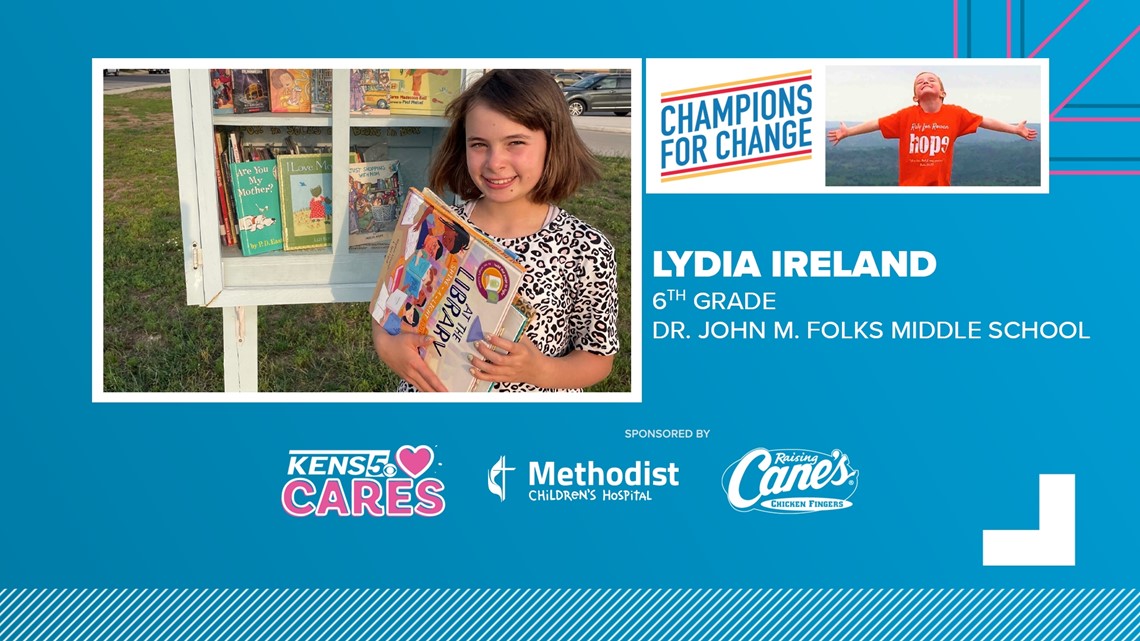 Lydia Ireland, 6th, Folks Middle School
Lydia is a 6th grader at Folks Middle School. From a young age, Lydia Ireland has had a deep love of books. Her favorite series is the Warrior Cats. Wanting to share books and her passion for reading with the community, Lydia got permission to build a little free library at her elementary school. She helped build it and hand-painted it with designs from Dr. Seuss books. Over the past two years, she has continued to stock it weekly with donated books. Each week, the little library has a theme that corresponds to the season, the month or upcoming holidays. Lydia wanted to make sure that other children could also know the power of the written word without worrying about the cost or needing someone to take them to a store for a book. The little free library is open 24/7 along the sidewalk at Kay Franklin Elementary School on the city's Northwest side and provides books for all ages from board books to adult chapter books.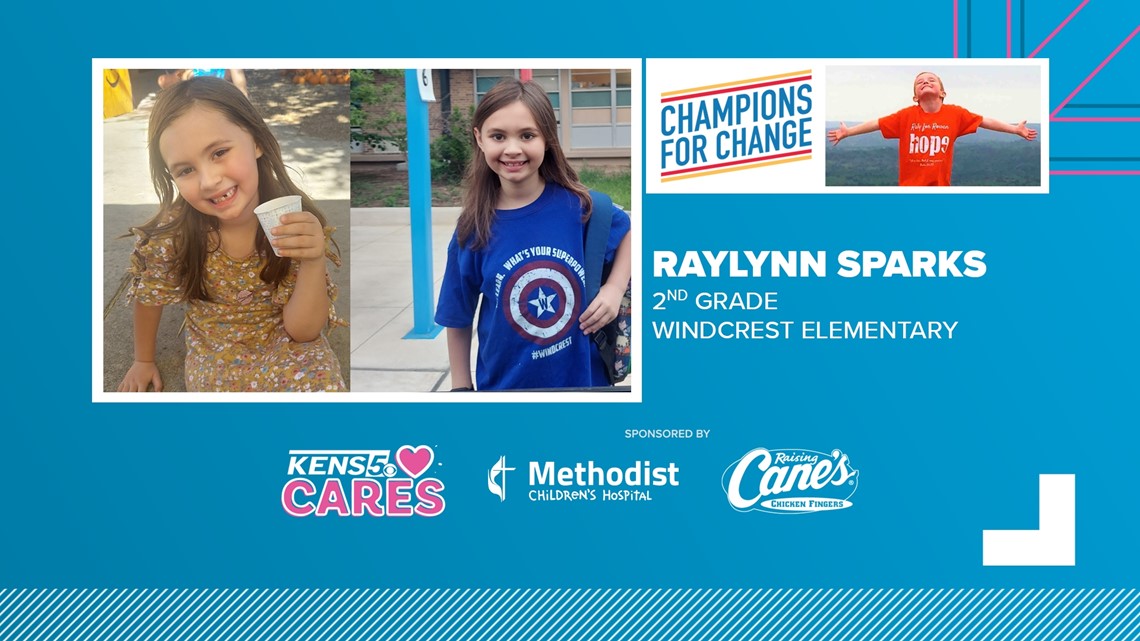 Raylynn Sparks, 2nd, Windcrest Elementary
Raylynn definitely displays characteristics of a true leader of tomorrow. She currently has 22 hours of community service. Raylynn is also going on her third year of perfect attendance. In 2022 she awarded the Shining Star Award for always helping the teacher and other students in her class when they were struggling. Whenever the Lions Club is having a function and selling tickets they ask for her personally to come out and help. She is also, a member of the Windcrest Elementary PTA. She is also always on the A and B honor roll. Her reading skills are exceptional. She is always energetic and displays a true positive attitude. Outside of school she participates in Cub Scouts, Karate (Yellow ) Belt and Kinder Music. I definitely see Raylynn running for Class President and being part of the Honor Society in the future. She loves to organize everything she sees to try and make it better. She is constantly organizing the candy tray in my refrigerator.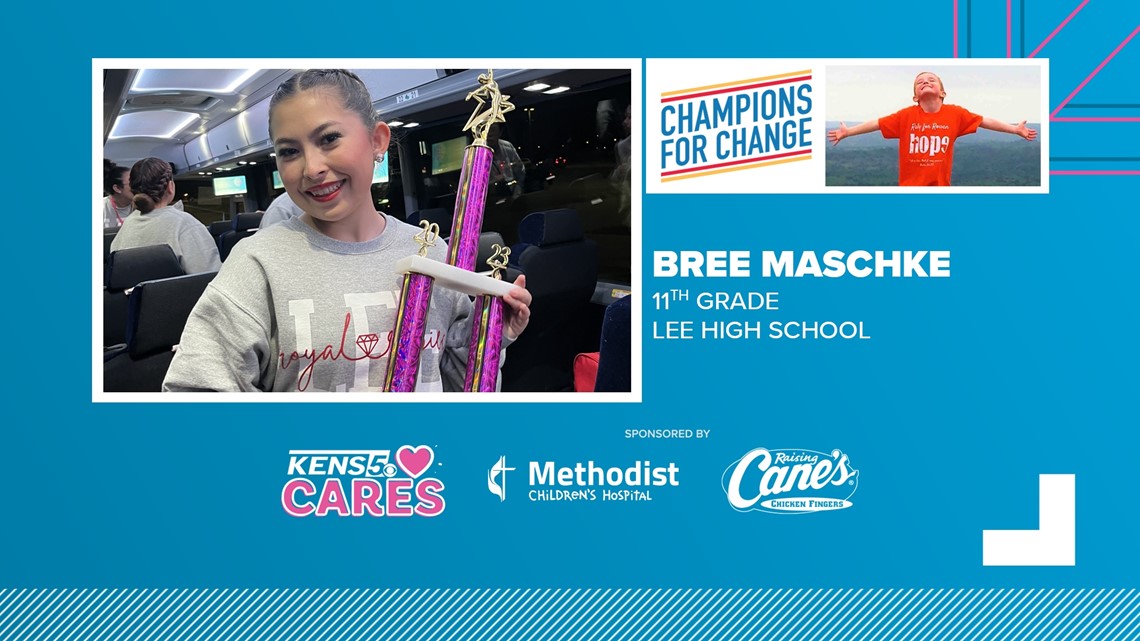 Bree Maschke, 11th, Lee High School
16- year-old Bree Maschke served a total of 358 hours of community service, and counting! She is a junior at Lee high School. Bree is also involved in many academic and extracurricular activities, including the Science National Honors Society, National Honors Society, and Chinese Culture Club. She was awarded the National Math and Science Initiative scholarship in 10th grade, and was hand-selected to participate in the Women in Science program by her science teachers. She even traveled to Costa Rica with SOS in 2022, where she helped plant trees in the rainforest, visited a local school for cultural exchange, and worked with SOS and the Costa Rica Humanitarian Foundation to paint homes and do small repairs to the residents there. She is committed to servant-leadership and will continue to make our community stronger!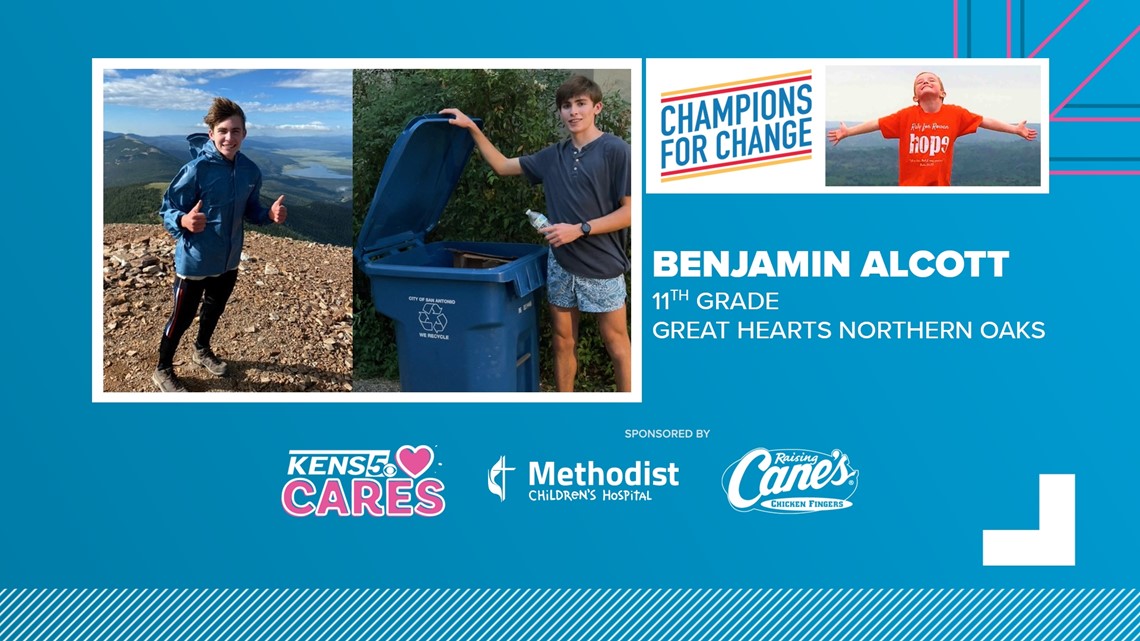 Benjamin Alcott, 11th, Great Hearts Northern Oaks
Benjamin Alcott is a 17-year-old Junior at Great Hearts Northern Oaks. He maintains a 4.0 GPA. But that's not the most impressive things about him. Benjamin focused on spearheading a recycling program at his school. Of his own initiative, Benjamin researched the ins and outs of how to implement recycling at his school. It was in this way he stumbled upon the Texas Health & Safety Code and learned the legal requirements of recycling that apply once a school district reaches a certain size. From there, and after more research, he determined that his district met the level that would require it to recycle. Thrilled, he contacted his school's district and campus administration to figure out ways to implement a program. Now with administration, Benjamin is currently working on the next step, bins in classrooms. He is optimistic that this will happen in the upcoming school year in classrooms across his school's district, which consists of schools across the state. That means 10,000+ students would then be able to recycle. He sees this is a simple way to reduce waste in landfills, conserve resources, and reduce greenhouse gasses. When he attends college, he seeks to study business and show how being a good environmental steward makes good business sense. Benjamin's a 17-year-old Junior, maintains a 4.0 GPA, is a team captain of the Cross Country and Track & Field teams (competing at the 3A State level), participant in various clubs including Model UN, the Piano Club president, an Eagle Scout and member of Order of the Arrow, Presidential Service Award recipient for volunteering, and works as a lifeguard and swim camp counselor. In relation to the community, Benjamin recently was selected for the Shirane Foundation scholarship and will be traveling to Japan to foster a common world vision.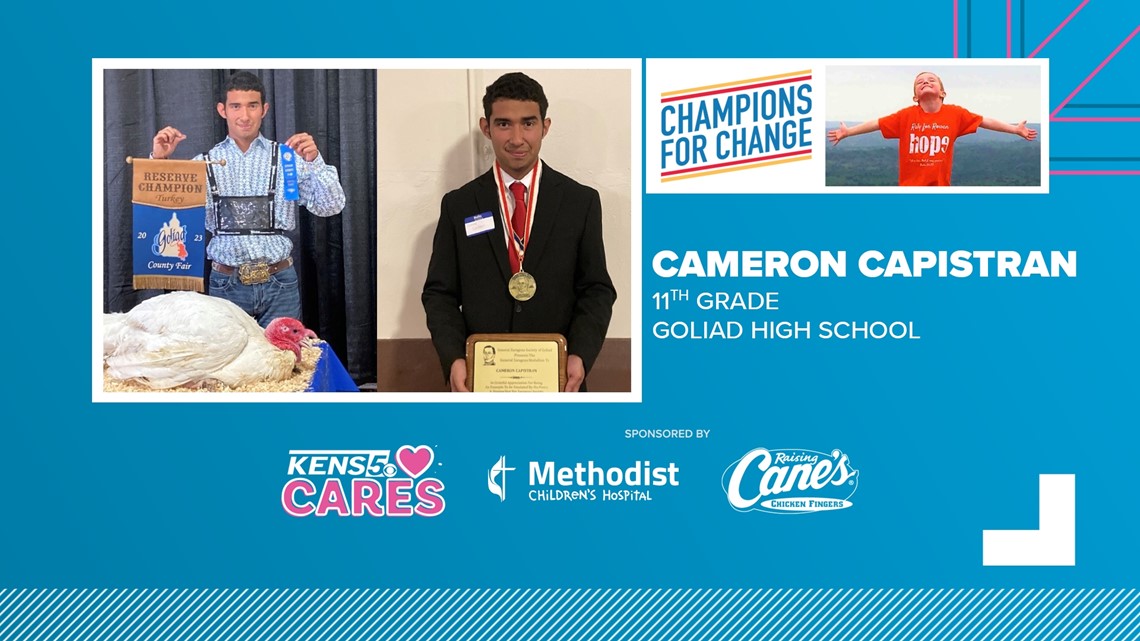 Cameron Capistran, 11th, Golaid High School
Cameron is a true leader. He is a member of various youth organizations such as 4-H where he serves as President & FFA where he serves as secretary. He is a member of the Weesatche 4 Warriors organization where he is the drive-thru food chairperson. He is an alter server at Immaculate Conception Catholic Church. He has organized many activities in Goliad such as a prayer vigil for the students & teachers killed at Uvalde ISD. He organized water & snack donations for the 5 local volunteer fire depts. in Goliad County and also for Kingsville Volunteer Fire Dept. during the horrible fire in Kleberg County during the summer of 2022. He also organized the wear maroon on Sept. 6th for the 1st day back at school for Uvalde ISD for the entire Goliad ISD. Cameron decorates around town and his high school spelling out words of encouragement with Styrofoam cups to show school spirit. Cameron leads the prayer at every home Varsity football game. Cameron has emceed the talent show at his local high school for the past 2 years and does the daily morning announcements at his local high school. When there is a new student at Goliad High School Cameron gives the student & their parents a tour of the school and shows the student where their classes will be. Cameron participates in the Adopt A Hwy program for both the Goliad Athletic Booster Club & Goliad High School FFA Chapter. Cameron is always willing to help and volunteer when needed. He has a huge heart!